Word Count:

81000
Summary: As a private eye closes in on her city's secrets, there are those who will go to any lengths to stop her. After the horrific events of our last chapter, Jacqui's in a medical predicament. If she wants to stay free from the Spadros crime syndicate, she has to find the cure for her condition - and time's running out. But just when Jacqui thinks she's found what she's after, she finds herself instead in a much bigger - and deadlier - situation. She's getting closer to discovering what mechanisms really lie beneath the city. And the Red Dog Gang isn't the only one who wants her stopped. Warning: on-screen death, captivity, child murder, terror, blood, bad language, smoking.
The Three of Spades
Word Count:

94000
Summary: 1929. 1938. 1947. Three days. Three decades. Three connected lives. In a world where the voices of the dead echo among us, a student, an officer, and a prisoner in the USSR struggle with a discovery that will expand state tyranny. Can any of them overcome their own terror, shame, and misery long enough to free the world?
Then Raise the Dead Man High
Word Count:

18000
Summary: "Welcome, Mr Reese and Mr Connor... I trust your special day was all that it was cracked up to be? And what better way to compliment your union than with a honeymoon across time, eh? We here at TimeLabs are the premier time travel company and our guides are highly trained. Anything you want, anywhere you want to go... The possibilities are very nearly endless..." Sam and Zak take a Time Tour for their honeymoon, visiting some of the events through time which have captured their interest, including the very first Olympics. A five-star time machine for transport, luxury meals, fine wines—what could be more perfect? TimeLabs Inc. Tom loved his master, his job and the wonderful society he lived in—until one day, somebody hacked his tattoo and his world changed forever. Tattoo Kel meets his first alien and falls in love with her. Except... Alien Love Story Evan and Joey step through a door and find themselves in a whole new world where mythical creatures are as real as they are. Love Spider General Parker Rodriguez didn't believe for one second in the existence of flying saucers with little green men conducting random probes, but he still knew that Aliens were out there. And when they came, he would be ready. E-Contact And a dystopian short, My Day At The Beach TimeLabs Inc is a collection of six science fiction short stories, all with a romantic theme.  Not explicit. Suitable for both teens and adults.
TimeLabs Inc
Word Count:

143365
Summary: Viva la revolucion! The Primus, Vasilia Newling, is facing her worst nightmares: A revolution on Luna Titan and the Asteroids abandoning the Solarian Union. Defections from within her own government. All because of those damned Cassidys! But she's still as ruthless as ever. And if Aiyana and Kendra thought she was playing dirty before? They're going to see how filthy she really can get. There isn't room for both the Terran Federation and the Union. This time, one is going down. For good. Return to the future for the fifth installment of The Cassidy Chronicles: Triumph's Ashes.
Triumph's Ashes
Word Count:

50,139
Summary:
They have to find him…but how?
A former member of an elite military special forces unit, Leo Bailey can handle anything life throws at him. Except maybe approaching a certain gorgeous, purple mohawk-wearing, heavily pierced artist. Not without his three eye-rolling wingmen along to push him in the right direction.
One look at the mouthwateringly muscled, military buzzcut-sporting man with the endearing blush, and Vincent Noland is in love. Or at least in lust. Love comes later. Then marriage…and sweet, adorable Oscar.
Life is perfect—the stuff of fairy tale happily ever afters—except for Arthur Fletcher, whose unsettling reactions to them threaten to upset the happy balance of their lives. But it isn't Arthur who throws their lives into turmoil.
A freak event causes Oscar to go missing and leaves both men frantic to rescue their son. As they piece together the clues, they discover that Oscar isn't somewhere. He's somewhen. And Arthur Fletcher holds the key—or rather the glass beads—to their one chance of finding Oscar.
Will Leo's training, Vinnie's determination, and Arthur's knowledge help them rescue Oscar, or is the little boy doomed to spend the rest of his life at the mercy of a primitive civilization? Could there be a third possibility?
Keywords: time travel, lost child, happy ending, novel, ebook, print, paperback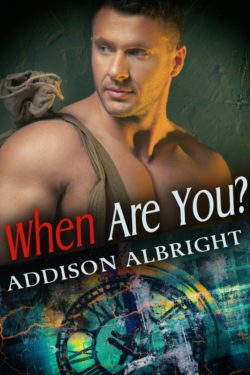 When Are You?
Word Count: Information not available
Summary: Grounded after a rescue attempt in Earth orbit goes bad, Commander Martin Atkins of the Confederation Navy is approached by the Interscission Project, a consortium of civilian corporations on the verge of perfecting the technology to travel to another star. Despite his misgivings, the chance to get back in the pilot's seat is too much to pass up, and he convinces his best friend and crewmate, Charles Davenport, to leave the military temporarily and join him as part of the crew of the Zenith, humanity's first starship. Edward Harlen is a brilliant young engineer, and a key player in the construction of the Zenith to take advantage of the untested technology of foldspace drive. But Edward has his own agenda in joining the project, and a bitterly personal score to settle with his boss, Trevor Sutton, a vendetta of which Trevor is entirely ignorant. But when Edward's sister Stella enters the picture and manages to secure a position on the project, all of Edward's careful plotting is upset, and she might spell the downfall not only of his plans for revenge, but of the entire Zenith mission. The spark of attraction between Edward and Martin is a complication that Edward can't afford, but of which he can't let go. For Edward knows the secret at the heart of the Interscission Project, the hidden potential of the technology that in the wrong hands could become the ultimate assassin's weapon: the ability to rewrite history, not just once, but many times. As an unseen enemy moves to destroy them, and the body count multiplies in their wake, Martin and Edward must choose whether they will allow the possibility of love to challenge their destinies, or will they instead take up arms in a war to control the most ancient and terrible power in the universe. Time, itself.
Zenith