Word Count: Information not available
Summary: Welcome to the last of the great flying Cities! It's 9172, YE (Year of the Empire), and the future has forgotten its past. Soaring miles over the Earth, Autumn, the sole surviving flying city, is filled to the brim with the manifold forms of humankind: from Human Plus "floor models" to the oppressed and disfranchised underclasses doing their dirty work and every imaginable variation between. Valerius Bakhoum is a washed-up private eye and street hustler scraping by in Autumn. Late on his rent, fetishized and reviled for his imperfect genetics, stuck in the quicksand of his own heritage, Valerius is trying desperately to wrap up his too-short life when a mythical relic of humanity's fog-shrouded past walks in and hires him to do one last job. What starts out as Valerius just taking a stranger's money quickly turns into the biggest and most dangerous mystery he's ever tried to crack – and Valerius is running out of time to solve it. Now Autumn's abandoned history – and the monsters and heroes that adorn it – are emerging from the shadows to threaten the few remaining things Valerius holds dear. Can the burned-out detective navigate the labyrinth of lies and maze of blind faith around him to save the City of Autumn from its greatest myth and deadliest threat as he navigates his feelings for his newest client, the handsome golem Alejandro?
A Fall in Autumn
January 1, 2019
Word Count:
120000
Summary: U.S. Marshal James Creed has known loss, starting from the untimely death of his wife and daughter in a sudden fire. His work, chasing down and arresting outlaws across the Wild West, is all he has left to live for. Then one day, in 1876, the infamous killer Corwin Blake catches Creed by surprise and guns him down. Creed awakes after a mysterious young woman resurrects him in a basement laboratory beneath a brothel. Half alive, Creed feels torn between his need for justice and his desire to fall back into the peace of death. Creed's instincts drive him to protect the city of Santa Cruz, California, from the outlaws it harbors while searching for Blake. He uncovers a secret criminal organization, likely protecting Blake, determined to use resurrection technology for its own ends. The former marshal, now faster, stronger, and a more deadly shot than ever before, must work with a brothel madam, a bounty hunter, and the remaining marshals to uncover the criminal syndicate before they can misuse the machines of rebirth and create more mindless zombies. Meanwhile, he must also stop Blake, before the outlaw kills the only people he cares about. His own death can wait.
Bodacious Creed
August 17, 2017
Word Count:
65000
Summary: A young man sold into servitude has his loyalties tested in ways he never imagined. Raised in an orphanage in Dickens, Daniel doesn't know who his parents were, where he comes from, or even his last name. Like all orphans, on his 16th birthday, he's sold to the highest bidder. Not knowing where he's going, who's bought him, or what they even want with him, Daniel embarks on an adventure he never thought he'd take. He finds love, a family, and a secure future - yet in a split second, makes a decision he ends up regretting the rest of his life. Brothers begins fifteen years before the Red Dog Conspiracy series. Warning: Language, smoking, use of alcohol and drugs, attempted suicide by hanging, M/M underage sexuality with consent issues, forced servitude, blood, gun violence, a man being beaten by a horsewhip, murder, discussion of child prostitution, underage M/F sexuality with age gap (female older).
Brothers
June 1, 2022
Word Count:
110100
Summary: Nate's no supernatural expert, but even he knows a murdered man coming back to life to kill him can only mean one thing—the necromancer is back and out for revenge. Recruited by Department Seven in a desperate attempt to stop Peter before he claims new victims, Nate quickly realizes he's in way over his head. His powers are failing him, he's haunted by Peter's ghost, and he can't even remember how he stopped Peter the first time—or why he feels that someone very important is missing from his life. Ben is fighting for his afterlife. Trapped in the supernatural version of solitary confinement, he knows freeing himself will destroy New Camden's fragile peace—but what choice does he have? The longer he spends in his magical prison, the harder it becomes to resist his inner vampire. But if Ben wants to help Nate prevent Peter taking over the city, he has to prove himself to his sire—Saltaire, a thousand-year-old vampire with no qualms about using his immense power to suppress Ben's free will. As the casualties mount and the city descends into chaos, Ben and Nate must overcome their worst fears and impossible odds—or be written out of existence entirely.
Dead Wrong
February 26, 2018
Word Count:
51700
Summary: The Mythric Kingdom has raided the Five Cities. Sebastian has been rescued and Christopher is now the one in chains. The leader of the rescue team, the ice dragon Prince Azanel, says that Sebastian is his Mate. The face Sebastian dreamed while he was in captivity belongs to Azanel, but he still loves Christopher – but is that love real, or is it only conditioning? A soldier named Cavan claims to be Sebastian's closest friend, and the King of Mythria, Goxtli, has sent him and a strange creature named Kliyo to bring Sebastian home. Nothing feels familiar, and Sebastian knows that he's surrounded by lies. His time in the Countess's custody is over, but the battle for Sebastian's soul is just beginning. And the Countess and Lord Ashmar cast a very long shadow... This is a dark LGBT science fiction/fantasy romance not suitable for anyone under 18 years of age. Contains dark, adult themes, graphic gay sex and BDSM elements.
Dragon's Gambit
April 25, 2020
Word Count:
51200
Summary: Sebastian is a cryptomorph, a lab-created creature blending the DNA of man and beast. He is not a man. He is an object. A pet. A product. This is the story he's been told, but his heart tells him it's a lie. The truth is out there somewhere, and if he can escape from the Countess and the Community that wants to breed more golden dragonels like him, he might be able to find it. Christopher is a veterinarian tasked with the care of the dragonel, and he's not supposed to see the man behind the dragon. Sebastian calls to a part of him that he thought was long dead, and he would do anything for him now. Anything but tell him the truth. "Dragonel" is a M/M dystopian science fantasy intended for mature audiences. Not suitable for anyone under 18 years old.
Dragonel
November 15, 2019
Word Count: Information not available
Summary: In a town where a vampire's bite is the hottest drug on the market, one user gets more than they pay for when a feeding turns deadly. Tobias has loved Lucie for as long as he's known the owner of the bookstore he works at, and she seems to like him too. There's a problem, though. It turns out his boss has a boyfriend--a vampire that bites for pay. What starts out as a friendship between the three grows into something infinitely more complicated when Tobias becomes the latest victim of another local vampire. 25 page Novella
Falling
October 26, 2016
Word Count:
72000
Summary: Trix works as a prostitute on the Pleasure Station, a space station devoted to entertainment, gambling, and the pleasures of the flesh. He never intended to spend his life there, but the place offers him security, regular cream, and over time it has become his home. As a dual-gendered feline, Trix knows the risk of pregnancy is high and sets his prices equally high to discourage customers. Trix never imagines that Delta, a canine with credits to spare will call his bluff. When Delta pays for himself and Farron, a naïve avian from the swan clan, to spend the night with Trix, the three of them forge an unexpected bond, one that leaves Trix pregnant. As a swan avian, Farron is incapable of being unfaithful to his mate, even when the bond is only partially formed. To complete the bond Farron must find Trix before the babies are born, or the bond will break forever, and Farron will be forced to live a life of celibacy. In the meantime, the Pleasure Station is under new ownership, and when the humans ban prostitution on the station Trix is left homeless. When Delta hears about the Pleasure Station, he too races back to find Trix. Both Farron and Delta arrive too late. Trix has vanished and the race is on to find him before he gives birth. Only then will they know if the bond they formed on their first night is strong enough to last a lifetime.
Finding Trix
June 7, 2019
Word Count:
80000
Summary: Celebrate those who light a candle in the darkness in this compelling and eye-opening tale. Teddie is into country music, her old pick-up truck and getting through high school with as little drama as possible. Yet somehow her best friend, Michelle, talks her into spending a semester in Darjeeling, India. The thrilling adventure turns treacherous when she uncovers a seedy underworld in which young women are bartered and sold—including her friends. As she fights to understand a depravity she never dreamed existed, a stranger makes her an unexpected offer. He will train her to find her missing friends, but she will need to have trust in abilities she barely believes exist and more courage than she ever thought she could summon. And there will be no going back. Given the choice between this and abandoning her friends to their horrifying fate, the decision is simple. She must rise to the challenge. But how can she be a superhero when she doesn't know what her power is? (Layers of Light is part a collection of interrelated stand-alone novels. It contains some non-graphic mature content and references to human trafficking and the sex trade.)
Layers of Light
January 29, 2014
Word Count:
119,0000
Summary: Ben is a recovering vampire determined to pick up the pieces of the life that came to a halt when he was murdered over a year ago—even if that means distancing himself from his few remaining friends. Nate, struggling to navigate his new identity as a Class 3 Unknown paranormal, knows it will take more than mastery of his affinity with plants to convince Ben they belong together. When Ben's application for human status is denied, he must fight to leave the paranormal world behind him while Nate's generous impulses drag him into conflict with a werewolf pack with designs on ruling New Camden. As Ben's vampire family draws closer to finding him, his vampire instinct awakens—throwing his continued existence into jeopardy. The hunt for the missing werewolf continues, and Nate and Ben become pawns in Councilor Wisner's plans to take control of the city. Their only hope is each other—if they can see that before all is lost.
Life After Humanity
January 15, 2018
Word Count:
90000
Summary: When the succubus Lorelei sees Azaziel across Lost Angels, she knows he's been kicked out of Heaven, but is not yet Fallen. She resolves to do whatever it takes to bring the angel down. Unfortunately, Lorelei doesn't realize that Azaziel has an agenda of his own. Taking her back to a burned-out church, he forces a mortal girl's soul into the devil girl's flesh. Then the succubus needs to find an exorcist who can cast the ghost out of her. With all the supernatural warriors of Los Angeles looking on, neither the angel nor the succubus can imagine how love will derail their plans…
Lost Angels
March 20, 2016
Word Count:
30000
Summary:
A dying lover. A demonic foe. One confession could save them all...
Damon knows he shouldn't need aid to stay at his dying lover's side. But as Byrne deteriorates, Damon bolts to take solace in his friend and fellow molly, Rogers. Rogers will always be there for Damon – if Damon would ever open up. He even risks a trip home to cheer him up, only to be stalked by his old demonic foe. But when Damon invites him into their home, Rogers can't keep the skeletal demon a secret. Not when the demon threatens to steal Byrne's precious last days. Damon and Rogers must band together to stop it – if they can ever admit they need the other's help.
Necromancer Vow
is the fifth book in the gay historical fantasy Damon Snow series. If you love deep emotional tension, Regency-era London and deviant romance, then you'll love this latest story of love, hurt and comfort from Olivia Helling.
Buy Necromancer Vow to continue Damon's lessons today!
Necromancer Vow
February 3, 2017
Word Count:
105000
Summary: RETURN TO THE MEAN STREETS OF AUTUMN Valerius Bakhoum is dead and buried. Too bad he's still flat broke and behind on the rent. Unsure what to do with himself—and of who he is—Valerius resumes his career as a detective by taking up the oldest case in his files: where do the children go? Throughout his own youth on the streets of Autumn, last of the Great Flying Cities, Valerius knew his fellow runaways disappeared from back alleys and other hiding places more than anyone realized. Street kids even had a myth to explain it: the Gotchas, who steal urchins away in the night. With nothing but time on his hands, Valerius dives in head-first to settle the question once and for all and runs smack into a more pressing mystery: who killed one of Valerius' former lovers? And do they know Valerius is still alive? Stalk the shadows of Autumn's hidden places by Valerius Bakhoum's side as he shines a light on secrets both sacred and profane, ones with shockingly personal connections to who he was—and who he might become. New Life in Autumn is the sequel to the Manly Wade Wellman Award-winning A Fall in Autumn.
New Life in Autumn
June 9, 2022
Word Count:
25000
Summary: Damon Snow thinks he has the world figured out. As an incubus and male prostitute, the world is a cruel, dark and lonely place where men only want one thing. When his long-time patron Byrne discovers he's dying, Byrne offers to leave his entire fortune to Damon. There's only one catch: Damon has to investigate and write about the reason another patron Price visits him. Easy — the same thing as all men. But what starts as an easy assignment turns into an impossible secret, the last thing Damon would ever suspect. If men only want the one thing, how can one possibly fall in love?
Nocturnal Lessons
October 2, 2014
Word Count:
254
Summary: Nukekubi are a form of Japanese goblin that during the day look like ordinary folk. At night they separate their head from their body and fly around scaring people to death to feed on the energies released. Ray McAndrues, a Pagan wizard/priest, encounters a Nukekubi that is feasting on the people of Toronto and decides that he has got to put a stop to it. Ray gains allies in his quest in the form of two Japanese martial artists who have made hunting Nukekubi their life's work and his on-again, off-again girlfriend Cathy, who is also a mystic. Problems arise when east and west do not communicate wall and Cathy is his on-again, off-again girlfriend. Also, what is the centuries-spanning tie that binds Ray to the Nukekubi and will it help or hinder the quest?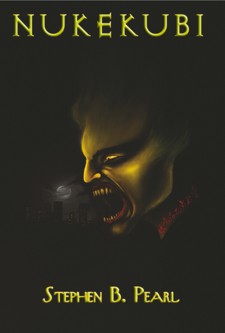 Nukekubi
January 8, 2012
Word Count: Information not available
Summary: 1899 years after the Catastrophe, Bridges is run by the Mob. As its steam-driven infrastructure fails, a new faction rises. Can she stop them? The Red Dog Conspiracy follows the story of 22-year-old small-time private eye Jacqueline Spadros beginning from her first major case: the missing little brother of her best friend, whose murder ten years before in front of her still haunts her nightmares. The only clue? A Red Dog stamp across the alley from where the boy was last seen. Dodging the man - seemingly mad - who has publicly threatened her life, placating her brutal, sadistic father-in-law, and dealing with her feelings about her ex-lover, while being married to one of the city's biggest drug lords: Jacqui is a busy woman. Her life is about to get much busier. From the very first page, Jacqui is dragged into a web of lies, secrets, and betrayals which both endangers her life and the lives of those she loves. Dark, gritty, violent steampunk crime fiction which keeps you guessing to the very end. If you like crime fiction, noir, Victorian/historical, gritty steampunk, psychological thrillers, hardboiled mystery, hard sf, dystopian, or mafia romance you will love this set. This digital box set comprises Act 1 of a 13 part serial novel. Included in this set: The Jacq of Spades: Part 1 of the Red Dog Conspiracy The Queen of Diamonds: Part 2 of the Red Dog Conspiracy The Ace of Clubs: Part 3 of the Red Dog Conspiracy If made into movies, this set would be rated R for bad language, graphic violence, smoking and alcohol use, child kidnapping, teenagers murdered (a serial killer is on the loose), and sexual content (Jacqui is married, after all). Welcome to the Family.
Red Dog Conspiracy Act 1
October 10, 2017
Word Count:
73900
Summary: How far is too far to go to save someone you love? Brandon Lynch is magical. He's a scintilla, wielder of electricity and is in love with a werewolf—or maybe he'd just in love with the idea of loving a werewolf? Raul Fierro is a bounty hunter and a werewolf. He knows he loves Brandon. He's made a promise to always protect Brandon and will carry out that promise at all costs. When Brandon and Raul go head to head with human traffickers, Brandon's morals are stretched to their limits. Will Raul keeping his promise tear them apart?
Scintilla
March 10, 2020
Word Count:
99837
Summary: Race, an ex-cop private eye in a world where most people are conditioned so that they cannot commit an act of violence, must release a savage artificial personality, Ralf, that was implanted in him when he did a deep-cover mission as a police officer, to rescue Astra, the woman he secretly loves, from the crime syndicates who have used a drug to turn her into a sex slave. Race succeeds at the cost of the crime syndicates discovering that Ralph is still alive. The syndicates want their assassin back and think nothing of toppling Race's sanity to achieve their ends. Can Race maintain control of his body? Freed of the drug's effect, will Astra return his affections? And what of Ralph, can a sociopath learn to love and what changes might that bring?
Slaves of Love
June 15, 2009
Word Count:
110000
Summary: The Cassidy Chronicles Volume One introduces you to two of the most determined characters in fiction: Aiyana Cassidy and Kendra Foster-Briggs. In 2113, Aiyana (Cass) is a physicist, working on high-energy optics for the premiere orbital passenger and cargo company, Heavy Lift Corporation. During her research she stumbles upon a discovery which might revolutionize the transportation industry. Kendra is a semi-retired sensie star and Cass's childhood friend. She also has a shadowy, hidden past. None of this would matter if the Reverend hadn't tried to kill them and their fiance, Derek, at their wedding. Now it's a race to find out who wants them dead and why! They'll have to cross the continent, across the shattered remains of a post-fractured America, to find the answers. Along the way they'll discover plots, schemes, betrayals, as well as new friends and allies. Don't miss this ride!
The Cassidy Chronicles
May 6, 2020
Word Count: Information not available
Summary: Nightmares bleed into the waking world. A city of shadows lurks underground. Restless ghosts, eerie dolls, and spiteful stepmothers. Haunting stories of love, madness, and small disasters. Featuring a full-length novel and eleven stand-alone short stories, this collection blends fairy tales, horror, and science fiction. The Underlighters is a dystopian horror coming-of-age adventure that follows the life of Janelle Cohen from insignificance to bitter-sweet triumph. Footsteps in the Snow is a Lovecraftian nightmare set in a Canadian winter. A Shot of Vodka, a darkly realistic exploration of life after trauma, rounds out the collection. More and stranger stories fill in the gaps. Gender and sexual mores are rewritten, primal fears take physical form, and dreams and reality merge. Prepare yourself: nothing is safe.
The Loved, The Lost, The Dreaming
November 30, 2013