Word Count:
48338
Summary: Every story has a beginning…. Dragons. Angels fear them and demons follow them. Formidable beasts of incredible power, they fight each other to the death for dominance. But dwindling dragon numbers cause alarm among the angelic ranks. Surely when the dragons have finished killing each other, the victors will search elsewhere for conquest… maybe even the Upper Realm. Roland, an angelic artist of significant talent, doesn't know what to believe. Part of him longs to see a dragon in person, and his peaceful life of contentment is wearing thin. He wants passion, desire, adventure, and love. He gets more than he bargained for when he and his sister are ambushed and captured by demons, and they bring him to a creature who surpasses Roland's wildest imaginings. But the mighty dragon Asagoroth is not all that he seems. Something sparks between him and Roland. Something neither anticipated. Something that will shake the cosmos to its core. Note to readers: this is the second edition, fully revised and updated.
On Wings of Passion
SALE
February 2, 2021
Word Count:
80000
Summary: Celebrate the superhero in each of us in this unique exploration of the connections we forge. A young Nigerian telepath faces a crisis when her sister is forced into a frightening marriage, then disappears. Once Somadina cannot locate her sibling's thoughts, she seeks another telepath to help. What she finds is Lola, a busy Texan scientist who has ignored the disturbing phenomenon in her mind for decades, and has no intention of embracing this nonsense now. Yet these two women have more in common than they know, and a powerful link will be forged. When Somadina discovers her sister is a pawn in a dangerous political game, the stakes rise for everyone, including an ancient organization of telepaths compelled to intervene. For both women are stronger than they realize, and they have ignited the wrath of a fanatic willing to kill anyone to alter his nation's future.
One of One
February 20, 2012
Word Count:
90000
Summary: Join an extraordinary family on a heart-pounding adventure as they face mortal danger. Telepathy creates as many problems as it solves, as everyone in the secret organization x0 would admit. Those problems become much worse when budding psychic Lola discovers another group of telepaths associated with a powerful media empire. This group is willing to destroy anyone capable of challenging them. Soon, Lola's family and friends are in danger. Fortunately, they are gifted with astonishing abilities of their own. Yet, none of them know how to fight. It will take every power they possess, and the allegiance of a helpful warrior, to bring down the arrogant adepts who do the bidding of a man hell-bent on promoting destruction. Can the talented people Lola cares about learn to trust each other and work together in order to save the world?
One of Two
November 22, 2017
Word Count:
95,000
Summary: Ian Trahan is a science prodigy with a genius streak like no other. Growing up in New Orleans under the strict guidance of a Deacon with a dark side, it leaves no question as to why he chose the life of crime. His understanding and use of DNA, computer hacking and looking like the guy next door, compiles a terrifying character that you will never forget!  Magda Volkov, a native Russian, works for the BAU division of the FBI.  Her clairvoyant ability is something that her director has learned to trust and use to their advantage, especially with a seeming "Ghost Killer" at hand. The deeper she gets into his psyche, the more they are both surprised when their strange vivid dreams begin to intertwine. Childhood experiences shape both the killer and the FBI agent who urgently wants to stop the grisly murders. Delve into the surprise twists and turns of this page turning thrill ride. The occasional comedic relief provides you with a brief release of the terrorizing heart palpitations!  This series is not for the faint of heart. Personas is the first in a new thrilling psychological crime series to come. Log into www.lauralollie.com to subscribe for the updates on the releases of the books to follow.
Personas Series
June 6, 2020
Word Count:
148000
Summary: For most twelve-year-olds, being kidnapped is terrifying. For Althea, it's only Tuesday. Her powers of healing make her a precious commodity in the Badlands, a place where the strong write the law in blood. For as long as she can remember, she has lived either as a possession or a goddess. Althea contents herself with captivity as long as she can help others, even those who killed to own her. After three whole months in the same village, the friendship of a young warrior makes her feel almost like a member of the tribe rather than a prisoner. Alas, raiders seize her yet again. For the first time in six years, being stolen hurts. Following a reluctant escape, she questions if she should dare risk using her powers to defend herself, and those she has come to love. Her attempt to return to the tribe leaves her lost and alone and, for the first time in her life, trying to stay free. Alas, two threats far beyond her experience to understand also hunt her. One wishes to use her for his grand scheme—and one wants to destroy her.
Prophet of the Badlands
August 24, 2018
Word Count:
100000
Summary: Qwyrk is having a bad day; several, in fact. One of the Shadow folk tasked with keeping an eye on humanity, she's ready for a well-earned break in Yorkshire, but now she's (literally) run into a girl, Jilly, who just saw something quite supernatural and truly awful happen in her town. As Qwyrk tries to unravel the mystery, layers of villainy are exposed, and she's stuck with an assortment of unlikely folk that she'd rather not have "helping" her. Together, they confront ancient magic, medieval conspiracies, and the possible end of the world (that again?). It's not the holiday Qwyrk was hoping for! Qwyrk is the first in a series of four novels about the adventures of a group of misfits at the edge of reality in modern northern England, a world of shadows, Nighttime Nasties, sorcery, intergalactic councils, tacky nightclub attire, an abundance of sarcasm, and even elves… though they are a bit silly.
Qwyrk
May 25, 2021
Word Count: Information not available
Summary: 1899 years after the Catastrophe, Bridges is run by the Mob. As its steam-driven infrastructure fails, a new faction rises. Can she stop them? The Red Dog Conspiracy follows the story of 22-year-old small-time private eye Jacqueline Spadros beginning from her first major case: the missing little brother of her best friend, whose murder ten years before in front of her still haunts her nightmares. The only clue? A Red Dog stamp across the alley from where the boy was last seen. Dodging the man - seemingly mad - who has publicly threatened her life, placating her brutal, sadistic father-in-law, and dealing with her feelings about her ex-lover, while being married to one of the city's biggest drug lords: Jacqui is a busy woman. Her life is about to get much busier. From the very first page, Jacqui is dragged into a web of lies, secrets, and betrayals which both endangers her life and the lives of those she loves. Dark, gritty, violent steampunk crime fiction which keeps you guessing to the very end. If you like crime fiction, noir, Victorian/historical, gritty steampunk, psychological thrillers, hardboiled mystery, hard sf, dystopian, or mafia romance you will love this set. This digital box set comprises Act 1 of a 13 part serial novel. Included in this set: The Jacq of Spades: Part 1 of the Red Dog Conspiracy The Queen of Diamonds: Part 2 of the Red Dog Conspiracy The Ace of Clubs: Part 3 of the Red Dog Conspiracy If made into movies, this set would be rated R for bad language, graphic violence, smoking and alcohol use, child kidnapping, teenagers murdered (a serial killer is on the loose), and sexual content (Jacqui is married, after all). Welcome to the Family.
Red Dog Conspiracy Act 1
October 10, 2017
Word Count: Information not available
Summary: Rhonda Wray: Raptor Wrangler is about a teenage girl who was innocently trying to listen to some live music … her favorite boy band happened to be playing a festival on a dinosaur planet … when bad things suddenly happened. Now she and her trusty robot are all alone in the wilderness, picking up survival skills and looking for her favorite singer, Sebastian Rose, just in case he needs to be rescued. There's hard science, explosions, plenty of dinosaurs (with feathers), diversity, no sex (although there are a few references to it), less violence than many dinosaur stories, cliffhangers galore, and a little bogus science just to honor the fine tradition of speculative fiction (what if raptors had syrinxes and could sing like birds?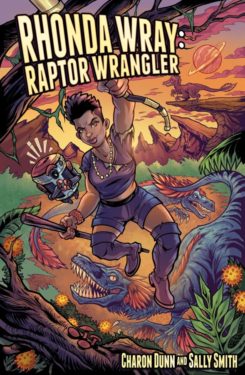 Rhonda Wray: Raptor Wrangler
July 1, 2020
Word Count:
80,000
Summary: Amargosa is under occupation. But a fallen starship may turn the tide for the resistance. JT Austin, Davra Andraste, and Eric Yuwono disobey orders to reach this ship. Along the way, they discover that not every enemy is Gelt, not every ally is human, and humans and Gelt are not the only intelligences on Amargosa.
Second Wave (The Amargosa Trilogy Book 2)
February 28, 2020
Word Count:
99837
Summary: Race, an ex-cop private eye in a world where most people are conditioned so that they cannot commit an act of violence, must release a savage artificial personality, Ralf, that was implanted in him when he did a deep-cover mission as a police officer, to rescue Astra, the woman he secretly loves, from the crime syndicates who have used a drug to turn her into a sex slave. Race succeeds at the cost of the crime syndicates discovering that Ralph is still alive. The syndicates want their assassin back and think nothing of toppling Race's sanity to achieve their ends. Can Race maintain control of his body? Freed of the drug's effect, will Astra return his affections? And what of Ralph, can a sociopath learn to love and what changes might that bring?
Slaves of Love
June 15, 2009
Word Count: Information not available
Summary: On a parallel Earth called Kale-Ra, humans born under "star signs" are blessed with magical powers. Two factions exist: the Star Guardians, and the Shadow Guardians. Clarabelle Stewart is your average teenage girl. She doesn't have any hobbies, and manages a C+ average in most of her classes. At least, she would be average, if not for her late father. He betrayed the government while attempting to steal a treasure for a Shadow Guardian terrorist organization, the Penumbra. Ever since his death, her family has been scorned and marginalized. But when the Starlite Academy--a prestigious military school for aspiring Star Guardians--grants Clarabelle a full-ride scholarship, she realizes that this is her opportunity to turn her life around. She eagerly sets off for school, and meets a wonderful group of friends. Yet, some things are still... off. Her teacher, Slade, and her roommate, Wulfgar, claim that they know her from their past, but she doesn't remember them. And Ursula, the bubbly senior student who welcomed her into their friend group, is hiding her own set of dark, tumultuous secrets. Unbeknownst to them all, weaving backwards through the years, a sinister plot has taken hold, setting the course for each of their lives. And suddenly, the world turned upside down. Nothing is what it seems.
Star Guardians: Legend of the White Nova Volume 1
April 22, 2018
Word Count:
7000
Summary: They've been friends since childhood. But can their friendship survive adult reality? Confirmed geeks and childhood friends, Lem and Devon are looking forward to reuniting at a convention. Despite their diverging lives and their fair share of secrets, their shared love of cosplay and science fiction brings them together in ways that nothing else could. But not all friendships are perfect. When their old schoolfriend Nerys joins them for the day, rifts soon begin to show as the three realise how far they've grown apart. Struggling with Nerys's insensitivity and her misguided approach to non-binary gender expression, the group are determined to make the most of their time together and embrace their nerdy selves. But with tensions rising, can their friendship withstand the dramatic ways their lives have changed? A short, thought-provoking backdrop to the author's White Hart series and her forthcoming Starship Teapot series, Stardust Wake provides an insightful glimpse at complex issues while brimming with passion for all things geek.
Stardust Wake
April 11, 2021
Word Count: Information not available
Summary: Funerals are usually the end of the story, not the beginning. Newly graduated warrior-mages Toria Connor and Kane Nalamas find themselves the last remaining mages in the city when a mage school teacher mysteriously falls ill and dies. But taking over the school themselves isn't in the cards. They're set to become professional mercenaries–if they make it through the next 18 months as journeymen first. The debate over whether to hunt mutated monsters in the Wasteland or take posh bodyguard jobs is put on hold when a city elder hires them to solve the mystery of the disappearing mages. Toria and Kane's quest brings them to the British colonial city of New Angouleme, where their initial investigation reveals that the problem is even greater than they feared. But when a friend is kidnapped, they'll have to travel to the other side of the globe to save her, save themselves, and save magic itself.
Steel Magic
July 5, 2016
Word Count:
99,800
Summary: The Storm has arrived. For Davra Andraste, redemption comes as she accompanies the resistance commander to confront the human warlord fighting against both sides. And the newest overlord on Amargosa. For an ambitious politician, control of human evolution is almost in his grasp. Only a very old foe threatens to undo his plans. For Laral Farad, it is his family's last hope to tame the "rogue colony" called Cyal, which humans call Amargosa. For JT Austin, it's a now or never moment to prove himself as he trains to liberate his adopted homeworld. For Amargosa, it's a chance to end a year-long nightmare. The Amargosa Trilogy comes to a thrilling conclusion!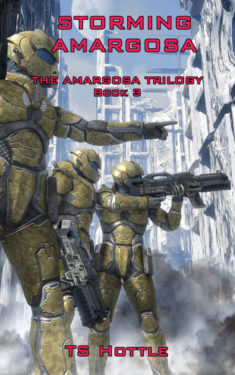 Storming Amargosa (The Amargosa Trilogy Book 3)
September 13, 2020
Word Count:
68000
Summary: What price would you pay to rescue a friend from hell? For Logan Conner, the answer is almost anything. Guilt-ridden over trapping his college roommate in a ghost war rooted in Portland's pioneer past, Logan has spent years searching for a solution. Then his new boyfriend, folklorist Riley Morrel, inadvertently gives him the key. Determined to pay his debt—and keep Riley safe—Logan abandons Riley and returns to Portland, prepared to give up his freedom and his future to make things right. Crushed by Logan's betrayal, Riley drops out of school and takes a job on a lackluster paranormal investigation show. When the crew arrives in Portland to film an episode about a local legend of feuding ghosts, he stumbles across Logan working at a local bar, and learns the truth about Logan's plan. Their destinies once more intertwined, the two men attempt to reforge their relationship while dodging a narcissistic TV personality, a craven ex-ghost, and a curmudgeonly bar owner with a hidden agenda. But Logan's date with destiny is looming, and his life might not be the only one at stake.
Stumptown Spirits
May 16, 2016
Word Count:
83,000
Summary: Life on Amargosa was supposed to be quiet for Cui Yun, better known by her call sign Suicide. But when a baby is dropped on her doorstep, the mother's disappearance leads her across the galaxy to a world of Neanderthals, a colony devoted to Marilyn Monroe as a goddess, and a planet still in a post-apocalypse and rife with monster plants. She and her protege will find themselves above the galactic plain facing down an enemy that wants control of human evolution itself. Suicide Run marks the return of one of TS Hottle's most popular characters. Find out where she came from, how she became a pilot, and why her call sign is 'Suicide".
Suicide Run
August 13, 2021
Word Count:
108100
Summary: Corentin is a scholar with a secret—his magical Talent allows him to turn into a dragon, and he isn't alone in that ability. Long ago, dragons were hunted fiercely, until they went into hiding, becoming things of legend. Corentin has traveled the world with one aim—to protect his people and keep their secret safe. Drawn to the principality of Tournai by news of someone close to discovering that secret, he hopes to avert suspicion. His attraction to the too-serious Bastien isn't convenient for his purpose, but it isn't something he can ignore either. Lord Bastien, Earl of Ardesia, inherited his title unexpectedly when his parents were killed in a sailing accident along with the parents of his cousin, Prince Philip. Since then, Bastien has devoted his life to the obligations of his family and estate—so much so, that it has caused tension between him and his siblings. His world is further shaken when he receives an anonymous letter informing him that the tragic boating accident may, in fact, have been murder. Bastien throws himself into investigating whether the allegations are true and finding out who killed his parents. As Corentin and Bastien become closer, the mystery of Bastien's parents' death draws him further into danger. Corentin feels compelled to protect Bastien, but the threat is closer than they know. Now, Corentin must decide whether preserving his secret—and potentially his people's safety—is more important than saving the man he loves.
The Dragon's Devotion
SALE
September 4, 2017
Word Count:
77400
Summary: In the aftermath of his father's funeral, Dom Wesa, the new Alpha of Luxor City's Central Empire, stumbles upon an Omega in desperate need of help. The Omega, Lin Vasiliev, wakes to find he's been taken into Dom's home to be rehabilitated. Dom thinks the young addict may have information about the illicit drug trade going on in his Empire. He gets Lin sober to question him only to discover that Lin is new in town and ignorant of Luxor's laws. Dom and Lin are both suspicious of each other at first for their own reasons, but as that wariness wears away a deep attraction develops between them. Dom dotes on Lin, leaving the once stone-broke Omega bathed in finery he never could have imagined. They start planning for Lin's upcoming heat, when they will be driven together by their kindling bond and strong compatibility as an Alpha and Omega pair. However, in the midst of their swelling romance, Luxor's most notorious Alpha reappears sparking a gang war that threatens to turn the entire city into a battleground.
The Empires of Luxor City
February 3, 2020
Word Count:
97,000
Summary: It's a war to take back Amargosa. A senior Compact official looks into the mysterious Juno and discovers a war for control of human evolution. A failed assassin must do penance by recruiting settlers for the woman he tried to kill. Two junior officers get a front row seat to the liberation, but their biggest fight is with each other. Those who have stolen Amargosa do not face an invasion.They face a gathering storm...
The Gathering Storm Omnibus
August 1, 2020
Word Count:
97,000
Summary: Amargosa has fallen, but beyond it, humanity gears up to battle an unseen enemy. And finds an ally in an unexpected quarter. Here now are the three novellas comprising The Homefront Arc in one volume.
Broken Skies - The attempt to liberate Amargosa in the early days of the Gelt occupation fails. Force Admiral Quentin Austin finds himself in the political crosshairs for an operation that should never have taken place. While he awaits his fate, the Navy gives him an assignment: Find out the true nature of Juno, the shadowy company even its own parent corporation knows little about. Juno was present before the fall of every colony that has gone silent. And they're visiting another. Read an excerpt!
Warped - True FTL is here, powered by sarcasm. And a dwarf. Hideki Okada and Peter Lancaster have perfected warp drive after 400 years of wormhole travel. Now the Navy wants to mount their discovery on a warship. Only Okada and Lancaster have some reservations about how the Compact wants to retaliate against their new enemy, the Gelt. They are shadowed by the secretive Cybercommand but find allies in Admirals Burke and Austin. The question is whether they will need to commit treason to do the right thing. Read an excerpt!
Tishla - Only she can unite two warring species. If they don't kill her first. Lattus Tishla goes from indentured servant to Elevated noble woman to leader of the fractured world of Hanar, formerly Gilead. Burdened with guilt for the Gelt invasion that slaughtered thousands of humans and displaced the survivors, she offers them a choice: Rebuild with her, or accept her head on a platter. The humans accept her offer and start building. Except some don't like this new order. And they'll stop at nothing to restore Hanar to either Compact or Gelt rule. Even murder her unborn twins. Read an excerpt!
The Homefront Arc Omnibus
February 11, 2020