Word Count:

107,680
Summary: Though he is the youngest son of a royal duke, Etan is a scholar at heart, happiest in a library surrounded by his books. He contentedly juggles his work for the prince's government with his studies of the history and legends of Tournai, a subject of particular interest to him because he shares the secret magical Talent that runs in the royal bloodline. However, Etan's peaceful world turns upside down when his best friend—the man he secretly loves—unexpectedly marries someone else. Tristan is the oldest son of a wealthy merchant, raised to shoulder responsibility for the family business one day. That day comes far sooner than anticipated, and he makes a deathbed promise to his father to marry the woman his father chose and become head of the company and family. Tristan values his friendship with Etan and has always been attracted to him, but he can't forsake his duty to his father, even if it means giving up the possibility of having Etan as a lover. A year later, Tristan is a widower with an infant daughter and a mother who demands he marry again quickly—something Tristan resists. Circumstances throw Etan and Tristan together again, but even as they succumb to the desires they've always harbored, Etan battles his feelings, wary of being cast aside once more. When the unimaginable happens, Etan and Tristan must come together and support each other through the ordeal…and maybe beyond.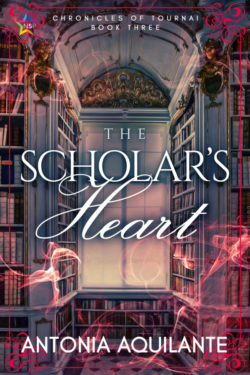 The Scholar's Heart
Word Count:

119000
Summary: Enter the world of Mulgara, where conquerors and ghouls and sordid necromancers await. "In The Scrolls of Sin, David Rose paints a fully realized fantasy realm with ingenious plotting, complex characterization, and cleverly lush language. It's also viscerally involving. The collection is so steeped in the sin of the title that it plunges the reader into a sordid otherworld of corruption, treachery, violence, torture, lust, murder, and dark magic — though not without fleeting moments that grope toward something like tenderness and redemption." --- Matt Cardin, author of To Rouse Leviathan
The Scrolls of Sin
Word Count: Information not available
Summary:
Music and magic. Steampunky science. The Dissolution is coming.
Eighteen year old recluse Sam van Oen lives with his aunt, takes online college courses, works in technical support, and tries not to remember the freak storm that killed his parents ten years ago. But anxiety and reclusion bring up memories he doesn't want. Just as Sam gathers courage to send in his application for college away from home, the temperature drops and the sun goes dim. Ice forms in August, and a portal opens in his fireplace. This time, Sam can't run. This time he's sucked in. Now Sam must survive in the flourishing capital of ten alien species, home to thousands who can change the Symphony underlying the universe and alter reality. Sam's anxiety attacks and fear of crowds transforms the Nether into a frightening, expansive city. To find his home again, Sam must learn to control the music inside him, while devastating voids threaten to destroy the Nether and everyone he has grown to love. "
Simply Put, This is a Brilliant Book. Read it Now.
" -Scattered Thoughts and Rogue Words Blog If you're looking for an awesome ride across multiple homeworlds filled with magic, science, music, and diverse alien species, don't miss the first book in William C. Tracy's Dissolution Cycle! The Dissolution Cycle (Epic Space Opera, LGBT): Book 1: 
The Seeds of Dissolution
Book 2: 
Facets of the Nether
Book 3: 
Fall of the Imperium
Book 4: 
Tales of the Dissolutionverse
 (Novella collection)
The Seeds of Dissolution
Word Count:

35000
Summary: Also written by Karen Blakely, Jenniffer Lee, RA Gates, and Cheryl Mahoney You think you know the story – prince gets cursed, girl meets Beast, they fall in love and live happily ever after. If only it was that simple. But dating is tough even in the best of circumstances. Ever since the fateful day when we let that horrible Good Fairy into the castle, our lives have been on hold. When she turned our bad-tempered prince into a Beast, she lumped us, his loyal servants, into the curse too, just because she assumed his rude behavior was our fault. Theodore the butler should never have let her in, and the rest of us should have helped bar the door. Now Theodore is an armchair, and we're all trying to carry on our duties as a piano, a coat rack, a bookcase and the like. At least we have Robert to clean up the pink sparkles piling in the corners from the Good Fairy's curse, since he's a mop now. We know we just need the Beast to fall in love to break the spell. We're all doing whatever we can to help him find True Love, one visitor at a time, hoping the right person finally comes along–but will the Beast ever learn to love?
The Servants and the Beast
Word Count: Information not available
Summary: When a new witch threat rises, only Hunter Astley can stop them… In the face of dark magic and evil witches, a secret witch-hunting society works tirelessly to keep them at bay. The Malleus Maleficarum Council have strict rules and practises for eradicating magic. Due to their work, witches have been almost forgotten, relegated to myth; but rumours are starting to emerge of a new power that will throw the world into chaos. As the only 7th generation witch-hunter, Hunter Astley is the best the MMC has to offer. With the help of his colleagues, it's a race to track down this new threat and stop them… in any way he can. Part one of the Witch-Hunter trilogy. Free download from most ebook retailers.
The Shadow Rises (Witch-Hunter #1)
Word Count:

52000
Summary: Rescued from slavers, healer novice Jaime Buchanan finds himself alone and free in Pyrderi, a kingdom of magic, mythical creatures, and a culture as open and kind as his homeland was cruel and close-minded. Despite his rescue, Jaime is not left without scars, both mental and physical. Traumatized by his experience and hiding his gift, Jaime struggles to earn his place in the kitchens of Angharad Palace, the heart of Taliesin City. His former life as a student of the healing arts leaves him at a disadvantage in the kitchens, and his damaged state is becoming more apparent by the day. One day, when necessity and fate intervene, Jaime meets someone unexpected—Prince Maxim, youngest son of the Pyrderian king, a sword master and a devastatingly kind man. Unaccustomed to powerful people with compassion and heart, Jaime flees. A cascade of events reveals Jaime's hidden talents of healing, and he finds himself not in chains, but at the beginning of a new life. This swift change of fortune opens Jaime up to new possibilities, including a smitten prince who cautiously courts Jaime, easing him away from his fears and reminding him that compassion and love can make him strong. The winter solstice is quickly approaching, and Prince Maxim shows Jaime the enjoyment and excitement to be found in a land that embraces the ice and cold, and the mysteries of all things magical. He learns to see the man under the royal mantle, and Maxim is more than even Jaime suspected. The winter solstice is nigh when tragedy strikes, and Jaime learns that his past of grief and sorrow can be a pillar of strength for his solstice prince. If there is one thing that Jaime believes above all else, it is in the healing power of love. 51,835 words, 182 pages Gay Epic Fantasy Romance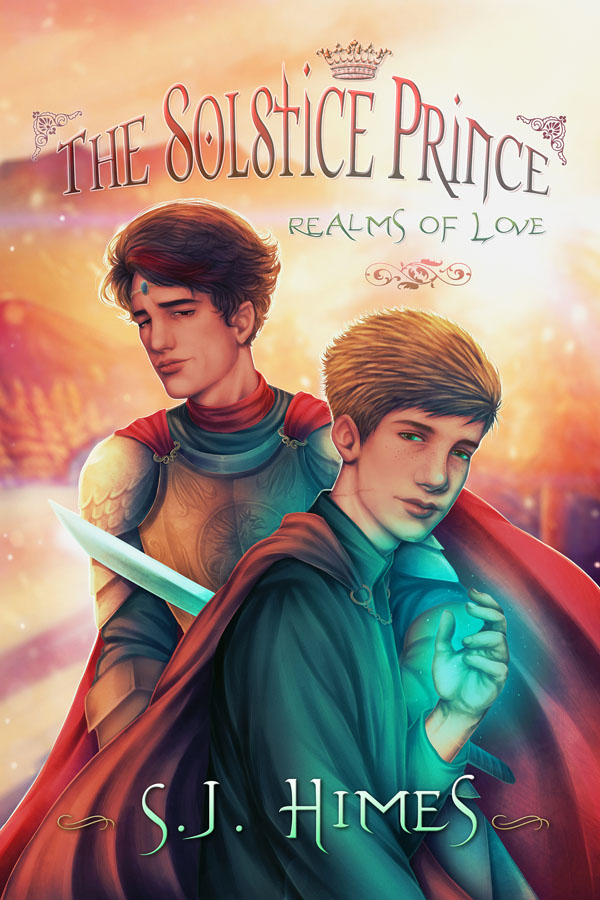 The Solstice Prince
Word Count:

111,309
Summary:
Savarin honed his Talent through years of study, and to achieve his goal of becoming the most powerful and accomplished sorcerer in Tournai, he made magic his life. Among the wealthy and noble circles he moves in, no one would suspect the handsome, refined, arrogant sorcerer's humble beginnings—which is how Savarin prefers it. He wants to be seen only as the man he's made himself. When Tournai's princes task Savarin with studying and strengthening the spells that protect the principality from magical attack, he is more than happy to do so. The spells are complex, centuries old, and exactly the type of puzzle Savarin is eager to solve. But to his annoyance, the princes insist Loriot accompany him on his journey. Second son of a minor noble family, Loriot worked his way up the ranks of the royal guard to captain with single-minded determination and takes pride in his service to the crown. He must obey the prince's orders to protect Savarin, despite believing his skills would be best used elsewhere and his wariness of magic. UnTalented himself, Loriot has learned not only the benefits of magic but also its potential for harm—and how to counter it. He still believes it's best to avoid most magic entirely, which is difficult when he's tasked with playing guard to a powerful sorcerer. Loriot and Savarin clash repeatedly during their journey, but the simmering tension between them doesn't only stem from their work, and passion develops into feelings neither expected. But Savarin must still secure Tournai's magical barrier, and his only solution will endanger both him and the royal family.
The Sorcerer's Guardian
Word Count:

107100
Summary:
Alexander is doing his best to settle into life in Tournai's royal palace after years living outside the country due to his father's diplomatic work.The sense of belonging and home he feels is overwhelming, but none of his plans are going as he imagined. Many see him as only a lovely, charming adornment of the royal court and underestimate both his intelligence and abilities. His attraction to Marcus, a mysterious olderman who does work for the prince, Alexander's cousin, is unexpected butnot unwelcome...if Marcus could possibly see who Alexander really is. Lord Marcus is the second son of a minor noble family, a widower raisingtwo children...and the prince's spymaster. He knows his work isnecessary for the security of the kingdom and its royal family, but he also knows it can be distasteful and dangerous to him and those around him. Marcus has vowed never to fall in love again, never to put anyone else at risk—a promise threatened for the first time by the vibrant, flirtatious Alexander. The attraction is unwelcome and entirely undeniable. Hecan't believe someone like Alexander would want someone like him, but he also can't stay away. As they become ever more entangled, Marcus is investigating rumors ofspies at work in Tournai's university. As he gets closer to uncovering their plot, Alexander is drawn deeper into danger. Can their love survive when Alexander is put in peril by the very spies Marcus is hunting for?
The Spymaster's Secret
Word Count:

108100
Summary: Starting on his reluctant odyssey with a small party of friends, the storyteller Jafar al-Sharif must cope with treacherous nomads, a desert djinn, a king of an underground realm and an army of animated corpses as he attempts to save the life of his beloved daughter. This is Book 2 of the Parsina Saga, a journey through a world of djinni, flying carpets and high adventure in exotic realms -- with the fate of the world at stake.
The Storyteller and the Jann
Word Count:

104000
Summary:
Kuro's true form makes him an outcast — and a deadly weapon.
Left for dead by his own mother, Kuro survived and grew up only by hiding the color of his fur. Society has been trained to fear — and kill on sight — foxes like him. When Ren stumbles into him trying to destroy the demons plaguing his kingdom, Kuro fears the end. Instead, the human boy proves himself a loyal friend. But when Kuro's secret slips out, the Shogun sees only the weapon he needs to vanquish his enemies, including Ren. Now Kuro's chance at survival comes at the price of his only friend's life.
The Sun Prince
Word Count:

115300
Summary: The Battle of Albrith is over. The battle for Faneria has just begun. Magic is forbidden in Faneria. That's why it came as a complete surprise when the king's city was attacked by a band of rogue mages. Though they were thwarted, Damian Sires, instrumental in their defeat, is known for only one thing—her magic. She returns home to a cold welcome and an even greater threat looming. For Niabi, servant of the Gods of Light, is amassing an army far to the west. After Niabi fought the Goddess of Chaos in the streets of Albrith with no thought to the damage she caused, Damian knows that this Army of Light spells disaster. Guarded at all times and accompanied by a former mercenary with a dark past, Damian sets out to stop Niabi from wreaking havoc on her country. However, even more dangerous secrets and plots are about to emerge...
The Unseen Force
Word Count:

110000
Summary: Vikings war with the last Saxon Kingdom, blood feuds stalk the family, the werebear takes revenge and our forerunner hero must face trolls, a kelp man and his nuggles, and a dark elf… The epic adventures of the Agneson Clan continue! The year is 878… Danish forces assemble for war on Wessex and the loyal Agneson Clan heeds the call to join the Great Viking Horde, but while honorable men gather in the midlands, a blood feud draws mercenaries to their undefended homestead for murderous revenge. Sailing his Viking crew to fulfill their oath, Karl harbors suspicions over strange occurrences that bedevil his nephew Thorfinn, while far to the north their sworn enemy the werebear and his dark elf master strike back… And the young forerunner Thorfinn learns the Nine Realms are full of surprising hidden folk, but to earn his place aboard the Viking's ship he must accept a mast troll's quest…. Will the family escape the despicable vendetta? Can Thorfinn face the evils prowling the bottom of the Humber Estuary? Does Cub battle to victory against King Alfred's men? How can Karl and his Vikings find and defeat a mysterious lair of were-beasts? The epic saga of Thorfinn the forerunner and his clan in Danelaw England continues….
The Vardoger Boy
Word Count:

76144
Summary: Fairy tales. Prince Charming fights evil, wins the princess, lives happily ever after. Three sons, three wishes, witches, dragons, a quest, and happily ever after. These stories are part of our cultural fabric. The stories change in retellings to reflect contemporary culture, such as Princess Charming, or heroes and heroines as people of color. In this collection, queer characters take center stage in stories that grew out of questions: What if the prince falls in love with Cinderella's gay stepbrother? What if Rumpelstiltskin doesn't really want the Queen's child but rather the King himself? What if Beauty and the Beast are two men? These stories explore metaphors of magic and the magical, this time, with a gay perspective. What price must be paid for happily ever after? Duty or love? Is love worth great sacrifice? Once upon a time ...
The Wicked Stepbrother and Other Stories
Word Count: Information not available
Summary: Too much family drama at home. That's what Morgan Patterson was thinking when she left the States to finish her final year of college studying abroad in Northern Ireland. She quickly finds herself immersed in a hidden world of magic and danger with the man of her dreams at the center of it. Only he's not a man. Tiernan Doherty is an honest-to-goodness faerie lord with family drama of his own. There's a blood feud to be settled, not to mention a messy chain of duty that binds him to the queen of the dark fae, a woman he truly despises. None of that matters to Morgan, though. She realizes Tiernan's not just the man of her dreams, he's the man she's meant to protect. But what she does to protect him surprises everyone, threatening the longstanding peace between humans and faeries, and causing more than enough tears for them all. "These Are for Tears," is the third book in the Will-o'-the-Wisp Stories, a serialized, epic urban fantasy that proves nothing is what it seems, promises are meant to be kept and words are binding things.
These Are for Tears
Word Count:

129,000
Summary: Nate is caught between two dangerously hot vampires who can compel people to do whatever they want and a ruthless necromancer who wants Nate for all the wrong reasons—and that's only the start of his problems. Escort Nate prides himself on two things: his ability to please his clients and his normality – living in the monster capital of the world, ordinary is rare. Hunter, a darkly charming vampire with more charisma than is good for him, decides Nate is just what he needs. Nate's sympathetic nature and skill in the bedroom are put to the ultimate test. But Hunter wants Nate for someone else – his brother, Ben. Nate is immediately attracted by the control with which Ben holds his sensitive nature in force. Too afraid of becoming a monster to allow himself to feel, Ben struggles to resist Nate's generosity of emotion. As a vindictive necromancer makes Ben his target of revenge, Nate discovers that making people feel good doesn't compare to making Ben feel. As Nate's normal world crumbles around him, and he desperately searches for a way to save Ben, Nate is unable to escape becoming the necromancer's latest victim. But Nate's death is only the beginning. Coming back to life in the bathroom of Gunn, a Department Seven officer who hates the vampire family that Ben and Hunter belong to, Nate doesn't know who to trust or even what he is. As the necromancer's trap pulls tighter around himself and Ben, Nate is forced to let go of normal and embrace powers he doesn't fully understand. In defiance of Ben's vampire sire and hunted by Department Seven, Nate and Ben finally learn to trust and rely on each other. But when the necromancer succeeds in capturing Ben, Nate alone can come to his rescue.
Thorns and Fangs
Word Count: Information not available
Summary: In Book 2 of The Fairville Woods series - the sequel to "From The Ashes" - the ghost of a little girl begins to haunt Lundy, in a stark reminder that Karel's curse has not been completely broken. Harlan is now a happy fixture in her life, unbeknownst to her parents, but the school year begins and she finds herself dealing with mean girls, popular guys, and troubled friends, as well as her developing physical relationship with Harlan. But even with Karel's coven gone, all is not right in Fairville - children are missing from the elementary school, and Harlan and Dr. Weinhelm sense an alarming presence in the town. Lundy begins to have dreams about a mad woman who has lost her children, while the little girl ghost leaves her clues she doesn't understand. The vampires from the Smoky Mountains reluctantly arrive to help defeat a creature from ancient, frightening legends - one whose existence yields an unlikely clue to the new nature of Lundy's curse.
Through The Eyes
Word Count:

93765
Summary: Home, a place where we belong and are safe and loved. Home, the house in which we grew up, a neighborhood, a culture, even a country. Home is a state of mind, it is a place of the heart, and in the heart. Finding home, coming home, and bringing home the one we love is a journey, a journey that can be a dangerous adventure. For the lovers in these stories, adventures can include quests and fighting dragons and demons, past and present, physical as well as mental and emotional. Rocket launchers need to be dodged, the Wild Hunt needs to be outrun. For some of the lovers here, home has been lost, or they have been forced to leave, as is too common for LGBT+ youth. In this collection queer positive speculative fiction stories, explore the idea of what and where home is in the lives of these lovers. Will they survive their quests, defeat their monsters? Will they find a place to call home?  
To Bring Him Home and Other Tales
Word Count:

65000
Summary: Witches, ghouls, and mind readers—oh my! Murder and mystery abound in this supernatural novel. Vega Bloodmire has no problem with the label "villainous witch," though she draws the line at being called a self-centered hag. Life isn't easy being twenty-two, drop-dead gorgeous, and the most fashionable witch in all the land—especially while working as an intern teacher at a magical boarding school. Just when Vega thinks she has student teaching figured out, she is framed for murder. Worse yet, she fears she might have revealed her darkest secret—one so awful she will be shunned by Witchkin society even if she can prove her innocence. Vega needs to find the true culprit behind this crime in order to save her reputation—and her life. Enjoy this spin-off series from the world of Womby's School for Wayward Witches. This book starts with Vega Bloodmire's life before working at Womby's when she was a new and inexperienced teacher at Encantado Charter Academy. It is the first book in the series of stand-alone novels. These mysteries are meant to be read in any order. Clean, cozy, no sex or swearing, PG 13—perfectly fine for teens or grandmas who like paranormal mysteries at magical boarding academies.
Too Ghoul for School
Word Count:

54000
Summary: Silas Thornwood's worst nightmare has come to life. Darien's familiar Pip is gravely injured, and Darien and Jasper have been kidnapped. Someone ruthless and violent is holding the man Silas loves prisoner, for purposes he doesn't want to imagine. Silas needs help from his friends to locate and rescue Darien. And when he does, those responsible― whether sorcerer, human, or demon― are going to be truly, utterly sorry…
Trapped by Greed
Word Count:

86000
Summary: One merman. Two lives. A love so powerful it tore apart a city and broke the heart of a god. Caspian, the Atlantean God of Justice, has devoted his eternal life to protecting the merfolk. He has no time for romance, not even when the merman he now watches over is his former lover reincarnated. Phoebus, a merman living in the sunken city of Atlantis before the Atlanteans were banished, never intended to fall for Caspian, the most promiscuous of all the gods. Yet, when Caspian offers him immortality, Phoebus doesn't know if he can pay the price, even if refusing means breaking the heart of a god. Back in the present, Marin remembers the love he once had for Caspian, but he's not the same merman now. Caspian might have loved him as Phoebus, but he knows the god cannot give him what he needs. Marin doesn't want Caspian's protection. He wants revenge, and he is prepared to make the ultimate sacrifice to get it, even if it means breaking Caspian's heart a second time
Treacherous Seas