Word Count:

25000
Summary: Exiled to Earth for perhaps the worst failure in Irasolan history, General Teer must assimilate or die. Earth is too warm, too wet, too foreign, but he does the best he can even though human males are loud, childish louts whom he can't imitate successfully. When a grieving seaplane pilot strikes up a strange and uneasy friendship with him, he finds he may have been too quick to judge human males. They are strange to look at, but perhaps not as unbearable as he thought.
A Christmas Cactus for the General
Word Count: Information not available
Summary: How much must one sacrifice for the sake of friendship? Lady Claire Trevelyan has had to deal with betrayal before, but none is quite so painful as the belief that Gloria Meriwether-Astor deserted her and her friends and left them to die under the waters of Venice. But when she learns that Gloria has vanished, can she do the right thing and attempt to find the missing heiress? Of course she must. But this does not sit well with the gentlemen in her life, who had every reason to believe she planned to settle down at last. Suddenly Claire finds herself without a career, a fiancé, or the confidence in her own abilities that has carried her this far.  Worse, Captain Ian Hollys is suffering from the megrims and cannot seem to recover from his dreadful experience as a prisoner. Alice's dream of captaining her own ship in England is scuttled. Tigg is struggling with a revelation that has turned his life upside down—and may result in a betrayal more harrowing than any the flock has yet seen. Will the bond of friendship that has brought Claire and the flock together be the very thing that separates them for good? Or will love tip the balance and prove that what really defines a gentleman of means is none other than a lady of resources?
A Gentleman of Means
Word Count: Information not available
Summary: Memories of another life and lover guide her, but are they even hers? She is a Bearer—keeper of past lifetimes and gifted with strange talents. Ember must find her answers away from safe Longquan Village, snared instead in the sensuality and dangers of The City. Hidden among spider farmers and slaves, prostitutes and weavers, a nest of people like her are waiting. A powerful man outside The City raises his forces, determined to hunt down the 'demons' who could taint his followers. Threatened from without and within, can the Bearers even trust each other? Powers will rise and alliances will be forged in a dark new world. The Memory Bearers are coming. This book includes violent and mature content. Reader discretion is advised.
After the Garden
Word Count: Information not available
Summary: It's her first job...and it's already going wrong. Freshly graduated from university with a degree in engineering, Crystal approaches her placement on the wormhole-constructive ship Crossing Paths with nothing but enthusiasm. But while Crystal gets used to the ins and outs of a multispecies, multicultural ship, tension brews both at work and back home. Not murdering her coworker Jai is hard enough; the last thing she needs are the terrifying errors cropping up on her maps. Reality and space are either tearing themselves apart - or someone else is attacking them. With conspiracies lurking everywhere, friendship won't be enough to see her through these dangerous new problems... Fans of Becky Chambers' Wayfarers series will enjoy this sometimes joyful, sometimes dark personal adventure set in a world of politics, bureaucracy - and piracy.
And The Stars Will Sing
Word Count: Information not available
Summary: Come, Best Beloved, and sit you by my feet. I shall tell you a tale such as sister Scheherazade could have scarce imagined... In the Nejd there is nothing at all...except secrets. A band of thieves wishes such secrets to remain hidden. In England, far from his desert home, Ali bin-Massoud serves as apprentice to the famed Charles Babbage. One night a mysterious box is delivered by a clockwork falcon and Ali's world is never the same again. Heartache, danger, and thieves mark his journey as Ali is summoned home at the death of his father. It will take faith, knowledge, and yes, love to realize his destiny, and more than a little skill with steam-driven technology. Can he unravel the mystery of the puzzle box and the clockwork djinn before it is too late? An ancient legacy and Ali's very life depend on his success. Hear you the tale of Baba Ali and the Clockwork Djinn.
Baba Ali and the Clockwork Djinn
Word Count:

136000
Summary: With his career firmly established and his reputation as a successful PI growing, Hades should have the perfect life with his human lover, his faithful ferryman, his dogs and the parts of his family still speaking to him. But murder and chaos are never far away for death lords as his nephew Dionysus and his oldest friend Charon are drawn into the maelstrom. Includes: Books, Bulls & Bacchanals: Brandywine Investigations #4 Midwinter Dancing: Brandywine Investigations #4.5 Pack Up The Moon: Brandywine Investigations #5 Please note: Books, Bulls & Bacchanals has been re-edited for this edition.
Brandywine Investigations: Family Matters
Word Count:

65000
Summary: A young man sold into servitude has his loyalties tested in ways he never imagined. Raised in an orphanage in Dickens, Daniel doesn't know who his parents were, where he comes from, or even his last name. Like all orphans, on his 16th birthday, he's sold to the highest bidder. Not knowing where he's going, who's bought him, or what they even want with him, Daniel embarks on an adventure he never thought he'd take. He finds love, a family, and a secure future - yet in a split second, makes a decision he ends up regretting the rest of his life. Brothers begins fifteen years before the Red Dog Conspiracy series. Warning: Language, smoking, use of alcohol and drugs, attempted suicide by hanging, M/M underage sexuality with consent issues, forced servitude, blood, gun violence, a man being beaten by a horsewhip, murder, discussion of child prostitution, underage M/F sexuality with age gap (female older).
Brothers
Word Count:

128000
Summary: In the wake of a worsening climate crisis, magic runs rampant and demons roam across the Canadian prairies. A long-dead god stirs in the Pacific Ocean, while the wilderness is choked by invasive, screaming grass. The Cascade has shattered political stability, leaving a scandal-plagued government clinging to power in Ottawa. As catastrophe looms ahead, a precognitive rainman, Ian Mallory, stands between run-of-the-mill corruption and a nightmarish, dystopian future. It is up to a diverse and unlikely band of activists, scientists, journalists, and one underpaid, emoji-spell wielding intern to save their beleaguered country from its own worst impulses
Cascade
Word Count:

139,000
Summary: In a condemned hotel, an intelligence operation to retrieve a DNA-altering bioweapon goes horribly wrong, sparking a scandal that could bring down an agency ... and a city along with it. Adasha Denali resolves disputes for Naion—using words, not weapons. But with her agency under fire and her mentor fed to the wolves, she'll have to get her hands dirty. Racing to discover who's undermining Naion's security and why, Adasha runs headlong into corporate mercs, an engineered spy, and a man losing his mind to a new form of intelligence. Meanwhile, the once-great immersion hacker Neon Nik is on the ugly side of broke, struggling to pay off circling loan sharks. When he inherits a piece of advanced tech that throws him into Adasha's path, threats of dismemberment become the least of his problems. Now he's got a vortex of hired killers on his heels and a decision to make: sell out or suit up.
Centricity
Word Count:

137000
Summary: Have you ever made a ship's AI proud? Really, truly proud? Captain Alastri has. She's a child of Doro, a frontier world governed by a temperamental AI that represents the thoughts and feelings of all its citizens. Never heard of it? Well, it did get destroyed, which is where her ship's AI steps in, to regale us with how Alastri's past led directly to this catastrophe. When Alastri was 17, she witnessed a failed mediation between the ever-wronged citizen Ceres and Doro's governing AI. That day didn't just reveal a range of competing philosophies. It also led to treason, the loss of her ship, and the destruction of her home 25 years on. Connecting the dots from that day is the only way Alastri can hope to prevent further disaster for her system. And yes, this she does, most splendidly—at least, if you can believe a ship's ridiculously proud AI. Inspired by The Brothers Karamazov, a.k.a. "Dostoevsky in Space"!
Children of Doro
Word Count: Information not available
Summary: Eclectic, imaginative, and unexpected, Community of Magic Pens features forty genre-spanning flash and short stories--including fantasy, humor, science fiction, romance, historical fiction, satire, and mystery--bringing together a rich group of diverse voices from a wide range of backgrounds and intersections. Fountain pens, markers and ink, charcoals, spy pens, a braille writer, a printing press, virtual reality, and a supernatural pizza: whether revealing unspoken truths, fighting injustice, or finding friendship and love, our pens have power. Join us as a recent graduate of superhero school struggles to understand her gift, a disabled android interviews for a job, a queen's conscripted artist must pull reality from illustrations on parchment, and a grandmother's secret room is…better kept a secret. Tales of struggle and triumph, compassion and hope: Community of Magic Pens is a celebration of our shared story.
Community of Magic Pens
Word Count: Information not available
Summary: Two friends. Two worlds. A selfish desire that threatens them both. Raijin killed a witch and found himself cursed. Sandro went to Raijin's aid and became an assassin's target. Neither expected that they would trigger the biggest upheaval their world had seen in a thousand years. And that it was the love between them that would lift the curse. Cursed, the second book in the Balance of Magic series, is a slow-burn m/m fantasy romance featuring friends-to-lovers who become soulmates, irate death gods, curses, inept, narcissistic politicians, curious, compassionate witches, and a found family.
Cursed
Word Count:

71,661
Summary: A dead-end job, a slob for a boyfriend, and neglectful friends: this is Kat Wallace's life. Ever since her best friend got married, Kat has been struggling to find happiness. All that changes when she meets Melody Adebayo, a field agent with the mysterious transdimensional company Clockwork & Associates. Melody's job is to send the consciousness of others to a scarier dimension in order to make them kinder and more grateful for their lives, which, in theory, will influence them to do good. But when Kat is sent to B-215, she awakes in a world beyond her wildest dreams. She's wealthy, well-liked, and has a successful career. Kat realizes she doesn't need to find happiness in her own world ... she can just steal it from her other self. Because of a certain (ahem) incident, Melody owes a lot of money to her evil ex-girlfriend, and Kat works out a deal with her in order to keep visiting B-215. With each visit, a sinister plot unfolds. Kat discovers her life is at risk, and she isn't alone in this dimension. To eliminate the threat, she must team up with Melody, but can the two uncover the truth before Kat loses her life? More important, will they be able to move on from the mistakes they made in the past and find love with each other?
Duality
Word Count:

30000
Summary: Flee. Scatter. Take your mates and your offspring and run. The escape pods fall to Earth one by one over the course of weeks, a mysterious and diverse alien diaspora, each pod containing a different alien race and leaving the world's governments scrambling to deal with this unexpected immigration. Serge Kosygin, still grieving and isolated after his husband's death, watches events with gray disinterest until one day he witnesses a pod crash for himself while driving home. Two of the alien visitors have died, but one survives, badly injured, and Serge is determined that if this alien is also going to die, it won't be under the harsh lights of a government facility. Devastated by the loss of his life mates in their desperate effort to reach safety, the knowledge that Een is the last Aalana in this sector of the galaxy only compounds his sorrow. He wakes in an alien dwelling under the care of one of the native dominant builder species, a being who appears to share nothing with Een besides a bipedal structure. Slowly, with the help of his patient and kind host, he discovers they are more similar than he imagined as they share harmonies and his host assists him with language acquisition. Their tentative first contact soon evolves into a deepening friendship, a balm for two grief-weary souls. They'll need each other and their growing bond for the troubles lurking just ahead. Publisher's Note: Eating Stars was previously published as part of Meteor Strike: Serge & Een as a novelette. It has undergone extensive rewrites and edits with over 10,000 words of new content added.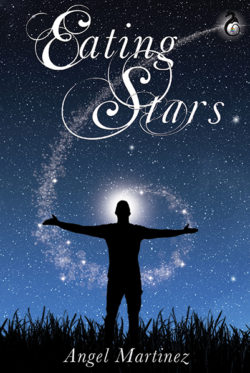 Eating Stars
Word Count:

50000
Summary: Can Scott and his new friends survive a trip to the "Dead Zone". Is it REALLY dead? if not who or WHAT lives there?
Enimnori Discovery
Word Count: Information not available
Summary: Mortal. Immortal. Musician. Mage. On a journey from the boroughs of New York to the heart of Tir na nÓg, from innocence to the deepest darkest crevices of her soul, Kara O'Keefe found power and strength in the discovery of self. But with that peace came a hard truth. As a bridge connecting many worlds, none of them held a place for her. She must find her own way, forge her own path. To honor a vow to Granddame Rose, a matriarch of the Kalderaš Clan, Kara joins the Romani caravan, only to find herself even more of an outsider than before. While she strives for acceptance, and to honor her vow, little does she know she has once more become a lure to an ancient and deadly enemy, drawing danger into the midst of her unsuspecting hosts. Once savior of the world, Kara must now save herself and the innocents around her. She has come into her legacy, but where will destiny take her? **** Based on the Eternal Cycle Series of Novels: Yesterday's Dreams Tomorrow's Memories Today's Promise **** Includes six bonus short stories.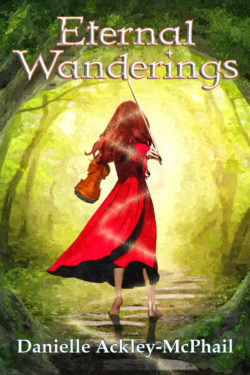 Eternal Wanderings
Word Count:

23000
Summary: Alex always thought love was enough to keep him and Gio together. Why did they need wedding rings or legal certificates? But now, with Gio lost in a coma after a fire has destroyed their home, his partner's mother banishes Alex from his side. Locked in a gray limbo inside his head, memories are all Gio has left, and the urge to let go is getting stronger. Nothing can keep Alex from Gio's side, even if he has to break the rules. In their stolen moments alone together, Alex fights to reach Gio, one memory at a time. What if Alex's voice is the only thing that can bring Gio back?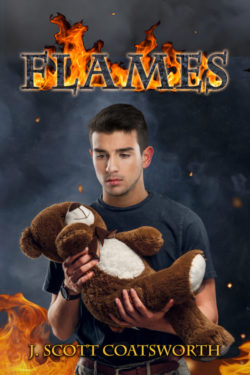 Flames
Word Count:

126000
Summary: Not once in the past five years has Castle Warden Sho Renjimantoro regretted following his best friend to Aart. How can he regret it when he finds open acceptance regarding his sexuality from everyone around him (even if they don't understand it), and he gets to be with the man most important to him? No, finding someone in this country is a fantasy best forgotten. General Arman Brahms, finally home from deployment, has waited over two years to show Ren he's wrong, that fantasies can come true. Unfortunately, his plans get put on hold to help Ren solve the crisis unfolding in the castle. Someone is doing their level best to make sure the engagement of Prince Charles and Princess Alexandria of Scovia falls through—by fair means or foul. In addition, they're trying to make Ren deemed incompetent and dismissed from his position. While hunting for the perpetrator, Ren and Arman do everything in their power to protect those they're sworn to before the irredeemable occurs. And along the way, prove that even an ordinary life can become extraordinary.
Fourth Point of Contact
Word Count:

40000
Summary: An outcast necromancer and a half-demon clerk need to save the world from seashell zombies. No pressure. Everyone's always told Aspic that trouble can't help following him because of his heritage. Determined to put the lie to half-demon stereotypes, he's finally landed a good, quiet job as an herbalist's clerk where the owner trusts him to man the shop alone. What could go wrong selling coriander and thyme? When Geoffrey first enters the shop, Aspic finds the little man's eccentric appearance startling, then intriguing. Geoffrey explains, in stops and starts, that he is a theoretical necromancer researching replacements for blood magic. His current line of inquiry involves seashells—do they have any in stock? Aspic's co-workers warn him that Geoffrey is a walking disaster, but he finds himself more and more drawn to a necromancer concerned with ethical death magic. Aspic is with Geoffrey in his lab when he has his first success, but the results aren't at all what he was aiming for. Instead of raising the dead rabbit on his table, the ritual animates the seashell and rock spell components, which flee the lab and cause havoc. They soon discover that the spell-animated objects are "zombies" in that they can "infect" other inanimate things. An unorthodox necromancer and an exasperated shop clerk are going to need some unconventional help to find a working de-animation spell before the world is overrun by zombie seashells and stones gone mad. Geoffrey the Very Strange is part of the Magic Emporium series. Each book stands alone, but each one features an appearance by Marden's Magic Emporium, a shop that can appear anywhere, but only once and only when someone's in dire need. This book contains theoretical necromancy, unexpected spell outcomes, some extraordinarily angry seashells, and a guaranteed HEA.
Geoffrey the Very Strange
Word Count:

17000
Summary: "...an apocalyptic survival story that moves with the speed of a raging river..." This is how the world ends. For one man, this is how it begins. Donald Kerston's life up to now could only be described as a nightmare. But what he wakes up to suddenly becomes much worse. Struggling for his very survival, for the first time he finds friends and a future - only to be confronted with the one thing he didn't ever want to face.
Gutshot: The Catastrophe