Word Count:
48338
Summary: Every story has a beginning…. Dragons. Angels fear them and demons follow them. Formidable beasts of incredible power, they fight each other to the death for dominance. But dwindling dragon numbers cause alarm among the angelic ranks. Surely when the dragons have finished killing each other, the victors will search elsewhere for conquest… maybe even the Upper Realm. Roland, an angelic artist of significant talent, doesn't know what to believe. Part of him longs to see a dragon in person, and his peaceful life of contentment is wearing thin. He wants passion, desire, adventure, and love. He gets more than he bargained for when he and his sister are ambushed and captured by demons, and they bring him to a creature who surpasses Roland's wildest imaginings. But the mighty dragon Asagoroth is not all that he seems. Something sparks between him and Roland. Something neither anticipated. Something that will shake the cosmos to its core. Note to readers: this is the second edition, fully revised and updated.
On Wings of Passion
February 2, 2021
Word Count:
50963
Summary: Trystan is an unchosen angel—shunned by society, bullied, and without a future. In a hidden well, Trystan discovers a carving of a dragon, who were once the commanders of demons and now believed extinct. But Trystan learns the carving doesn't depict an ordinary dragon. Stories tell that millennia ago, the great dragon Asagoroth and his demon army nearly conquered the three realms but was killed by the five elders. The powerful angels combined their life forces to cast a spell, sacrificing their lives. But history is full of falsehoods. The five elders only managed to imprison the dragon, and Asagoroth had cast his own spell—one of releasement. It only needs the blood of a certain angel to liberate him from his cage…. Asagoroth, enemy of angels, conqueror of realms, is free. But even as the angels prepare for war, the great dragon surprises them with an ultimatum: hand over the angel who awakened him or face annihilation. Note to readers: this is the second edition, fully revised and updated. The current audiobook is based on the first edition.
On Wings of Thunder
January 5, 2021
Word Count: Information not available
Summary: Rhonda Wray: Raptor Wrangler is about a teenage girl who was innocently trying to listen to some live music … her favorite boy band happened to be playing a festival on a dinosaur planet … when bad things suddenly happened. Now she and her trusty robot are all alone in the wilderness, picking up survival skills and looking for her favorite singer, Sebastian Rose, just in case he needs to be rescued. There's hard science, explosions, plenty of dinosaurs (with feathers), diversity, no sex (although there are a few references to it), less violence than many dinosaur stories, cliffhangers galore, and a little bogus science just to honor the fine tradition of speculative fiction (what if raptors had syrinxes and could sing like birds?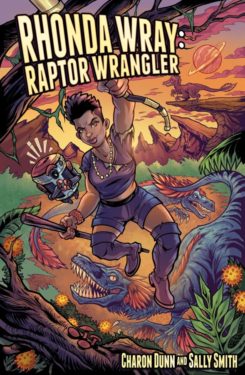 Rhonda Wray: Raptor Wrangler
July 1, 2020
Word Count:
55000
Summary: With great burrito comes great responsibility. Pete's food truck at the University of New Mexico isn't going well. Seniors dare freshman to eat his burritos. Frats use them for pledges and pranks. Rumors fly around campus that they are chupacabra ground up with rat. Pete needs a change, and it comes in the form of a physics experiment gone awry. After being sucked into the past, he stumbles across an ingredient that goes great in one of his creations. First, there was Marty McFly. Then there was Bill and Ted. And now Pete--
Time Burrito
March 20, 2017
Word Count:
50,139
Summary:
They have to find him…but how?
A former member of an elite military special forces unit, Leo Bailey can handle anything life throws at him. Except maybe approaching a certain gorgeous, purple mohawk-wearing, heavily pierced artist. Not without his three eye-rolling wingmen along to push him in the right direction.
One look at the mouthwateringly muscled, military buzzcut-sporting man with the endearing blush, and Vincent Noland is in love. Or at least in lust. Love comes later. Then marriage…and sweet, adorable Oscar.
Life is perfect—the stuff of fairy tale happily ever afters—except for Arthur Fletcher, whose unsettling reactions to them threaten to upset the happy balance of their lives. But it isn't Arthur who throws their lives into turmoil.
A freak event causes Oscar to go missing and leaves both men frantic to rescue their son. As they piece together the clues, they discover that Oscar isn't somewhere. He's somewhen. And Arthur Fletcher holds the key—or rather the glass beads—to their one chance of finding Oscar.
Will Leo's training, Vinnie's determination, and Arthur's knowledge help them rescue Oscar, or is the little boy doomed to spend the rest of his life at the mercy of a primitive civilization? Could there be a third possibility?
Keywords: time travel, lost child, happy ending, novel, ebook, print, paperback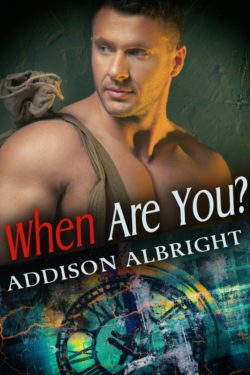 When Are You?
March 7, 2020