Word Count:
7700
Summary: A lion sleeps in the hearts of brave men. When Prince Theodorin refuses to wed the general's youngest son because he loves another, he is trapped on a cursed island. He spends his days trying to escape, his nights listening to his lover's soothing voice echoing through the forest. His attempts to escape only lead back to where he started… until an encounter with a lion reveals a crack in the illusion. Theo has to believe, or he may never find his way home. Previously appeared in Wilde City Press' Bedtime Stories anthology
Click Your Heels
February 14, 2018
Word Count:
78000
Summary: A blind merman fleeing the sunken city of Atlantis is torn between the family he left behind and the love he swims toward. When Dax lost his family to a shark attack he swam away from everything he had ever known. Now he has come to Atlantis, hoping to reconnect with those he left behind. When he finds his birth clan torn apart, he realizes his journey is just beginning. Kai is an Oracle, a blind merman, who only has sight when he has a vision. Atlantis, a sanctuary for so many merpeople, is his prison. Desperation drives him to beg the Atlantean Goddess of Love for help. With the goddess's promise of love to tempt him, Kai persuades Dax to take him along when he leaves the sunken city. Although Dax has some reservations about traveling through the ocean with a blind merman in tow, he quickly discovers Kai isn't as helpless as he appears. Attraction comes easy, but Kai doesn't seem to feel the same way. Kai knows he must seduce Dax if he hopes to win his heart, but his inexperience may be his downfall. With Dax's former lover waiting at the end of their journey, he knows time is running out. A goddess can only help so much, especially when another immortal would see them part. If the two stubborn mermen want a life together, they will have to learn to communicate and fight for their love.
Dangerous Waves
October 4, 2016
Word Count:
46000
Summary: Royal dukes from rival countries, shipwrecked on a deserted island. The grudge match of the century—or a love story of super-heroic proportions? Sander Fiala, Duke of Roses, is fourth in line to the South Abarran throne, even though his rogue power earned him the nickname "The Monster of Roses" and got him banished from the Castle. But right before he's about to set off on his annual birthday sailing trip, the Queen asks him to meet with the notoriously volatile North Abarran Duke of Arles. Tarik Jaso, Duke of Arles, expects the worst from people because—let's face it—people are the worst. His superpower bombards him with any and all electronic transmissions, which…yeah, people suck. So when he's attacked and wakes up in the cabin of a stranded boat, he knows he's royally screwed. Because the man looming over him—the man he'd gone toe-to-toe with right before the attack—is the infamous Monster of Roses. Tarik is positive the Monster is behind his kidnapping. Sander is sure the whole thing is Tarik's fault. As they work toward rescue, Tarik realizes that the disturbingly hot Sander is no monster, and Sander discovers that Tarik's temper masks a caring soul wrapped in a cantankerous (though undeniably sexy) body. tt For their burgeoning connection to endure, they'll have to duke it out with political factions, dark conspiracies, and centuries of traditions that keep them on opposite sides of the border. But first? They have to get off this damn island. Duking It Out is a 46,000-word M/M enemies to lovers, opposites attract, superhero rom-com, featuring Only One Bed, a grumpy duke who should know better than to jump to conclusions, a self-doubting duke who's good with his hands (heh), gossipy seagulls, competent assistants, a guaranteed HEA, and (unfortunately) capes.
Duking It Out
July 6, 2020
Word Count:
41000
Summary: Terror lies waiting in the jungle island of Flores. Terror in the form of cryptids called ebu gogo. Terror for the cryptozoologists who dream to discover them. The one thing Lewis Dare wants more than anything in the world is to discover the ebu gogo - three-foot-tall cryptids in the genus of Homo rumored to live in Indonesia. But Lewis Dare's ex-wife Linda, wanting to beat the famous cryptozoologist at his own game, has rushed to Indonesia in order to discover the ebu gogo before he does. On the Indonesian island of Flores, their dream to discover a cryptid becomes a nightmare when the ebu gogo turn out to be primitive, savage, sex fiends. Warning: Ebu Gogo has repugnant sex, disgusting nudity, nauseating violence, unlikable characters, deranged humor, and cruelty to furries. It's a lot of fun.
Ebu Gogo
May 18, 2020
Word Count:
86500
Summary: To save his clan from the ever-increasing shark attacks, merman Kyle seeks sanctuary for his people in the sunken city of Atlantis, even though he knows that as a homosexual merman he will be sacrificing his own chance for love. Love finds him anyway in the form of Prince Finn, the rebellious young heir to the Atlantean throne. When their relationship is discovered Kyle is the one to pay the price. Banished from the oceans he seeks shelter in England and finds a new love with human, Jake Seabrook. For Jake, Kyle is the chance to move on from the crush he has on his straight best friend. The strange man he found naked on the beach seems to fit into his life with ease.  If only Kyle weren't keeping secrets from him, Jake could see them having a future together. Things are not what they seem for either of the men and when Kyle discovers the truth about Finn he knows he must return to Atlantis. Three men, a tangled relationship, and one chance for happiness, if they can trust enough to take it.
Forbidden Waters
August 29, 2014
Word Count:
79500
Summary: Lost beneath the ocean, Atlantis has become a myth. When it rises from the deep everything will change for Kyle, Finn and the merpeople. Jake Seabrook, a human descendant of Medina, the Atlantean Goddess of Love, never asked for magical powers. Unfortunately, not only does he have them, but they are also growing stronger as more of the Atlantean gods wake from their long slumber. When Jake develops the power to hear the thoughts of anyone thinking about love, lust or sex, it is strange and embarrassing, but also reveals cracks in his relationship with his mermen lovers, Kyle and Finn. If they are going to continue to live as a ménage, they will have to learn to be honest with each other. With Jake's powers out of control and their relationship on shaky ground, the last thing any of them need is a crisis in the sunken city. The Atlantean gods want to regain the powers they lost when the Atlantean people were banished from the city, but the solution will leave the mer who live in the city no choice but to evacuate and search for a new home or risk exposing the existence of the mer to the whole world. Kyle and Finn return to Atlantis to help with the evacuation and insure the safety of their families, but time is not on their side. When Atlantis rises, the consequences could tear apart their ménage forever.
Hidden Depths
October 30, 2018
Word Count:
43,000
Summary: What do you do when your heart contradicts everything you know? Ieuan is a young morgen in a lot of trouble. The storm he sung up to soothe his broken heart attracted the attention of the Cursed One, an underwater sorcerer exiled from the morgen group for a terrible crime. But the Cursed One wants Ieuan's help to save a life -- that of Zane, a sailor shipwrecked in Ieuan's storm. Ieuan finds himself drawn into the Cursed One's impossible task against his better judgement. But as his morgen kin mount a search for him, Ieuan's help might be all of their undoing. Set in the same world as Deep Magic, Morgen Curse explores what happened to the morgen who left the Llyn Peninsula.  Morgen Curse is not a sequel, exactly. And it's not exactly a romance either. It's a beginning.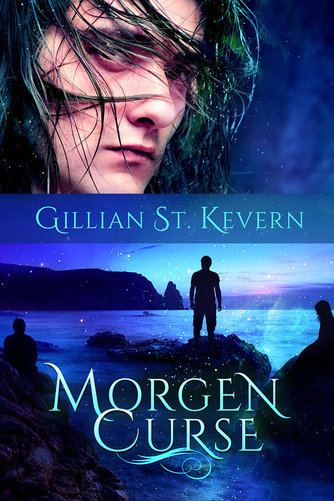 Morgen Curse
May 30, 2016
Word Count: Information not available
Summary: Rhonda Wray: Raptor Wrangler is about a teenage girl who was innocently trying to listen to some live music … her favorite boy band happened to be playing a festival on a dinosaur planet … when bad things suddenly happened. Now she and her trusty robot are all alone in the wilderness, picking up survival skills and looking for her favorite singer, Sebastian Rose, just in case he needs to be rescued. There's hard science, explosions, plenty of dinosaurs (with feathers), diversity, no sex (although there are a few references to it), less violence than many dinosaur stories, cliffhangers galore, and a little bogus science just to honor the fine tradition of speculative fiction (what if raptors had syrinxes and could sing like birds?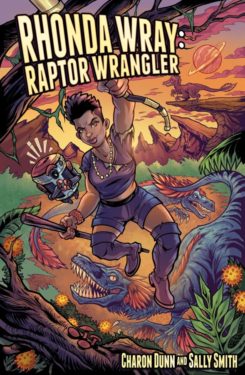 Rhonda Wray: Raptor Wrangler
July 1, 2020
Word Count:
76000
Summary: Can a merman and an Atlantean, separated by centuries and prejudices, find love together? Merman Delwyn is an Oracle of the past. He loves nothing better than observing the comings and goings of those who lived centuries before he was born. His favorite time period to visit is when both Atlantean and mer inhabited the sunken city of Atlantis, and his guilty pleasure is watching lovers come together in passion. Secure in the knowledge that no one can see him when he's viewing the past, nothing can prepare Delwyn for the moment Fabian, an Atlantean living in the past, speaks to him. Fabian is a man with divided loyalties. The demi-god son of the Goddess of Sea Creatures has sworn to serve the Goddess of Prophecy as her Oracle of the present. His unique status gives him the power to see anything in the present, including the mysterious merman voyeur from the distant future. Despite the centuries that separate them, Delwyn and Fabian find they have a lot in common and quickly form a friendship that both hope one day will become something more. But before they can be together in the present, Delwyn and Fabian must unravel the mysteries of the past. Only time will tell if truth about the long-since vanished Atlanteans will bring them together or tear them apart, as the battle for the sunken city of Atlantis begins.
Shifting Currents
April 25, 2017
Word Count:
58841
Summary: "In range alone, Richard Thomas is boundless. He is Lovecraft. He is Bradbury. He is Gaiman." —Chuck Palahniuk With a Foreword by Brian Evenson In this new collection, Richard Thomas has crafted fourteen stories that push the boundaries of dark fiction in an intoxicating, piercing blend of fantasy, science fiction, and horror. Equally provocative and profound, each story is masterfully woven with transgressive themes that burrow beneath the skin.
A poker game yields a strange prize that haunts one man, his game of chance now turned into a life-or-death coin flip.
A set of twins find they have mysterious new powers when an asteroid crashes in a field near their house, and the decisions they make create an uneasy balance.
A fantasy world is filled with one man's desire to feel whole again, finally finding love, only to have the shocking truth of his life exposed in an appalling twist.
A father and son work slave labor in a brave new world run by aliens and mount a rebellion that may end up freeing them all.
A clown takes off his make-up in a gloomy basement to reveal something more horrifying under the white, tacky skin.
Powerful and haunting, Thomas' transportive collection dares you to examine what lies in the darkest, most twisted corners of human existence and not be transformed by what you find.
Spontaneous Human Combustion
February 22, 2022
Word Count:
79000
Summary: Justin is a merman who has been raised on land. He hates his fins and wants nothing to do with his heritage. Lucas is an ambitious merman who has lived his whole life in Atlantis. He has spent his adulthood hiding his sexuality because homosexual relationships are forbidden in the underwater city. Now he has been sent on a mission by King Nereus to locate his oldest son and return him to Atlantis to take his place as the heir to the throne. Although his mission seems impossible, Lucas finds help from the Atlantean Goddess of Love, little knowing she has her own reasons for bringing Lucas and Justin together. Justin is no stranger to immortals, having been raised by two of them, but he has no idea of the consequences of angering the Goddess of Love. When he insults her, she curses him to find love only to lose it forever shortly after. As the love 'em and leave 'em type Justin isn't overly concerned, at least until Lucas enters his life and he sees how the curse will end. Together they could have the greatest love of their lives, but only if they can appease the furious goddess before their time runs out.
Tempestuous Tides
September 1, 2015
Word Count:
86000
Summary: One merman. Two lives. A love so powerful it tore apart a city and broke the heart of a god. Caspian, the Atlantean God of Justice, has devoted his eternal life to protecting the merfolk. He has no time for romance, not even when the merman he now watches over is his former lover reincarnated. Phoebus, a merman living in the sunken city of Atlantis before the Atlanteans were banished, never intended to fall for Caspian, the most promiscuous of all the gods. Yet, when Caspian offers him immortality, Phoebus doesn't know if he can pay the price, even if refusing means breaking the heart of a god. Back in the present, Marin remembers the love he once had for Caspian, but he's not the same merman now. Caspian might have loved him as Phoebus, but he knows the god cannot give him what he needs. Marin doesn't want Caspian's protection. He wants revenge, and he is prepared to make the ultimate sacrifice to get it, even if it means breaking Caspian's heart a second time
Treacherous Seas
June 11, 2019
Word Count:
96200
Summary: As the empire of evil sweeps across the land, the fate of Parsina rests on Jafar al-Sharif, the storyteller impersonating a wizard, and the exiled Prince Ahmad from the holy city of Ravan. But peril continues to dog their footsteps on the way to Mount Denavan and the final piece of the Crystal of Oromasd. They must confront the dangers of a mysterious island, the City of Faces, and the dragon demon who guards the fourth piece of the crystal. And even these threats pale before the betrayal by a trusted member of their company -- while within the heart of the dark enemy, Aeshma, king of the daevas, plots treachery against his own master to unleash an unimaginable tide of evil to engulf the world and destroy mankind. TREACHERY OF THE DEMON KING is the long-awaited conclusion to Stephen Goldin's Parsina Saga, a sweeping epic across an Arabian Nights world of imagination and wonder.
Treachery of the Demon King