Word Count: Information not available
Summary: For three years, Jeth and Kodie and their soldiers have guarded a hostile mountain pass against the invading Dathians in a war that has waged for decades. Jeth has the blood of giants running through his veins, and it has caused bigotry and death to dog his steps his entire life. After a childhood tragedy shatters his world, it takes the courage and loyalty of his best friend, Kodie, to protect him from himself. Jeth knows he's a danger to everyone around him and joins the army to control and focus the black rage inherited from his bestial bloodline. Kodie follows his friend into the army, determined to stay close to the one he loves most. He has never revealed his deeper feelings for Jeth, and is ignorant of Jeth's own feelings. Their bond is too precious for either of them to risk rejection. Yet they might have to take the chance when Kodie's life is threatened, and their enemy forges an alliance with a giant clan. Jeth must call upon his darker heritage to brave the hostile environment to make an alliance of his own—with a giant clan that knows more about him than he does himself. Also available in "Guardians of a Giant's Treasure" anthology
A Giant's Friend
Word Count:

53,000
Summary: "Orcs are the answer but what is the question?" Elias is a priest at the Temple of the Divine Sibyl. When he becomes lost in the woods after his brother's hunting party abandons him, it's just his luck that he'd stumble upon an angry orc caught in a trap. Unable to stomach the suffering of others, Elias throws self-preservation to the wind and frees the orc. Then Gurrkk—that's a name?—ends up leading him to safety. Gurrkk finds himself rather smitten by the sweet, awkward human. He's always been fascinated with his people's sworn enemy, and now he has a life debt to fulfill to maintain his honor. Hiding an orc among the temple's crypts wouldn't have been Elias's first choice but Gurrkk is stubborn about leaving. As they learn each other's languages and spend more time together, Elias realizes they've become friends… and maybe more. And when the dying sibyl gives her last prophecy, Elias knows it wasn't chance that brought them together, it was the gods. But why? This is a sweet, ace romance, so no sexy times, but plenty of snuggles and cuddles!
A Priest, a Plague, and a Prophecy
Word Count:

73,151
Summary: Time travel. For mages, it violates their number one rule: what the Mother has written, let no one unwrite. The Mother writes the destinies of the creatures on the world of Karishian. If her writings were undone, it is feared that Creation itself could be undone. The dark mage Morgorth takes this rule to heart, but there are others who do not. Morgorth is about to claim a stone of power when it is stolen from him by a female mage he hasn't seen in decades. As they struggle for the stone, she activates it, and Morgorth is unwillingly plunged into another time and another place. It isn't long before he realizes what time he's found himself in and there are a few familiar faces. Most notable is a much younger version of Aishe. His mate. Living with a tribe who will be massacred, caring for a young lad who will become his mate, and fighting a battle against a mage who can travel from past to future at a whim—Morgorth's life has never been easy but now he must contend with the will of the Mother. Unable to change the future and the tragedies of Aishe's life, he must decide what his role in his mate's past will be, and ask himself one vital question: how does one defeat time?
Agate: Then and Now
Word Count:

22700
Summary: When yet another wave of colonizing Felters arrives to strengthen their fortress on the forest's edge, Velu, an indigenous hunter, knows they bring only pain and death. But with them arrives an intriguing older woman who hunts legends. When Velu learns the woman, Lady Greyback, shares his terrifying visions of the ancient scorpion god, Ajakava, she invites him to research what they mean. But the Felters grow hostile, blaming Velu and the other hunters for deaths in a doomed expedition through the forest. Meanwhile, the visions become ever more persistent, hinting the god is awakening. When a second Felter expedition seeks to extend their reach to the capital beyond the forest, only Velu and Lady Greyback know they will walk straight into Ajakava's clutches. While the lady sees new destruction, Velu sees memories of a long-forgotten massacre. What vengeance does the old god have in store, and for whom? Find out what happens in Ajakava by Chaitanya Murali
Ajakava
Word Count:

70,034
Summary: Every story has more than one point of view. As the mate to the dark mage Morgorth, Aishe has learned a lot about magick, love, and himself. He tries to find a home with Morgorth, to be accepted into his world; to survive in a world full of magick, treachery, and deception. But all the while he struggles to keep a secret about his past and their intertwined destinies. Despite all the obstacles thrown at both of them, Aishe is determined to stay by Morgorth's side, no matter what the future brings—even if that future turns dark with death should Morgorth embrace his grim destiny. But when Morgorth leaves with his mentor to collect another stone of power, Aishe is left behind. It is then a surprise attack comes and Aishe, determined to protect and defend his new home, decides to take the invaders on by himself. It might prove too much for him to handle...especially when he learns the one who leads the invaders is a mage. This book allows us a glimpse inside the mind of Lord Morgorth's better half, a dialen named Aishe: his motivations, his personal sorrows, and his struggle to find a place to call home.
Amethyst: Bow and Arrow
Word Count:

121000
Summary: A child's memory. A journey's end. Lance doesn't remember the time before Ulfr found him. It's a dark pit in his mind that he avoids at all costs. And yet, despite his best efforts, pieces start to fall, and echoes from the past begin to ring. However, he has little time to comprehend their meaning, since the Captain of the Imperial Army herself has come to collect him and bring him to the capital city of the Nifdem Empire. Whisked away to the gilded streets and glittering court of the Hill of Tarran, and then to the snowy reaches of Swenen, Lance and Gust will learn the answers to questions they've had from the start. And be forced to acknowledge their roles in the survival of the empire and the ripple effects of their actions. But such knowledge can come at a steep price. As allies and enemies begin to step from the shadows, Lance will learn the truth of his past and the price of his redemption, and all the pain that comes with them. While Gust will have to decide what he's willing to sacrifice to safeguard the one he loves.
Avenging Lance
Word Count:

73,667
Summary: Lord Morgorth is haunted by dreams of his father. Though Morgorth killed him, his father's presence and brutality won't completely die. But now he has more to worry about—in the form of the Council of Mages' inquiry into the duel between Morgorth and an elder of the council. Morgorth expects sabotage and prepares accordingly. He fears for Aishe's life, knowing that the best way to sabotage the inquiry is to eliminate the witnesses. He sets into motion a desperate plan that, though it will protect Aishe, could put a strain on their relationship not easily removed. Yet the true danger lurks unseen, and it will take all of Morgorth's skill, strength, and devotion to Aishe, to save his mate from the hold of a foe Morgorth has yet to tangle with: a dream demon. Now Morgorth must throw aside caution, restraint, and fear if he is to save the one most dear to him. He must call upon the power of the one thing he hates more than even his father: a stone of power. But even if he manages to save Aishe, his mate's experiences in Dreamworld—at the mercy of the dream demon—have changed him forever and could shatter their bond irrevocably.
Carnelian: Dreams and Visions
Word Count:

191000
Summary: Farrell's excitement at finding his legendary ancestor Kel is tempered by the knowledge it signals the beginning of the end of the war. As he and Kel race to recover the last two Gifts of the Gods, Meglar is not quiet. Fighting erupts around the world, and new allies reveal their hand. To complicate matters, Arritisa has refused Farrell's request for Her Gift. Searching for answers, Farrell travels to Bowient, home to Falcron's main temple. While there, Farrell uncovers a plot to destroy the temple and the city. The attack fails, but Farrell kills Neldin's priestess in the fight. The death of His priestess prompts Neldin to visit Farrell. Despite Farrell's rejection, Neldin shows Farrell that he is more like his father than he'd like to admit. Shaken by Neldin's visit, Farrell doubts himself and his abilities. In an attempt to prove loyalty to the Six and deny Neldin, Farrell secretly embarks on a risky mission he can't win. Kel rushes to find Farrell, but it might be too late. The seeds Neldin planted have found fertile ground. Even if Kel saves Farrell, can even a legend stop a god from claiming the son of Meglar for His cause?
Child of Night and Day
Word Count:

12500
Summary: SEALS Winged Insertion Command (SWIC) has based Tiger Bailey's operational SWIC-3 out of Howland Island near the Equator in the central Pacific, just a few kilometers away from Baker Island, location for the socket where Amelia Earhart Skytower terminates. Tiger Bailey's squad is tasked to drop from Low Earth Orbit (LEO) to Mayotte Island, northwest of Madagascar in the Indian Ocean, to rescue a U.S. Senator and his family who were taken hostage by pirates.
DAEDALUS COMBAT—Combat drop from Low Earth Orbit
Word Count:

15600
Summary: Following his successful base jump from Fred Noonan Skyport, Tiger Bailey undertakes the next step in the development process of the Gryphon hardshell wingsuit, a drop from Low Earth Orbit. Using the Gryphon-10 with enhanced navigation and computer control, and with a greater wingspan, he uses the Slingshot Space Launch Loop to gain Low Earth Orbit (LEO), but experiences equipment problems that nearly destroy him and doom the project. Ultimately, Tiger perseveres and drops into the Earth's atmosphere. He skips out in in several times before eventually making a harrowing but safe landing.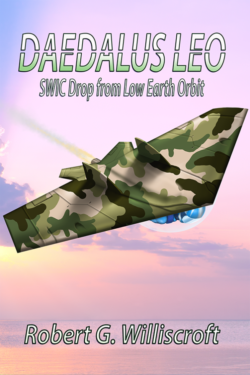 DAEDALUS LEO—SWIC drop from Low Earth Orbit
Word Count:

12300
Summary: After his successful proof-of-concept drop from Low Earth Orbit (LEO), Tiger Bailey's squad undertakes the next step in the development process of the Gryphon hardshell wingsuit, a coordinated drop from LEO by six team members. They tried to plan for every conceivable contingency, however, Mother Nature intervened with disastrous results.
DAEDALUS SQUAD—SWIC Squad drop from Low Earth Orbit
Word Count:

13500
Summary: Using a new Gryphon-7 hard-shell wingsuit, Tiger Baily, irreverent member of the Navy SEALS Winged Insertion Command, makes a harrowing first experimental base jump from the edge of Space, the Fred Noonan Skyport 80,000 meters above Jarvis Island in the Equatorial Pacific. Tiger's target, which he must reach to survive, is Kiritimati Island, a tiny isolated atoll 379 km northeast of Jarvis over ever-threatening and oh-so-deep ocean waters.
DAEDALUS: SWIC Basejump from Fred Noonan Skyport
Word Count: Information not available
Summary: The world of Avern has moved on. It has been almost a thousand years since the day the entire pantheon disappeared. Since the Abandonment, the mortals have learned to live without gods and goddesses. The world became mundane with little magic, and even less hope. Tyrants have risen, and those able to wield what is left of magic are powerful. Forces surge in the darkness that threaten to topple the already fragile world. The plight of the world of Avern is not unknown, however, and those that watch from a distance have decided to intervene. The mortals are sleeping, however, unknowing that two great powers will soon by vying for control.Then something happens that changes things. A young princess makes a bid for power by murdering her father. She then attempts to murder her sister, the crown princess of Lineria, Keiara. Despite a true strike, aided by dark powers, Keiara doesn't die. Instead, the strike pierces the barrier between her human soul and the soul sleeping within her, the soul of the Dark Phoenix. More than a goddess, the Dark Phoenix is the legendary mother of the gods. She is a part of the Eternal Phoenix that brought life to their world eons ago, one of the primal forces of the cosmos.
Dark and the Sword
Word Count:

80435
Summary: A modern-day knight in shining armor is a man with a secret. He's an immortal direwolf shifter. A man who can trace at will into a lethally dangerous canine who holds the ability to step into the stillness and achieve any goal. When he finds himself without a career after retiring disabled from his last mission in the military, he has to rethink the direction of his life. He needs to reinvent himself before anyone realizes that he stopped aging at the age of thirty-five. He's learned just enough to make his existence a bit dangerous. The sexy high school teacher neighbor he's been near stalking has her own secret. She feels like everything and claiming her is all he can focus on. He's determined to win her as his own until a shadowy evil attacks her and reveals a situation that forces him to be the man of action that he's always been. To keep the woman he loves safe, he'll become the alpha pack leader he was born to be. A Pack Forms is the first volume in the steamy paranormal romance saga of Draoithe.
Draoithe: A Pack Forms
Word Count:

107884
Summary: Julian Gypsun used to be a young man on his way to becoming a contractor. Everything changed when he died and was resurrected as a wizard's familiar. He was immortal and far better off physically than he had been as a human. Still, he was trapped with his life chained to a giant of a wizard who had no problem abusing him in every way imaginable. Julian was powerless to stop it without ending his own existence. That is until he was yanked bodily through his own portal, transported to Draoithe, and assigned to babysit the visiting dignitary, Amazon Warrior Princess Zephyra, and try to convince her that her people should ally themselves with Luke and Draoithe. That sounded easy, but it wasn't. He liked her. He had no clue how to act on that. Best to avoid that altogether. Keeping her safe just might equal his death. (Please see her warrior princess title.) She was old and so far out of his league. Worse, she liked him and was determined to have him. He can't even consider that. She has no idea how broken he really is.
Draoithe: Midnight Magic
Word Count:

91154
Summary: Flame is scarred from a past filled with lies, deceptions, and heartbreak. He is not guilty of what his brothers believe, but Blaze is the only one who knows the truth. He was betrayed by the king he had served. The girls he gave the dark gift to had been innocent. When he finds his Valkyrie, beaten, raped, broken, and fading after having been forced to accept the dark gift without her consent, Flame vows that he will do anything to save her. The light seems gone from both her and the world she finds herself in. Little does Flame know that for her to have the light again, he will sacrifice his honor, his integrity, and his life after breaking every law he can manage to break and even demand absolution for crimes he never committed. Many men say they will die for the love of their life. Flame somehow needs to do it four damn times, find a way to fix not only her broken magic, but fix her broken spirit as well, and then figure out how to live for her! All men wish to love a vampire, but Flame burns in his soul for one who holds the fire and has been granted the dark gift of an immortal vampire princess.
Draoithe: The Dark Gift
Word Count:

135408
Summary: Alexio Asmodai is the demon king of Eaglafonn, a small outpost kingdom in the Netherworld overruled by the Demon Lord Asmodeus. It is Alexio's responsibility to protect and police the frontier borders against any threats. He is an accomplished knight, so that part came easy. Eaglafonn is a cold and isolated kingdom. Alexio needed to stay and build his castle atop the hot springs to beat an addiction to seduction sickness. After over seven centuries, he thinks his loneliness has finally come to an end when he opens a crate to find a woman sent by Asmodeus for him to keep safe. He falls for her instantly. She is a human woman, fragile, timid, and irresistible. He must follow his liege's directive, convince her to become his queen, and see that she is cared for properly in a place that is inhospitable to her existence. This leads to a realization that his castle lacks a lot to be a first-class home for a lady. Can a tainted demon prince rise to the challenge to become a true king and win the woman who stole his heart? Dread Allies 7-14 The Shadow king of Eaglafonn has chosen his queen, but his castle lacks the feminine element. To make her more comfortable, he orders the demon princes to seek out and claim their own mates. That is easier said than done. Eaglafonn is a cold dark isolated kingdom in the Netherworld. It might be easier to claim mates from the Domhain, but not everyone could survive on the brutal dangerous frontier. The other options afforded from the Netherworld come with their own dangers. The magic is unbalanced and balancing comes with a price. Claiming their mates lead the demon princes on epic mini journeys and reveals the need for Eaglafonn to take a greater role in helping Luke aid the dream. Dread Allies is a miniseries set in the Netherworld in the dream. It is an ancillary group of stories to the Draoithe saga. While it is set in that world, it is not in the direct series lineup. The dream just got darker and colder. Welcome to Eaglafonn.
Dread Allies: Shadow King
Word Count:

222000
Summary: Two people find themselves in a quandary: Aderri, a powerful dragon shifter with some light defensive magic, and Ellys, a half-elven swordswoman for hire, one of the best across the six nations. When Aderri gets news that she must come home for the naming ceremony of a new hatchling, she's forced to hire Ellys and her telepathic steed, Roccotári, to see her safely there. Of course, things are never as simple as they seem. Not only do they have to traverse the land between two kingdoms on the brink of war, but Aderri's Clan expects her to return with a romantic interest. So, for the added promise of triple Ellys's normal fee, the half-elf agrees to pretend to be Aderri's suitor. Ellys and Aderri have to convince a Clan full of magical mixed-shifters for a week that creatures of differing elements can burn with the flames of love, without actually lying. A situation made even more difficult by a matchmaking mare, steamy baths, and an innkeeper with mischief on the mind. Caught between the weight of the past and expectations of the future, they must find their true destiny within the heat of fire.
Elemental Attraction
Word Count:

76,765
Summary: Home. Family. Those words often invoke a sense of love and comfort. But for the dark mage Morgorth, they mean hate and pain. As the seventh son of a seventh son, many believe Morgorth's destiny is to become the Destroyer. His father embraced such a future and trained Morgorth through torture and fear to become his weapon. Morgorth managed to escape his father's cruelty, but not the nightmares that still haunt him. For many years he's lived with the stain of his father's savagery, but now he must confront his nightmares head-on. His father has found a stone of power. Morgorth must return to his land of birth, to the memories he's tried his entire life to suppress. Aishe is determined to help Morgorth defeat his inner demons, but he knows he might not be enough to save Morgorth from embracing his darkness. They know it will be a fight to the death and that Morgorth won't be the same if he survives. With Aishe by his side, Morgorth hunts for his father, and finds answers to questions he never dared to ask—and must live with the truths they reveal.
Emerald: Good and Evil
Word Count:

130600
Summary: Cursed with fearsome eyes and a dangerous gift, any chance of Damian Sires having an ordinary life was dashed the moment she was born. All her life, she has hidden her abnormalities and fought for acceptance behind the shadow of a veil and her respected merchant father. When Damian's power spirals out of control and casts her out alone into the world, she finds herself caught up in plots as old as the gods themselves. Bitter exiles, deposed nobility, clandestine knights, and a divine being with an ancient grudge all close in on the unstable power radiating from Damian. Desperate to keep that power contained, she sets out with mysterious allies in an attempt to find someone who can help her in a world that fears magic. Yet the source of Damian's ability is far more deadly than she imagined.
Enduring Chaos