Word Count: Information not available
Summary:
Even the grittiest blue collar city has a spark of magic under the surface; but in Baltimore, graffiti holds secret messages and artists are the spellcasters. Abandoned buildings hide ancient beings, and at the local club, you might find yourself rubbing shoulders with menacing and otherworldly creatures. If you know how to look, of course.
---
Merrick Moore is just a regular guy with dreams of making it big with his garage band, but not much else – until he crashes a party thrown by reclusive eccentrics. He gets more than he bargained for: new powers, a girlfriend who can visit him in his dreams, and a seven year bond with the local Fae court. When the mortal enemies of his new friends show up to his band's first gig, Merrick finds himself trying to prevent the start of a war that will have consequences for everyone, Fae and human alike.
In Sleep You Know
May 1, 2021
Word Count: Information not available
Summary: Genevieve doesn't know if her unhappiness and feelings of not fitting in are different from anyone else's on her college campus. Recovering from a break-up and struggling with depression, she takes comfort in her impulsive sketches of strange creatures to try to escape the dark cloud that looms over her. But the truth is her place in this world is a lot more complicated than she could ever imagine. With two strange men following her, vines that engulf her dorm overnight, and a cactus that overruns the campus library, she is forced to face the possibility that her origins are more mysterious than the fact that she was abandoned as a baby. Especially as a powerful urge takes hold of her to draw something new and frightening. Can it be that her reality is stranger than her imagination? The one thing she can't imagine is that her happiness and talents just might be the key to save or destroy an invisible world.
In The Drawing
August 8, 2019
Word Count: Information not available
Summary: Josh Caplan is your average late-night convenience store clerk, but the Quik-Mart where he works is nothing like normal with that hell vortex in the parking lot. Waiting on zombies, demons, and other things that go bump in the night might scare some, but they're actually more polite than the stoners, and Josh welcomes the break in the monotony—especially when he acquires himself a sexy new boyfriend with a deadly secret. Will Josh survive this retail nightmare? It's a Big Gulp of a chance, but between the hazard pay and the hottie with a sweet tooth for Josh's candy, it's a chance he's willing to take. This box set includes: - Pretty Monsters (Josh of the Damned, #1) - Peek-a-Boo (Josh of the Damned, #2) - Josh of the Damned Triple Feature #1 - Josh of the Damned Triple Feature #2: The Final Checkout
Josh of The Damned Complete Collection
December 12, 2013
Word Count:
130000
Summary: Guilt-ridden after the massacre of his family, Isaac Salvatore turned to binge drinking to escape the pain. Now twenty-four years old, Isaac is a recovering alcoholic woefully out of practice in the magical arts, leaving his fire affinity hanging on the edge of disaster. After a month of rehab, he returns to Beacon Hill and his family, determined to remain sober, learn to control his magic, and figure out a plan for his life that doesn't involve drinking. Constantine Batiste is the oldest, most powerful vampire in the city. Born in ancient Gaul, the bastard son of a Celtic king, his long life has been shrouded in tragedy and horrors. Recent mistakes have left him wary and determined to guard his clan from all foes. When two of his clan members fall victim to an ancient evil, he summons the Necromancer of Boston for aid. Accompanying his older brother to the Tower is the handsome young fire mage once wounded by Constantine's arrogance, and their encounter reignites an attraction that burns within both Constantine and Isaac. The answer to who is targeting the vampires of Boston is buried in the dark, early days of Constantine's transition to an immortal life. Isaac finds himself saddled with a painful insight into the evil cutting a swath through the supernatural population of Boston. While his brother, Angel, takes over the hunt to find and stop the threat to the city, Isaac struggles to find a balance between helping his brother and finding his own purpose and place in the world, free from his brother's shadow. Falling in love wasn't part of his plan, but mastering the flames that burn between him and Constantine soon becomes the most important thing in his life, even as an ancient evil seeks to destroy them.
Mastering the Flames
October 4, 2019
Word Count:
74000
Summary: Three years ago, Danu banished Diego for a time from the human world. Three years and three days doesn't seem that long to be away from home but living among the wild fae can change a man and the human world returns the favor by changing while he's gone. There's a vampire on Tearmann Island's security force. A curious selkie's followed him home. So much to do to keep the world safe...but Diego's no longer sure he has the right to interfere. Theo Aguilar started his vampire life on the wrong side of the law. He's killed and knows he's dangerous if he doesn't stay in control every moment. But the fae took him in and Prince Lugh has given him a position of trust. So when Diego and Finn are arrested on a diplomatic mission far from home, he knows his duty. He's striking out on his own to rescue them, a lone vigilante once again, this time for the good guys. The only glitch? The selkie, Limpet, can't seem to understand the alone part.
No Fae Is An Island
January 15, 2019
Word Count:
16000
Summary: Recently orphaned and alone, the winged elf Alec wants nothing more than to return to his childhood home one final time and succumb to his nostalgia and grief. But his quest home leads him straight into the arms of a dove-winged, wounded angel...with human captors in hot pursuit. After one magical night together, the two soulmates are united in love. Alec's angel becomes a cupid, transforming his grief into affection and love. But Alec has a secret that keeps him from telling his soulmate how he feels, and he lets his angel slip through his fingers. As his family grows around him, Alec's nest remains empty and cold. Without his soulmate, Alec nears his end. Can he find his angel before it's too late, or will heaven be forever out of his reach?
Not an Angel, But a Cupid
June 13, 2020
Word Count:
54000
Summary: With his heart's desire at stake, can he resist giving Fate a little nudge? Half-norn event planner Anders Skuldsson is under strict orders from Asgard not to meddle with Fate. But with Enchanted Occasions' latest booking—the competition for the hand of Faerie's one true prince—crashing around his ears, it's really, really, really difficult to toe that particular line. So… if Andy just happens to pose as a contender for the prince? It's an emergency, damn it. Besides, it's only temporary, so Odin can hardly blame him. Right? If Conall of Odstone hadn't sworn a blood oath to protect his half-brother, Prince Reyner, he'd murder the idiot himself. Rey was supposed to be here, choosing a mate before being crowned and wed. Instead, he's disappeared, leaving Con to impersonate him. Again. But when Con meets Andy, his anger turns to desire… and despair. Even if Andy forgives him for pretending to be someone he's not, how could a man as appealing and accomplished as Andy—a man who's eligible for a prince's hand, for pity's sake—settle for the court outcast? As for Andy, his burgeoning feelings for the prince are both unfortunate and hopeless because hello? Half-norn? Faerie prince? Not exactly a match made in Valhalla. When the Faerie Queen herself hands down an ultimatum, the double deception isn't their only obstacle. Unless Andy makes the right decision, both their fates could be sealed by… well… Fate. Nudging Fate is a 54,000-word paranormal rom-com featuring mistaken identity, royalty in disguise, interfering coworkers, an iron knight with a soft heart, a temperamental goblin chef, and a guaranteed HEA.
Nudging Fate
May 15, 2018
Word Count:
254
Summary: Nukekubi are a form of Japanese goblin that during the day look like ordinary folk. At night they separate their head from their body and fly around scaring people to death to feed on the energies released. Ray McAndrues, a Pagan wizard/priest, encounters a Nukekubi that is feasting on the people of Toronto and decides that he has got to put a stop to it. Ray gains allies in his quest in the form of two Japanese martial artists who have made hunting Nukekubi their life's work and his on-again, off-again girlfriend Cathy, who is also a mystic. Problems arise when east and west do not communicate wall and Cathy is his on-again, off-again girlfriend. Also, what is the centuries-spanning tie that binds Ray to the Nukekubi and will it help or hinder the quest?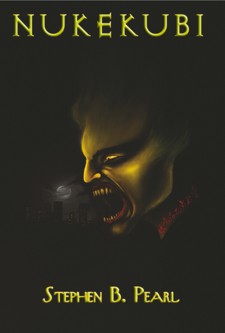 Nukekubi
January 8, 2012
Word Count:
411000
Summary: Aegaan is a vast and righteous kingdom, yet darkness gathers in the distant corners of the realm. Elven raids on small towns have inflamed racial tensions with humans, pushing distrust to hatred and the brink of war. Anrael wanders the woods alone until a chance meeting tempts him to set aside his contempt for those who scorn his half-elven blood. When Kylie, a naive elf terrified of humans, is thrust among them against her will, she begins to question her mother's tales of dread. Having lost everything dear to him, the bandit king Jhelan lives only to seek challenge in battle… until he finds himself willing to die protecting that which he hates the most. The diabolical mystique of the dark elves cloaks L'an Thal'Sara in protection, but the cruelest lie she tells is to herself. Thaelwyn, a virtuous knight, sets out to discover the source of the Elves' aggression, but faces a much greater test within his mind. Beneath the chaos, minions of the Destroyer search for their promised leader, a child possessing power beyond their years. If the innocent falls to darkness, a kingdom rife with hatred will surely crumble.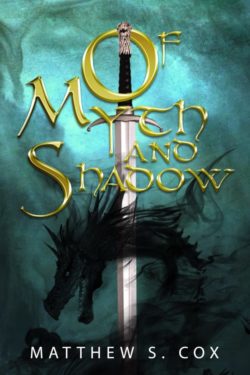 Of Myth and Shadow
August 20, 2019
Word Count: Information not available
Summary: The nightmares tormented me for years… …and shortly after my thirty-third birthday, I learned why. My name is Dante Coranguis, and I have a great life, a solid job, amazing friends, and most importantly, lots of crazy sex. But on the night I met the vampires, everything changed, including my nightmare. My life's ambitions and dreams were snatched out of my hands because I was destined to become The One, the Herald of Satan, the Antichrist, the most feared man throughout the ages. And here I thought that was just a crazy horror movie about a poor kid named Damien Thorne. Prophecy Rising is the first book of The Snakeheart Series (Season 1), a supernatural novella series about Dante Coranguis and the ancient prophecy of the End Times.
Prophecy Rising
April 30, 2020
Word Count: Information not available
Summary: At Providence Paranormal College, class is about to start. Who's enrolled? Students who are a bit different: vampires, werewolves, changelings, shifters, psychics, and magi. For one-hundred years, the college has taught and trained only psychics or magi, and for the first time, it's opening the doors to those not different: regular humans. At this Ivy-League school, the students are expected to learn their powers and keep high grades. Unfortunately, grades are slipping, but that's what happens when a mysterious villain is hunting you down… Because someone is angry about this new admissions policy and they'll kill to stop integration. To defeat this rising evil, the students must band together and master their strange powers – because if they don't.. Well, it's pretty hard to graduate when you're dead.
Providence Paranormal College
Word Count: Information not available
Summary: The Education Continues at Providence Paranormal College! Five more books, no waiting. Read. Laugh. Catch a case of the feels. Book 6: Roundtable Redcap: Can Fred rescue his brother from the Fae Queen with just reluctant Psychic Irina to help? Book 7: Better Off Undead: Lane and his vampire punk band Night Creatures are broke and broken. Can they pick up their pieces and shine in a Battle of the Bands? Book 8: Ghost of a Chance: Ghostly Horace and his Medium, Bianca, must solve a mystery to save Professor Watkins. Book 9: Nine Lives: It's time for Olivia Adler to trust her instincts or Tony Gitano just might die for good. Book 10: Fae of Fae Knot: The family that's Fae together can't stay together. The series concludes as they bend the tantamount Faerie Law to its breaking point.
Providence Paranormal College
Word Count:
77241
Summary: After a terrible magical accident at Berkeley created unpredictable holes between realities, all manner of non-human creatures started popping into our world. These displacements, called Random Anomalous Reality Events or RARE, have taken magic out of fiction and relocated it firmly in reality, resulting in a great deal of chaos and confusion. Displaced elf Valerian works with AURA, the Agency of Unnatural Resettlement and Assimilation, to intercept these beings as they appear in the human world, helping the peaceful ones and subduing the violent, malevolent ones. It's good, satisfying work, and Val would be happy if he wasn't so lonely. Quinten is a young mage just trying to get by, but New York isn't the easiest city to make a living in. If his methods are sometimes morally dubious, his heart is still in the right place. Of course, for Quinn, the right place means firmly locked away, protected at all costs. Living by his wits and sometimes magically induced luck, he works as a 'freelance magic user', or unregistered mage and small-time con, according to the authorities. The last thing Quinn wants is to draw the cops' attention, but when an Event happens right on top of him, he's forced to turn to AURA for help. Valerian isn't at all what he'd expected in an AURA cop, and he certainly wasn't expecting to join forces with the sexy elf, a snarky drow and a bitter incubus, when certain individuals in power try to stop the RARE by any means necessary. Things are not all what they seem at AURA headquarters, and a greater evil lurks at the top than anyone could have imagined.
Quinn's Gambit
March 6, 2015
Word Count:
72000
Summary: Have you ever looked at a picture, perhaps a photo of two guys in a tight hug, or two girls holding hands, and wondered, "What happened before that moment? What will they do next?" These fifteen stories were inspired by images from the Young Adult LGBT Books Group. In these pages you'll find LGBTQ teenagers living their lives - experiencing first encounters and long relationships, coming out, staying closeted, questioning, loving, having adventures, dealing with family, with prejudice, with magic. Author Kira Harp provides this collection of Young Adult romantic, fantasy and contemporary short stories. Any author royalties from this book will be donated to The Trevor Project, which provides crisis intervention and resources for LGBTQ youth. (**This book is a free download in ebook everywhere except Amazon, and also available in print.)
Rainbow Briefs
October 31, 2013
Word Count:
100000
Summary: Dragons don't care what gender you are. A small town may be a refuge, or a trap. Some younger brothers really do save the planet. Three people can be the strongest shape. There's nothing quite like a gorgeous girl on a shape-shifting motorcycle. This second Kira Harp collection brings together LGBTQ teens in 21 stories of adventure, discovery, and romance, in fantasy, paranormal, contemporary, and SciFi settings. Ranging from a few short pages to 12,000 words, each story was inspired by a prompt picture from the YA LGBTQ Books Group on Goodreads. (Content warnings for abduction, bullying, self harm, substance abuse, suicidal ideation.) **This book is free in ebook everywhere except Amazon
Rainbow Briefs volume 2
August 31, 2018
Word Count: Information not available
Summary: Samantha Rain thought she was a normal woman approaching forty. Until she gets bitten by a hellhound puppy and finds herself thrown into a hidden supernatural world where saying the wrong thing could have dire consequences. With her new hellhound puppy by her side, and the captivating Lilith teaching her the ropes, Sam soon puts her detective training to use and starts uncovering the secrets of the Nox. - The Samantha Rain Mysteries Complete series includes The Case Of The Night Mark, The Case Of The Pixie Deal, The Case Of The Ruby Curse, and The Case Of The Puppy Academy. It is an urban fantasy mystery series with a slow burn f/f romantic subplot and a hellhound puppy.
Samantha Rain Mysteries
July 16, 2021
Word Count:
98000
Summary: Zack thought he had a strange job before---Marine medic in a secret government base was odd, but personal assistant to a sidhe prince is downright bizarre and damn dangerous. Zack thought he had a strange job before. Working as a Marine medic in a secret government installation was odd, but working as a human liaison to the /fae/ and as the personal assistant to a sidhe prince is downright bizarre. Throw in the fact that he's pretty damn sure he's fallen in love with his boss, and things are close to unmanageable. Of course, around the fae, one never says 'things can't possibly get any worse.' Unexplained events plague the human world. Strange sightings, spontaneous magical explosions, and odd bends in reality crop up. When Finn falls ill and a monstrous creature attacks Zack, things quickly slide into disaster. Lycanthropy, loose-cannon mages, and Lugh conspire to make a hellish mess of things---but the real peril begins when Diego loses an important piece of his mind.
Semper Fae
October 23, 2018
Word Count:
58,000
Summary:
Sequel to Lost in Time
Newspaper reporter Lew Tyler and his lover, Detective Alec Carter, are working out the parameters of their new relationship. Meanwhile, time traveler Lew is trying to decide whether he wants to stay in the 1920s or find a way to get back to 2016, and Alec doesn't know if he can bear the vulnerability of being in love with someone who uses such dangerous magic. Fenn is a Hunter from the Outlands, come through the Border to search for the murderous Creature and its offspring at the behest of the Ternants, who maintain the balance between Fenn's world and ours. Fenn strikes a bond with Sergeant Will Grant, Alec's second in command, who is keen to learn more about his own magical abilities. As time goes on, Will grows keen to learn more about Fenn, as well. Fenn has their own painful secret, and when they appear to have betrayed the team and goes missing in London, Will is devastated. He has to choose between following his heart or following his duty. Moving through the contrasting rich and poor areas of post-First World War London from West End hotels to the London docklands, the men need to work together to capture the Creature ... and choose who – and what -- is important enough to hold on to and what they may need to give up to make that happen.
Shadows On The Border
March 9, 2019
Word Count:
40000
Summary: Spells & Stardust is Scott's first anthology - eight sci fi and fantasy shorts that run the gamut from regeneration to redemption. The Bear at the Bar: A gay fish out of water tale with a pinch of magic. Tight: What happens when your lover disappears in midair? Morgan: The year when everything changed. Re-Life: What if you were reborn in a strange new future? A New Year: They met every eleven years. And each time, Hank's life changed. Repetition: What if you wanted to go back in the closet? Gargoyle: Sometimes you get what you deserve. Sometimes it happens on All Hallows Eve. Avalon: A few bright moments in the sun, stolen from outside time. Most of these stories have been previously published in various anthologies and journals. This is the first time they have all been collected in one place.
Spells & Stardust
December 5, 2018
Word Count:
54,665
Summary: Balancing family life with being a kick-ass investigator is hard, especially when the holidays roll up. Jake Winter and Dean Tseng are solving cases as PIAs (Paranormal Investigation Agents) in Amsterdam, as well as being fathers to their four-year-old daughter. With the festive season in full swing, everything should be calming down to make way for relaxing times with good food and presents delivered by Sinterklaas. Right? Since when was life ever that simple? When a human body is discovered with every one of its bones missing, and creepy anti-supernatural protesters start lurking in the shadows with a sinister agenda, Jake and Dean are about to experience the nasty side of Christmas. An Urban Fantasy filled with magic, mystery and mayhem (The Christmas Bones is a sequel novel to the Coldharbour Chronicles series, set four years after the events of the final book. There are references to the previous series, but this story can be enjoyed without having prior knowledge of those books. It features an established MM relationship, and plenty of Urban Fantasy action.)
The Christmas Bones
November 29, 2019