Word Count:
68000
Summary: When a vampire finds his soulmate, the bond is forever. It's love at first sight. Or is it? Homicide Detective Jonas Forge has been a vampire for centuries. He's fought wars, seen life go from the simple colonial days to the modern high-tech world. He's evolved with the times, adapted to each new era, blended into each new life. The one constant is his best friend, mentor, and lover, Declan. Even though not fated to bond as soulmates, Forge and Declan are happy and settled in their life together. Until Forge's real soulmate falls, literally, into his life. Forge isn't thrilled with the guy, despite the pheromones attracting them to each other, and the feeling seems mutual. While trying to adjust to his clumsy soulmate and equally awkward feelings, Forge is also on the hunt for a serial-killer witnesses can't identify who's leaving a trail of bodies in its wake. Will the bond Forge is finally forming with his soulmate be destroyed when the hunter becomes the victim? If you like fated mates who aren't perfect for each other, a paranormal killer who might not be caught and found families then you'll love Elizabeth Noble's Electric Candle.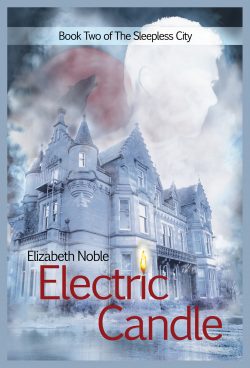 Electric Candle
August 18, 2020
Word Count:
14000
Summary: Being called upon to pull Santa's sleigh is an honour for any reindeer shifter, but for Dashiel the timing couldn't be worse. Stuart was looking forward to his Christmas Eve date with Dashiel, only to have him cancel at the last minute. He puts his disappointment aside and instead focuses on making his younger brother's Christmas as wonderful as it can be, despite the loss of their parents the previous winter. While flying over his home town, Dashiel spots a young boy on the streets, and he knows he has to help. When the young runaway turns out to be his date's little brother, he brings him on board the sleigh, determined to see him safely home to Stuart. Can a reindeer shifter pull Santa's sleigh, reunite two brothers, and find love this Christmas?
Sleigh Duty
December 7, 2019
Word Count: Information not available
Summary: Captain Quinn has always been the savior, rescuing his little human mate Del from every unlikely predicament. Even with Quinn's protective nature and Del's tendency to find trouble, they balance each other. The mated pair are ecstatic, anxiously awaiting the birth of their twins, when disaster strikes. A mysterious illness waylays the Captain, leaving Del in charge. Being the Captain leaves Del in a bind--pregnant, a magnet for trouble, Del struggles to find his feet and keep everyone safe. All their lives are deeply impacted by Del's command decision to seek assistance from an old enemy. Brync and Kai fear Kai's parents won't accept their blossoming relationship. When Kai is ordered to return home Brync must make the decision of his life. Rathian Raider Hastor, annoyed that he's been mated to a Xolian, plans to ignore the spoiled, whiny, green-eyed alien until he dies from exposure to the desert climate. But Braxx may be more interesting and resilient than Hastor first expected. Now if those babies would just arrive on time and follow their fathers well laid out plan, life could get back to normal.
Supernova
October 1, 2016
Word Count: Information not available
Summary: An ancient civilization long hidden from humanity is on the brink of chaos and war. Peaceful for thousands of years, the wolfkin clans are mysteriously losing packmates, kidnapped and killed by unknown foes. The nightmare begins with an ambush by humans at a gathering of their kind, and lives are lost. Among them is Luca, youngest grandson of the two most powerful wolves in the Northern Clans. Thought long dead and gone, he is forced into a half-life, hidden in the far northern wilds of Canada and cut off from his kind. Those who raised him have no idea the creature they harbor in their midst, and name him Ghost. He begins to lose himself over the long years, and though he barely recalls his true name, the one wolf he never forgets is Kane. Kane, Heir to the wolfkin clan Black Pine, is charged with hunting down the traitors who betrayed their kind to the humans. Years fly by, and more wolves are dying. He refuses to give up, and he vows to never again fail another of their kind, as he failed young Luca years before. His heart tells him Luca lives, but his mind tells him that it's foolish hope, his guilt eating him alive. Fate and magic change the course of their lives, and the two wolves long separated by the years find their paths intertwining. Though the gift of their reunion doesn't come without price. Faced by the consequences of their growing love, and the goddess-forged bond between them, Kane and Ghost are besieged on all sides. Enemies are coming for their blood, and without the steadfast loyalty and love of family and friends, they may not be safe from the very people they fight to protect.
Wolves of Black Pine
June 30, 2015