Word Count:
113000
Summary: A twist of fate changed both their destinies. The wyrbears, once a long-lived species, were being lost to the forest in their prime. A people borne of a curse, their abilities not a gift but something wrongly taken, they nonetheless live in harmony with their animal spirits. But over time the curse they lived under changed, mutated, and now what once was a refuge from the world when they became too weary is culling mathan in their prime. Ewen mhic Friscalach, the leader of his peoples, lost his father too early and is now a widower with four children. The vow he made as a youth to break the curse afflicting wyrbears has been buried by grief and responsibility. Roi mhic Alric, a priest of Cerridwen and seer, watched his fellow priests slaughtered and his temple desecrated. The only thing that kept him going the last three horror-filled years was the vision Cerridwen had granted him of his emancipation. If freedom came at the cost of his life, well, he was more than ready for the Otherworld. A fated meeting upon a bloody field of battle. A wrong done long ago. Their choices could save a people… or send them into extinction. Either way, their love will be legend.
Caledonia Destiny
July 9, 2018
Word Count:
122000
Summary: If Sūnder Alārd had been born female he would have been cherished for being Faeborn—born with magick—and his birth celebrated. Instead, the L'fÿn insisted on his death. Only his Panthrÿn father's desperate escape saved him. With most Chándariāns uneasy in his presence due to whispers that he is doomed to become a darksoul, and unlikely to find a mate because of it, Sunder has nevertheless carved out an honorable existence as a warrior and commander. Now bodyguard and chaperone for the Chándariān prince, Sūnder attends the annual mating festival on Earth with his charge. He can't help but be fascinated by Gabriel St. Baptista, the tongue-tied nurse he meets after the prince's accident. When he was sixteen, Gabe came home to discover his parents had headed out into space, leaving him behind. Gabe never recovered from the unexpected desertion and keeps everyone at arm's length to avoid being abandoned again. However, after meeting Sūnder, Gabe finds himself unable to resist the bond between them and breaks all of his carefully crafted rules to spend time with the Chándariān—regardless of the fact that Sūnder will soon leave Earth. Scared by how fast he is falling for Sūnder, Gabe just hopes his heart won't be too broken when Sūnder leaves. Neither expects the deceit and treachery stalking them, and when Gabe saves Sūnder's life, it sets off a chain of events that could either tear Gabe and Sūnder apart—or give them both exactly what they want.
Sūnder
September 4, 2017
Word Count:
40000
Summary: A Lycan descendant of Gilgamesh and Enkidu, Tristan is not as extraordinary as his ancestors. He is an average warrior, unremarkable throughout. But this fact does not trouble him because he has found his Twin Flame, the one person destined to be his, who will love him unconditionally, life after life. Then his Flame betrays him, leaving him shattered and dying. Brokenhearted, Tristan dissolves the sacred bond and leaves. His best friend, Ushna, accompanies him, vowing to guard and protect him, and Tristan slowly comes to realize that love does not require a sacred bond. But if he hopes to keep the love he chooses, they will first have to survive ancient secrets, lies, mythical creatures, and the return of absent gods...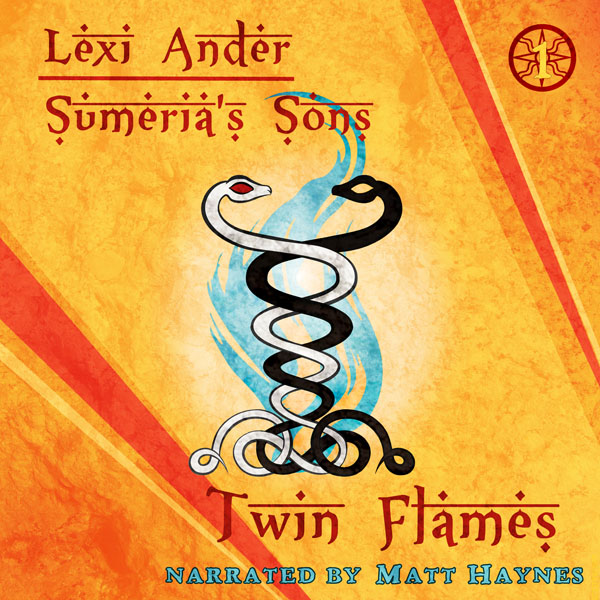 Twin Flames (Audiobook)
November 8, 2018