Word Count:

12500
Summary: SEALS Winged Insertion Command (SWIC) has based Tiger Bailey's operational SWIC-3 out of Howland Island near the Equator in the central Pacific, just a few kilometers away from Baker Island, location for the socket where Amelia Earhart Skytower terminates. Tiger Bailey's squad is tasked to drop from Low Earth Orbit (LEO) to Mayotte Island, northwest of Madagascar in the Indian Ocean, to rescue a U.S. Senator and his family who were taken hostage by pirates.
DAEDALUS COMBAT—Combat drop from Low Earth Orbit
Word Count:

15600
Summary: Following his successful base jump from Fred Noonan Skyport, Tiger Bailey undertakes the next step in the development process of the Gryphon hardshell wingsuit, a drop from Low Earth Orbit. Using the Gryphon-10 with enhanced navigation and computer control, and with a greater wingspan, he uses the Slingshot Space Launch Loop to gain Low Earth Orbit (LEO), but experiences equipment problems that nearly destroy him and doom the project. Ultimately, Tiger perseveres and drops into the Earth's atmosphere. He skips out in in several times before eventually making a harrowing but safe landing.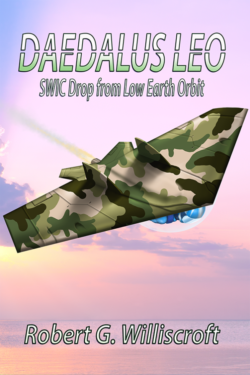 DAEDALUS LEO—SWIC drop from Low Earth Orbit
Word Count:

12300
Summary: After his successful proof-of-concept drop from Low Earth Orbit (LEO), Tiger Bailey's squad undertakes the next step in the development process of the Gryphon hardshell wingsuit, a coordinated drop from LEO by six team members. They tried to plan for every conceivable contingency, however, Mother Nature intervened with disastrous results.
DAEDALUS SQUAD—SWIC Squad drop from Low Earth Orbit
Word Count:

13500
Summary: Using a new Gryphon-7 hard-shell wingsuit, Tiger Baily, irreverent member of the Navy SEALS Winged Insertion Command, makes a harrowing first experimental base jump from the edge of Space, the Fred Noonan Skyport 80,000 meters above Jarvis Island in the Equatorial Pacific. Tiger's target, which he must reach to survive, is Kiritimati Island, a tiny isolated atoll 379 km northeast of Jarvis over ever-threatening and oh-so-deep ocean waters.
DAEDALUS: SWIC Basejump from Fred Noonan Skyport
Word Count:

119500
Summary:  Slingshot is a love story—about a man, a woman, another man, another woman, some gender bending…and a machine, the largest ever built.      Slingshot is a mystery—about a missing aviatrix, a conspiracy, a true-believer. Slingshot is an adventure—about following a dream, the ocean-deep, outer space. Slingshot is about constructing the first space launch-loop stretching 2,600 km between Baker and Jarvis Islands in the Equatorial Pacific. It's about high finance, intrigue, unlimited ambition, heroism, fanaticism, betrayal…and about opening space to the common person. With a cast of 69, Slingshot takes you from Seattle's world financial district, to the ocean bottom at 5,000 meters off Baker Island, to the edge of space 80 km above. You play with dolphins and battle sharks. You fly and sail and dive, you work and play and love across the vast panorama of an Equatorial Pacific being put to leash to serve humanity's surge into outer space. While its accurate science and precise engineering will appeal to hard science-fiction buffs, Slingshot's major focus is the grand journey, the opening of outer space to the common person by men and women who loom larger than life as they work, play, and love.
Slingshot: Building the largest Machine in Human History
Word Count:

3972
Summary: A Relativity Birthday Present is the first story in the captivating, educational, and beautifully illustrated Starman Jones Series designed to give young readers an intuitive grasp of esoteric scientific concepts like Relativity. It teaches young readers about one of the amazing effects of Relativity. Starman Jones and Spacepup are anxious to take Baby Billy on their adventurous trips from star to star in their starship, Willywinder. Billy, unfortunately, is too young, so Starman Jones devises a trip to the star Alpha Centauri. During the journey, he and Spacepup will travel so fast that time slows down for them on Willywinder, while time progresses normally back on Earth for Baby Billy. Ultimately, Starman Jones and Spacepup return to Earth nine years later on Billy's ninth birthday, but they have hardly aged at all. Billy has caught up with them, and can now accompany them on future star trips. It is the best birthday present Billy has ever had—a relativity birthday present.
Starman Jones: A Relativity Birthday Present
Word Count:

36590
Summary: Can you drop from Low Earth Orbit (LEO) with just a hardshell wingsuit? Navy SEAL Derek "Tiger" Baily and his SEALS Winged Insertion Command (SWIC) develop an experimental Gryphon hardshell wingsuit that can do just that. Eventually, when the presidential front-runner is seized by pirates for ransom, Baily's 6-man SWIC team must hurtle around the world, staging critical re-entry for a rescue, challenged to solve life-or-death problems with only seconds to spare. Can they survive? Will they effect the rescue? Join Tiger Baily through all four adventures in sci-fi master Robert G. Williscroft's Daedalus series, now collected for the first time as The Daedalus Files: SEALS Winged Insertion Command (SWIC).
The Daedalus Files: SEALS Winged Insertion Command (SWIC)
Word Count:

161800
Summary: Following the dramatic events in The Starchild Compact, the starship Starchild departs on a 185-year interstellar journey. Meanwhile, the Iapetus Federation in cooperation with the Founders, descendants of the people who originally constructed Iapetus, expands to include the Mirs Complex at L-4, the Lunar Complex, a new habitat being constructed at L-5, the growing Mars settlements, and several asteroids including Daphne and Ceres. On Earth, America turns away from its world leadership position to focus on internal matters and the idea of an all-inclusive, multicultural society. Saeed Esmail, the stowaway Jihadist who played a significant role in The Starchild Compact, becomes the guiding prophet of a new form of Islam that quickly dominates the vanquished Persian Caliphate territories, and threatens the rest of the planet. Aided by Founder Asshur, the besieged Israelis reluctantly forge a new homeland on Mars, while the United States balkanizes into a half-dozen smaller units dominated by the Lone Star Conservancy under the leadership of Texan Sam Houston, who had earlier established the Lone Star Settlement on Mars. Science does not stand still. Founder researchers develop a longevity treatment that has the potential to extend human life indefinitely. The Starchild Institute, headed by former U.S. President Marc Bowles, develops advanced spacecraft, and a new form of transportation based on artificial wormholes. As the global Jihad on Earth heats up, most of the planet falls under the domination of Saeed Esmail, with only the Lone Star Conservancy, Columbia Freehold, Australia, and New Zealand left as independent territories. The Institute opens evacuation portals between Earth and Iapetus to rescue as many people as possible. While Earth sinks into medieval barbarism, the focus of human activity shifts from Earth to the Iapetus Federation as humans settle virtually every potentially habitable spot in the Solar System and begin planning for expansion into the rest of the Galaxy.
The Iapetus Federation: Exodus From Earth
Word Count:

131000
Summary: Are we the children of starchildren? The Starchild Compact is an adventure of heroic proportions, commencing on a planet 500 lightyears distant, arriving here just a few years from now, and ending up in the far distant expanses of the Universe. Is Saturn's moon Iapetus an artifact? To find out, Jon Stock takes his international exploration team on a 1.4 billion km journey to Saturn, but will Jihadist stowaway Saeed Ismail succeed in sabotaging the mission? On Iapetus, Jon Stock and his team meet the Founders. Where are they from? How did they get here? How will they impact Earth and the Solar System? Will the Founder's presence signal the end of humanity, or will it pave the way for a joint push to the distant reaches of the Galaxy?  The Starchild Compact is hard SciFi reminiscent of Arthur C. Clarke or James P. Hogan, with a geopolitical twist worthy of Tom Clancy or Clive Cussler.
The Starchild Compact: A Novel of Interplanetary Exploration
Word Count:

366200
Summary: This is a Kindle book and Audible book of all three volumes in the set.      The Starchild Trilogy begins with building a Space Launch Loop enabling massive movement off Earth and subsequent settlement of Cislunar-Space, Mars, and beyond.      Slingshot is the story of the struggle behind constructing the largest machine ever built stretching between Baker and Jarvis Islands in the Equatorial Pacific, and how the men and women behind Slingshot overcome the project's physical, economic, and human obstacles.      In The Starchild Compact, a team exploring Saturn's moon Iapetus discovers it to be a derelict starship, and meets the Founders, remnants of an ancient, advanced race, the Ectarians, that arrived in the Solar System 150,000 years ago. Together, they create the Starchild Institute governed by a document they call the Starchild Compact to further develop and introduce Ectarian technology to the Solar System. Using Ectarian technology, they develop near lightspeed spacecraft, artificial wormholes, FTL starships, and human longevity.      As human colonies expand into the Solar System, they form a governing coalition: The Iapetus Federation. While a united Islam pursues a global Jihad that rages across the planet putting millions to the sword, the Federation enables an exodus from Earth using artificial wormholes. From hand-to-hand combat in the oceans, to battles on Earth's surface, to the challenge of living off-Earth and reaching for the stars, our heroes fight to survive and to expand humankind to the far reaches of the universe.
The Starchild Trilogy