Word Count:
30500
Summary: Caleb has been cursed for two hundred years. He is doomed to watch every man he has sex with forget him as soon as they part company. Each of his lovers then meets their true love within hours of leaving his presence. As rumours about his strange ability spread, more and more men come to his bed, hoping to find love—just not with him. When Ethan's best friend makes him an appointment with the mysterious Caleb, Ethan is sceptical but curious. Despite a shaky start, Ethan and Caleb connect sexually and emotionally then soon begin to wonder if Ethan has the power to break the curse by being the only one to remember Caleb after he leaves. Whether Ethan remembers Caleb or not, with a warlock standing between them, the road to happiness is going to be tough.
Always Forgotten
May 23, 2019
Word Count:
26900
Summary:
Lord Marcus is on a quest to slay the dragon, rescue the princess, and live happily ever after. Falling for the dragon was never part of the plan.
When Lord Marcus set out on his quest, it seemed a simple enough task to accomplish. Slay the dragon and rescue the princess, securing his father's approval and earning his happily ever after--only the princess is a witch and the dragon is nowhere to be seen. Instead he finds a young man who has a very big secret and is in far greater need of rescuing. Marcus's well planned quest might have taken an unexpected turn, but his happy ending could still be within his grasp, if he can earn the trust of a dragon who has been betrayed and hurt by everyone he has ever known.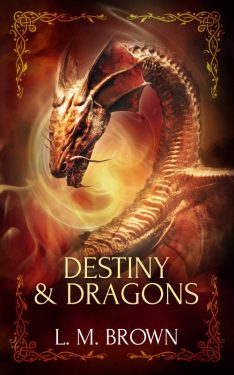 Destiny & Dragons
June 25, 2019
Word Count:
18300
Summary: Hayden Knight's job is simple. All he has to do is sell his father's latest invention to Tate South, the Acquisitions Manager of the biggest supplier of the best in cutting-edge technology.  The virtual assistant is designed to help the user in all aspects of their life, but Hayden views the holographic helper as nothing but a nuisance.  Keeping his annoyance to himself is relatively easy until a major technical glitch causes Tate to see and hear Hayden's assistant. Hayden and Tate are thrown together while they try to figure out what has happened, and the chemistry between them is electric. Hayden soon finds that convincing Tate that he needs a Holo-Assistant isn't as important to him as persuading him he needs Hayden in his life. The attraction is mutual and the sparks fly. If only they could get rid of their holographic third wheel.
Holographic Havoc
October 27, 2017
Word Count:
24000
Summary:
When Prince Aiden sets out to rescue a princess, the last thing he expects to find is a cross-dressing artist named Robert. Can he set aside his fears and find the fairy tale ending he longs for?
In a world where fairy stories are historical fact, Prince Aiden is on a quest to find a princess to rescue and bring home as his bride. Deep in the Enchanted Forest, he finds Robert, a cross-dressing artist who lives alone in his tower. Mistaking him for a woman, Prince Aiden is determined to have Robert as his bride.
When the prince of his dreams shows up at Robert's tower he is far from happy, especially when the handsome prince refuses to believe he is a man. Can he convince Prince Aiden to love him as the man he is, or is their happily ever after doomed from the start?
Let Down Your Hair
June 21, 2019
Word Count:
23000
Summary: When John the woodcutter realises he is about to lose the love of his life, he seeks out the wicked witch of the Enchanted Forest, hoping to buy a love potion to win his lover back. The witch refusing to help is only the start of his problems, for—on the stroke of midnight—the witch's cottage vanishes from the Enchanted Forest with him in it. Mathias is the grandson of a wicked witch and, like his mother and grandmother, he is cursed to be trapped in the cottage in a desolate wasteland for the rest of his life. He and the cottage only return to the Enchanted Forest on Midsummer Day each year. The last thing he needs is an unexpected house guest. Thrown together for a year, the spark between the two men soon ignites into passion, but can John live the rest of his life in a prison and would Mat even ask him to?
Potions & Prisons
June 20, 2019