Word Count:

26085
Summary: Sometimes the unexpected becomes magical. When August Shaw takes an unplanned vacation at the Oaks B & B, he decides on a bold step—to slip into his vintage feminine wardrobe and let himself feel beautiful. He usually plans every detail of his life, but is counting on bestie, Nicole, to boost his courage. When Nicole can't join him, and Jan Koskinen—the man August has crushed on for years—arrives instead, August risks accepting Jan's invitation to join in the Beat the Winter Blues Festival. The spontaneous weekend turns romantic, but August can't help his uncertainties, even as the people at the Oaks—along with a very uncanny house—encourage him to live in the moment. Can August accept the spontaneous whirlwind winter romance… or will his questions leave him standing in the cold?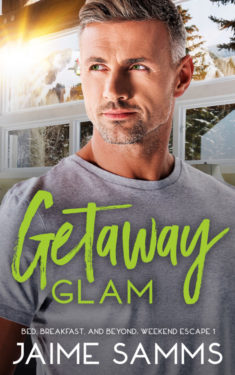 Getaway Glam
Word Count:

69861
Summary: A loving boyfriend, generous friendships, and a thriving business—Arnold Kreed should be ecstatic. So why does he feel like he's standing on the edge of an abyss? When Kreed took a chance on a thief—letting Lucky into his world, his life, his heart—he hardly imagined he would find the love and acceptance he didn't dare dream of. Lucky draws people to him, and his extended found family embraces Kreed. Now in an established relationship, despite Kreed's ex causing trouble again, Lucky and Kreed are working toward making a life together. But Kreed is unsettled, unable to find his bliss. He is getting grumpier, and he can feel his people, including his beloved self-aware house, Mildred, pulling away… How can Kreed get back to the joy he so recently found if he has no idea what's wrong?
Innkeeper's Blues
Word Count:

115,000
Summary: SECOND EDITION When Captain Rafe Lancaster is invalided out of the Britannic Imperium's Aero Corps after crashing his aerofighter during the Second Boer War, his eyesight is damaged permanently, and his career as a fighter pilot is over. Returning to Londinium in late November 1899, he's lost the skies he loved, has no place in a society ruled by an elite oligarchy of powerful Houses, and is hard up, homeless, and in desperate need of a new direction in life. Everything changes when he buys a coffeehouse near the Britannic Imperium Museum in Bloomsbury, the haunt of Aegyptologists. For the first time in years, Rafe is free to be himself. In a city powered by luminiferous aether and phlogiston, and where powerful men use House assassins to target their rivals, Rafe must navigate dangerous politics, deal with a jealous and possessive ex-lover, learn to make the best coffee in Londinium, and fend off murder and kidnap attempts before he can find happiness with the man he loves.
The Gilded Scarab
Word Count:

111,600
Summary: **First Place Winner 2019 Rainbow Awards: Best Gay Historical Romance. ** **Third Place Winner 2019 Rainbow Awards: Best Gay Book.** SECOND EDITION: Something is stalking the Aegyptian night and endangering the archaeologists excavating the mysterious temple ruins in Abydos. But is it a vengeful ancient spirit or a very modern conspiracy… Rafe Lancaster's relationship with Gallowglass First Heir, Ned Winter, flourishes over the summer of 1900, and when Rafe's House encourages him to join Ned's next archaeological expedition, he sees a chance for it to deepen further. Since all the Houses of the Britannic Imperium, Rafe's included, view assassination as a convenient solution to most problems, he packs his aether pistol—just in case. Trouble finds them in Abydos. Rafe and Ned begin to wonder if they're facing opposition to the Temple of Seti being disturbed. What begins as tricks and pranks escalates to attacks and death, while the figure of the Dog—the jackal-headed god Anubis, ruler of death—casts a long shadow over the desert sands. Destruction follows in his wake as he returns to reclaim his place in Abydos. Can Rafe and Ned stand against both the god and House plots when the life of Ned's son is on the line?
The Jackal's House