Word Count:

24000
Summary: A HISTORY OF TROUBLE A Beacon Hill Sorcerer Collection A collection of brand-new short stories, featuring characters from The Beacon Hill Sorcerer Series by bestselling author SJ Himes. Red Wine and Blood The Blood Wars raged for centuries across Boston. Witness a brief glimpse into the brutal history of the Wars with Ignacio Salvatore and the vampire he loves, Ashwin Metcalfe, in 1897. A History of Trouble Angel was joking when he asked O'Malley if someone resurrected a mammoth. Little did he know that was exactly what someone did. Experience the untold story of what happened that unfortunate night at the Boston Public Museum. A Dragon in the City What happens when Eroch goes adventuring in Beacon Hill without Angel? Chaos, pure chaos. Fae's Gold Daniel is helping the newly-resurrected fae Ruairi Brennan become accustomed to modern-day living. A boring trip to the bank quickly escalates, and Daniel calls Angel for help. The day goes downhill from there but ends in a comfy meal in a pub for an ancient fae warrior and a necromancer's apprentice. This is an collection, featuring vignettes and short stories from the universe of The Beacon Hill Sorcerer series. For full enjoyment, the Beacon Hill Sorcerer Series Books 1 through 3 should be read before reading this collection.
A History of Trouble
Word Count:

38000
Summary: Stories tell of great fire-breathing beasts large as castles, fierce and deadly, capable of magicks that no human can match. The Kingdom of Kentaine once allied itself with the dragons of old, but eventually, the dragons were lost to time and fell into legend. Sir Gawain, First Knight of the Realm, is tasked by his older sister the Queen to travel to the edges of their kingdom, where a beast is flaming villagers and has the locals ready to form a mob and hunt it down themselves. His mission is to find the dragon, stop the violence, and do what he needs to maintain the peace. His journey puts him in the heart of a confrontation with the dragon, but instead of saving the villagers, it is the dragon that needs rescuing. Zephyr, a fire dragon and an escaped slave, needs protection, time to heal, and a chance at a life full of hope. Gawain can do no less than offer his sword, his shield, and his heart. Evil is hunting Zephyr, and it will not stop until it has reclaimed its prize. Beyond the legends lies the truth, and love, like fire, consumes everything it touches.
Knight's Fire
Word Count:

130000
Summary: Guilt-ridden after the massacre of his family, Isaac Salvatore turned to binge drinking to escape the pain. Now twenty-four years old, Isaac is a recovering alcoholic woefully out of practice in the magical arts, leaving his fire affinity hanging on the edge of disaster. After a month of rehab, he returns to Beacon Hill and his family, determined to remain sober, learn to control his magic, and figure out a plan for his life that doesn't involve drinking. Constantine Batiste is the oldest, most powerful vampire in the city. Born in ancient Gaul, the bastard son of a Celtic king, his long life has been shrouded in tragedy and horrors. Recent mistakes have left him wary and determined to guard his clan from all foes. When two of his clan members fall victim to an ancient evil, he summons the Necromancer of Boston for aid. Accompanying his older brother to the Tower is the handsome young fire mage once wounded by Constantine's arrogance, and their encounter reignites an attraction that burns within both Constantine and Isaac. The answer to who is targeting the vampires of Boston is buried in the dark, early days of Constantine's transition to an immortal life. Isaac finds himself saddled with a painful insight into the evil cutting a swath through the supernatural population of Boston. While his brother, Angel, takes over the hunt to find and stop the threat to the city, Isaac struggles to find a balance between helping his brother and finding his own purpose and place in the world, free from his brother's shadow. Falling in love wasn't part of his plan, but mastering the flames that burn between him and Constantine soon becomes the most important thing in his life, even as an ancient evil seeks to destroy them.
Mastering the Flames
Word Count: Information not available
Summary: In a world where magic is real and evil walks amongst humanity, a young sorcerer is beset upon by enemies, both old and new. Angelus Salvatore is the only necromancer in all of Boston, and his name is whispered warily by the undead and fellow sorcerers alike. He and his brother Isaac are the lone survivors of an attack by an army of the undead, in which Angel used a spell so powerful it forever marked his place in history. Now, years later, Angel struggles to balance his career as a teacher of the higher magical arts, his role as big brother, and a tenuous relationship with an Elder vampire from the local clan. When his brother's boyfriend is used as a pawn in a mysterious plot to draw Angel out, Angel is once again drawn back into the old hostilities that fueled the Blood Wars and led to his family's death. Leaning on others for help is something Angel cannot do, and while he searches for clues into who may be targeting him and his brother, Angel finds his heart steadily growing occupied with Simeon, Elder and vampire. Dealing with death magic and vampires on a daily basis may leave Angel jaded when it comes to life and staying that way, but the more time he spends fending off the ancient vampire's attention and affections, the more he realizes he wants to give in. Can Angel find out who wants him dead, and keep his heart safe in the process? How can he fall for a vampire, when his whole family was torn apart by an army of the undead? Death stalks the streets of Boston's historic Beacon Hill....and there is no one more suited to battle against death than a necromancer. MATURE CONTENT Contains graphic violence, male/male sexual contact, a cranky necromancer, a sexy Irish vampire, and a pesky demon.
The Necromancer's Dance
Word Count: Information not available
Summary: Even love can die without trust. Angel's brother, Isaac, has returned home, and the pair begins to make slow and awkward attempts back to each other. Learning how to be a brother to a grown man instead of a parental figure has Angel adjusting his behaviors and habits, and Isaac still remains a mystery. Was it merely entering adulthood that turned Isaac away from an overprotective Angel, or does Isaac carry a secret that will keep them from finally being a real family? Daniel Macavoy, Angel's new apprentice, is torn between his bond with Angel and the grasping machinations of his father. Dealing with a traumatized apprentice with dangerous holes in his magical education, saving Daniel may be harder than Angel first thought—especially since the biggest problem is not revenge, but guilt. The one shining beacon in his life is Simeon, Elder vampire of Boston's only Bloodclan. Four hundred years old and sexy as sin, Simeon is warrior and sage, patient and cunning. The strength Angel draws from Simeon's devotion and the newborn mate-bond between them is steadfast and true…and the fount of death magic that animates the undead lord places Angel in the midst of a power struggle for control over himself, his lover, and his family. Through it all, Angel is beleaguered by the unwanted attention of a troll-hybrid, the adventures of a dragon in the city, and a serial killer has decided to hunt the back alleys and midnight streets of Boston. **72k words. Contains bonus short story at the end, "The Necromancer's Birthday Surprise", written for Crystal's Many Reviewers, March 2016. Book TWO in a series. Not standalone. **Contains male/male sexual content. Violence, gore, sex, vampires. A cute dragon and some snark. Okay, lots of snark.
The Necromancer's Dilemma
Word Count:

85000
Summary: Every action has consequences. For a decade, Angel Salvatore has been the most powerful sorcerer and only necromancer in all the Northeast. Never one to ask permission nor apologies, he has acted with near impunity for years. Until now. The High Council of Sorcery has come to Boston, and Angel is their target. Charged with numerous violations of practitioner laws, his freedom and family are placed in jeopardy. If found guilty, Angel's apprentice Daniel will be imprisoned to serve out the remaining years of his apprenticeship. Isaac, his brother, is too vulnerable to be left unguarded, and Angel fears for his sanity and health. And Simeon, Elder vampire and Angel's mate refuses to see Angel convicted under the laws of the Council and his actions to keep Angel free threaten to start a war that could destroy their world. And Angel faces the severest of punishments—the castration of his gifts. The Council has never cared for the people of Boston, and Angel doubts their motives. They have come for some insidious reason, and it has nothing to do with upholding the law and everything to do with Angel. Dealing with an impending trial, a wayward ghost, and a graverobbing ring of thieves leaves Angel on the edge. He thinks he may have a handle on things until violence erupts across the city, and a stranger comes to town...a stranger with his own dark powers of necromancy. This is book 3 of a series, and the previous books should be read first for full enjoyment. Trigger Warnings are on the Copyright Page and can be seen using the Look Inside feature or by downloading a sample of this book. 85,000 words 340 pages Gay Urban Fantasy Romance
The Necromancer's Reckoning
Word Count:

52000
Summary: Rescued from slavers, healer novice Jaime Buchanan finds himself alone and free in Pyrderi, a kingdom of magic, mythical creatures, and a culture as open and kind as his homeland was cruel and close-minded. Despite his rescue, Jaime is not left without scars, both mental and physical. Traumatized by his experience and hiding his gift, Jaime struggles to earn his place in the kitchens of Angharad Palace, the heart of Taliesin City. His former life as a student of the healing arts leaves him at a disadvantage in the kitchens, and his damaged state is becoming more apparent by the day. One day, when necessity and fate intervene, Jaime meets someone unexpected—Prince Maxim, youngest son of the Pyrderian king, a sword master and a devastatingly kind man. Unaccustomed to powerful people with compassion and heart, Jaime flees. A cascade of events reveals Jaime's hidden talents of healing, and he finds himself not in chains, but at the beginning of a new life. This swift change of fortune opens Jaime up to new possibilities, including a smitten prince who cautiously courts Jaime, easing him away from his fears and reminding him that compassion and love can make him strong. The winter solstice is quickly approaching, and Prince Maxim shows Jaime the enjoyment and excitement to be found in a land that embraces the ice and cold, and the mysteries of all things magical. He learns to see the man under the royal mantle, and Maxim is more than even Jaime suspected. The winter solstice is nigh when tragedy strikes, and Jaime learns that his past of grief and sorrow can be a pillar of strength for his solstice prince. If there is one thing that Jaime believes above all else, it is in the healing power of love. 51,835 words, 182 pages Gay Epic Fantasy Romance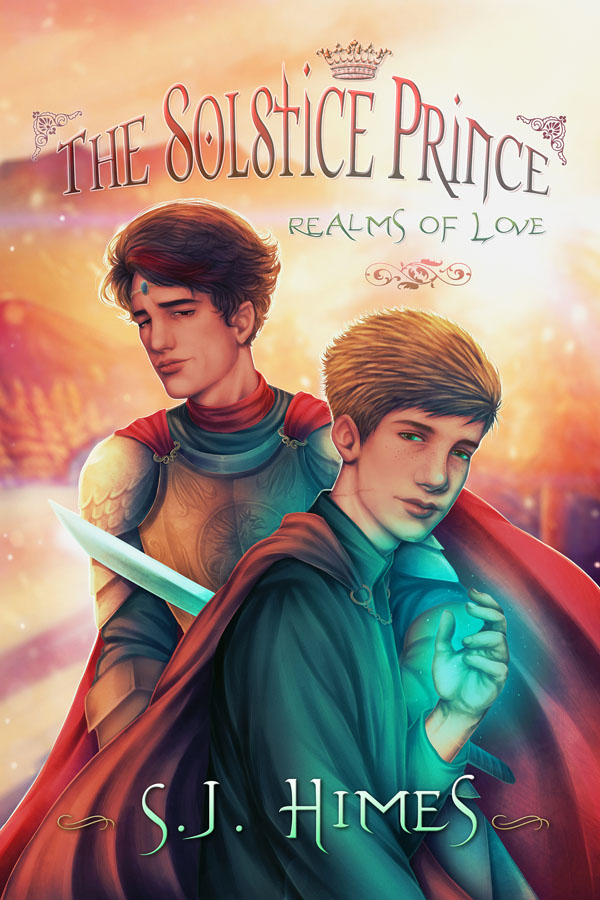 The Solstice Prince
Word Count:

104000
Summary: Ghost, once known as the cub Luca, is finally home. Back among his kind and learning what it means to be both a man and a shaman, Ghost battles the expectations of his people, his family, and the pressures of a society that is both foreign and familiar. His power is greater than any seen before, dwarfing that of even the legendary Shaman Gray Shadow—and his union with Kane places him in the center of a controversy that rattles wolfkin society around the world. Kane, greater alpha and Heir to Black Pine Clan, has finally defeated the traitor and murderer that destroyed the heart of Black Pine years before. Freed at last from guilt and pain, Kane has a new enemy to face: his own people. Placed on trial for violation of Law and blasphemy, Kane will have to fight to the death to preserve his bond with Ghost and keep his mate and people safe. The soulbond between Ghost and Kane is forged by the creator and Goddess of the wolfkin. Usually, a sacred and treasured union that honors the pair and their clans, this soulbond is seen not as a gift, but a threat to eons of tradition and Clan Law. The union of a Shaman and Alpha is anathema—but how to reconcile that belief when it is the wolfkin Goddess who forged it? Can Ghost and Kane save themselves, preserve their bond, and find a new future when the laws of the ancient past threaten to tear them apart? **This book is part of a series and is not standalone. Prior books should be read to understand content. 104,000 words. Brief flashbacks of sexual assault and abuse. Mature content and violence.*** Gay Paranormal Shifter Romance
Wolf of the Northern Star