Fantasy tales that either derive from existing fairy tale stories or folklore, or have a fairy tale quality to them. Return to general Fantasy
Note: these books are currently sorted by release date, with newest first.
Word Count:

24000
Summary:
When Prince Aiden sets out to rescue a princess, the last thing he expects to find is a cross-dressing artist named Robert. Can he set aside his fears and find the fairy tale ending he longs for?
In a world where fairy stories are historical fact, Prince Aiden is on a quest to find a princess to rescue and bring home as his bride. Deep in the Enchanted Forest, he finds Robert, a cross-dressing artist who lives alone in his tower. Mistaking him for a woman, Prince Aiden is determined to have Robert as his bride.
When the prince of his dreams shows up at Robert's tower he is far from happy, especially when the handsome prince refuses to believe he is a man. Can he convince Prince Aiden to love him as the man he is, or is their happily ever after doomed from the start?
Let Down Your Hair
Word Count:

23000
Summary: When John the woodcutter realises he is about to lose the love of his life, he seeks out the wicked witch of the Enchanted Forest, hoping to buy a love potion to win his lover back. The witch refusing to help is only the start of his problems, for—on the stroke of midnight—the witch's cottage vanishes from the Enchanted Forest with him in it. Mathias is the grandson of a wicked witch and, like his mother and grandmother, he is cursed to be trapped in the cottage in a desolate wasteland for the rest of his life. He and the cottage only return to the Enchanted Forest on Midsummer Day each year. The last thing he needs is an unexpected house guest. Thrown together for a year, the spark between the two men soon ignites into passion, but can John live the rest of his life in a prison and would Mat even ask him to?
Potions & Prisons
Word Count:

70000+
Summary: Is there redemption after mass murder? Is there redemption after genocide? Is there redemption when one isn't even seeking it? Brianna'Tal had been running for years, running from her past, from her sister She found peace and Isolation She was content and happy, or so she thought Until a freak accident brought a mysterious woman into her life Love was not part of the plan, nor was it something she understood, And certainly not something she deserved But it is what she got You may remember Brianna from M.R. Gross' first novel The Malevolent Witch. The Unfolding takes place some 5 years after The Malevolent Witch. We hear Brianna's story, her side of events, does her reasoning justify her actions? This is a stand alone novel, it can be completely enjoyed without reading The Malevolent Witch. Author Note: I've read books, watched tv and movies that supposedly had autistic characters, but the vast majority of them were written by non-autistic people/writers. Brie is autistic, and I believe I represented a Neurodiverse woman authentically.
The Unfolding
Word Count:

50800
Summary: Dr. Grady Hunter has a vampire infestation on his hands in the town of Shady Pines but he's been deserted by those best suited to help. After enlisting Chris Reed, a techno-mage, they find the vampires might only be the tip of a deadly iceburg. Returning home from his dream travels, Ethan Roam is eager to experiment with his newly discovered powers. But Ethan isn't the only familiar arrival in Grady's life. As more reminders of his dark past crop up daily, Grady and Ethan are swept up in a mystery of cosmic proportions. Grady must fight to keep an ever-evolving Ethan on his side while being challenged by the ghosts of his past.
HUNTER
Word Count: Information not available
Summary: Emeline's quiet village has three important rules: Don't look at the shadows. Don't cross the river. And don't enter the forest. An illustrated fantasy filled with beauty and power, Between the Water and the Woods sweeps you into a world where forests are hungry; knights fight with whips; the king is dying; and a peasant girl's magic will decide the future of the realm . . . When Emeline's little brother breaks all three of their village's rules, she is forced to use her family's forbidden magic to rescue him from the dark things he awakens, the Ithin. Now that the Ithin are afoot in the land, she must, by law, travel to the royal court and warn the king. But the only way she and her family can make the journey to the capital is with the protection of a sour magister and a handsome, whip-wielding Lash Knight. Will Emeline survive in a city where conspiracies swirl like smoke and her magic is all but outlawed? Seven full-page black-and-white illustrations accompany Between the Water and the Woods, a lush, fairy-tale-style fantasy perfect for readers of Karen Cushman and Shannon Hale.
Between The Water and The Woods
Word Count: Information not available
Summary: The Hunt is On! When strength becomes weakness… And hope becomes doubt… As the past collides with the future…hard… Can Suzanne—Wild Hunt biker chick and one-time member of the fae High Court—stand strong as her world falls apart? She survived an assault by redcaps, an all-out battle with the High King's armies, and her first encounter with roller derby… but how will she fare against her inner demons? Caught in the midst of a transformation she scarcely realizes and does not understand, her hard-won convictions are tested as never before. Suzanne is left with only one question—what if they're wrong? The truth could mean the difference between saving her sanity and losing her soul…
The Redcaps' Queen
Word Count: Information not available
Summary: Once upon a time in a world where magic and technology collide with unexpected consequences… Despite the disabilities a curse has caused, tsarevna Rivka fights for her independence. Why can't her father, the tsar, understand that burning witches isn't the answer to her and her sisters' heart problems? She only learns how badly the curse affects the three princesses when she meets glass blower Nikolaj who seems to be tied to her in some strange way. Can she get her father to see reason before her heart drags her to hell? What if Richard von Volkmann-Leander hadn't known that "The Sisters with the Glass Hearts" were far more capable than you'd expect? The book includes a bonus story and the original fairy tale. And since it's the last book in the series, it is longer than the other volumes.
Obsidian Heart
Word Count:

21000
Summary: Aurora Rose slumbers in the city of Oldpass, a cursed kingdom once allied with Grimvein. The victim of a malicious spell, she is powerless to control her own fate. At least, that's how the story goes. Now, as Grimvein faces attack, Prince Amir has been tasked with the life-threatening rescue of Aurora, his parents hopeful he will marry the princess and secure safety for their kingdom. Talia, the strongest spell-caster in the known lands, protects and guides the prince in his quest to save a woman that threatens to change their lives forever. In finding Aurora, the pair will realise the truth about themselves and each other, coming to understand just what – and who – they really want in life.
Finding Aurora
Word Count: Information not available
Summary: Once upon a time in a world where magic and technology collide with unexpected consequences… The moderator only needs a good story, but the devil must get his magical hairs back or he and his grandmother will starve. However, is a reality talk show really the right place to demand justice? What if the Brothers Grimm hadn't realized that "The Devil with the Three Golden Hairs" had reasons for his actions? The book includes a bonus story and the original fairy tale.
The Talk Show
Word Count:

40000
Summary: Spells & Stardust is Scott's first anthology - eight sci fi and fantasy shorts that run the gamut from regeneration to redemption. The Bear at the Bar: A gay fish out of water tale with a pinch of magic. Tight: What happens when your lover disappears in midair? Morgan: The year when everything changed. Re-Life: What if you were reborn in a strange new future? A New Year: They met every eleven years. And each time, Hank's life changed. Repetition: What if you wanted to go back in the closet? Gargoyle: Sometimes you get what you deserve. Sometimes it happens on All Hallows Eve. Avalon: A few bright moments in the sun, stolen from outside time. Most of these stories have been previously published in various anthologies and journals. This is the first time they have all been collected in one place.
Spells & Stardust
Word Count: Information not available
Summary:
In every legend of Fairyland, the fairies have their own reasons for crossing the border…
Oliver has spent his life as the crown prince, preparing to rule but in no hurry about it, enjoying life and taverns with Tirian, his fairy-companion and best friend. But when the traditional Vision Quest calls— and a dragon appears—Oliver finds himself facing difficult questions about heroism, sacrifice… and the emotions he's discovering about Tir. But Tirian has secrets of his own, about his purpose, his magic, his feelings for Oliver, and a prophecy that will change the fates of two kingdoms forever.
A Prophecy for Two
Word Count:

81383
Summary: A tennis match? Starting a war between the Duchy of Avann and the Kingdom of the Westlands? Only in a fairy tale. When Prince Henry hurts a young ball boy who told him Danilo's ball was inside the line, Danilo's response is automatic. Punch the prince's face, pick him up left-handed, and break the royal jaw. Unfortunately, there's another "automatic" at work in the Westlands: a death sentence for whoever strikes royalty. King Hiram can't—won't—change the rule of law to rule by royal whim. But he grants the Heir of Avann fifteen days to find words which will persuade him to let Danilo live. In those fifteen days:  Magick. The gods, goddesses and gender-fluid deities on Deity Lane. Kilvar, the assassin. A wallet which opens in a bank vault. A mysterious old man. The Lady of All. The Magickal Hand writing, rewriting. A fairy tale within a fairy tale. A huge horse called Brute. And at the end...perhaps the right words and a most unexpected love. Plus a deity-supplied dinner with just the right amount of garlic. 81,383 words of story.
Of Princes False and True
Word Count:

47,000
Summary: A collection of tales filled with monsters, be they human or beast, ranging in setting from dystopia to pitch black noir and even general silliness. From the ludicrous to the frighteningly plausible; from deep space to after the end of the world. There are clumsy werewolves and bloody revenge, monster sleep overs and a dieting fad sure to kill your appetite. Whether looking into the past or the future, you're sure to find that stuff gets really weird.
Shotgun Bastards and Other Stories
Word Count:

82000
Summary: Callie, a Classics major, flees home to protect her family from a monster straight out of mythology. Visions lead her to Nectar and Ambrosia: the weirdest pub on Earth, where inter-dimensional travelers with attention seeking issues get drunk in between the A-list celebrity lives they create. They can't pretend to be gods anymore—not since a treaty with the current Supreme Deity promising they won't intervene in human affairs. The Doorkeeper of this threshold, Florian, rides herd on the rowdy Amaranthine and offers her shelter and a job. Callie likes the lonely, mysterious bartender more than she should. For Florian, her presence is a ray of light in the gray monotony of his sentence behind the bar, but he keeps a cautious distance—the truth of how he became Doorkeeper could change Callie's perception of him forever. When angels show up for a war council over Zeus's irrational mutters about a comeback, Callie has uncontrolled visions of an apocalypse. Ex-gods realize she's the first Oracle Priestess in generations. All Callie wanted was keep her parents safe, and now it seems she must sacrifice her future to keep the rest of humanity safe, too. Ambrosia could be the key to harnessing her visions— or it could cost her life. War is coming. The threshold between worlds has never been more fragile. Callie must discover who is pulling Zeus's strings and avert the final battle—before the immortal vying to become the next Supreme Deity kills her first.
Nectar and Ambrosia
Word Count: Information not available
Summary: Once upon a time in a world where magic and technology collide with unexpected consequences… The cat is caught in a curse with no way out. Not even the death of his hot-tempered owner, the miller, opens an escape route. Instead the youngest of the miller's sons inherits him. Can the cat gain his freedom if he fulfills the boy's unrealizable wish? What if Charles Perrault hadn't known who or what "Puss in Boots" really was? The book includes a bonus story and the original fairy tale.
The Inheritance
Word Count:

80435
Summary: A modern-day knight in shining armor is a man with a secret. He's an immortal direwolf shifter. A man who can trace at will into a lethally dangerous canine who holds the ability to step into the stillness and achieve any goal. When he finds himself without a career after retiring disabled from his last mission in the military, he has to rethink the direction of his life. He needs to reinvent himself before anyone realizes that he stopped aging at the age of thirty-five. He's learned just enough to make his existence a bit dangerous. The sexy high school teacher neighbor he's been near stalking has her own secret. She feels like everything and claiming her is all he can focus on. He's determined to win her as his own until a shadowy evil attacks her and reveals a situation that forces him to be the man of action that he's always been. To keep the woman he loves safe, he'll become the alpha pack leader he was born to be. A Pack Forms is the first volume in the steamy paranormal romance saga of Draoithe.
Draoithe: A Pack Forms
Word Count:

54000
Summary: With his heart's desire at stake, can he resist giving Fate a little nudge? Half-norn event planner Anders Skuldsson is under strict orders from Asgard not to meddle with Fate. But with Enchanted Occasions' latest booking—the competition for the hand of Faerie's one true prince—crashing around his ears, it's really, really, really difficult to toe that particular line. So… if Andy just happens to pose as a contender for the prince? It's an emergency, damn it. Besides, it's only temporary, so Odin can hardly blame him. Right? If Conall of Odstone hadn't sworn a blood oath to protect his half-brother, Prince Reyner, he'd murder the idiot himself. Rey was supposed to be here, choosing a mate before being crowned and wed. Instead, he's disappeared, leaving Con to impersonate him. Again. But when Con meets Andy, his anger turns to desire… and despair. Even if Andy forgives him for pretending to be someone he's not, how could a man as appealing and accomplished as Andy—a man who's eligible for a prince's hand, for pity's sake—settle for the court outcast? As for Andy, his burgeoning feelings for the prince are both unfortunate and hopeless because hello? Half-norn? Faerie prince? Not exactly a match made in Valhalla. When the Faerie Queen herself hands down an ultimatum, the double deception isn't their only obstacle. Unless Andy makes the right decision, both their fates could be sealed by… well… Fate. Nudging Fate is a 54,000-word paranormal rom-com featuring mistaken identity, royalty in disguise, interfering coworkers, an iron knight with a soft heart, a temperamental goblin chef, and a guaranteed HEA.
Nudging Fate
Word Count:

19696
Summary: What happens when porn star "Big Johnson" Galt decides to stop the engine of the world? Can a mystery novelist/magician find true love while solving The Wodehouse Murder Case? Will a plucky small-town Satanist be able to make it in the cutthroat world of Satanic lifestyle publishing? Can a savage Cimmerian barbarian win a proper 1800s English woman or will The Sword of Darcy fail them both? Atlas Shagged is a collection of humorous fantasy stories that I've published in various magazines, plus the all-new title story. The hard copy edition has several added stories.
Atlas Shagged
Word Count:

7700
Summary: A lion sleeps in the hearts of brave men. When Prince Theodorin refuses to wed the general's youngest son because he loves another, he is trapped on a cursed island. He spends his days trying to escape, his nights listening to his lover's soothing voice echoing through the forest. His attempts to escape only lead back to where he started… until an encounter with a lion reveals a crack in the illusion. Theo has to believe, or he may never find his way home. Previously appeared in Wilde City Press' Bedtime Stories anthology
Click Your Heels
Word Count:

52000
Summary: Rescued from slavers, healer novice Jaime Buchanan finds himself alone and free in Pyrderi, a kingdom of magic, mythical creatures, and a culture as open and kind as his homeland was cruel and close-minded. Despite his rescue, Jaime is not left without scars, both mental and physical. Traumatized by his experience and hiding his gift, Jaime struggles to earn his place in the kitchens of Angharad Palace, the heart of Taliesin City. His former life as a student of the healing arts leaves him at a disadvantage in the kitchens, and his damaged state is becoming more apparent by the day. One day, when necessity and fate intervene, Jaime meets someone unexpected—Prince Maxim, youngest son of the Pyrderian king, a sword master and a devastatingly kind man. Unaccustomed to powerful people with compassion and heart, Jaime flees. A cascade of events reveals Jaime's hidden talents of healing, and he finds himself not in chains, but at the beginning of a new life. This swift change of fortune opens Jaime up to new possibilities, including a smitten prince who cautiously courts Jaime, easing him away from his fears and reminding him that compassion and love can make him strong. The winter solstice is quickly approaching, and Prince Maxim shows Jaime the enjoyment and excitement to be found in a land that embraces the ice and cold, and the mysteries of all things magical. He learns to see the man under the royal mantle, and Maxim is more than even Jaime suspected. The winter solstice is nigh when tragedy strikes, and Jaime learns that his past of grief and sorrow can be a pillar of strength for his solstice prince. If there is one thing that Jaime believes above all else, it is in the healing power of love. 51,835 words, 182 pages Gay Epic Fantasy Romance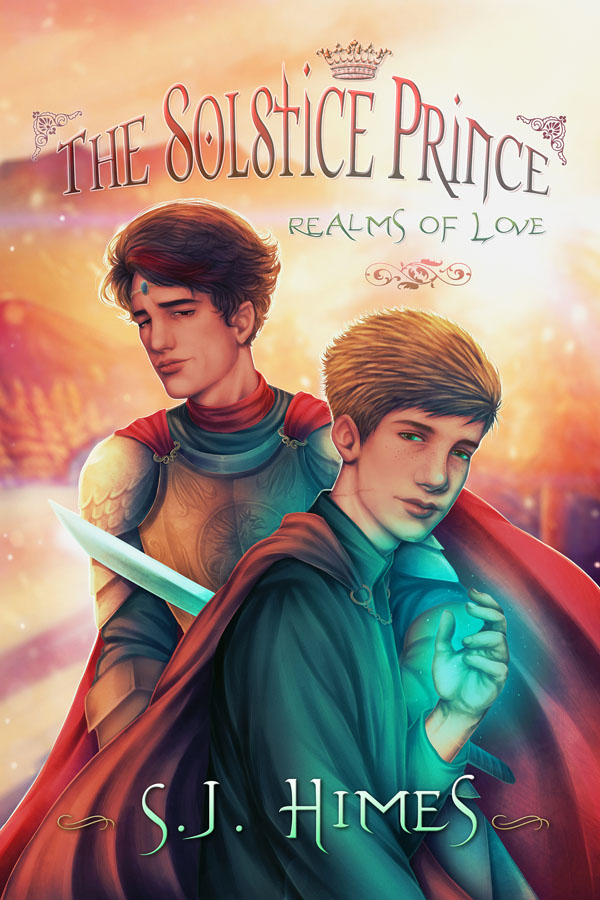 The Solstice Prince