Fantasy stories that include queer characters and/or a queer storyline. Return to general Fantasy
Note: these books are currently sorted by release date, with newest first.
Word Count:

75000
Summary: The neon lights of Las Vegas mask the horrors hiding in the shadows. Horrors like my ancient vampiric maker, the Goddess Tawaret. Tawaret promises me power in exchange for helping her. She wants to be worshiped again, and has me gathering vampire followers. My boyfriend, Jack, tries to warn me about her, but I don't listen. Too late, I realize my mistake in accepting. Now there is no escape. After the slaughter she left behind in Portland, no one wants to risk her wrath. With Jack suddenly abandoning me, no one will come to my rescue. I'd rather die than be bound to her for eternity. It just might come to that.
Goddess of the Ancients
Word Count:

195000
Summary: Belonging can sometimes be Hell Jin is 17, pansexual, blue-haired, half-Korean and a lifelong outsider. His modus operandi, after years of neglect and chaos, is never belong, never attach, because both just bring pain. What he doesn't know, and mustn't, is if he does ever belong, his lust demon father will take him to Hell forever the day he turns 18. But when he moves to the remote Scottish town of Hammer Falls, where he shouldn't fit in at all, he finds being supernatural and queer aren't quite the barriers to belonging he'd hoped. As his lust demon blood begins to show and he grows ever closer to gorgeous part-angel demonstalker Nate, how long can Jin continue to convince himself he doesn't belong and isn't getting attached? Lust & Other Demons is the first in a trilogy containing a snarky, prickly half lust demon, hot demon hunters, werebears, angst, messy love and explicit MM sex. Books 2 & 3 also contain steamy MMM+ polyamory scenes as part of a key relationship. NOTE - These books are NOT suitable for younger readers or people likely to be offended by speculative views about religion.
Lust & Other Demons
Word Count:

67000
Summary: In the interstellar kingdom of Valoris, everyone knows the royal family is watching. They can be anyone and anywhere with their shapeshifting abilities—they are Truthspoken and to be feared. Of course, that doesn't stop the high houses from trying to take them down by any means they can. Arianna is the perfect Truthspoken Heir: beautiful, intelligent, and a master of her shapeshifting craft, determined to one day rule with the same control as her father. Her dreams come crashing down, though, when she's attacked by a rogue Green Magicker at her betrothal to a rival high house prince, when it's known that magickers can't do violence. Was it treachery, was it personal, or was it something else? Arianna has been slowly getting ill for weeks, and Truthspoken don't get sick. Dressa is the second Truthspoken heir and would like to stay that way, thank you very much. She's the glittering socialite of her father's court, more loved than feared. But when her older sister falls ill and is secretly sent away from court, there's still the matter of a much needed marriage alliance with a rival high house—and an absolutely gorgeous prince, who her sister wasn't keen on marrying anyway. When her father orders her to take her sister's place until she returns—her name, her appearance, everything—can Dressa carry on the act without falling for her sister's intended bride? Paranoia around Green Magickers is growing, noble plots are closing in, and in deep space, the only aliens humans have met are showing signs of not being pacifists after all. Can the Truthspoken hold their kingdom against the coming storm when it's already crumbling from within? The Truthspoken Heir collects the first season of The Stars and Green Magics, an epic space fantasy serial set in a diverse, queernorm universe with shapeshifting royals, glittering court intrigue, and space magic! This book has main characters who are queer, nonbinary, trans, agender, genderfluid, ace and/or aro, lesbian, fat, POC, disabled, ND, and generally awesome. (Not all rep is stated, some is implied.) Barring the occasional burst of strong language, this book is PG-13.
The Truthspoken Heir
Word Count:

75000
Summary: Sleepwalking may be the death of me… again. I thought things would get better now that I no longer had assassins after my head. Although it's fun eating people who misgender me, I'm just so thirsty all the time. And until I improve, I'm barred from seeing Jack, my were-jackal boyfriend. My babysitter, I mean 'vampire mentor,' isn't much help either. As if things weren't bad enough, the amulet that started this mess is whispering to me. Calling me somewhere. I think it might be my mysterious maker. Judging by the trail of bodies they're leaving across the globe, I don't want to know what will happen if I can't keep resisting.
Bloodline of the Ancients
Word Count:

149,000
Summary: Peridot is headed for its second cataclysm. War has broken ancient alliances, sealed borders, and locked down the skies. The Five, Peridot's alchemist gods, have seen one of their number die and another fall in their efforts to protect their world from invaders beyond the stars. Defeated and diminished, they have ceased to answer the prayers of their people and have left the rapidly unraveling world to fend for itself. Talis and the orphaned crew of the lost airship Wind Sabre have a plan to set things to rights, but they're stranded on a rock far from the heart of the conflict. When an old enemy comes and offers them a ship and a path forward, it comes with strings that will pull them further from the home they are so desperate to save. Can Talis and her crew chart a course through hostile skies, shifting allegiances, and subverted governments before the true enemies of Peridot claim a power that can destroy the world once and for all?
Salvage
Word Count:

21,400
Summary: When do dreams become reality? Orin sells dandelion latex at a no-name market, barely scraping by. Mette is a princess. Maybe. What Orin does know is that for thirty seconds every night, Mette visits Orin in xir dreams. Orin has long since written the fancy ghost woman off as a recurring nightmare, but when Mette insists upon meeting in real life, Orin's inner world turns out to be more substantive than imaginary. Along with best friend Blathnaid, Orin embarks on a journey to discover the truth behind xir otherworldly connection--determined to free xir mind and finally get a good night's sleep. But it's an ancient, planetary magic that binds Orin to Mette, and Orin's dandelions may be their only chance to survive the separation. If you want a fun, queer romp through a sci-fi planet with magic and dragons (of a sort), download Awry with Dandelions today! Note: this book uses xie/xir pronouns for Orin. Genres: Space Opera / Science Fiction / Romance / LGBT Lesbian Non Binary Market: Adult and New Adult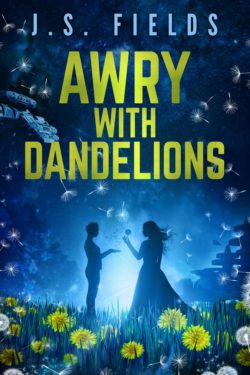 Awry With Dandelions
Word Count: Information not available
Summary: Welcome to the Fillery Hotel, home to the Bells and Balls Convention, and last stop for a runaway fairy prince and the grumpy demon hunter who loves him. Dick Slumber is a growly demon hunter with a three-legged cat he doesn't want and a secret he must keep at all costs. But Dick has a problem—he's not who he says he is, and he's running out of ways to hide it. Gin Lark is a feisty fairy prince whose job is to help his sister keep demons out of the human realm. But Gin has a problem—he doesn't possess an ounce of magic, and somebody wants him dead. When Gin goes into hiding as a hotel housekeeper, and Dick is hired to find him, they discover themselves in the center of a cursed hotel, a resurrected pinball convention with its own secrets, and a tear in the sky called the rift, which is about to let loose a horde of demons. Falling in love should be the last thing on Dick and Gin's to-do list—unless love is the only thing that can save them. Sorcery's Kiss is book one of an exciting new MM paranormal fantasy series called Demon Tales and Fairy Games, where demons, fairies, and trolls live with unsuspecting humans. Sometimes light, sometimes dark, always sweet, magical, and romantic. Happily ever after guaranteed. Each book is linked but tells a complete story. No cheating, no unkindness.
Sorcery's Kiss
Word Count:

80000
Summary: Wounded, betrayed and alone, Cal has escaped to Tarquis, losing everything… again. In Sanquous, dark forces are mustering as it edges closer to all out war. Their leader missing, the Ilfannde face the wrath of the Draguul and their tyrannical High Priest. If ever there was a time for a saviour to arise, it's now. The question is, will she?
The Rod of Xerus
Word Count:

128000
Summary: In the wake of a worsening climate crisis, magic runs rampant and demons roam across the Canadian prairies. A long-dead god stirs in the Pacific Ocean, while the wilderness is choked by invasive, screaming grass. The Cascade has shattered political stability, leaving a scandal-plagued government clinging to power in Ottawa. As catastrophe looms ahead, a precognitive rainman, Ian Mallory, stands between run-of-the-mill corruption and a nightmarish, dystopian future. It is up to a diverse and unlikely band of activists, scientists, journalists, and one underpaid, emoji-spell wielding intern to save their beleaguered country from its own worst impulses
Cascade
Word Count:

64,390
Summary: The time has come. The Dark Mage, Lord Morgorth, and Aishe of the Ravena Tribe, are to become bondmates. Morgorth is equal parts nervous and excited. He wants to unite with Aishe in the sacred dialen ceremony, to proclaim their devotion to the world, to show everyone that Aishe is his equal and deserving of respect. After all they've survived together, why shouldn't they make the cosmic promise before friends and family? But duty must often come before pleasure. When Morgorth's estranged mentor, Master Ulezander, comes to him with a time-sensitive mission involving a major stone of power, Morgorth has little choice but to acquiesce. Aishe knows his mate struggles with the revelation of his true destiny, after a lifetime of defining himself as the future Destroyer of Karishian. All he can do is reassure Morgorth that being the Savior is a far better fate for both of them. But as Morgorth and Aishe leap through worlds and dimensions in pursuit of a stone of power, more pieces to the puzzle of Morgorth's destiny are revealed. And they form an image of sacrifice and tragedy. The dark cloud of an ancient enemy looms ever closer, and the path to becoming the Savior might prove more monstrous than that of the Destroyer.
Sapphire: Home and Abroad
Word Count:

165000
Summary: British superheroes, melodramatic Mages, snarky secret agents, one hell of a found family, and a whole load of weird people. Also, there's a duck. This is the painfully bizarre origin story of Rexley Nova. When Rex was four years old, he became one of the world's first superhumans. When Rex turns twenty, he feels the drive to use his scientifically given abilities to protect the world. He leaves home to become a member of the Secret Superhero Security team, alongside three of his friends and Danger City's own superhero, Polaris. Rex fights murderous Mages, evil organisations, criminal mafias, his agency appointed psychiatrist, his own anxious brain, and the most frightening of all, his attraction to a certain blue-eyed superhero.
Novas Got Nerve
Word Count:

70000
Summary: When you have chaos magic, the only thing you can do is expect the unexpected. Zombies. Shoestorms. Illicit unicorn rides. A talking red panda. Before today Max never believed in magic, despite bad luck so terrible he used to jokingly call it a curse. Now he's a reluctant believer. His first day as a mage he draws the attention of the magic police, not to mention the mysterious hooded figures chasing him all over downtown Portland trying to kill him with magic. With the help of his new speed-demon red panda familiar, his fortune-telling neighbor, a gadget-obsessed witch, a grumpy vampire, and his maybe-brother, Max needs to learn to use his chaos magic, and quickly, or his 'curse' is going to be the end of him and the people he loves.
Red Pandamonium
Word Count:

90.000
Summary: One week to save the child, bargain with Death and get the girl…  Child Protective Services Attorney Maeve Malveaux is sure that Chrysandra Arneson needs to be rescued from her rich, powerful and abusive family. But how? Her boss won't listen to her and neither will the judge. But after she gets taken off the case and sent on involuntary leave to get her out of the way, she's determined to find out what's going on. She's not counting on joining forces with Jill, the gorgeous law librarian from work, and a mismatched collection of fairy folk. Or getting the ghostly assistance of the long-defunct Minneapolis streetcar system. And, perhaps, even a hand from Death himself. Mae and Jill are about to be caught up in a supernatural power struggle that will take them on an adventure from the Uptown neighborhood in Minneapolis into faery realms and beyond. All they need is a dime for the streetcar fare and a little help from their new allies to be on their way. But will it be enough to save a little girl and get them where they need to go? They've only got a week to find out.
Last Car to Annwn Station
Word Count: Information not available
Summary: Bo is a carefree demon with an unwanted fate looming on the horizon. No more parties, no more drinking, no more fun and games. Forever. So, when an opportunity to slip through the veil between the human and demon realms appears, he jumps, even though it means leaving his grumpy lover in the lurch—a lover he can't live without. Promising Gus he'll love him forever is easy. But Bo has a secret he can't share. Not yet. And another promise that brings him face to face with a rogue fairy and a contest with an ultimate win or lose. If he isn't careful, Bo is going to learn just how long the fall into forever really is. Sorcery's Fall is the prequel to an exciting new MM paranormal fantasy series called Demon Tales and Fairy Games, where demons, fairies, and trolls live with unsuspecting humans. Sometimes light, sometimes dark, always magical, and romantic. Happily ever after guaranteed. NOTE: Bo and Gus's story does not conclude in Sorcery's Fall but is woven throughout the series. They will get their happy ever after in their own book though, I promise!
Sorcery's Fall
Word Count:

64,178
Summary: It is said that long ago Herne, the god of the Hunt, could use his Horn to make wolves obey his commands. A legend that Amy Oakley, Alpha of the Howlers pack, learned as a child and stopped believing in long before her first change beneath the full moon. After spending three years fighting for her lovers and packmates' right to live among the werewolves of Londinium, all she wants is a chance to breathe, go back to running her pub, and never see the manipulative Marcel Charron again. As an ancient prophecy begins to unfold, can Amy and the Howlers find the Horn of Herne and keep it out of Marcel's hands, or will his web of schemes and plots spell doom for their pack and the rest of London's werewolves?
Herald's Call
Word Count: Information not available
Summary: Hidden in the shadows, something unseen is hunting them all. The Raven Tower summons the trinity to return home. Neither the tower nor magic tell them why. One by one the soldiers tasked with defending its people, fall to an insidious contagion. Once infected, they succumb to a rabid and animalistic state. If they survive, then they become minions of the dark to spread their touch even further. Magda, Ascara and Lucinda must seek out the dark places foretold by the clan dreamers. When they do, they discover more than they expected. As the rot at the heart of Veritas takes hold, no cure is in sight. When all seems lost, they must face their deadliest foe yet. Now, the war on humanity has become deadly serious. The trinity must triumph. The world depends upon it.
A Touch of Purple
Word Count:

73440
Summary: Once upon a time, two handsome young princes fell in love, faced down adversity, and lived happily-ever-after…until one romantic evening, they unwittingly ate a confection laced with a mind-wiping toxin. In this light fantasy world, four realms have settled into an uneasy peace. A surprise twist to a prearranged marriage agreement spawns this story of unexpected love, newfound courage, and heroic adventure. Join Princes Efren and Marcelo on their heart-warming journey as they sort through misleading twists and turns to defeat devious foes. Twice! Contains the stories: The Contingency Plan: An untimely death throws a marriage arrangement, the final phase of a treaty, into disarray. Now the Crown Prince of Zioneven can make his own choice from among the princess's younger siblings. As a royal son in the matriarchal sovereignty of Sheburat, Prince Marcelo grew up knowing Royal sons never married. Never. Period. Except Prince Efren isn't from Sheburat, and he has other plans. The Best-Laid Plans: A death that wasn't what it seemed … A kidnapping that isn't what it seems … Time is running out. Enmeshed in political intrigue, death, and a kidnapping, will Prince Efren untangle the web of clues in time to save his naïve young husband, or will Prince Marcelo dig deep to discover a previously untapped inner strength and determination to facilitate his own survival? Change of Plans: Once upon a time, two handsome young princes fell in love, faced down adversity, and lived happily-ever-after… until one romantic evening, they unwittingly ate a confection laced with a mind-wiping toxin. Are their chances at rekindling their love doomed? Or will their ignominious new beginning propel them toward a more teasingly fun rapport? Also contains three bonus scenes not included with the individual stories.
The Plans Trilogy Box Set
Word Count: Information not available
Summary: Mankind's survival hangs in the balance… In the year 2066, the artist haven of Santa Fe, New Mexico emerges as ground zero for the conquest and destruction of Earth by the evil Zolteots. Nick Clements and Daniel Vigil-Cruz — a writer and an artist still deeply in love after 12 years together — become the improbable fulcrum through which Earth might survive. As they weigh what must be done to save our planet, they are forced to confront shocking truths which will transform the Earth — as well as their future together — forever.
El Nuevo Mundo
Word Count:

75000
Summary: Waking up undead is just the start of my bad night. This night is going from bad to worse. My roommate is dead. My sexy neighbor, who I've never worked up the guts to talk to before, is standing in my living room. I have a gold amulet I just stole from the museum hidden in my pocket. Oh, and I'm dead... or undead? All the myths about vampires, were-wolves, and the like? Turns out, all true. My sexy neighbor claims I'm a vampire now. I don't quite believe him, but then again, he turned into a coyote in front of me. Jackal, whatever. Plus, you know, my fangs. Oh, did I mention my sexy neighbor is an ex-cop? And his cop buddies just knocked down my door. I'm pretty sure this night can't get any worse…
Ritual of the Ancients
Word Count:

62,900
Summary: A werewolf and seven vampires are all that stand between the world and complete annihilation. When Kai Richter and Ori Bier met, sparks flew. Then a train blew up. Tracking an organism deadly to not only humans, but vampires and werewolves alike, brings Kai and Ori into the Vampire Guard. Decades later, they, along with Operative Team Jack Rabbit, come face to face with the horrors that same virus produces. Dead bodies are coming back to life, and rational people are becoming violent and brutal killers. A massacre is taking place nearly a mile under the Atlantic Ocean. Two teams of The Vampire Guard are in the thick of it, fighting to survive.
Endosymbiont