Word Count:
118937
Summary: Frank Grimes is a lowlife, no count, barely classifiable as a human, male who just happens to have enough sense to hire and retain qualified construction workers. He landed the contract to build most of Draoithe in January of 2016. He's not only worthless, but he's also criminal filth. He will do anything for an easy dollar. After the Draoithe housewarming party, his true colors shine through when he attempts to rape the architectural designer in her apartment after driving her home. Luke can't afford to let Jace kill him or allow Flame to turn him as dragonsworn, but there is no way that Frank can be allowed to just get away with what he's done. Even the Assassin King wants him dead, and he is the dragon called to serve one miscreant underking. Sentenced to house arrest and forced labor, Grimes seeks a way to fulfill the requirements Luke sets on him to gain enough respect that Javier will turn him into a canine shifter until he meets a blood demon who wants to help Luke out. Is it possible to totally rehabilitate the walking filth that is Frank Grimes into a real man in order to help him avoid certain death and turn him into a wolf? Or will the demon simply drink him dry and slowly end his miserable existence?
Draoithe: Filth and Death
February 14, 2020
Word Count:
107884
Summary: Julian Gypsun used to be a young man on his way to becoming a contractor. Everything changed when he died and was resurrected as a wizard's familiar. He was immortal and far better off physically than he had been as a human. Still, he was trapped with his life chained to a giant of a wizard who had no problem abusing him in every way imaginable. Julian was powerless to stop it without ending his own existence. That is until he was yanked bodily through his own portal, transported to Draoithe, and assigned to babysit the visiting dignitary, Amazon Warrior Princess Zephyra, and try to convince her that her people should ally themselves with Luke and Draoithe. That sounded easy, but it wasn't. He liked her. He had no clue how to act on that. Best to avoid that altogether. Keeping her safe just might equal his death. (Please see her warrior princess title.) She was old and so far out of his league. Worse, she liked him and was determined to have him. He can't even consider that. She has no idea how broken he really is.
Draoithe: Midnight Magic
October 23, 2020
Word Count:
91154
Summary: Flame is scarred from a past filled with lies, deceptions, and heartbreak. He is not guilty of what his brothers believe, but Blaze is the only one who knows the truth. He was betrayed by the king he had served. The girls he gave the dark gift to had been innocent. When he finds his Valkyrie, beaten, raped, broken, and fading after having been forced to accept the dark gift without her consent, Flame vows that he will do anything to save her. The light seems gone from both her and the world she finds herself in. Little does Flame know that for her to have the light again, he will sacrifice his honor, his integrity, and his life after breaking every law he can manage to break and even demand absolution for crimes he never committed. Many men say they will die for the love of their life. Flame somehow needs to do it four damn times, find a way to fix not only her broken magic, but fix her broken spirit as well, and then figure out how to live for her! All men wish to love a vampire, but Flame burns in his soul for one who holds the fire and has been granted the dark gift of an immortal vampire princess.
Draoithe: The Dark Gift
July 29, 2019
Word Count:
135408
Summary: Alexio Asmodai is the demon king of Eaglafonn, a small outpost kingdom in the Netherworld overruled by the Demon Lord Asmodeus. It is Alexio's responsibility to protect and police the frontier borders against any threats. He is an accomplished knight, so that part came easy. Eaglafonn is a cold and isolated kingdom. Alexio needed to stay and build his castle atop the hot springs to beat an addiction to seduction sickness. After over seven centuries, he thinks his loneliness has finally come to an end when he opens a crate to find a woman sent by Asmodeus for him to keep safe. He falls for her instantly. She is a human woman, fragile, timid, and irresistible. He must follow his liege's directive, convince her to become his queen, and see that she is cared for properly in a place that is inhospitable to her existence. This leads to a realization that his castle lacks a lot to be a first-class home for a lady. Can a tainted demon prince rise to the challenge to become a true king and win the woman who stole his heart? Dread Allies 7-14 The Shadow king of Eaglafonn has chosen his queen, but his castle lacks the feminine element. To make her more comfortable, he orders the demon princes to seek out and claim their own mates. That is easier said than done. Eaglafonn is a cold dark isolated kingdom in the Netherworld. It might be easier to claim mates from the Domhain, but not everyone could survive on the brutal dangerous frontier. The other options afforded from the Netherworld come with their own dangers. The magic is unbalanced and balancing comes with a price. Claiming their mates lead the demon princes on epic mini journeys and reveals the need for Eaglafonn to take a greater role in helping Luke aid the dream. Dread Allies is a miniseries set in the Netherworld in the dream. It is an ancillary group of stories to the Draoithe saga. While it is set in that world, it is not in the direct series lineup. The dream just got darker and colder. Welcome to Eaglafonn.
Dread Allies: Shadow King
May 15, 2020
Word Count: Information not available
Summary: Ethan Roam has faced a lot of nightmarish challenges—finding out he's a sandman, falling in love with the man who once hunted him, and thwarting attacks from The Order of Azoth, a secret occult organization set on using his bloodline to conquer the universe by controlling immortality. And the battle is far from over. To defeat The Order and its leader, Phantom, Ethan must first find the original Sandman and then bring the fight to the Dream World. Saving the universe might be too tall an order for one dream creature, but with the help of his friends and some Celestial beings with questionable motives, Ethan just might be able to weave a trap of surreal proportions.
DREAM WEAVER
April 27, 2020
Word Count:
89000
Summary: An uneasy truce between the four races has lasted for twenty years. Until now. The Dusters, a race of cat people from the north, have invaded and now former soldier Mika must make a grim choice: take up the sword again or watch everything he loves burn. With his old friend from the military, Gair, and a mysterious, half-breed Duster, Mika makes his way from his Northern border home to the southern capital, across the frozen wastes of the Duster homelands, and deep underground where the legendary Gallochs dwell. He is desperate to unravel the mystery of the invasion and how it's connected to his origin. But hunted by his own kind and unable to trust his companions, he discovers that to save his family, he may have to defeat not only the Duster army but the very Gods themselves. Penned by award-winning author, Adam Stemple, Duster is an epic, page-turning fantasy for adult readers who like their tales grim and dark but with just enough light at the end of the tunnel to keep them wanting more. Fans of Martin's Game of Thrones, Abercrombie's The First Law Trilogy, and Estes' Fatemarked will all find something to enjoy within. "I can, without reservation, recommend everything Adam Stemple has written, and Duster is no exception." — Steven Brust, best-selling author of The Baron of Magister Valley "No one writes bastard-son-of-a-bitch characters as brilliantly as Adam Stemple." — Naomi Kritzer, Hugo-Award-Winning Author of Catfishing on Catnet Praise for Adam's first novel, Singer of Souls "One of the best first novels I have ever read." — SFWA Grand Master, Ann McCaffrey *STARRED REVIEW* "A dour, nihilistic, absolutely marvelous grunge fantasy!" — Ray Olson, Booklist "Fans of Charles de Lint and Clive Barker will find much to like!" — Publishers Weekly
Duster
July 11, 2020
Word Count:
105,000
Summary: Would it kill you to create something genuinely new? In Robert's world, it used to. Supernatural vengeance for invention is now a thing of the past. Young, optimistic, quick of mind and quick to act, Robert thinks being invited to the New School is an invitation to change the world. But change is difficult when there is no history of innovation. He is initially successful in his studies, but nothing is as simple as he naively imagines. His classmates confuse and frustrate him. One is a drunk, while another two constantly stalk him. Is it for love or something more sinister? Robert's optimism is further tested by protestors who circle the campus, decrying the newly invented breed of grain. They claim it is poison and that the New School should be punished by Nimrheal, the god who formerly murdered inventors. Robert suspects foreign business influences are behind the protests, but he quickly finds that investigating their cause is dangerous. Robert's most difficult challenges are his unresolved childhood issues. His mother died while he was a child. Robert's formative helplessness and inability to remember her face projects into a powerful and blinding protectiveness towards all women. When a campus assault pushes Robert over the edge, his hopes of even staying at the New School are jeopardized. He cannot aspire to change the world if he does not even know himself. At the same time as Robert struggles on campus, a powerful, ruthless and emotionally closed man known only as the Lonely Wizard journeys across an empty wilderness to return home. As Robert and the Lonely Wizard move closer together, Robert finds that instead of entering a golden era of invention, he may instead be on the brink of a cold war and an endless, unchanging dark age.
Dynamicist
February 20, 2020
Word Count: Information not available
Summary: Mankind's survival hangs in the balance… In the year 2066, the artist haven of Santa Fe, New Mexico emerges as ground zero for the conquest and destruction of Earth by the evil Zolteots. Nick Clements and Daniel Vigil-Cruz — a writer and an artist still deeply in love after 12 years together — become the improbable fulcrum through which Earth might survive. As they weigh what must be done to save our planet, they are forced to confront shocking truths which will transform the Earth — as well as their future together — forever.
El Nuevo Mundo
May 17, 2022
Word Count:
76,765
Summary: Home. Family. Those words often invoke a sense of love and comfort. But for the dark mage Morgorth, they mean hate and pain. As the seventh son of a seventh son, many believe Morgorth's destiny is to become the Destroyer. His father embraced such a future and trained Morgorth through torture and fear to become his weapon. Morgorth managed to escape his father's cruelty, but not the nightmares that still haunt him. For many years he's lived with the stain of his father's savagery, but now he must confront his nightmares head-on. His father has found a stone of power. Morgorth must return to his land of birth, to the memories he's tried his entire life to suppress. Aishe is determined to help Morgorth defeat his inner demons, but he knows he might not be enough to save Morgorth from embracing his darkness. They know it will be a fight to the death and that Morgorth won't be the same if he survives. With Aishe by his side, Morgorth hunts for his father, and finds answers to questions he never dared to ask—and must live with the truths they reveal.
Emerald: Good and Evil
June 6, 2017
Word Count:
109728
Summary: Henry Ross Murray was a Revolutionary War hero, and his house in Boston has been converted into a museum. Everything is original to the period… including the ghosts. The Ghost U team is called in to help figure out who's haunting the Colonial mansion in Beacon Hill. They encounter family secrets and angry spirits in the course of their investigation, and they learn that some heroes aren't as heroic as they seem. So much drama. And that's nothing compared to what's happening behind the scenes. Faces in the Fog: Ghost U Volume Two is a paranormal Reverse Harem adventure with horror elements and is intended for mature audiences.
Faces in the Fog
July 28, 2020
Word Count:
61000
Summary: Hunter. Half-werewolf. One hell of a baker. Need someone, or something, hunted down? Akira Murakami is your man! No target is too small for him to get his energy-sucking blades swinging, and all jobs are welcome at the right price. The bills have to be paid after all. Living in a world where the apocalypse almost happened can be complicated, as is being the hybrid son of the High Werewolf of, well, everything. But Akira likes to live a relatively simpler life than dear old papa would like, shunning all the political crap, living by the sword and perfecting that recipe for dark chocolate and raspberry brownies. Killing is easy. Brownies are easy. Too easy. To hell with the simple life! There's a werewolf killer stalking the city, and Akira is about to be caught in the middle of everything. Step into an alternative London where the London Underground is above your head, Hyde Park a prison for some creepy shadow creatures, and plenty of baking goes down in a tiny flat on Grays Inn Road. A kick-ass Urban Fantasy adventure with a slow-burn MM Romance.
First Moon
February 28, 2020
Word Count:
41000
Summary: When a satanic wizard runs the insane asylum, nobody believes the inmates, even when they're sane. Jonah is entirely normal in every respect but one: whenever he's frightened he turns into his evil alter ego, Maldeus. When Jonah discovers Maldeus is working with the asylum doctor to sacrifice women on a giant pentagram, he's thrust into the middle of a diabolic plot involving occult magic, invisible people, and a perverted, sex-crazed blue demon! Will he keep his wits about him as he pretends to be Maldeus and stop the rise of Satan?
Five Maidens on the Pentagram
September 13, 2020
Word Count:
75000
Summary: The neon lights of Las Vegas mask the horrors hiding in the shadows. Horrors like my ancient vampiric maker, the Goddess Tawaret. Tawaret promises me power in exchange for helping her. She wants to be worshiped again, and has me gathering vampire followers. My boyfriend, Jack, tries to warn me about her, but I don't listen. Too late, I realize my mistake in accepting. Now there is no escape. After the slaughter she left behind in Portland, no one wants to risk her wrath. With Jack suddenly abandoning me, no one will come to my rescue. I'd rather die than be bound to her for eternity. It just might come to that.
Goddess of the Ancients
August 16, 2022
Word Count: Information not available
Summary: A brutal war left Volos Perun with physical and emotional scars and with a reputation as a hero. Now he's a soldier stationed at the palace, desiring Prince Berhanu while receiving only loathing in return. But when Berhanu foolishly refuses the king's request to let Volos accompany him on a peace mission to the neighboring country, Berhanu is kidnapped and brutalized. Now Volos must risk his life as he works to save Berhanu and help his country avoid another devastating war.
Guarded
April 20, 2016
Word Count:
145,000
Summary: Robert thought becoming a dynamicist would enable him to change the world, starting with saving all his friends from being slaughtered. He was wrong.
Acts of genuine creativity used to bring mortal punishment. But now, wizardry is dead and Robert, Koria and Eloise live in a world where change and invention is possible.
Robert hopes that mathematically-framed dynamics will enable him to change the new world. But he keeps having prophetic dreams where his friends are all murdered by a mysterious cloaked man, and the grain protestors are more menacing than ever. They declare dynamics is dangerous and that the changes must stop. They are right about one thing: dynamics is dangerous, especially for someone so hopeful, angry and impetuous as Robert.
Soon Robert's horrific nightmares come true and a cloaked man appears on campus, stalking and murdering students --his friends are next.
Desperate to change the future, Robert recklessly pushes the bounds of both dynamics and reason. Every crushing failure dampens Robert's hope for the future and pushes him a step closer to the powerful, nihilistic, and merciless Lonely Wizard.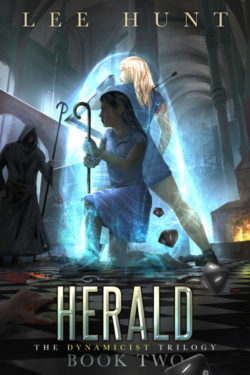 Herald
May 26, 2020
Word Count:
50800
Summary: Dr. Grady Hunter has a vampire infestation on his hands in the town of Shady Pines but he's been deserted by those best suited to help. After enlisting Chris Reed, a techno-mage, they find the vampires might only be the tip of a deadly iceburg. Returning home from his dream travels, Ethan Roam is eager to experiment with his newly discovered powers. But Ethan isn't the only familiar arrival in Grady's life. As more reminders of his dark past crop up daily, Grady and Ethan are swept up in a mystery of cosmic proportions. Grady must fight to keep an ever-evolving Ethan on his side while being challenged by the ghosts of his past.
HUNTER
April 8, 2019
Word Count: Information not available
Summary: The youngest master in the Bards' Guild, eighteen-year-old Huw Owyn is at the top of his craft. The Spring Conclave is underway, and Huw is late to the ceremonies. While he lingers with his lady, the Bards' Guild is attacked. Seeking to rule the most powerful clan in the valley, Earl Rann Dwyn hangs the Guild Master, Huw's father. His thugs torch the hall with everyone still inside, igniting a firestorm and incinerating a quarter of the city. Smuggled out of the burning city in a reeking ale barrel, Huw the Bard is a wanted man. Starving, reduced to begging and worse, he must somehow make his way north to safety. It's a 200-league walk as the crow flies to the one place he might have a friend, though the path Huw must take is anything but straight. Murder and the taint of treason – a lot can happen to a man on a journey like that.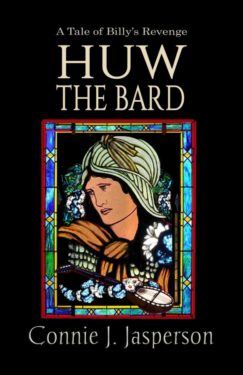 Huw the Bard
March 28, 2014
Word Count:
140,000
Summary: Despite their disparate natures, Yarrow, Duncan, and Sasha united against overwhelming odds to save Prince Garith's life. Now Garith is king and the three friends may be facing their undoing. Distraught over Yarrow's departure to find the cure to his magical affliction, Duncan struggles with his new role as Bairn of Windwake, a realm left bankrupt and in turmoil by his predecessor. Many of Duncan's vassals conspire against him, and Sasha's unorthodox solutions to Duncan's problem have earned them the contempt of Garith's nobles. When word reaches Duncan and Sasha that Yarrow is in danger, they want nothing more than to rush to his aid. But Duncan's absence could tip Windwake into the hands of his enemies. In addition, a near-mythic order of assassins wants Sasha dead. Without Yarrow, Duncan and Sasha can't take the fight to the assassins. They are stuck, entangled in a political world they don't understand. But finding Yarrow may cause more problems, and with his court divided, King Garith must strike a balance between supporting his friends and assuaging the nobles who want Duncan punished—and Sasha executed.
Ice and Embers
March 15, 2014
Word Count:
99000
Summary: Gavin Booker, a school librarian at Cooper Road Elementary, Raleigh, Northern Carolina, leads an orderly, normal life. Work, jogging, friends from work, his son every other weekend. Gavin is also a secret. He is a hybrid, or part-fairy, and in the Columbian Empire, hybrids are under an automatic death sentence. Magic is illegal. So is loving another man, another capital crime. Fairies are locked away in ghettoes, magical beasts, such as gryphons, unicorns, and pegasi are kept in zoos. The others, the tree and water spirits, the talking beasts, fauns, and the rest, are in hiding. This is the world in which Gavin grew up. He survived, thanks to his mother. He can never forget he is different: ministers preach against people like him constantly; hating the other is a part of every school's curriculum. But now, things are changing fast, and apparently, for the worst. Earthquakes, volcanoes, killer storms are all frequent occurrences. The medicine Gavin takes to suppress his body's glowing, isn't working. The spells cast by his doctor, a witch, are losing their power. If anyone finds out what Gavin is, he is dead. Under threat, the Empire always goes after its marginalized people. Can Gavin survive the coming catastrophe? Will he ever recover from losing the boys he loved? Can he find the fairy man who has haunted his dreams all his life before it is too late? Can his scarred heart ever heal?
In Light's Shadow
September 3, 2022
Word Count:
36000
Summary: INK (NOUN) Five definitions to inspire writers around the world and an unlimited number of possible stories to tell: 1) A colored fluid used for writing 2) The action of signing a deal 3) A black liquid ejected by squid 4) Publicity in the written media 5) A slang word for tattoos Ink features 300-word speculative flash fiction stories from across the rainbow spectrum, from the minds of the writers of Queer Sci Fi.
Ink
August 10, 2021