Word Count:

52900
Summary: Havesskadi has won the Rainbow Award for Best Asexual Debut Book (2018-2019), and second place in the Best Asexual Book (Asexual – Contemporary, Fantasy and Paranormal Romance & Romantic Comedy | 2018-2019) category. The red dragon is hunting her own. Up in the icy peaks of the northern mountains, Orsie Havesskadi spends his days hiding from her, but eventually he is found and his dragon magic stolen. Cursed to wander the lands as a mortal unless he recovers his magic before twenty-four rising crescents have passed, Orsie embarks on an arduous journey. Spurred by the whispers in his mind, his quest takes him to a castle hidden deep in a forest. Arkeva Flitz, a skilled garrison archer, discovers an abandoned castle in the woods. Trapped there, he spends his days with his two companions, one cruel, the other soothing. One day, a young man arrives at his gates, and soon they are confined by heavy snowfalls and in danger from what slumbers in the shadows of the castle.
Havesskadi
Word Count:

81000
Summary: A baby's laughter. A mind uncaged. Lance is known as Scourge, the warrior in the black armor, the dog of the warlord Ulfr Blackwolf. He was just a boy when Ulfr found him and molded him into the perfect weapon. He slaughters and pillages on command, merciless and numb, devoid of emotions. Then a baby girl laughs at him during a raid. And everything changes. When Gust, a talented healer, is out deer hunting and stumbles across a magnificent horse bearing a mortally wounded rider, he has no idea that his life is about to change forever. Gust applies all his skills to his patient, determined to save the rider's life, and is rewarded when the man opens his eyes. As friendship, and more, bloom between warrior and healer, so does the danger over the horizon. Ulfr has not forgotten, and Lance must take his first steps on the long road to redemption.
Healing Lance
Word Count:

36000
Summary: INK (NOUN) Five definitions to inspire writers around the world and an unlimited number of possible stories to tell: 1) A colored fluid used for writing 2) The action of signing a deal 3) A black liquid ejected by squid 4) Publicity in the written media 5) A slang word for tattoos Ink features 300-word speculative flash fiction stories from across the rainbow spectrum, from the minds of the writers of Queer Sci Fi.
Ink
Word Count:

67000
Summary: Morgorth and Aishe must contend with a deadly threat that could spell disaster for their world. Payshthas were the first of the Mother's intelligent children. It is rare for true friendship to form between them and another species—which makes Morgorth's bond with Enfernlo unique. And it is due to their friendship that Morgorth doesn't hesitate to answer Enfernlo's plea for help. A thief has stolen something vital from Enfernlo's colony—a stone of power. Their hunt for the stone leads them to a war torn kingdom, and Aishe can hardly stomach what he sees. The devastation urges him to assist however he can, no matter the risk. Meanwhile, Morgorth is faced with reminders of the monster he used to be, and contemplates how far he's come, and yet how far he still has to go. And when his estranged mentor joins them on their search, Morgorth is forced to confront his resentment and sense of betrayal, and use Master Ulezander as a tool to save the payshthas. Forced into a deadly quest where trust is in short supply, and faced with challengers for the stone, Morgorth must put his faith in those he loves and in himself... and become a champion not just of the Mother but for Karishian itself.
Jade: First and Last
Word Count:

135000
Summary: Dumbarten should have been the end of Farrell's efforts to find his distant ancestor Kel, but the Six have other plans. Farrell is told to continue his search for answers in Agloth, the temple city to Seritia. Forced by the Goddess to ride across the vast continent of Lourdria, Farrell and his companion learn that Meglar's reach extends well beyond the borders of Ardus. And Agloth, despite being dedicated to the Goddess of Love, is also home to a millennia-old curse that Farrell must end if he wants to complete his task. Answers don't come easily, and Farrell determines he must travel to the Dwarf Kingdom of Colograd to continue his quest. When an ally of Meglar's threatens Agloth, Farrell cuts short his time in Colograd and rushes back to defend Seritia's home. The attack seems doomed to fail, but the death of one of his companions distracts Farrell at a critical moment. Battling against his crushing grief, Farrell struggles to save Agloth, his friends, and himself. And even if he survives, he still hasn't found Kel or his answers.
Kings of Lore and Legend
Word Count:

38000
Summary: Stories tell of great fire-breathing beasts large as castles, fierce and deadly, capable of magicks that no human can match. The Kingdom of Kentaine once allied itself with the dragons of old, but eventually, the dragons were lost to time and fell into legend. Sir Gawain, First Knight of the Realm, is tasked by his older sister the Queen to travel to the edges of their kingdom, where a beast is flaming villagers and has the locals ready to form a mob and hunt it down themselves. His mission is to find the dragon, stop the violence, and do what he needs to maintain the peace. His journey puts him in the heart of a confrontation with the dragon, but instead of saving the villagers, it is the dragon that needs rescuing. Zephyr, a fire dragon and an escaped slave, needs protection, time to heal, and a chance at a life full of hope. Gawain can do no less than offer his sword, his shield, and his heart. Evil is hunting Zephyr, and it will not stop until it has reclaimed its prize. Beyond the legends lies the truth, and love, like fire, consumes everything it touches.
Knight's Fire
Word Count:

65,091
Summary: A bond they thought couldn't be broken... Lord Morgorth, Dark Mage of the North, has never felt so far away from his precious mate as he does now. Still reeling from the events of a month before, Aishe struggles to come to grips with what the dream demon did to him while pretending to be Morgorth. For his part, Morgorth is haunted by the chilling vision the Mother sent him while he traversed Dreamworld—a vision where he kills the one most precious to him. Due to that knowledge, he knows he must choose his magick or his mate. A choice with devastating consequences... When Morgorth goes missing, Aishe must search for him, frightened that he has lost his mage forever. In his heart he knows they were meant for each other and refuses to allow his own horrid memories to tear them apart. But when he finds Morgorth he is stunned to realize that Morgorth doesn't remember him. In fact, in Morgorth's mind, he is a young lad named Lazur. Sometimes the most well-known truth is the greatest lie... For his entire life, Morgorth always knew his destiny was to become the Destroyer of his home world. His birthright as the third seventh son of a seventh son guaranteed such an outcome. Everyone told him so—except his mentor, Master Ulezander. Morgorth will learn that his mentor has been keeping the greatest secret of all: his true destiny.
Lapis Lazuli: Forgotten and Remembered
Word Count:

71500
Summary:
JMS Books' Trios are themed collections of three gay romance stories by a trio of authors. Each story is available separately, but readers can get all three for a discounted bundle price.
Legendary Loves Volume 2 contains three paranormal shifter M/M romances just in time for Halloween! Contains the stories:
In My Arms Again by Nell Iris
The Murky Depths by Kassandra Lea
Weekend at Bigfoot's by Addison Albright
Legendary Loves, Volume 2
Word Count:

35000
Summary: The guide mentioned puddles, but I envisioned lakes, deep treacherous lakes, and I was drowning. One turn has passed, another Solstice is just around the corner, and having an illicit affair with not one but two lovers—smith Ianys and shunned forester Taruif—is taking its toll on truth seeker Kelnaht. A stripling has gone missing from the tribe, and heavy rainfall hides all traces of his whereabouts. With days creeping by without a lead, it's hard to keep the tribe's spirits up, more so when Kelnaht's own future depends on the elders. Taruif has been shunned for almost twenty turns, but now that a possible forester's apprentice is coming of age, the elders consider reducing his sentence. Taruif could be set free. In gaining one lover, Kelnaht may lose another. Ianys seems to be pulling away from them both. He doesn't want to hinder Taruif's happiness while an old promise keeps Ianys from loving Kelnaht openly. But Taruif needs Kelnaht and Ianys' support more than ever. If they lose faith in each other, the puddles in their paths will swallow them all.
Lost and Found
Word Count:

51000
Summary: The world was whole before the war. But war is a terrible thing, and terrible things are done in the name of defense and protection. And this war tore the world apart, fractured it, separated families and lives and dreams. The reasons why no longer matter, but the effects still linger. They cause pain, though the war is over. But despite the monsters and the poisons and the despair, there is a glimmer of light. And hope and love are not gone from the world. These four stories, set in the Fractured World, explore how light can make it through the darkness. How hope can conquer fear. And most of all, how love can still flourish, even when the world is bleak. A young woman braves monsters to see the sky. A reluctant man chooses forgiveness over suffering. Lovers reunite to save a child and their community. Best friends risk everything for each other. Come see the light for yourselves.
Love Shines Through
Word Count:

125650
Summary: My sister deserved her death, but I didn't kill her. The infamous Sisterhood couldn't care less - it's the perfect excuse to make their move. My name is Sirana. I am a young Noble trapped in a most wretched spot: accused of assassinating my sister, the Matron's heir. If I take the blame, I am next on the sacrificial altar. Dark Elves live for intrigue in our underground matriarchy. We bend the rules for the cunning and the bold. To survive, I must play the game. Court intrigue, demonic rituals, and mind-rending trials against deadly foes surround me, pervasive webs spun by our sadistic priesthood and the Queen's brutal enforcers. Through it all, the Red Sisters delight in watching me. I must prove myself beneath their ravenous gazes, or I will become the next meal for our dark goddess. A.S. Etaski spins the first threads of an intense and epic tale with No Demons But Us, in which the trials of a young Davrin Elf test her resolve to rise from the depths of fear and hatred tearing her down. Sister Seekers is mature, dark epic fantasy with an ever-broadening scope. Found Family is a core theme throughout the saga, and fans of Dungeons & Dragons will discover homebrew grounds. Perfect for fans of entwined plots, challenging themes, elements of erotic horror, and immersive worldbuilding. Sexuality and inner conflict play into the character growth with nuance, intrigue, action, and fantastical magic. The series begins underground with an isolated race of Dark Elves whose intricate webs first ensnare then catapult us to places a Red Sister can only imagine in her dreams.
No Demons But Us: Sister Seekers 1
Word Count:

103000
Summary: First I was a sorcerer. Then I was a hermit. For so long—for years that seemed to go on forever—I couldn't bear to be touched. I put up not just walls but whole stone bunkers to keep everyone out, emotionally, and physically as well. I was protected from people, from ghosts, from specters real and imagined. Sure, I was alone. But I felt safe. Only, after a while, I wasn't sure any longer whether a totally "safe" empty life was really worth living. Then Tobin came along. Out of the blue, out of my past, with a summons from the king that he wouldn't let me ignore. I tried to cling to my isolation, but he wouldn't give up on me. Tobin never believed in walls. This story was written as a part of the M/M Romance Group's "Love Has No Boundaries" event. Group members were asked to write a story prompt inspired by a photo of their choice. Authors of the group selected a photo and prompt that spoke to them and wrote a short story. 103,000 words
Nor Iron Bars a Cage
Word Count:

411000
Summary: Aegaan is a vast and righteous kingdom, yet darkness gathers in the distant corners of the realm. Elven raids on small towns have inflamed racial tensions with humans, pushing distrust to hatred and the brink of war. Anrael wanders the woods alone until a chance meeting tempts him to set aside his contempt for those who scorn his half-elven blood. When Kylie, a naive elf terrified of humans, is thrust among them against her will, she begins to question her mother's tales of dread. Having lost everything dear to him, the bandit king Jhelan lives only to seek challenge in battle… until he finds himself willing to die protecting that which he hates the most. The diabolical mystique of the dark elves cloaks L'an Thal'Sara in protection, but the cruelest lie she tells is to herself. Thaelwyn, a virtuous knight, sets out to discover the source of the Elves' aggression, but faces a much greater test within his mind. Beneath the chaos, minions of the Destroyer search for their promised leader, a child possessing power beyond their years. If the innocent falls to darkness, a kingdom rife with hatred will surely crumble.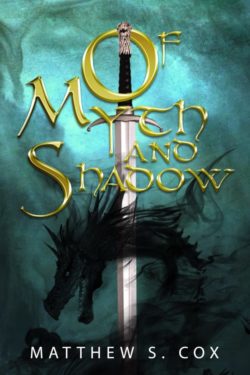 Of Myth and Shadow
Word Count:

48338
Summary: Every story has a beginning…. Dragons. Angels fear them and demons follow them. Formidable beasts of incredible power, they fight each other to the death for dominance. But dwindling dragon numbers cause alarm among the angelic ranks. Surely when the dragons have finished killing each other, the victors will search elsewhere for conquest… maybe even the Upper Realm. Roland, an angelic artist of significant talent, doesn't know what to believe. Part of him longs to see a dragon in person, and his peaceful life of contentment is wearing thin. He wants passion, desire, adventure, and love. He gets more than he bargained for when he and his sister are ambushed and captured by demons, and they bring him to a creature who surpasses Roland's wildest imaginings. But the mighty dragon Asagoroth is not all that he seems. Something sparks between him and Roland. Something neither anticipated. Something that will shake the cosmos to its core. Note to readers: this is the second edition, fully revised and updated.
On Wings of Passion
Word Count:

50963
Summary: Trystan is an unchosen angel—shunned by society, bullied, and without a future. In a hidden well, Trystan discovers a carving of a dragon, who were once the commanders of demons and now believed extinct. But Trystan learns the carving doesn't depict an ordinary dragon. Stories tell that millennia ago, the great dragon Asagoroth and his demon army nearly conquered the three realms but was killed by the five elders. The powerful angels combined their life forces to cast a spell, sacrificing their lives. But history is full of falsehoods. The five elders only managed to imprison the dragon, and Asagoroth had cast his own spell—one of releasement. It only needs the blood of a certain angel to liberate him from his cage…. Asagoroth, enemy of angels, conqueror of realms, is free. But even as the angels prepare for war, the great dragon surprises them with an ultimatum: hand over the angel who awakened him or face annihilation. Note to readers: this is the second edition, fully revised and updated. The current audiobook is based on the first edition.
On Wings of Thunder
Word Count:

424
Summary: She lost a war… Ravel, a captain in her father's cavalry unit, alone survived the defeat of her prince and country at the end of a civil war. Now, she is a fugitive without a home. He won a kingdom… Prince Glea returned after forty years lost at sea. Still youthful as the day he sailed, he could not explain how he gained immortality. When his doubting brothers called him a pretender, he waged a civil war to reclaim his royal birthright in blood. Now, he must deal with the aftermath. One chases the sky… A nobleman scholar avoided the civil war to embark on a solitary quest. Lord Torval must elude his pursuers long enough to find what he seeks. More innocent lives are at stake than anyone knows, and only he holds the key to their survival.
Only Bones Remain
Word Count:

17700
Summary: Following his principles will break two hearts. Forester Veld loses a piece of himself to mute baker Oren when they first meet, but Oren is vowed to Haram. When Haram is killed, Veld denies his heart to respect the mourning period. It's the right thing to do. During Haram's funeral, Oren proudly bares the brands that show the nature of their love; Haram owned him, heart and body. The elves pity Oren and think he's broken. Veld has no intention of dishonouring Haram's memory, but his death may not have been an accident. Only a forester can learn what the trees have seen. However, Oren's independence is threatened, and if Veld does not offer what Oren needs, Oren may never be his to claim.
Oren's Right
Word Count:

61770
Summary: Morgorth is considered a villain by his own people and known as Dark Mage of the North. But now all he feels is light and love as he pursues a budding relationship with Aishe, a dialen of the Ravena tribe. Morgorth hardly believes his good fortune. He has allowed Aishe into his home, into his bed, into his heart. He laughs more, smiles more, and feels happier than he ever has before. He should have known such bliss never lasts. The Council of Mages, the ruling body over all mages on Karshian, knows he has Rambujek, a major stone of power—a stone won from an evil sorcerer. They also know his destiny—to become the Destroyer. Fearful, they send two emissaries to take the stone from Morgorth, using whatever means necessary. This includes tricks, threats to those under his protection, and the threat of war. A war Morgorth knows he would never survive. Conflict soon arises between him and Aishe. Their tenuous relationship is put into jeopardy, their very beliefs about themselves and their love is put into question. Morgorth doubts if he should keep Aishe in his life. He doesn't know if he can protect Aishe from his enemies. Or from the monster he might become.
Peridot: War and Peace
Word Count: Information not available
Summary: First of the Vyrdigaan Prophecies, telling the back-story of Parsivaal Probyt. Parsivaal had always known his mother hated him. Everyone at the Beryk enclave believed him to be the product of rape. A chance meeting with a woman claiming to be his grandmother helps him to learn the truth of his origins. Through her, he discovers another branch of his family. His new-found relatives show him love and introduce him to a radically different culture and lifestyle. As he grows up, his life choices lead him away from his homeworld of Malvania and into the unknown. Having come from a remote enclave, he finds it difficult to adapt to life in a busy city. An unlikely travelling companion becomes his guide and helps him adjust to life outside the enclave. Dreams and visions compel him to solve a mystery and set him on a path taking him away from his new life and onwards to further adventures. Travel with him as he is propelled towards his destiny by a series of perplexing and frustrating events.
Probyt's Progress (Vyrdigaan Prophecies Book 1)
Word Count:

100000
Summary: Dragons don't care what gender you are. A small town may be a refuge, or a trap. Some younger brothers really do save the planet. Three people can be the strongest shape. There's nothing quite like a gorgeous girl on a shape-shifting motorcycle. This second Kira Harp collection brings together LGBTQ teens in 21 stories of adventure, discovery, and romance, in fantasy, paranormal, contemporary, and SciFi settings. Ranging from a few short pages to 12,000 words, each story was inspired by a prompt picture from the YA LGBTQ Books Group on Goodreads. (Content warnings for abduction, bullying, self harm, substance abuse, suicidal ideation.) **This book is free in ebook everywhere except Amazon
Rainbow Briefs volume 2