Word Count:

73440
Summary: Once upon a time, two handsome young princes fell in love, faced down adversity, and lived happily-ever-after…until one romantic evening, they unwittingly ate a confection laced with a mind-wiping toxin. In this light fantasy world, four realms have settled into an uneasy peace. A surprise twist to a prearranged marriage agreement spawns this story of unexpected love, newfound courage, and heroic adventure. Join Princes Efren and Marcelo on their heart-warming journey as they sort through misleading twists and turns to defeat devious foes. Twice! Contains the stories: The Contingency Plan: An untimely death throws a marriage arrangement, the final phase of a treaty, into disarray. Now the Crown Prince of Zioneven can make his own choice from among the princess's younger siblings. As a royal son in the matriarchal sovereignty of Sheburat, Prince Marcelo grew up knowing Royal sons never married. Never. Period. Except Prince Efren isn't from Sheburat, and he has other plans. The Best-Laid Plans: A death that wasn't what it seemed … A kidnapping that isn't what it seems … Time is running out. Enmeshed in political intrigue, death, and a kidnapping, will Prince Efren untangle the web of clues in time to save his naïve young husband, or will Prince Marcelo dig deep to discover a previously untapped inner strength and determination to facilitate his own survival? Change of Plans: Once upon a time, two handsome young princes fell in love, faced down adversity, and lived happily-ever-after… until one romantic evening, they unwittingly ate a confection laced with a mind-wiping toxin. Are their chances at rekindling their love doomed? Or will their ignominious new beginning propel them toward a more teasingly fun rapport? Also contains three bonus scenes not included with the individual stories.
The Plans Trilogy Box Set
Word Count:

103,300
Summary: Legends tell of large cats defending the principality of Tournai, but such creatures are only myth. Or are they? Prince Philip inherited the throne of Tournai at a young age, and since then, his life has centered around ruling his country and resisting those pressuring him to do as they want both in matters of governance and those more personal. He's become isolated and lonely. Amory is the second son of a wealthy merchant who has never approved of anything about him or had any use for him. Until now. When kind-hearted Amory is offered to the prince in exchange for more time for Amory's merchant father to complete a commission, both Philip and Amory are horrified. But Philip agrees to keep Amory at the palace, where they gradually become friends, then lovers. For the first time in his life, Philip is free to share not only his heart, but the magical shape-shifting ability that runs in the royal bloodline—something the royal family has kept secret from all but those closest to them for generations. Neither Amory nor Philip imagined falling in love, and they certainly don't expect what those who oppose their relationship will do to keep them apart—maybe even resorting to murder.
The Prince's Consort
Word Count:

220000
Summary:
Powerful vampire, Rose Foster, and her girlfriend, Kara Unnarsdóttir, take refuge in a hidden kingdom of vampires, as war breaks out between vampires and humans. Rose is shocked to find that even though she doesn't know them, the vampires of this kingdom know her. Not only that, but they're prepared to follow her into battle. Yet, they refuse to tell her why.
World war rages on in their absence, threatening the extinction of both species. Rose soon realizes that, even though she doesn't want power, if she wants to prevent genocide, she'll have to take her place as a Commander of Power.
But when Kara uncovers a terrifying piece of information about Rose, she must decide, once and for all, if her loyalty to the woman she loves is strong enough to withstand even the end of the world. Or if it's time to do what she does best: betrayal.
In this final installment of the Creatures of Darkness series, the Eklektos will either save the world or destroy it.
The Reign of Darkness
Word Count:

80000
Summary: Wounded, betrayed and alone, Cal has escaped to Tarquis, losing everything… again. In Sanquous, dark forces are mustering as it edges closer to all out war. Their leader missing, the Ilfannde face the wrath of the Draguul and their tyrannical High Priest. If ever there was a time for a saviour to arise, it's now. The question is, will she?
The Rod of Xerus
Word Count:

116000
Summary: Kyri has known her share of loss in the two decades that she has been alive. She never expected to find herself a slave in Roman lands, nor did she think she had the heart to become a gladiatrix. But with her soul shattered she must fight to see her way back home again. Will she win her freedom and return to all that she has known, or will she become another kind of slave to the killer that has taken over her mind? The only thing that is certain through it all is her love and devotion to Queen Orianna.
The Sagittarius
Word Count:

50000
Summary: Werewolves, vampires, and King Arthur converge in the Lavender Valley.  Living safely in a valley set aside for them and protected by magic under a peace negotiated by King Arthur, the blood song and Lunae have left the past behind, seemingly. A prophecy has promised that a girl will be born of a certain family line and that she will give incredible power to her mate. Stella is of the right line, but she carries the blood of both sides, half vampire, half werewolf.  She's half outcast with the wolves that raised her.  She's been told all her life that she can't be the girl of prophecy, that she'll never be good enough to be the luna of the clan. Aurelius is the silver haired alpha. Raised in Camelot, Arthur expects the boy he raised to bring the wolves and the blood song into the civilized world. The only thing Aurelius has from his father is a letter telling him to marry Onyx. Stella and Aurelius have a forbidden love that is about to wreck the civilized world. Only on the NovelStar app, first six chapters free! Come read a world where chivalry meets wild instinct!
The Scent of Lavender
Word Count:

107,680
Summary: Though he is the youngest son of a royal duke, Etan is a scholar at heart, happiest in a library surrounded by his books. He contentedly juggles his work for the prince's government with his studies of the history and legends of Tournai, a subject of particular interest to him because he shares the secret magical Talent that runs in the royal bloodline. However, Etan's peaceful world turns upside down when his best friend—the man he secretly loves—unexpectedly marries someone else. Tristan is the oldest son of a wealthy merchant, raised to shoulder responsibility for the family business one day. That day comes far sooner than anticipated, and he makes a deathbed promise to his father to marry the woman his father chose and become head of the company and family. Tristan values his friendship with Etan and has always been attracted to him, but he can't forsake his duty to his father, even if it means giving up the possibility of having Etan as a lover. A year later, Tristan is a widower with an infant daughter and a mother who demands he marry again quickly—something Tristan resists. Circumstances throw Etan and Tristan together again, but even as they succumb to the desires they've always harbored, Etan battles his feelings, wary of being cast aside once more. When the unimaginable happens, Etan and Tristan must come together and support each other through the ordeal…and maybe beyond.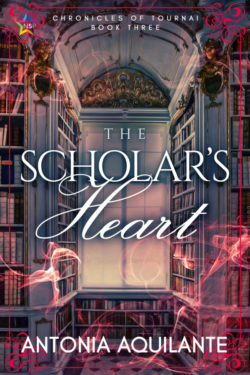 The Scholar's Heart
Word Count:

31000
Summary: Pip Leighton is in a fix. His sister's marriage hinges on him staving off the family's impending financial ruin by taking the job of secretary to Lord Cross, a reclusive man with a temper befitting his name. Developing a passion for his employer was not on the cards. Neither was getting caught up in the deep mystery surrounding Foxwood Court and its resident ghost, but Pip has never been one to shirk a duty. As Pip delves deeper into the past, he discovers that his only hope for a future with Cross may depend on a man long dead—a man with a curious resemblance to himself. Written for lovers of gothic romance and ghost stories, The Ghost and the Secretary is the first in a series of gay romance novellas.
The Secretary and the Ghost
Word Count: Information not available
Summary:
Music and magic. Steampunky science. The Dissolution is coming.
Eighteen year old recluse Sam van Oen lives with his aunt, takes online college courses, works in technical support, and tries not to remember the freak storm that killed his parents ten years ago. But anxiety and reclusion bring up memories he doesn't want. Just as Sam gathers courage to send in his application for college away from home, the temperature drops and the sun goes dim. Ice forms in August, and a portal opens in his fireplace. This time, Sam can't run. This time he's sucked in. Now Sam must survive in the flourishing capital of ten alien species, home to thousands who can change the Symphony underlying the universe and alter reality. Sam's anxiety attacks and fear of crowds transforms the Nether into a frightening, expansive city. To find his home again, Sam must learn to control the music inside him, while devastating voids threaten to destroy the Nether and everyone he has grown to love. "
Simply Put, This is a Brilliant Book. Read it Now.
" -Scattered Thoughts and Rogue Words Blog If you're looking for an awesome ride across multiple homeworlds filled with magic, science, music, and diverse alien species, don't miss the first book in William C. Tracy's Dissolution Cycle! The Dissolution Cycle (Epic Space Opera, LGBT): Book 1: 
The Seeds of Dissolution
Book 2: 
Facets of the Nether
Book 3: 
Fall of the Imperium
Book 4: 
Tales of the Dissolutionverse
 (Novella collection)
The Seeds of Dissolution
Word Count:

35000
Summary: Also written by Karen Blakely, Jenniffer Lee, RA Gates, and Cheryl Mahoney You think you know the story – prince gets cursed, girl meets Beast, they fall in love and live happily ever after. If only it was that simple. But dating is tough even in the best of circumstances. Ever since the fateful day when we let that horrible Good Fairy into the castle, our lives have been on hold. When she turned our bad-tempered prince into a Beast, she lumped us, his loyal servants, into the curse too, just because she assumed his rude behavior was our fault. Theodore the butler should never have let her in, and the rest of us should have helped bar the door. Now Theodore is an armchair, and we're all trying to carry on our duties as a piano, a coat rack, a bookcase and the like. At least we have Robert to clean up the pink sparkles piling in the corners from the Good Fairy's curse, since he's a mop now. We know we just need the Beast to fall in love to break the spell. We're all doing whatever we can to help him find True Love, one visitor at a time, hoping the right person finally comes along–but will the Beast ever learn to love?
The Servants and the Beast
Word Count:

87000
Summary: In the interstellar kingdom of Valoris, the balance of power has changed. Dressa Rhialden has all she ever wanted—except she only wanted Lesander, gorgeous prince of an enemy high house, not the kingdom meant for her sister. Unfortunately, her betrothal came with both, and now she has a lot of catching up to do. But she's falling hard for Lesander in the meantime, and with her kingdom on the line and Lesander maybe her enemy, is falling in love really a good idea? When alien attacks that shouldn't be possible plague her kingdom's distant worlds, Dressa's new position is put to the test. Why are the pacifist Kidaa attacking now, and were the attacks made by the Kidaa at all? There's more going on than an internal power shift, and she has far more secrets to uncover to keep her kingdom safe. Ari Rhialden had her whole life planned out: excel at being the Truthspoken Heir, controlling her kingdom with her shapeshifting powers, and then one day excel at ruling the kingdom. But when she contracts an incurable illness and loses her ability to shapeshift, those plans are derailed. Ari's sent undercover to a resort world for treatment, but all is not right in paradise. A young gardener with a mysterious past is taking too much interest in Ari's new persona, and a possessive duke is bent on capturing her attention for himself. Are these just the ordinary machinations of noble guests or something far more sinister? In a kingdom where subterfuge is the norm, coincidence is never just that, and now events are rapidly spinning out of control. Can Dressa and Ari find their way to truth before the kingdom comes crumbling down around them? The Shadow Rule is the second season of The Stars and Green Magics, an epic space fantasy serial set in a diverse, queernorm universe with shapeshifting royals, plotting nobles, and space magic! The Shadow Rule collects episodes 37-93, the complete second season. This book has main characters who are queer, nonbinary, trans, agender, genderfluid, ace and/or aro, lesbian, fat, POC, disabled, ND, and generally awesome. (Not all rep is stated, some is implied.) Barring the occasional burst of strong language, this book is PG-13.
The Shadow Rule
Word Count:

107100
Summary:
Alexander is doing his best to settle into life in Tournai's royal palace after years living outside the country due to his father's diplomatic work.The sense of belonging and home he feels is overwhelming, but none of his plans are going as he imagined. Many see him as only a lovely, charming adornment of the royal court and underestimate both his intelligence and abilities. His attraction to Marcus, a mysterious olderman who does work for the prince, Alexander's cousin, is unexpected butnot unwelcome...if Marcus could possibly see who Alexander really is. Lord Marcus is the second son of a minor noble family, a widower raisingtwo children...and the prince's spymaster. He knows his work isnecessary for the security of the kingdom and its royal family, but he also knows it can be distasteful and dangerous to him and those around him. Marcus has vowed never to fall in love again, never to put anyone else at risk—a promise threatened for the first time by the vibrant, flirtatious Alexander. The attraction is unwelcome and entirely undeniable. Hecan't believe someone like Alexander would want someone like him, but he also can't stay away. As they become ever more entangled, Marcus is investigating rumors ofspies at work in Tournai's university. As he gets closer to uncovering their plot, Alexander is drawn deeper into danger. Can their love survive when Alexander is put in peril by the very spies Marcus is hunting for?
The Spymaster's Secret
Word Count:

240000
Summary:
Rose Foster is just your typical, smart-mouthed, socially awkward genius from a family full of felons. Okay, fine, so maybe there's nothing typical about her. But she'd at least maintained a semblance of normalcy in her life until the night a ghost-like man gave her a strange, red stone and disappeared without a trace.
Rose suddenly finds herself hunted by monsters that she never believed existed. One monster, named Theron, is particularly interested in killing her. Her only hope of survival is to work with Kallias, a cynical, ancient Greek vampire with the ability to read and control minds. As a vampire, he hardly seems trustworthy to her, but he has his own reasons for wanting Theron dead, and that works in her favor.
With the help of Kallias, Rose finds unlikely allies among an unusual group of vampires. The only problem is… Rose is almost positive these vampires are hiding an important detail about what she is. In her quest to defeat Theron and the vampires that follow him, Rose must face the possibility that she might, in fact, be an even darker monster than the ones that are trying to kill her...
—
About the Creatures of Darkness Series:
The Creatures of Darkness series is a queer fantasy series, centered around Rose Foster—the perpetually sarcastic, bisexual protagonist—and an unlikely group of vampires who begrudgingly try to save the world.
There's also a bit of queer romance going on in the midst of the chaos—especially once seductive, Viking warrior, Kara Unnarsdóttir, comes into the picture in The Tomb of Blood.
Follow Rose and her companions as they fight to stop a nefarious plan that was set into motion thousands of years ago, and as Rose unravels the mystery of what she really is.
The fourth and final book of the series, The Reign of Darkness, is available now!
The Stone of the Eklektos
Word Count: Information not available
Summary: When an airship is hijacked by pirates, a young man with a secret loses his mentor ... and his future. After twice thwarting the pirates' plans, he must finally come to terms with the pirate captain and decide whether to ally himself with him ... or to confront a hostile future alone.
The Third Time's The Charm
Word Count:

200000
Summary:
Rose Foster is just starting adjust to life as a vampire when a series of highly publicized murders throws the world into chaos. Rose and her friends must intervene, if they want to prevent the imminent war between vampires and humans.
But when they realize that the woman behind these murders is Alana—a vampire they believed to be long dead—intervening becomes complicated. Alana is as powerful as she is seductive. She is a master of manipulation and the queen of mind games. She craves vengeance, and she doesn't care if she has to tear the world apart to get it. And now, she has an army.
Outnumbered and overpowered, Rose accepts help from a cunning and skilled warrior by the name of Kara Unnarsdóttir. Kara is the second-in-command of the largest vampire colony in the world—the Tomb of Blood—and she offers to help Rose infiltrate the Tomb of Blood and forge an alliance with Aaron, the most ancient vampire known to exist. There's just one problem: Kara is Alana's lover, and Aaron is the last person in the world that should ever be trusted. No one knows who will betray whom, only that betrayal is inevitable.
The Tomb of Blood
Word Count:

67000
Summary: In the interstellar kingdom of Valoris, everyone knows the royal family is watching. They can be anyone and anywhere with their shapeshifting abilities—they are Truthspoken and to be feared. Of course, that doesn't stop the high houses from trying to take them down by any means they can. Arianna is the perfect Truthspoken Heir: beautiful, intelligent, and a master of her shapeshifting craft, determined to one day rule with the same control as her father. Her dreams come crashing down, though, when she's attacked by a rogue Green Magicker at her betrothal to a rival high house prince, when it's known that magickers can't do violence. Was it treachery, was it personal, or was it something else? Arianna has been slowly getting ill for weeks, and Truthspoken don't get sick. Dressa is the second Truthspoken heir and would like to stay that way, thank you very much. She's the glittering socialite of her father's court, more loved than feared. But when her older sister falls ill and is secretly sent away from court, there's still the matter of a much needed marriage alliance with a rival high house—and an absolutely gorgeous prince, who her sister wasn't keen on marrying anyway. When her father orders her to take her sister's place until she returns—her name, her appearance, everything—can Dressa carry on the act without falling for her sister's intended bride? Paranoia around Green Magickers is growing, noble plots are closing in, and in deep space, the only aliens humans have met are showing signs of not being pacifists after all. Can the Truthspoken hold their kingdom against the coming storm when it's already crumbling from within? The Truthspoken Heir collects the first season of The Stars and Green Magics, an epic space fantasy serial set in a diverse, queernorm universe with shapeshifting royals, glittering court intrigue, and space magic! This book has main characters who are queer, nonbinary, trans, agender, genderfluid, ace and/or aro, lesbian, fat, POC, disabled, ND, and generally awesome. (Not all rep is stated, some is implied.) Barring the occasional burst of strong language, this book is PG-13.
The Truthspoken Heir
Word Count:

27000
Summary: Kit has loved Elf for as long as he can remember. Since he first met him, when he was but a child. Elf says he loves him but will not consummate that love. How much longer can Kit wait after all he is human and death stands at his shoulder as it does with all humans. Is this a simple love story? Can a love ever be simple? Well no, particularly when a human loves an elf and they are both male. And can anything be simple when fairies come and go as they please and can act as they please should something displease them. What displeases them most? The spread of people not fairy for one. This tale is one of many that result from the impact of the Fair Ones, fairies if you would prefer, on the inhabitants of the realms beyond Fairy. It came about in an attempt to answer three questions. Are the Fair Ones fair? Can you fall in love with someone from another race, another species, another realm? And should that be so, can gender be an issue? Ah well humans, as always, that is for you to decide as you seem to be the only ones with such concerns.
The Weavers of Fair Falls
Word Count:

87000
Summary: Summary of Book: Their leap of faith could unleash magic -- or plunge them into darkness. Henry Thorn has worked at Larkin's since graduating high school. He likes it -- especially when he can use his secret skill of hiding inside shadows so his boss can't find them. Without that talent, he would never had survived growing up different. When a hire enters the store, Henry's other latent talent kicks in. He can smell an emotional response even before he lays eyes on the redhead. Jamey Currey came out, and his conservative parents promptly kicked him out. He, too, is different -- he senses Henry's attraction the moment they met. The first time they kiss, torrential rains fall from skies split by lightning. Their kiss also awakens the Watchers, diabolical hunters who will stop at nothing -- even extermination -- to keep magic suppressed. With the help of a friendly coven of friendly witches, the boys embark on a quest to discover an ancient key to restoring magic to the world, and to understand mysteries of their own hearts. The question is, will this quest cost them their lives?
The Werewolf and His Boy
Word Count:

76144
Summary: Fairy tales. Prince Charming fights evil, wins the princess, lives happily ever after. Three sons, three wishes, witches, dragons, a quest, and happily ever after. These stories are part of our cultural fabric. The stories change in retellings to reflect contemporary culture, such as Princess Charming, or heroes and heroines as people of color. In this collection, queer characters take center stage in stories that grew out of questions: What if the prince falls in love with Cinderella's gay stepbrother? What if Rumpelstiltskin doesn't really want the Queen's child but rather the King himself? What if Beauty and the Beast are two men? These stories explore metaphors of magic and the magical, this time, with a gay perspective. What price must be paid for happily ever after? Duty or love? Is love worth great sacrifice? Once upon a time ...
The Wicked Stepbrother and Other Stories
Word Count:

81,000
Summary: Explore the birth of a new world! Journey through time and space to the intricate biosphere of Juno, where three species have been birthed by the gods. First the Kuhifadi, inheritors of sun magic, able to do great deeds with magic stored in their bodies. Second the fearsome Uchafumlaji, technological savants who live in the depths of the ground. Third the weird Ngisikaa, a species uplifted from animals through communal memories. Small decisions and single individuals will affect the tide of history. Learn of the first Ngisikaa to meet death, whether a Kuhifadi will make the sacrifice to become a mage, and if an Uchafumlaji can build a bridge to the past. These stories and more will create The World of Juno! With content by: Nick Bright and Brent Lambert, C.J. Hosack, Nate Battalion, Daniel Eavenson, Malcolm F. Cross, Katie Cordy, William C. Tracy, N.L. Bates, Reese Hogan, Cedan Bourne, Robin C.M. Duncan, and X.M. Moon Genres: Science Fiction / Fantasy / Adventure / LGBT and Non Binary Market: Adult
The World of Juno