Word Count: Information not available
Summary: Step through a portal in time - and steal a piece of history! Iria and Madge, witches extraordinaire, have summoned Joshua Norton I, self-declared Emperor of the United States, back from the nineteenth century to help them save the city of San Francisco from a demon of greed. Mammon, their infernal adversary, is running a real estate scam to end all real estate scams, and he's got his own helping hand from the city's past: Etta Place, famous in her day as the accomplice of Butch Cassidy and partner of the Sundance Kid. As Norton dodges mafia foot soldiers alongside another of San Francisco's larger-than-life figures from yesteryear on the fog-shrouded streets of Chinatown long ago, Iria and Madge find themselves face to face with Mammon and Etta in modern day - and trapped in very different timelines. It'll take all their ingenuity, bravery, and prowess to fix time itself, steal the prize, and get these three heroes back together!
All the Pomp of Earthly Majesty
Word Count:

19000
Summary: What if you could hear the words behind the words? Brad Weston's life seems perfect. He's GQ handsome, the chief of staff for a Republican California state senator, and enjoys the power and the promise of a bright future. And he's in a comfortable relationship with his boyfriend of six years, Alex. Sam Fuller is Brad's young blond blue-eyed intern, fresh out of college, running from a bad breakup, and questioning his choices and his new life in politics. To make things worse, Sam also has a thing for the boss, but Brad is already taken. While looking for a gift for his boyfriend, Brad wanders into a curiosity shop and becomes fascinated by an old wooden medallion. Brad's not a superstitious man, but when he takes out the medallion in his office, he sees the world in a whole new light. And nothing will ever be the same.
Between the Lines
Word Count:

128000
Summary: In the wake of a worsening climate crisis, magic runs rampant and demons roam across the Canadian prairies. A long-dead god stirs in the Pacific Ocean, while the wilderness is choked by invasive, screaming grass. The Cascade has shattered political stability, leaving a scandal-plagued government clinging to power in Ottawa. As catastrophe looms ahead, a precognitive rainman, Ian Mallory, stands between run-of-the-mill corruption and a nightmarish, dystopian future. It is up to a diverse and unlikely band of activists, scientists, journalists, and one underpaid, emoji-spell wielding intern to save their beleaguered country from its own worst impulses
Cascade
Word Count: Information not available
Summary: Eclectic, imaginative, and unexpected, Community of Magic Pens features forty genre-spanning flash and short stories--including fantasy, humor, science fiction, romance, historical fiction, satire, and mystery--bringing together a rich group of diverse voices from a wide range of backgrounds and intersections. Fountain pens, markers and ink, charcoals, spy pens, a braille writer, a printing press, virtual reality, and a supernatural pizza: whether revealing unspoken truths, fighting injustice, or finding friendship and love, our pens have power. Join us as a recent graduate of superhero school struggles to understand her gift, a disabled android interviews for a job, a queen's conscripted artist must pull reality from illustrations on parchment, and a grandmother's secret room is…better kept a secret. Tales of struggle and triumph, compassion and hope: Community of Magic Pens is a celebration of our shared story.
Community of Magic Pens
Word Count:

80000
Summary: The pandemic came and the world changed. Lives have changed; work has changed. The boundaries between reality and fantasy have become as blurred as those between life and work. Corporate Catharsis: The Work From Home Edition explores the impact of the COVID pandemic on everyone's personal and professional lives through speculative fiction. Featuring stories by Alicia Adams, Antaeus, Pauline Barmby, Steven D. Brewer, Dominick Cancilla, Adrienne Canino, Graham J. Darling, Derek Des Anges, Manny Frishberg, Alex Grehy, Jon Hansen, Alexa Kellow, Jack Nash, Helen Obermeier, Frank Sawielijew, William Shaw, Steve Soult, N.L. Sweeney, Kimberley Wall, and Richard Zaric.
Corporate Catharsis
Word Count: Information not available
Summary: Date With Death is a lighthearted romp through the cemetery of romance, where new love may rise from a shallow grave like a body washed out in the rain. Trekking across the veil to the great beyond and back, that thing that goes bump in the night, seeks the one whom to bump in the night, as mutual passion flares up from the shadows. The usually stoic Dustin Ney has a more interesting and complicated past than even his dearest friend Arman had thought imaginable. Invited by his parents to their home out west, Dustin embarks on a road trip with his companions. When worlds collide, Dustin's true self emerges as Date With Death explores the beginning's of new love, the dying of old one's and the rotting shells of stagnate friendships being cast off like husks.
Date With Death
Word Count:

80435
Summary: A modern-day knight in shining armor is a man with a secret. He's an immortal direwolf shifter. A man who can trace at will into a lethally dangerous canine who holds the ability to step into the stillness and achieve any goal. When he finds himself without a career after retiring disabled from his last mission in the military, he has to rethink the direction of his life. He needs to reinvent himself before anyone realizes that he stopped aging at the age of thirty-five. He's learned just enough to make his existence a bit dangerous. The sexy high school teacher neighbor he's been near stalking has her own secret. She feels like everything and claiming her is all he can focus on. He's determined to win her as his own until a shadowy evil attacks her and reveals a situation that forces him to be the man of action that he's always been. To keep the woman he loves safe, he'll become the alpha pack leader he was born to be. A Pack Forms is the first volume in the steamy paranormal romance saga of Draoithe.
Draoithe: A Pack Forms
Word Count:

118937
Summary: Frank Grimes is a lowlife, no count, barely classifiable as a human, male who just happens to have enough sense to hire and retain qualified construction workers. He landed the contract to build most of Draoithe in January of 2016. He's not only worthless, but he's also criminal filth. He will do anything for an easy dollar. After the Draoithe housewarming party, his true colors shine through when he attempts to rape the architectural designer in her apartment after driving her home. Luke can't afford to let Jace kill him or allow Flame to turn him as dragonsworn, but there is no way that Frank can be allowed to just get away with what he's done. Even the Assassin King wants him dead, and he is the dragon called to serve one miscreant underking. Sentenced to house arrest and forced labor, Grimes seeks a way to fulfill the requirements Luke sets on him to gain enough respect that Javier will turn him into a canine shifter until he meets a blood demon who wants to help Luke out. Is it possible to totally rehabilitate the walking filth that is Frank Grimes into a real man in order to help him avoid certain death and turn him into a wolf? Or will the demon simply drink him dry and slowly end his miserable existence?
Draoithe: Filth and Death
Word Count:

107884
Summary: Julian Gypsun used to be a young man on his way to becoming a contractor. Everything changed when he died and was resurrected as a wizard's familiar. He was immortal and far better off physically than he had been as a human. Still, he was trapped with his life chained to a giant of a wizard who had no problem abusing him in every way imaginable. Julian was powerless to stop it without ending his own existence. That is until he was yanked bodily through his own portal, transported to Draoithe, and assigned to babysit the visiting dignitary, Amazon Warrior Princess Zephyra, and try to convince her that her people should ally themselves with Luke and Draoithe. That sounded easy, but it wasn't. He liked her. He had no clue how to act on that. Best to avoid that altogether. Keeping her safe just might equal his death. (Please see her warrior princess title.) She was old and so far out of his league. Worse, she liked him and was determined to have him. He can't even consider that. She has no idea how broken he really is.
Draoithe: Midnight Magic
Word Count:

91154
Summary: Flame is scarred from a past filled with lies, deceptions, and heartbreak. He is not guilty of what his brothers believe, but Blaze is the only one who knows the truth. He was betrayed by the king he had served. The girls he gave the dark gift to had been innocent. When he finds his Valkyrie, beaten, raped, broken, and fading after having been forced to accept the dark gift without her consent, Flame vows that he will do anything to save her. The light seems gone from both her and the world she finds herself in. Little does Flame know that for her to have the light again, he will sacrifice his honor, his integrity, and his life after breaking every law he can manage to break and even demand absolution for crimes he never committed. Many men say they will die for the love of their life. Flame somehow needs to do it four damn times, find a way to fix not only her broken magic, but fix her broken spirit as well, and then figure out how to live for her! All men wish to love a vampire, but Flame burns in his soul for one who holds the fire and has been granted the dark gift of an immortal vampire princess.
Draoithe: The Dark Gift
Word Count:

135408
Summary: Alexio Asmodai is the demon king of Eaglafonn, a small outpost kingdom in the Netherworld overruled by the Demon Lord Asmodeus. It is Alexio's responsibility to protect and police the frontier borders against any threats. He is an accomplished knight, so that part came easy. Eaglafonn is a cold and isolated kingdom. Alexio needed to stay and build his castle atop the hot springs to beat an addiction to seduction sickness. After over seven centuries, he thinks his loneliness has finally come to an end when he opens a crate to find a woman sent by Asmodeus for him to keep safe. He falls for her instantly. She is a human woman, fragile, timid, and irresistible. He must follow his liege's directive, convince her to become his queen, and see that she is cared for properly in a place that is inhospitable to her existence. This leads to a realization that his castle lacks a lot to be a first-class home for a lady. Can a tainted demon prince rise to the challenge to become a true king and win the woman who stole his heart? Dread Allies 7-14 The Shadow king of Eaglafonn has chosen his queen, but his castle lacks the feminine element. To make her more comfortable, he orders the demon princes to seek out and claim their own mates. That is easier said than done. Eaglafonn is a cold dark isolated kingdom in the Netherworld. It might be easier to claim mates from the Domhain, but not everyone could survive on the brutal dangerous frontier. The other options afforded from the Netherworld come with their own dangers. The magic is unbalanced and balancing comes with a price. Claiming their mates lead the demon princes on epic mini journeys and reveals the need for Eaglafonn to take a greater role in helping Luke aid the dream. Dread Allies is a miniseries set in the Netherworld in the dream. It is an ancillary group of stories to the Draoithe saga. While it is set in that world, it is not in the direct series lineup. The dream just got darker and colder. Welcome to Eaglafonn.
Dread Allies: Shadow King
Word Count: Information not available
Summary: My kid, Romy, says I'm old and she's worried about me. What's to worry about... aside from Jordan, my ex? Really, she didn't have to come all the way home to check on me. It's all good—especially Nova, the girl at the drive-up coffee shop. I keep to my work and surfing the local breaks to keep her out of my head... But it doesn't work. Her perfect skin and brilliant hair crash through my mind and draw me to her—like a super-moon tide. There's something about her... Bodie Catalan knows second chances don't just happen after a hard life, wracked by mistakes. Every now and again, however, the universe throws down a wildcard. Drive-Up is a fabulist, sentimental, 21st century tale. It rides the beach breaks along the shores of several genres and connects the wildcard thrown to entangled, beach-bound lives and the inexorable tidal change that moves all that cross it. Dive into this tale and see what's been served at the Drive-Up.
Drive-Up
Word Count:

105,000
Summary: Would it kill you to create something genuinely new? In Robert's world, it used to. Supernatural vengeance for invention is now a thing of the past. Young, optimistic, quick of mind and quick to act, Robert thinks being invited to the New School is an invitation to change the world. But change is difficult when there is no history of innovation. He is initially successful in his studies, but nothing is as simple as he naively imagines. His classmates confuse and frustrate him. One is a drunk, while another two constantly stalk him. Is it for love or something more sinister? Robert's optimism is further tested by protestors who circle the campus, decrying the newly invented breed of grain. They claim it is poison and that the New School should be punished by Nimrheal, the god who formerly murdered inventors. Robert suspects foreign business influences are behind the protests, but he quickly finds that investigating their cause is dangerous. Robert's most difficult challenges are his unresolved childhood issues. His mother died while he was a child. Robert's formative helplessness and inability to remember her face projects into a powerful and blinding protectiveness towards all women. When a campus assault pushes Robert over the edge, his hopes of even staying at the New School are jeopardized. He cannot aspire to change the world if he does not even know himself. At the same time as Robert struggles on campus, a powerful, ruthless and emotionally closed man known only as the Lonely Wizard journeys across an empty wilderness to return home. As Robert and the Lonely Wizard move closer together, Robert finds that instead of entering a golden era of invention, he may instead be on the brink of a cold war and an endless, unchanging dark age.
Dynamicist
Word Count:

50000
Summary: An act of desperation by young magician Brandon accidentally snatches Scott Hathaway from our world. Struggling to adapt to his new life, Scott becomes ensnared in dark local politics. He realizes he can use the knowledge he brought from his world to save his new friends, but at what cost? The first in a series. A story about an engineer who gets accidentally transported to a medieval type world where magic is real. But all is not as it seems!
Enimnori
Word Count:

50000
Summary: Can Scott and his new friends survive a trip to the "Dead Zone". Is it REALLY dead? if not who or WHAT lives there?
Enimnori Discovery
SALE
Word Count:

85,000
Summary: All Keiron wants is a quiet life. Fat chance with a boyfriend like Bren. But if he thought Bren complicated his life, that was nothing compared to the complications that begin when he opens the door to what he thinks is a naked boy claiming to be his slave. Draven is a fairy with his sights set on the handsome human who keeps a wild place in the garden for fairies. When Draven slips through a fairy gate into the city, he sets in motion a series of events that binds him to Keiron forever, and just might be the end of him. While Draven explores Keiron's world with wide-eyed wonder, Keiron does everything he can to keep Draven's at bay, until the only way to save Draven and bring him home is to step into a world that should exist only in children stories.
Fairies At The Bottom Of The Garden
Word Count:

23000
Summary: Alex always thought love was enough to keep him and Gio together. Why did they need wedding rings or legal certificates? But now, with Gio lost in a coma after a fire has destroyed their home, his partner's mother banishes Alex from his side. Locked in a gray limbo inside his head, memories are all Gio has left, and the urge to let go is getting stronger. Nothing can keep Alex from Gio's side, even if he has to break the rules. In their stolen moments alone together, Alex fights to reach Gio, one memory at a time. What if Alex's voice is the only thing that can bring Gio back?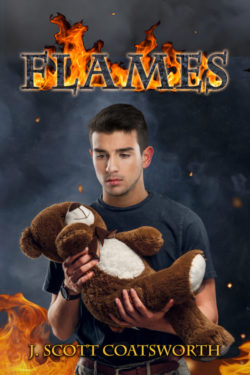 Flames
Word Count:

7000
Summary: Emma and her Aunt Agathe share a family resemblance - they can both speak to ghosts. But Agathe, rejected by her family and constantly beset by heartache, has spent her whole life fleeing her unusual gift. Emma, however, embraces it. Grave Songs for the Dead is a cycle of three interconnected short stories, gothic with a touch of magic realism, set in the late 19th century.
Grave Songs for the Dead: A Short Story Cycle
Word Count:

135000
Summary: "Aye, well, what is an angel, anyway?" At Samhain, things in Llwyncudd are taking a turn for the strange and bizarre. The red dragon is spotted around town trying to dig its own grave whilst his vessel is happily participating in life elsewhere. Did Stewart's dragon spirit leave him? Michael, can't live with the thought. Meanwhile, Dr Lilibeth Blackthorne, PsyD, has moved to town at her brother Sam's suggestion. Many of its residents are in desperate need of her counselling services and she's uniquely qualified—even if she's never particularly seen multiple personalities quite like this. Fairy-halfling Arthen also joins the town after being raised in the local fairy village on the other side. Despite the odd cultural clashes of living in a society that requires silly things like clothing, he is making many new friends and is more special than his former masters would have him believe. Join our friends as they battle their demons from the darker side of the veil in Green Hills and Battlefields—the thrilling fifth book of the Green Hills Series by Celyn Kendrick!
Green Hills and Battlefields
Word Count:

147000
Summary: "Will I always be so alone, living as a dragon among the sheep?" Jane Dawson is an American on a journey of midlife makeover. Abandoning a tech career in Boston, she and her sheepdog, Moss, move to Wales in search of a simpler life, connection and community without the filter of the Internet. But who knew she would stumble over the red Welsh dragon, y Ddraig Goch? Actually, she stumbles over her own suitcase and falls on her face in the middle of Main Street. But her plea for help (or maybe it was just swearing) is answered by the shy local dragon who doesn't know he's a dragon—Stewart Rygby. But what rational, sane person believes in dragons and fairies? Why have such myths and legends persisted in the misty green hills of Wales over the aeons? And why does Moss need to mark everything in sight—including her new landlord? Join us as our dragons awaken from their slumber in Green Hills and Daffodils—the exciting first book in the Green Hills Series by Celyn Kendrick!
Green Hills and Daffodils