Word Count:
37000
Summary: He'll get by with a little help from his mate. When Paul's long-buried past reaches out for him, having Simon at his back should make all the difference. The shy, studious teen who ditched his hometown is now a grown man with a good life, an honorable profession, and a werewolf boyfriend. So why is still so hard to go home? A new 37,000 word novella in the same time frame as book 6 in the Hidden Wolves series brings challenges, pain, love, and their HEA for our favorite guys. Content warning for assisted suicide.
Unplanned Coda
October 23, 2021
Word Count:
118,000
Summary: Recovering vampire Ben is discovering that life after death is hard work. It will take more than a reflection to impress his boyfriend Nate's religious mother. And Nate's twin brother, Ethan, openly resents Ben's presence at the family farm. Nate is confident they can build a normal life together, but Ben's not even sure he knows what normal is. He can't face his reflection, let alone his past, while Nate refuses to divulge his family's supernatural secret. Can they build a future on such shaky foundations? When a supernatural hunter is found dead on the family farm, Ethan becomes the main suspect in a murder investigation that puts Ben and Nate at odds. Nate wants to protect his family and stay silent about what he is, but Ben knows no one is safe until the demonic agent responsible for a string of murders is caught. Defying Nate to investigate alone, Ben can't let the demon claim another victim. But as his investigation continues, he discovers links to a past he thought he'd buried—and a past Nate refuses to acknowledge. With a desperate killer on a deadline, Ben must face the literal demons in his past if he wants to have any chance of saving himself and Nate from a fate worse than death.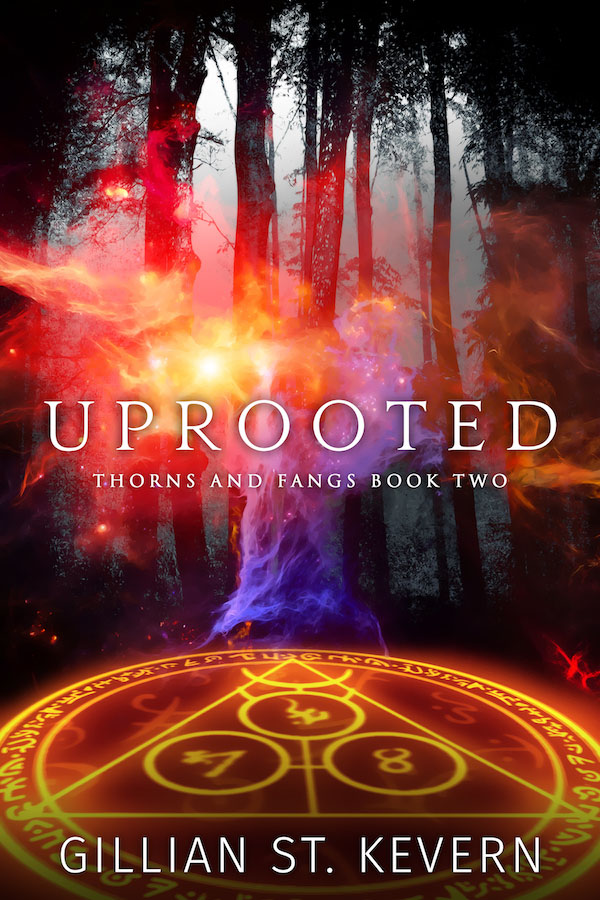 Uprooted
December 26, 2016
Word Count: Information not available
Summary: A third of the world's population are cursed to become werewolves on the full moon, and walled cities like Seattle protect the Clean Bloods.  People like Detective Daria McQueen defend the gates of the city to stand against the packs of wolves, three nights a month. Daria discovers a breach in the wall while on her patrol, and saves a family from infection by three hungry wolves.  Daria herself is saved by a Wolf Hunter she had believed to be nothing but an urban legend, the Red Hood, Maireni Damaschin.  The mysterious woman in a red cloak seems to possess inhuman abilities. Daria and Maireni find themselves caught in a tangled web of deception that goes back centuries, which could spell the end to Clean Bloods and throw the world into servitude.
Urban Fairytales: Red Hood - The Hunt
March 12, 2015
Word Count: Information not available
Summary: Happy ever after, pearls, and murder—what else is romance made of? After escaping his cold fish of an ex, Jody Knox had everything—a new career, his goofy dog, and the love of his life, Merik. He couldn't believe his luck... Until it changed. In the worst way. After stumbling onto the love of his life, Merik Lighthouse had a dilemna—solve the mystery of the missing mer and return to the sea, or confess his secret identity and risk losing Jody. He couldn't decide… Until someone decided for him. Permanently. Or maybe not… Wandering a Luminous Sea is for you if you love paranormal contemporary fantasy, mm romance, fairytales, and suspense. Oh… and a loveable poodle named Ellery Queen.
Wandering a Luminous Sea
July 13, 2021
Word Count: Information not available
Summary: RED: Lázhien's human. A common Imperial soldier. And my soulmate. How could fate get it so wrong? The demon in me craves this bond with every shred of his being. He pushes me to accept it. This time I won't yield to his demands. LÁZHIEN: Red's a lust demon, a whore and a stuck-up snob. The most beautiful man I've ever seen. Pain in the arse. And he hates my guts. I'd be an idiot to pursue him. Yet something about him compels me to make him mine. When I First Saw Red is a complete and standalone short novel with an HEA ending, featuring a couple of reluctant fated soulmates—a demon and a human—trying and failing to defy destiny. 
When I First Saw Red
June 4, 2020
Word Count:
41778
Summary: Content with the quiet isolation of their lake house, Snowden and Rowan Hadley survive on summer jobs and winter hunting, unable to move on since their parents died. Their peace is shattered by a strange, human-acclimated bear who insists on following Rowan like a giant hunting dog and again by the discovery of a naked, surly stranger in the snow. Both bear and man lead the Hadley brothers into a strange, surreal world where sorcery and RPG software intertwine. Curses and magical traps lie in wait around every turn. Rowan and Snowden will need to adjust their view of how the world works, and quickly, if they want to live through rescuing their enchanted princes.
Wild Rose, Silent Snow
December 27, 2016
Word Count: Information not available
Summary: It started with a curse. Or was it the murder? No definitely the curse. In mourning after the murder of his husband, and looking for revenge, Jake Winter finds himself in a city that shouldn't exist. Evil stalks the streets and goblins weave sweet lies, and there's a curse that, it turns out, only Jake can break. Suddenly, revenge isn't his only purpose; suddenly Jake is the people's last hope. Add some new friends sworn to guard him, including a sexy half-fae bloke who has an unwelcome effect on Jake's pulse, and the stage is set for a new life of danger and death on the British coast. Because Jake has a destiny. Question is, will he live long enough to fulfill it? A dark urban fantasy tale with kick-ass action and slow-burn m/m romance.
Winter Rising
September 27, 2018
Word Count: Information not available
Summary: With Midwinter just around the corner, Mark's Nanna decides that it is time he learnt more about his family heritage. Learning witchcraft shouldn't be too difficult, right? Balancing school, magic, and the distractions of the gorgeous new guy, should make this a very interesting winter. Free to download from most ebook retailers.
Winter Trials (Northern Witch #1)
November 16, 2016
Word Count:
73000
Summary: When supernatural secrets collide, it'll take more than coffee to brew the perfect love. When Ky Hernández bonded with his familiar, Zuri, his life changed forever. Their connection turned him into a practicing witch and led him to his calling as a medimagical professional. However, it totally tanked his love life—what guy would settle for eternal second place behind a parrot? So Ky keeps his witchy nature under wraps and sticks to hookups with humans, which can never go anywhere. But the mouthwatering barista at the coffee shop next door makes him thirst for more than a caffeine fix. The charms Ewan Jones uses to appear human are inconvenient, disorienting, and . . . necessary. Ewan and his siblings are achubyddion, metaphysical healers whose powers are coveted by unscrupulous supernatural beings. And let's face it: all supes are unscrupulous, given the right incentive. He's grateful for the protections that hide his little family, and for the barista job that keeps them housed and fed. He's just so lonely. And his regular, Ky, the super-hot, commitment-averse EMT, seems like the perfect candidate for a one-night shot at intimacy. After all, humans are no threat. It takes a clumsy coffee shop intern, a mysterious werewolf epidemic, and one snarky parrot to unravel their pasts—and give them a chance at a future.
Witch Under Wraps
October 26, 2020
Word Count:
104000
Summary: Ghost, once known as the cub Luca, is finally home. Back among his kind and learning what it means to be both a man and a shaman, Ghost battles the expectations of his people, his family, and the pressures of a society that is both foreign and familiar. His power is greater than any seen before, dwarfing that of even the legendary Shaman Gray Shadow—and his union with Kane places him in the center of a controversy that rattles wolfkin society around the world. Kane, greater alpha and Heir to Black Pine Clan, has finally defeated the traitor and murderer that destroyed the heart of Black Pine years before. Freed at last from guilt and pain, Kane has a new enemy to face: his own people. Placed on trial for violation of Law and blasphemy, Kane will have to fight to the death to preserve his bond with Ghost and keep his mate and people safe. The soulbond between Ghost and Kane is forged by the creator and Goddess of the wolfkin. Usually, a sacred and treasured union that honors the pair and their clans, this soulbond is seen not as a gift, but a threat to eons of tradition and Clan Law. The union of a Shaman and Alpha is anathema—but how to reconcile that belief when it is the wolfkin Goddess who forged it? Can Ghost and Kane save themselves, preserve their bond, and find a new future when the laws of the ancient past threaten to tear them apart? **This book is part of a series and is not standalone. Prior books should be read to understand content. 104,000 words. Brief flashbacks of sexual assault and abuse. Mature content and violence.*** Gay Paranormal Shifter Romance
Wolf of the Northern Star
June 15, 2017
Word Count: Information not available
Summary: An ancient civilization long hidden from humanity is on the brink of chaos and war. Peaceful for thousands of years, the wolfkin clans are mysteriously losing packmates, kidnapped and killed by unknown foes. The nightmare begins with an ambush by humans at a gathering of their kind, and lives are lost. Among them is Luca, youngest grandson of the two most powerful wolves in the Northern Clans. Thought long dead and gone, he is forced into a half-life, hidden in the far northern wilds of Canada and cut off from his kind. Those who raised him have no idea the creature they harbor in their midst, and name him Ghost. He begins to lose himself over the long years, and though he barely recalls his true name, the one wolf he never forgets is Kane. Kane, Heir to the wolfkin clan Black Pine, is charged with hunting down the traitors who betrayed their kind to the humans. Years fly by, and more wolves are dying. He refuses to give up, and he vows to never again fail another of their kind, as he failed young Luca years before. His heart tells him Luca lives, but his mind tells him that it's foolish hope, his guilt eating him alive. Fate and magic change the course of their lives, and the two wolves long separated by the years find their paths intertwining. Though the gift of their reunion doesn't come without price. Faced by the consequences of their growing love, and the goddess-forged bond between them, Kane and Ghost are besieged on all sides. Enemies are coming for their blood, and without the steadfast loyalty and love of family and friends, they may not be safe from the very people they fight to protect.
Wolves of Black Pine
June 30, 2015
Word Count:
113,100
Summary: Markus a wizard from a parallel Earth travels to our world in a bid to stop a blight that is destroying his own. Here he meets Alcina, a Wiccan Priestess, who is in a custody battle over her son, Tim, against Carl, the boy's sire, who abandoned her when she was pregnant eight years before. Carl has the backing of a dangerous religious cult in his bid to take Tim. Together Markus and Alcina face the forces of intolerance and hate to save a child and a world and thaw two warm harts too long trapped in the ice of betrayal. Meanwhile, Markus' best friend and his ex-fiancée, who is now a vampire, battle the authorities who are likely to hang Markus upon his return because he has done research into forbidden magics.
Worlds Apart
August 4, 2013
Word Count: Information not available
Summary: Turns out the Lycan didn't want to talk… …they wanted me dead, but I wasn't going down without a fight. I'm not the kind of guy who likes to be pushed around. I know what I like, I thrive with routines, and I'm a control freak. But after the werewolves decided I was a threat and the police harassed me for a violent crime I didn't commit, I realized my happy life was spiraling out of control and no matter what I did, it was all going to hell... literally. I've never been on the run from anyone before, but after speaking with the strange old priest, I started running from the devil himself. Wrath of the Lycan is the second book of The Snakeheart Series (Season 1), a supernatural novella series about Dante Coranguis and the ancient prophecy of the End Times.
Wrath of the Lycan
May 31, 2020