Word Count:
36000
Summary: IN-NO-VA-TION (Noun) 1) A new idea, method, or device. 2) The introduction of something new. 3) The application of better solutions to meet unarticulated needs. Three definitions to inspire writers around the world and an unlimited number of possible stories to tell. Here are 120 of our favorites. Innovation features 300-word speculative flash fiction stories from across the rainbow spectrum, from the minds of the writers of Queer Sci Fi.
Innovation
SALE
August 8, 2020
Word Count:
36000
Summary: MI-GRA-TION (Noun) 1) Seasonal movement of animals from one region to another. 2) Movement of people to a new area or country in order to find work or better living conditions. 3) Movement from one part of something to another. Three definitions to inspire writers around the world and an unlimited number of possible stories to tell. Here are 120 of our favorites. Migration feaures 300-word speculative flash fiction stories from across the rainbow spectrum, from the minds of the writers of Queer Sci Fi.
Migration
July 24, 2019
Word Count: Information not available
Summary: This is book one of three. All books are full-length novels and must be read in order. All books are available now. The My Brother's Keeper Trilogy The town of Gilford has a Big and Terrible secret hidden in the ground. Infecting those it touches. Exploiting their darkness. Consuming their souls. It's hungry. It's vile. It's evil. And it wants out. Book One: The First Three Rules Marshal Jon Foster lost his purpose and his sanity the day he saw the image of his dead brother. The distraction saved Jon's life but cost the lives of innocent people including his best friend and partner. It was a price for survival Jon couldn't live with and was sure he'd never understand. Driven by grief and guilt he tried to escape his past by fleeing to a small town in the middle of nowhere. Only instead of peace, the memories festered. Then the offer of a stick of gum from a stranger changes Jon's life and puts him on a road out of the nightmare he's trapped in. Ellis Harper has lived the past twenty years isolated from the outside world and sole caretaker for his mentally disabled brother, Rudy. While Ellis loves his brother, he longs for a life he'll never be able to have. Shut away, his days consist of chores, endless cartoons, and games of Go Fish. A world that seemed to have no end until an innocent misunderstanding turns Ellis and his brother into a target for a town bully. It's a fight Ellis can never win on his own but thanks to a chance meeting with a stranger, he doesn't have to. What begins as a new journey in love for both men quickly unfolds into something neither of them could have ever imagined.
My Brother's Keeper (Book One): The First Three Rules
March 25, 2014
Word Count:
30000
Summary:
A dying lover. A demonic foe. One confession could save them all...
Damon knows he shouldn't need aid to stay at his dying lover's side. But as Byrne deteriorates, Damon bolts to take solace in his friend and fellow molly, Rogers. Rogers will always be there for Damon – if Damon would ever open up. He even risks a trip home to cheer him up, only to be stalked by his old demonic foe. But when Damon invites him into their home, Rogers can't keep the skeletal demon a secret. Not when the demon threatens to steal Byrne's precious last days. Damon and Rogers must band together to stop it – if they can ever admit they need the other's help.
Necromancer Vow
is the fifth book in the gay historical fantasy Damon Snow series. If you love deep emotional tension, Regency-era London and deviant romance, then you'll love this latest story of love, hurt and comfort from Olivia Helling.
Buy Necromancer Vow to continue Damon's lessons today!
Necromancer Vow
February 3, 2017
Word Count:
26000
Summary: Jealous angels with no genitals discover the passion and ecstasy that humans experience through sex. In revenge, the frustrated but impotent celestial beings banish the men to the wilderness. Will the women save the human race, or will they become the mothers of great evil?
Not Far from Eden
SALE
December 5, 2021
Word Count:
95,000
Summary: Ian Trahan is a science prodigy with a genius streak like no other. Growing up in New Orleans under the strict guidance of a Deacon with a dark side, it leaves no question as to why he chose the life of crime. His understanding and use of DNA, computer hacking and looking like the guy next door, compiles a terrifying character that you will never forget!  Magda Volkov, a native Russian, works for the BAU division of the FBI.  Her clairvoyant ability is something that her director has learned to trust and use to their advantage, especially with a seeming "Ghost Killer" at hand. The deeper she gets into his psyche, the more they are both surprised when their strange vivid dreams begin to intertwine. Childhood experiences shape both the killer and the FBI agent who urgently wants to stop the grisly murders. Delve into the surprise twists and turns of this page turning thrill ride. The occasional comedic relief provides you with a brief release of the terrorizing heart palpitations!  This series is not for the faint of heart. Personas is the first in a new thrilling psychological crime series to come. Log into www.lauralollie.com to subscribe for the updates on the releases of the books to follow.
Personas Series
June 6, 2020
Word Count: Information not available
Summary: The nightmares tormented me for years… …and shortly after my thirty-third birthday, I learned why. My name is Dante Coranguis, and I have a great life, a solid job, amazing friends, and most importantly, lots of crazy sex. But on the night I met the vampires, everything changed, including my nightmare. My life's ambitions and dreams were snatched out of my hands because I was destined to become The One, the Herald of Satan, the Antichrist, the most feared man throughout the ages. And here I thought that was just a crazy horror movie about a poor kid named Damien Thorne. Prophecy Rising is the first book of The Snakeheart Series (Season 1), a supernatural novella series about Dante Coranguis and the ancient prophecy of the End Times.
Prophecy Rising
April 30, 2020
Word Count:
11000
Summary:
A trapped recruit. A genius sorcerer. When war turns the world upside down, will they dare to fight for love?
Ben knew the price for surviving the exalted University of Magic: keep his head down and his mouth shut, no matter what. He never expected to attract the interest of the genius magician Maurice. He certainly never dreamed that Maurice would love him back. Whether experimenting in his laboratory or protesting the current regime, Maurice has never found a problem he can't argue his way out of. That is, until he starts dating his shy fellow classmate, and Ben simply refuses to argue back. When Ben is called up to fight an unjust war, Maurice brews the argument of the century. Anything to keep Ben safe. But when a spell goes wrong, Maurice's life is on the line. Will Ben destroy his remaining hope and dare to speak out?
Buy Requiem Inverted today to find out.
Requiem Inverted
January 17, 2020
Word Count:
75000
Summary: Waking up undead is just the start of my bad night. This night is going from bad to worse. My roommate is dead. My sexy neighbor, who I've never worked up the guts to talk to before, is standing in my living room. I have a gold amulet I just stole from the museum hidden in my pocket. Oh, and I'm dead... or undead? All the myths about vampires, were-wolves, and the like? Turns out, all true. My sexy neighbor claims I'm a vampire now. I don't quite believe him, but then again, he turned into a coyote in front of me. Jackal, whatever. Plus, you know, my fangs. Oh, did I mention my sexy neighbor is an ex-cop? And his cop buddies just knocked down my door. I'm pretty sure this night can't get any worse…
Ritual of the Ancients
May 13, 2022
Word Count:
60000
Summary:
Bonded soul mates. Shocking secrets. Protecting the one he loves could destroy everything…
Ilyas defeated the Dark God and won the spoils of a lifetime: a new kingdom, a new soulmate, and a chance at revenge. Just when he has the chance to humiliate the brother who sold him out, Ilyas learns a closely-guarded secret. He has a son, and now he'll do everything he can to protect him. Jem's life was pure loneliness before he met Ilyas. But with the Dark God thwarted, Jem is completely powerless. When Ilyas begins to devote his full attention to the baby, Jem becomes determined to win his soulmate back. After allying with a powerful secret society, Jem conspires to deliver an uninhabited world where Ilyas' young son can truly be safe. But Jem didn't realize that his new alliance comes at a high price, one that may cost him the love of Ilyas forever.
Sandmancer
is a spellbinding LGBT dark fantasy novel. If you like rich world-building, captivating storytelling, and edge-of-your-seat action, then you'll love this story of love and horror from Olivia Helling.
Buy Sandmancer to test the bonds of love today!
Sandmancer
September 18, 2016
Word Count:
76,000
Summary: Abandoned by his werewolf lover, the only thing Reylan wants is to return to his vampire life of blood and beautiful boys. It's a solid plan, until his first meal as a single man tries to kill him. Hoping to free his young would-be assassin from the religious zealots that sent him, Reylan enlists the help of Iain Grieg, a charismatic priest with unsettling knowledge of the night's secrets. Surrounded by conflicting agendas and an army fuelled by hate, Reylan fights to secure his future, if he can only trust the mysterious priest and bury the ghosts of the past.
Sins of the Son
January 20, 2019
Word Count:
400000
Summary:
A future king. A slave's last hope. Can a sacrifice become something more?
Ilyas wants someone he can trust. As the heir to a great kingdom, all he can count on is the treachery of his younger brothers as he protects his future throne. When he receives his latest spoils of war, he meets a slave who's different. A slave with a hidden agenda… Jem is the last chance for his people. Shunned by his brethren, he yearns to save them with an impossible task: kidnap Prince Ilyas and sacrifice him to Jem's Dark God. Against all odds, he captures the prince and carts him across the frozen wasteland. Now Jem must keep Ilyas safe for the sacrifice and push down his urges to do more than protect the heir to the throne. Ilyas knows he can't trust the slave, but he feels like he's finally found a man he can love. As their attraction builds, they grow closer to a god that could destroy them both.
Snowmancer
is an LGBT dark fantasy novella set in a far-off kingdom. If you like unpredictable plot twists, rich descriptions, and tantalizing chemistry, then you'll love Olivia Helling's incredible tale of adventure, sacrifice, and love.
Buy Snowmancer to warm up to a forbidden love story today!
Snowmancer
June 23, 2015
Word Count:
75,000
Summary: Reylan is everything a Sydney vampire aspires to be: wealthy, handsome and independent, carefully feeding off companions plucked from the gay bars of Oxford Street. When one of those companions is killed by Jorgas, a hot-headed young werewolf prowling his streets, Reylan reluctantly puts his cherished lifestyle of blood and boys on hold to help a mysterious alliance of supernatural beings track down the beast. It can't be that hard... not when Jorgas keeps coming after him. But there's more to this werewolf than a body count and a bad attitude. As their relationship grows deeper and more twisted, Reylan tastes Jorgas' blood, reawakening desires the vampire had thought long dead. And what evolves between them may be far more dangerous than some rival predator in the dark...
The Beast Without
March 27, 2013
The Chimera: Bound Gods #1
March 22, 2016
Word Count:
54,665
Summary: Balancing family life with being a kick-ass investigator is hard, especially when the holidays roll up. Jake Winter and Dean Tseng are solving cases as PIAs (Paranormal Investigation Agents) in Amsterdam, as well as being fathers to their four-year-old daughter. With the festive season in full swing, everything should be calming down to make way for relaxing times with good food and presents delivered by Sinterklaas. Right? Since when was life ever that simple? When a human body is discovered with every one of its bones missing, and creepy anti-supernatural protesters start lurking in the shadows with a sinister agenda, Jake and Dean are about to experience the nasty side of Christmas. An Urban Fantasy filled with magic, mystery and mayhem (The Christmas Bones is a sequel novel to the Coldharbour Chronicles series, set four years after the events of the final book. There are references to the previous series, but this story can be enjoyed without having prior knowledge of those books. It features an established MM relationship, and plenty of Urban Fantasy action.)
The Christmas Bones
November 29, 2019
Word Count:
120000
Summary: A woman with the strength to rebel. A shapeshifter who wears the souls of the dead. Together, they face a lethal enemy. Em helped create it. Now she must craft its defeat. In a city owned by industrialists, Em sells her magic to make ends meet. The extraction procedure is brutal and potentially deadly. Desperate for change, she joins an underground resistance movement to weaponize her magic and stop the abuse of workers. Meanwhile, a mysterious voice wakes Ruk from a decades long slumber and compels him to become human. He wants to break free but is torn between his shapeshifter instincts and the needs of the soul that sustains him. On streets haunted by outcasts and predatory automatons, a new danger emerges – an ever-growing corruption of magic and science. Em and Ruk must put aside their differences and pursue it – each for their own reasons. What they discover will forever change their lives… Or end them. The Eternal Machine is set in a 19th Century alternative reality Australian city, where magic and science are equally valid disciplines.
The Eternal Machine
February 14, 2022
Word Count: Information not available
Summary: Four chilling tales of terror! Attack Cat is one mean animal on a killing spree, so Maverick takes things into his own hands. Can he end Attack Cat's reign of terror? Darlene is a girl who hears voices. Some are imagined but others are real. Is she insane or possessed by the devil? It might be both. Marissa is the Voodoodler, a cute little girl who loves to doodle. But don't cross her, as her classmates and teacher will soon find out. They Come is a modern day nod to Hitchcock's The Birds. It starts with a bang at the window near Madison's hummingbird feeder, and ends in a flurry of feathers and fear.
The Four Corners of Horror
February 5, 2022
Word Count:
80,000
Summary: "If it weren't for bad luck, she'd have no luck at all," lament the family of Fancy Selk, who has been the victim of horrific abuse. Fancy decides it is high time she learns to make lemonade from lemons instead of always making lemons from lemonade. As she learns to survive her past abuse, young Dr. Richard "Rick" Winslow manages to go back in time to find the beautiful young woman. Rick learns Fancy is married to another man. When her husband is killed at Yorktown, she finally admits her attraction for the handsome physician, as they fall in love, only to be ripped apart not once, but twice.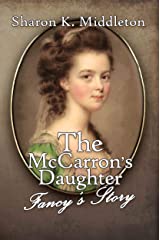 The McCarron's Daughter
March 6, 2019
Word Count:
62000
Summary:
Sanderson always envied the townies, all smiling faces and holding hands at his performances. He wanted the happy ever after that came with real life, not the pretend one in the twinkling fairy lights of the Moonlight Market. So when the Weaver of Dreams conjured him a normal life, college classes instead of performances, a chance at a boyfriend instead of an audience, he ran for daylight. Now a year later, he's learned that connecting with someone physically doesn't always lead to a lasting relationship. To get closer to the man of his dreams, Sanderson offers to help Cory find his missing sister. This means navigating the twists and turns of the Moonlight Market, the disorienting world of performers and hawkers, bizarre sights, sounds—and dangers. The sinister Weaver of Dreams offers to forgive Sanderson's obligation in return for a lost soul, for Cory, who is still grieving the death of his parents and the disappearance of his sister. Surrounded by both friends and enemies, Sanderson fights doubts about his budding relationship with Cory while guiding them ever closer to his ultimate dilemma. The debt is valid and the choice is clear–his lover, or his dreams. The Moonlight Market, a paranormal finalist for the 2017 Southern Magic Gayle Wilson Award of Excellence, is a full-length new adult romance brimming with magical realism, fairy tale villains, and quirky characters. If you like your romance to send a shiver down your spine, you'll love The Moonlight Market! Buy your copy now and enter a world of dark fantasy and magic!
The Moonlight Market
August 15, 2016
Word Count: Information not available
Summary: In a world where magic is real and evil walks amongst humanity, a young sorcerer is beset upon by enemies, both old and new. Angelus Salvatore is the only necromancer in all of Boston, and his name is whispered warily by the undead and fellow sorcerers alike. He and his brother Isaac are the lone survivors of an attack by an army of the undead, in which Angel used a spell so powerful it forever marked his place in history. Now, years later, Angel struggles to balance his career as a teacher of the higher magical arts, his role as big brother, and a tenuous relationship with an Elder vampire from the local clan. When his brother's boyfriend is used as a pawn in a mysterious plot to draw Angel out, Angel is once again drawn back into the old hostilities that fueled the Blood Wars and led to his family's death. Leaning on others for help is something Angel cannot do, and while he searches for clues into who may be targeting him and his brother, Angel finds his heart steadily growing occupied with Simeon, Elder and vampire. Dealing with death magic and vampires on a daily basis may leave Angel jaded when it comes to life and staying that way, but the more time he spends fending off the ancient vampire's attention and affections, the more he realizes he wants to give in. Can Angel find out who wants him dead, and keep his heart safe in the process? How can he fall for a vampire, when his whole family was torn apart by an army of the undead? Death stalks the streets of Boston's historic Beacon Hill....and there is no one more suited to battle against death than a necromancer. MATURE CONTENT Contains graphic violence, male/male sexual contact, a cranky necromancer, a sexy Irish vampire, and a pesky demon.
The Necromancer's Dance
February 25, 2016