Word Count:
71513
Summary: To be soulmates they first have to survive. A serial killer stalks the streets of Boggslake, Ohio. The victims are always found in pairs, one human and one vampire. Simon Hawthorne has been a vampire for nearly a hundred years, and he has never seen anything like it. Neither have the other supernaturals he works with to keep the streets safe for both their kind and the humans. One meeting with Simon finds Ben Leyton falling for a man he knows is keeping secrets, but he can't ignore the growing attraction between them. A recent arrival in Boggslake, Ben finds it very different from his native New Zealand, but something about Simon makes Ben feel as though he's found a new home. After a close friend falls victim to the killer, Simon is torn between revealing his true nature to Ben, and walking away to avoid the reaction he fears. But with the body count rising and the murders becoming more frequent, either, or both of them, could be the killer's next target.
Shades of Sepia
July 11, 2020
Word Count:
47,000
Summary: A collection of tales filled with monsters, be they human or beast, ranging in setting from dystopia to pitch black noir and even general silliness. From the ludicrous to the frighteningly plausible; from deep space to after the end of the world. There are clumsy werewolves and bloody revenge, monster sleep overs and a dieting fad sure to kill your appetite. Whether looking into the past or the future, you're sure to find that stuff gets really weird.
Shotgun Bastards and Other Stories
July 18, 2018
Word Count:
58161
Summary: So what's a young gay boy living in the eighty's from suburbs of Dayton, Ohio to do, when he comes out to his family, only to finds out his family has been keeping their own secrets. Jason Wynwood just turned 18 finding out he is in a long bloodline of witches. As Jason searches for love, he falls for a mysterious black haired gentleman named Damien. Jason is thrown into a dangerous world of magic with witches, vampires and werewolves, and a glittery nightlife sexual pleasures. He also discovers Young gay men have been turning up dead at rest stops all over surrounding areas. Police suspect that it's the work of a serial killer. But when a friend ends up dead it becomes personal. Can Jason find the killer before anyone else turns up dead?
Skeletons in the Closet
SALE
August 14, 2020
Word Count:
52000
Summary: Detective Thaddeus Ezax is in over his head. He's the only wizard in Rockshade's Paranormal Investigations Department, and it was his name that got him the job. The Ezaxs are known as some of the most powerful wizards in the world, but Thaddeus isn't your average Ezaxs. Is it any wonder his family shuns him? When a kidnapping case is dropped into his lap, Thaddeus must act fast. While most five-year-olds can cast a location spell, Thaddeus can't and is forced to get creative. When he finds himself in possession of a black market werewolf skull with a ghost trapped inside, accidentally releases the spirit, and somehow forms a connection with it, things get even crazier. Sandulf Hunter doesn't remember dying, but he remembers the last thing he saw before everything went black—a wizard. All wizards must die! The only problem is, the wizard standing next to him smells too damned good, so good Sandy thinks he might have to keep him. And since wherever Thaddeus goes, Sandulf finds himself yanked along, he might not have a choice in the matter anyway.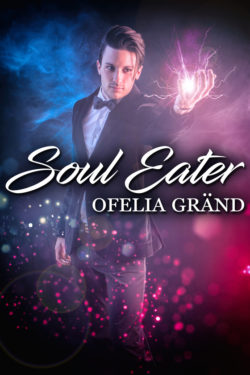 Soul Eater
October 31, 2020
Word Count:
95000
Summary: When Orion joins an established coven of powerful mages he is unsure how he will fit into the group. The four elemental mages have had centuries to build both their powers and their relationships while Orion is little more than a stranger. As a light mage, Orion has the power to heal, but as he comes to know the other members of the coven, he learns that not all wounds are visible, and healing tortured souls and broken hearts isn't as easy as fixing broken bones. Orion must bring them all together before they tear themselves apart. Only when the coven is strong will they be able to welcome the dark mage who will complete the circle and give them the power to defeat a mage who has waited centuries to exact revenge on the former members of his coven. READER ADVISORY: This story is a ménage and more story with emphasis on the more.
Soul Magic
October 31, 2020
Word Count:
68000
Summary: What price would you pay to rescue a friend from hell? For Logan Conner, the answer is almost anything. Guilt-ridden over trapping his college roommate in a ghost war rooted in Portland's pioneer past, Logan has spent years searching for a solution. Then his new boyfriend, folklorist Riley Morrel, inadvertently gives him the key. Determined to pay his debt—and keep Riley safe—Logan abandons Riley and returns to Portland, prepared to give up his freedom and his future to make things right. Crushed by Logan's betrayal, Riley drops out of school and takes a job on a lackluster paranormal investigation show. When the crew arrives in Portland to film an episode about a local legend of feuding ghosts, he stumbles across Logan working at a local bar, and learns the truth about Logan's plan. Their destinies once more intertwined, the two men attempt to reforge their relationship while dodging a narcissistic TV personality, a craven ex-ghost, and a curmudgeonly bar owner with a hidden agenda. But Logan's date with destiny is looming, and his life might not be the only one at stake.
Stumptown Spirits
May 16, 2016
Word Count:
32000
Summary: Two men haunted by more than the past. Painter Stefan Cobbe was homeless and debt-ridden after the death of his wealthy partner, but the worst loss of all was his artistic inspiration. After two years of nothing, he's offered patronage by an eccentric gallery owner and starts to produce again, canvas after canvas. The only problem? He can't remember painting any of them—not one single brushstroke. Luke Morganstern's reputation as an art-fraud investigator is in tatters. He can't afford to turn down any job, even a lousy one for an anonymous client who sends him after an unidentified forger in a remote cabin in Oregon. When the alleged forger turns out to be Stefan, the man he never stopped loving, Luke's professional ethics are stretched beyond the breaking point. As the two men take tentative steps toward reconciliation, evidence begins to mount that they're not alone in the woods. Someone—or something—is watching. Something with sinister plans for them both. To escape, Luke must overcome his suspicions and Stefan must trust Luke with his deepest fears. Otherwise they could forfeit their relationship, their sanity—and their lives. Publisher's note: Publisher's note: This is a heavily revised and significantly expanded reprint of Northern Light. The second book in the Art Medium series, Tested In Fire, is a first edition. Both are sold together in both ebook and print collections.
The Artist's Touch
February 12, 2018
Word Count:
98000
Summary: The Big Cinch embeds readers in a magic-laced St. Louis, once known as Mound City, home of the indigenous Americans' Mississippian ancestors. Little evidence of their civilization survives in 1924, apart from the popular Piasa monster image, invoked to sell plows as well as ornament civic pageants. Sean Joye, a recent Irish immigrant, tried to avoid fae attention and ignore his magical abilities since childhood. A young veteran of 1922's Irish Civil War, he aims to atone for his assassin past and make a clean life in America.  Sean helps a wealthy, powerful, magic-dabbling family—founders of the most exclusive club in town, the Piasa Lodge--with a discreet inquiry or two. Sexually involved with a secretive, high-society flapper, he falls hard for her fiancé, a Great War flying ace with a few secrets of his own. But Sean asks the wrong questions about a kidnapped toddler and missing Native American artifacts and becomes a suspect in his lover's bludgeoning and a tycoon's murder. Can he master the paranormal abilities he's rejected for so long in time to protect the innocent and save his own skin?
The Big Cinch
December 31, 2021
Word Count: Information not available
Summary: ONE UNDERWORLD ENTANGLEMENT. ONE HAUNTED MUSIC VENUE. ONE CHANCE TO MAKE IT OUT ALIVE. Despite the ghosts, Barry Matthews takes on the job as booker for the Boardwalk View Hotel. But the renovations uncover something much more sinister. When Barry "Bazza" Matthews leaves his band The Maggots to become the booker for Melbourne's hottest music venue, he never expects to find a link to the past buried deep within the rubble from the renovations. And now the new spate of threatening phone calls are becoming as troubling as the disappearing visitors and the malevolent activity in the basement. Trapped within the hotel with the alluring Simon, or Felicia, depending on his choice of outfit, they must join together to survive the threats from outside, as well as the dangers growing within the walls of the hotel. But the longer the renovations go on, the stronger the dark forces become. Will Barry and Simon uncover the secrets behind the hotel's sinister history before it's too late, or will they become the hotel's latest victims? Rainbow Awards 2021 - Honorable Mention "Wonderfully strange" - Rainbow Awards
The Booker (M/M Haunted House)
April 30, 2020
Word Count:
33000
Summary: England, 1910. Landscape designer Jonas Laurence arrives at the cheerless and fog enswathed Hillcomb Hall, home to the Earl of Stanley and his family, to renovate their crumbling gardens. With a great storm crashing all around, his time is at the mercy of the house's odd and mysterious occupants. Captivated by the hauntingly attractive portrait of Lord Stanley's ancestor, which constantly seems to watch and taunt him, Jonas's dreams become weird and distressing. And his waking moments are consumed by the strange stories and weird atmosphere of the manor estate. Ghostly visits in the night leave Jonas no choice but to accept his attraction to the otherworldly spirit from the painting. But is this affaire de coeur real? Or it all just a trick of the mind, a sinister game being played by the inhabitants of Hillcomb Hall?
The Ghost of Hillcomb Hall
September 23, 2020
Word Count:
90000
Summary: In 1915, gay men don't get married, they don't take care of children together, and if they do, they don't get caught. Gael and Jack are a lot of firsts to each other. Gael is the first other gay man Jack has ever met, kissed, or wanted. Jack is the first really decent man who only see an Irish gangster and whore  that Gael has ever known. Gael and Jack just work for each other. First love is fabulous, even if it's forbidden. Enduring love is hard, extra hard in the face of WWII, Prohibition, and a world that can't know them as they are.  The story is presented as a serial and is free to read.
The Moon's Permission
June 11, 2019
Word Count:
21600
Summary: It's been twenty years since the quiet Midwestern town of Lakeview was struck by tragedy.  But every year on the anniversary of the event Teddy returns home for 'The Reunion'. Lakeview, like Teddy, has secrets and not all mysteries should come to light.
The Reunion
October 23, 2017
Word Count:
31000
Summary: Pip Leighton is in a fix. His sister's marriage hinges on him staving off the family's impending financial ruin by taking the job of secretary to Lord Cross, a reclusive man with a temper befitting his name. Developing a passion for his employer was not on the cards. Neither was getting caught up in the deep mystery surrounding Foxwood Court and its resident ghost, but Pip has never been one to shirk a duty. As Pip delves deeper into the past, he discovers that his only hope for a future with Cross may depend on a man long dead—a man with a curious resemblance to himself. Written for lovers of gothic romance and ghost stories, The Ghost and the Secretary is the first in a series of gay romance novellas.
The Secretary and the Ghost
June 3, 2019
Word Count:
76144
Summary: Fairy tales. Prince Charming fights evil, wins the princess, lives happily ever after. Three sons, three wishes, witches, dragons, a quest, and happily ever after. These stories are part of our cultural fabric. The stories change in retellings to reflect contemporary culture, such as Princess Charming, or heroes and heroines as people of color. In this collection, queer characters take center stage in stories that grew out of questions: What if the prince falls in love with Cinderella's gay stepbrother? What if Rumpelstiltskin doesn't really want the Queen's child but rather the King himself? What if Beauty and the Beast are two men? These stories explore metaphors of magic and the magical, this time, with a gay perspective. What price must be paid for happily ever after? Duty or love? Is love worth great sacrifice? Once upon a time ...
The Wicked Stepbrother and Other Stories
September 23, 2020
Word Count: Information not available
Summary:
Lucky Denver has wandering feet, sticky fingers and an unreliable moral compass—he's never had a home and he's not so sure he cares about what he's missing.
Arnold Kreed who runs a small-town B&B knows what a home should be. So does his home, The Oaks—aka Mildred—and she has some very definite opinions on who should stay and who should go.
Mildred wants Lucky to stay—and while Kreed is surprised, he can't really blame the old girl. He's getting sort of attached himself. Lucky might be fine with the house's eccentricities, but he's not so sure Kreed will be fine with the man attached to Lucky's real name. When Kreed falls ill, Lucky needs to make a decision—wander away like he's always done or stay and be his better self. Kreed's hoping he'll stay—and so is The Oaks, and Mildred has a way of getting what she wants.
Thief in the Light
April 15, 2020
Word Count: Information not available
Summary: In Book 2 of The Fairville Woods series - the sequel to "From The Ashes" - the ghost of a little girl begins to haunt Lundy, in a stark reminder that Karel's curse has not been completely broken. Harlan is now a happy fixture in her life, unbeknownst to her parents, but the school year begins and she finds herself dealing with mean girls, popular guys, and troubled friends, as well as her developing physical relationship with Harlan. But even with Karel's coven gone, all is not right in Fairville - children are missing from the elementary school, and Harlan and Dr. Weinhelm sense an alarming presence in the town. Lundy begins to have dreams about a mad woman who has lost her children, while the little girl ghost leaves her clues she doesn't understand. The vampires from the Smoky Mountains reluctantly arrive to help defeat a creature from ancient, frightening legends - one whose existence yields an unlikely clue to the new nature of Lundy's curse.
Through The Eyes
February 25, 2013
Word Count:
22000
Summary: What if you could only touch your lover one night of the year? Halloween night is all you have when in a relationship with a ghost. Drew Jessop wants a life without ghosts. He doesn't want to see, hear, or talk to them. Ignoring them should be relatively simple. But Drew soon finds that Benji Richards, an eternally gorgeous ghost from the fifties, is not so easy to ignore. Halloween night is approaching and both Drew and Benji know what it could mean for them. From sunset to sunrise, it is the one night of the year when a mortal can feel the touch of a ghost.
Touch of a Ghost
June 9, 2019
Word Count:
54000
Summary: Silas Thornwood's worst nightmare has come to life. Darien's familiar Pip is gravely injured, and Darien and Jasper have been kidnapped. Someone ruthless and violent is holding the man Silas loves prisoner, for purposes he doesn't want to imagine. Silas needs help from his friends to locate and rescue Darien. And when he does, those responsible― whether sorcerer, human, or demon― are going to be truly, utterly sorry…
Trapped by Greed
July 29, 2021