Word Count:

63000
Summary: Xander is many things, but he isn't a vampire… yet. For now, being a vampire's daytime assistant has its perks. Hanging out with vampires is just one of them. The downsides? Well, for one, Xander and his friends getting kidnapped by a group of armed mages. They want a book they think Xander's boss has in his possession, and refusing them means torture followed by a slow death. Being a normal human among supernaturals, at the mercy of those stronger, has never frustrated Xander so much. But as the friends struggle to keep themselves alive, Xander might have a bigger advantage than anyone realizes.
Vampire's Grimoire
Word Count:

73000
Summary: "Your bullets can't kill me. I'm already dead. Inside and out." When his fiancée is brutally murdered on Valentine's Day, Ash Corvus is unwittingly plunged into the nightmarish world of the Arpadeem, or as the movies call them… Vampires. What begins as a personal quest for revenge becomes a struggle for the fate of the city itself as Ash's search takes him into Cedar Rapids' secret criminal underworld. Ash must cast off his humanity and become a monster himself if he hopes to bring vengeance upon the monster who murdered his love… the man with the scar. A dark, violent thriller from the author of The Weller and War of the Worlds: Goliath!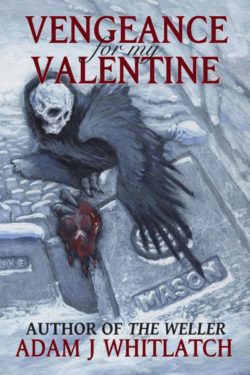 Vengeance for My Valentine
Word Count:

29672
Summary:
It wasn't supposed to be REAL! Bigfoot doesn't actually exist. Yetis, shifters, creatures of the night…none of those exist. Right? Right?
There's nothing about perky—some might even say twinkie—Oliver Hughes that would make a skeptic like Sensational News' (Never Fake! We Swear!) reporter Wilson Banks think otherwise. But while pursuing soundbites for a tabloid story about Bigfoot, Wilson witnesses something he wasn't meant to see.
In Wilson's new reality, is there room for love with someone whose dreams are as big as his…er…feet?
This fun novella has a paranormal twist, a hint of mystery, and a flavorful dollop of romantic comedy. Mix it all together for a satisfying HEA!
Keywords: shifter, Bigfoot, comedy, fun, California, mystery, twink, reporter, tabloid
Weekend at Bigfoot's
Word Count:

73000
Summary: When supernatural secrets collide, it'll take more than coffee to brew the perfect love. When Ky Hernández bonded with his familiar, Zuri, his life changed forever. Their connection turned him into a practicing witch and led him to his calling as a medimagical professional. However, it totally tanked his love life—what guy would settle for eternal second place behind a parrot? So Ky keeps his witchy nature under wraps and sticks to hookups with humans, which can never go anywhere. But the mouthwatering barista at the coffee shop next door makes him thirst for more than a caffeine fix. The charms Ewan Jones uses to appear human are inconvenient, disorienting, and . . . necessary. Ewan and his siblings are achubyddion, metaphysical healers whose powers are coveted by unscrupulous supernatural beings. And let's face it: all supes are unscrupulous, given the right incentive. He's grateful for the protections that hide his little family, and for the barista job that keeps them housed and fed. He's just so lonely. And his regular, Ky, the super-hot, commitment-averse EMT, seems like the perfect candidate for a one-night shot at intimacy. After all, humans are no threat. It takes a clumsy coffee shop intern, a mysterious werewolf epidemic, and one snarky parrot to unravel their pasts—and give them a chance at a future.
Witch Under Wraps
Word Count:

60000
Summary:
Frank's family taught him that his wolf was dangerous, unwanted. Now his best friend's brother wants him in bed and on stage. But giving into his wolf's need for love could risk the quiet life Frank has created for himself—and his heart. Settled in the small town of Waycroft Falls, Frank is content to be a lone wolf among the white picket fences and dollar book bins until he finds himself sniffing his best friend's brother. Tom smells like hot apple pie and his Broadway smile has Frank lolling his tongue. But when the visiting actor learns Frank's secret and plies him with hot kisses to get him to star in his play, Frank can't help but wonder if Tom is only acting. Tom ran away from family obligations to be a Broadway star. If he could make it there, he could make it anywhere…but he didn't. Trudging home to Waycroft Falls to open his sister's new performance space brings him face to face with a werewolf—a werewolf that would be perfect for Tom's shoestring production of Beauty and the Beast. Staying in Tiny Town USA would be worth it if he can somehow convince the sexy wolf to expose his furry condition on stage and howl privately in Tom's bed. Wolf Around The Corner, a paranormal semi-finalist in Passionate Ink's 2017 Sexy Scribbles Contest, is a full-length fairytale romance with a side of wolf shifter. If you like your romance with gorgeous men, humor, and small town magic, you'll love Wolf Around the Corner! Buy your copy now and settle in to watch the drama unfold!
Wolf Around The Corner
Word Count:

104000
Summary: Ghost, once known as the cub Luca, is finally home. Back among his kind and learning what it means to be both a man and a shaman, Ghost battles the expectations of his people, his family, and the pressures of a society that is both foreign and familiar. His power is greater than any seen before, dwarfing that of even the legendary Shaman Gray Shadow—and his union with Kane places him in the center of a controversy that rattles wolfkin society around the world. Kane, greater alpha and Heir to Black Pine Clan, has finally defeated the traitor and murderer that destroyed the heart of Black Pine years before. Freed at last from guilt and pain, Kane has a new enemy to face: his own people. Placed on trial for violation of Law and blasphemy, Kane will have to fight to the death to preserve his bond with Ghost and keep his mate and people safe. The soulbond between Ghost and Kane is forged by the creator and Goddess of the wolfkin. Usually, a sacred and treasured union that honors the pair and their clans, this soulbond is seen not as a gift, but a threat to eons of tradition and Clan Law. The union of a Shaman and Alpha is anathema—but how to reconcile that belief when it is the wolfkin Goddess who forged it? Can Ghost and Kane save themselves, preserve their bond, and find a new future when the laws of the ancient past threaten to tear them apart? **This book is part of a series and is not standalone. Prior books should be read to understand content. 104,000 words. Brief flashbacks of sexual assault and abuse. Mature content and violence.*** Gay Paranormal Shifter Romance
Wolf of the Northern Star
Word Count:

87200
Summary: What do you do when you finally prove the existence of the otherworld, but the ghosts kick your ass? For Trent Pielmeyer, the answer is run like hell—away from his hostile family, away from the disbelieving cops, and far, far, far away from anything that smacks of the supernatural. After seven years' captivity in a whacked-out alternate dimension, he is so over legend tripping. When Christophe Clavret spots Trent in a Portland bar, he detects a kindred spirit—another man attempting to outrun the darkness of his own soul. But despite their sizzling chemistry, Trent's hatred of the uncanny makes Christophe hesitant to confide the truth: he's a werewolf, one of a dwindling line, the victim of a genetic curse extending back to feudal Europe. But dark forces are at work, threatening more than their growing love. If Christophe can't win Trent's trust, and if Trent can't overcome his fear of the paranormal, the cost could be Trent's freedom and Christophe's humanity. Or it might be both their lives.
Wolf's Clothing
Word Count: Information not available
Summary: An ancient civilization long hidden from humanity is on the brink of chaos and war. Peaceful for thousands of years, the wolfkin clans are mysteriously losing packmates, kidnapped and killed by unknown foes. The nightmare begins with an ambush by humans at a gathering of their kind, and lives are lost. Among them is Luca, youngest grandson of the two most powerful wolves in the Northern Clans. Thought long dead and gone, he is forced into a half-life, hidden in the far northern wilds of Canada and cut off from his kind. Those who raised him have no idea the creature they harbor in their midst, and name him Ghost. He begins to lose himself over the long years, and though he barely recalls his true name, the one wolf he never forgets is Kane. Kane, Heir to the wolfkin clan Black Pine, is charged with hunting down the traitors who betrayed their kind to the humans. Years fly by, and more wolves are dying. He refuses to give up, and he vows to never again fail another of their kind, as he failed young Luca years before. His heart tells him Luca lives, but his mind tells him that it's foolish hope, his guilt eating him alive. Fate and magic change the course of their lives, and the two wolves long separated by the years find their paths intertwining. Though the gift of their reunion doesn't come without price. Faced by the consequences of their growing love, and the goddess-forged bond between them, Kane and Ghost are besieged on all sides. Enemies are coming for their blood, and without the steadfast loyalty and love of family and friends, they may not be safe from the very people they fight to protect.
Wolves of Black Pine
Word Count: Information not available
Summary: Turns out the Lycan didn't want to talk… …they wanted me dead, but I wasn't going down without a fight. I'm not the kind of guy who likes to be pushed around. I know what I like, I thrive with routines, and I'm a control freak. But after the werewolves decided I was a threat and the police harassed me for a violent crime I didn't commit, I realized my happy life was spiraling out of control and no matter what I did, it was all going to hell... literally. I've never been on the run from anyone before, but after speaking with the strange old priest, I started running from the devil himself. Wrath of the Lycan is the second book of The Snakeheart Series (Season 1), a supernatural novella series about Dante Coranguis and the ancient prophecy of the End Times.
Wrath of the Lycan