Word Count:

200000
Summary:
Rose Foster is just starting adjust to life as a vampire when a series of highly publicized murders throws the world into chaos. Rose and her friends must intervene, if they want to prevent the imminent war between vampires and humans.
But when they realize that the woman behind these murders is Alana—a vampire they believed to be long dead—intervening becomes complicated. Alana is as powerful as she is seductive. She is a master of manipulation and the queen of mind games. She craves vengeance, and she doesn't care if she has to tear the world apart to get it. And now, she has an army.
Outnumbered and overpowered, Rose accepts help from a cunning and skilled warrior by the name of Kara Unnarsdóttir. Kara is the second-in-command of the largest vampire colony in the world—the Tomb of Blood—and she offers to help Rose infiltrate the Tomb of Blood and forge an alliance with Aaron, the most ancient vampire known to exist. There's just one problem: Kara is Alana's lover, and Aaron is the last person in the world that should ever be trusted. No one knows who will betray whom, only that betrayal is inevitable.
The Tomb of Blood
Word Count:

70000+
Summary: Is there redemption after mass murder? Is there redemption after genocide? Is there redemption when one isn't even seeking it? Brianna'Tal had been running for years, running from her past, from her sister She found peace and Isolation She was content and happy, or so she thought Until a freak accident brought a mysterious woman into her life Love was not part of the plan, nor was it something she understood, And certainly not something she deserved But it is what she got You may remember Brianna from M.R. Gross' first novel The Malevolent Witch. The Unfolding takes place some 5 years after The Malevolent Witch. We hear Brianna's story, her side of events, does her reasoning justify her actions? This is a stand alone novel, it can be completely enjoyed without reading The Malevolent Witch. Author Note: I've read books, watched tv and movies that supposedly had autistic characters, but the vast majority of them were written by non-autistic people/writers. Brie is autistic, and I believe I represented a Neurodiverse woman authentically.
The Unfolding
Word Count:

87000
Summary: Summary of Book: Their leap of faith could unleash magic -- or plunge them into darkness. Henry Thorn has worked at Larkin's since graduating high school. He likes it -- especially when he can use his secret skill of hiding inside shadows so his boss can't find them. Without that talent, he would never had survived growing up different. When a hire enters the store, Henry's other latent talent kicks in. He can smell an emotional response even before he lays eyes on the redhead. Jamey Currey came out, and his conservative parents promptly kicked him out. He, too, is different -- he senses Henry's attraction the moment they met. The first time they kiss, torrential rains fall from skies split by lightning. Their kiss also awakens the Watchers, diabolical hunters who will stop at nothing -- even extermination -- to keep magic suppressed. With the help of a friendly coven of friendly witches, the boys embark on a quest to discover an ancient key to restoring magic to the world, and to understand mysteries of their own hearts. The question is, will this quest cost them their lives?
The Werewolf and His Boy
Word Count: Information not available
Summary: Bad things happen for a reason. Adam Neive's expiration date is closer than he would like, and it's only a matter of time before he loses his position as a Ganymede counter-boy. When a friend helps him secure a part-time job at a whiskey bar, his only thought is to escape the looming shadow of the brothels. He never expected another run-in with the witch Sebastian. Fourteen months after being booted from his coven, Sebastian has become convinced his brother's death is connected to the wolves of The Whiskey Den. He just needs Adam's help to discover how. But things are not always as they seem, and justice is more elusive than expected. When an announcement from the House of Witches changes everything, Adam will need to choose between life within the safety of the king's Monastery and the uncertainty of the city. While Sebastian will have to decide if his family's honor and the life he thought he had lost forever is worth more than the life he's only begun to realize he wants.
The Whiskey Den
Word Count:

76144
Summary: Fairy tales. Prince Charming fights evil, wins the princess, lives happily ever after. Three sons, three wishes, witches, dragons, a quest, and happily ever after. These stories are part of our cultural fabric. The stories change in retellings to reflect contemporary culture, such as Princess Charming, or heroes and heroines as people of color. In this collection, queer characters take center stage in stories that grew out of questions: What if the prince falls in love with Cinderella's gay stepbrother? What if Rumpelstiltskin doesn't really want the Queen's child but rather the King himself? What if Beauty and the Beast are two men? These stories explore metaphors of magic and the magical, this time, with a gay perspective. What price must be paid for happily ever after? Duty or love? Is love worth great sacrifice? Once upon a time ...
The Wicked Stepbrother and Other Stories
Word Count: Information not available
Summary:
Lucky Denver has wandering feet, sticky fingers and an unreliable moral compass—he's never had a home and he's not so sure he cares about what he's missing.
Arnold Kreed who runs a small-town B&B knows what a home should be. So does his home, The Oaks—aka Mildred—and she has some very definite opinions on who should stay and who should go.
Mildred wants Lucky to stay—and while Kreed is surprised, he can't really blame the old girl. He's getting sort of attached himself. Lucky might be fine with the house's eccentricities, but he's not so sure Kreed will be fine with the man attached to Lucky's real name. When Kreed falls ill, Lucky needs to make a decision—wander away like he's always done or stay and be his better self. Kreed's hoping he'll stay—and so is The Oaks, and Mildred has a way of getting what she wants.
Thief in the Light
Word Count:

129,000
Summary: Nate is caught between two dangerously hot vampires who can compel people to do whatever they want and a ruthless necromancer who wants Nate for all the wrong reasons—and that's only the start of his problems. Escort Nate prides himself on two things: his ability to please his clients and his normality – living in the monster capital of the world, ordinary is rare. Hunter, a darkly charming vampire with more charisma than is good for him, decides Nate is just what he needs. Nate's sympathetic nature and skill in the bedroom are put to the ultimate test. But Hunter wants Nate for someone else – his brother, Ben. Nate is immediately attracted by the control with which Ben holds his sensitive nature in force. Too afraid of becoming a monster to allow himself to feel, Ben struggles to resist Nate's generosity of emotion. As a vindictive necromancer makes Ben his target of revenge, Nate discovers that making people feel good doesn't compare to making Ben feel. As Nate's normal world crumbles around him, and he desperately searches for a way to save Ben, Nate is unable to escape becoming the necromancer's latest victim. But Nate's death is only the beginning. Coming back to life in the bathroom of Gunn, a Department Seven officer who hates the vampire family that Ben and Hunter belong to, Nate doesn't know who to trust or even what he is. As the necromancer's trap pulls tighter around himself and Ben, Nate is forced to let go of normal and embrace powers he doesn't fully understand. In defiance of Ben's vampire sire and hunted by Department Seven, Nate and Ben finally learn to trust and rely on each other. But when the necromancer succeeds in capturing Ben, Nate alone can come to his rescue.
Thorns and Fangs
Word Count:

94000
Summary: American owner of a failing gallery, Toni, is unexpectedly called to England when she inherits a manor house in Hertfordshire from a mysterious lost relative. What she really needs is something valuable to sell, so she can save her business. But, leaving the New Mexico desert behind, all she finds is a crumbling building, overgrown gardens, and a wealth of historical paperwork that needs cataloguing. Soon she is immersed in the history of the house, and all the people who tended the gardens over the centuries: the gardens that seem to change in the twilight; the ghost of a fighter plane from World War Two; the figures she sees in the corner of her eye. A beautiful testament to the power of memory and space, Threading the Labyrinth tells the stories of those who loved this garden across the centuries, and how those lives still touch us today. "A poignant and elegant meditation on time and identity"– M. R. Carey, author of The Girl With All the Gifts "absolute garden of delights, full of sensual mystery, strange dreams, and haunting and peculiar magic. A beautiful debut."– Alison Littlewood, author of The Hidden People and Mistletoe "If Robert Macfarlane wrote a ghost story this would be it. Haunting, delicate and multilayered, Angus channels her own humane understanding of our relationship with the quiet places of the world, the places hidden away, neglected, but always eager to blossom with the right kind of attention."– Helen Marshall, award-winning author of The Migration and Gifts for the One Who Comes After "Tiffani Angus has achieved a masterwork of mystery. Angus' changeling tale, woven throughout, creates the perfect air of supernatural mystery, which is enhanced by her refusal to reveal the truth. We are allowed only hints and second hand, sometimes even third-hand, whisperings. In fact the entire novel thrives on myth, rumour and gossip in the most delightful way."– British Fantasy Society
Threading the Labyrinth
Word Count: Information not available
Summary: In Book 2 of The Fairville Woods series - the sequel to "From The Ashes" - the ghost of a little girl begins to haunt Lundy, in a stark reminder that Karel's curse has not been completely broken. Harlan is now a happy fixture in her life, unbeknownst to her parents, but the school year begins and she finds herself dealing with mean girls, popular guys, and troubled friends, as well as her developing physical relationship with Harlan. But even with Karel's coven gone, all is not right in Fairville - children are missing from the elementary school, and Harlan and Dr. Weinhelm sense an alarming presence in the town. Lundy begins to have dreams about a mad woman who has lost her children, while the little girl ghost leaves her clues she doesn't understand. The vampires from the Smoky Mountains reluctantly arrive to help defeat a creature from ancient, frightening legends - one whose existence yields an unlikely clue to the new nature of Lundy's curse.
Through The Eyes
Word Count:

99600
Summary: After her adventures in Time Portals of Norwich, Cassie Fox makes a promise to both her grandfather and her best friend, Georgia, never to time travel again. So, how did she end up in the deep past with her recent memories wiped, and her time travelling abilities gone? Is she being punished? Did she press the big red button? Will she ever see her grandfather and friends again? And what has Robert Kett and his rebellion got to do with it all? Of more immediate concern, though, are the pains in her stomach.
Time's Revenge
Word Count:

61424
Summary: Todd Ruger is a sentry, a very good one, some might say the best. He was eleven when he and Nick were bound as master and slave. Todd spent the years Nick lived in the slave village waiting for the day Nick could leave and they'd be together, bit by bit building a life for both of them. He took his role of master seriously. It was his responsibility to provide for Nick, protect him and along the way he learned to love him. Todd loved Nick deeply and completely. They were more than a pair of sentries. Todd and Nick were friends, lovers, mates. Eighteen months ago, Nick left the small village where he'd spent his entire life being raised and trained as a slave. Blessed with a unique skill set, Nick became a sentry. He took his place beside his master, Todd Ruger, defending society against the many paranormal threats that abound. They became more than master and slave, they became mates. Nick had found a home with Todd and together they became a family. Eventually, Nick's special abilities and skills attract the attention of the second most powerful man in New Colorado Protectorate's government, Vice Chancellor Clarke. Or, maybe certain people knew of Nick all along and just now had cause to use him. He believes Nick might be the answer to explaining Chancellor Shaffer's sudden, unusual behavior. Forced to go undercover at the Chancellor's Estate, Todd and Nick discover an ancient and deadly creature preying on residents of the estate. The same creature that is radically effecting Chancellor Shaffer. A creature only Nick can see in its true form. It hunts using specialized skills and has Todd and Nick in its crosshairs. Even if they defeat the creature and survive, they still face the possibility of being torn from each other when their lives are thrown into chaos by the thing they're hunting.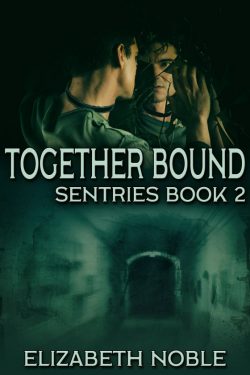 Together Bound
Word Count:

65000
Summary: Witches, ghouls, and mind readers—oh my! Murder and mystery abound in this supernatural novel. Vega Bloodmire has no problem with the label "villainous witch," though she draws the line at being called a self-centered hag. Life isn't easy being twenty-two, drop-dead gorgeous, and the most fashionable witch in all the land—especially while working as an intern teacher at a magical boarding school. Just when Vega thinks she has student teaching figured out, she is framed for murder. Worse yet, she fears she might have revealed her darkest secret—one so awful she will be shunned by Witchkin society even if she can prove her innocence. Vega needs to find the true culprit behind this crime in order to save her reputation—and her life. Enjoy this spin-off series from the world of Womby's School for Wayward Witches. This book starts with Vega Bloodmire's life before working at Womby's when she was a new and inexperienced teacher at Encantado Charter Academy. It is the first book in the series of stand-alone novels. These mysteries are meant to be read in any order. Clean, cozy, no sex or swearing, PG 13—perfectly fine for teens or grandmas who like paranormal mysteries at magical boarding academies.
Too Ghoul for School
Word Count:

22000
Summary: What if you could only touch your lover one night of the year? Halloween night is all you have when in a relationship with a ghost. Drew Jessop wants a life without ghosts. He doesn't want to see, hear, or talk to them. Ignoring them should be relatively simple. But Drew soon finds that Benji Richards, an eternally gorgeous ghost from the fifties, is not so easy to ignore. Halloween night is approaching and both Drew and Benji know what it could mean for them. From sunset to sunrise, it is the one night of the year when a mortal can feel the touch of a ghost.
Touch of a Ghost
Word Count:

141000
Summary: What could an undercover cop and a drug lord's pet psychic have in common? Brian Kerr has spent years hiding behind a facade of mental slowness. His brother and sister got all three of them off the streets and into a cushy life, under the protection of a dangerous criminal. But to keep that safety, Brian has to use his Finding talent to track down the boss's enemies. Although he pretends not to know what he's really doing, each Find takes its toll, and he's trapped in a life he hates, losing touch with his true self. Nick Rugo's job is to protect and serve the people of Minneapolis as an undercover cop. He isn't closeted, but he isn't out at work, and there's a wild, angry side to him that he's managed to keep hidden until now. When he's assigned to bring Brian's boss to justice, he intends to use anything and anyone it takes to do that. Nick initially sees Brian as a pawn to be played in his case, but he keeps getting glimpses of a different man behind the slow, simpleminded mask. As the two men get to know each other, it becomes clear they share secrets, some of which might get them both killed.
Tracefinder: Contact
Word Count:

133000
Summary: Brian can Find a lost child or a wanted criminal, but when his secret gets out, even Nick's skills and connections may not be enough to keep them safe. Brian Kerr is now free of his dangerous boss and his domineering brother. He's eager to start using his psychic Finding talent to help people, if he can figure out how to do that safely. His dyslexia, and his tendency to act simpleminded under stress, make building his new life a daunting challenge. And while his not-quite-boyfriend, Nick, is willing to support him, in bed and out of it, Brian doesn't want to lean on Nick. If their relationship is going anywhere, he has to be a full partner and handle his own problems. Nick Rugo's walking a tightrope instead of settling into the ordinary cop's life he'd hoped for. He's hiding too many things from too many people. He has told professional and unprofessional lies that will come back to haunt him. Now, with Brian determined to start Finding again, he's not sure he can protect the man he cares for. If all that wasn't enough to make him start punching walls, he also has a suspicion that Brian's brother Damon and sister Lori may be out there, lurking, ready to complicate their lives.
Tracefinder: Changes
Word Count:

127000
Summary: An ex-cop and a psychic on the mend find their safe haven threatened by vandalism, arson, and the shadow of their dangerous past. After overusing his Talent till he almost died, Brian wants nothing more than a quiet job on the farm, with Nick to come home to. He's trying to start a new life, despite bad dreams he can't shake, vandalism close to home, and his sister's problematic baby on the way. Nick gave up the police force and moved to North Carolina to be with Brian, and he doesn't regret it. But he's at loose ends, with no real work, the lurking specter of Brian's brother Damon hanging around, and a worry in the pit of his stomach that Damon's old enemies might still be after Brian. Nick's keeping his eyes open and his gun loaded.
Tracefinder: Choices
Word Count:

54000
Summary: Silas Thornwood's worst nightmare has come to life. Darien's familiar Pip is gravely injured, and Darien and Jasper have been kidnapped. Someone ruthless and violent is holding the man Silas loves prisoner, for purposes he doesn't want to imagine. Silas needs help from his friends to locate and rescue Darien. And when he does, those responsible― whether sorcerer, human, or demon― are going to be truly, utterly sorry…
Trapped by Greed
Word Count:

86000
Summary: One merman. Two lives. A love so powerful it tore apart a city and broke the heart of a god. Caspian, the Atlantean God of Justice, has devoted his eternal life to protecting the merfolk. He has no time for romance, not even when the merman he now watches over is his former lover reincarnated. Phoebus, a merman living in the sunken city of Atlantis before the Atlanteans were banished, never intended to fall for Caspian, the most promiscuous of all the gods. Yet, when Caspian offers him immortality, Phoebus doesn't know if he can pay the price, even if refusing means breaking the heart of a god. Back in the present, Marin remembers the love he once had for Caspian, but he's not the same merman now. Caspian might have loved him as Phoebus, but he knows the god cannot give him what he needs. Marin doesn't want Caspian's protection. He wants revenge, and he is prepared to make the ultimate sacrifice to get it, even if it means breaking Caspian's heart a second time
Treacherous Seas
Word Count:

8000
Summary: Halloween is supposed to be a night for safe scares and harmless tricks, not terror ... or romance. College student Colin agrees to take his little cousin trick-or-treating, anticipating nothing worse than having to shepherd a bunch of sugar-crazed third-graders and a poorly-trained puppy. When the kids run ahead to peek into the local supposedly-haunted house, it seems like a harmless bit of mischief until the puppy crawls through a basement window and is lost. Colin promises to get her back. The place may be dark and creepy, but it can't really be haunted. When the house turns out to be occupied by an attractive man who is willing to let him in, it seems like a lucky break ... at first. Secrets. Sometimes Cat feels like he has nothing but secrets. No family, no freedom, not even a real name. Colin seems nice, but Cat doesn't owe him anything, not when the risk of punishment for helping a stranger is so high. But he's looking for a puppy, and Cat has a soft spot for dogs. And possibly also a soft spot for kind boys with soft lips. But the apparently simple task of finding a missing pet won't be as easy as it sounds, because the house isn't what it seems ... and neither is Cat. Could Colin possibly still want Cat if he learns the truth? They won't find out unless they manage to escape the darkness of the house.
Tricks with Cats and Dogs
Word Count:

40000
Summary: A Lycan descendant of Gilgamesh and Enkidu, Tristan is not as extraordinary as his ancestors. He is an average warrior, unremarkable throughout. But this fact does not trouble him because he has found his Twin Flame, the one person destined to be his, who will love him unconditionally, life after life. Then his Flame betrays him, leaving him shattered and dying. Brokenhearted, Tristan dissolves the sacred bond and leaves. His best friend, Ushna, accompanies him, vowing to guard and protect him, and Tristan slowly comes to realize that love does not require a sacred bond. But if he hopes to keep the love he chooses, they will first have to survive ancient secrets, lies, mythical creatures, and the return of absent gods...
Twin Flames