Word Count: Information not available
Summary: They said it wasn't possible. It shouldn't have happened. Yet it did. The world as they knew it was gone. Technology all but disappeared. Everything that defined their modern lives dead in one big flash. No more luxuries, only survival. Now if they can just figure out how to do that. With a president hell bent on taking their supplies and their liberties for his own agenda, the people of this once flourishing land will have to fight on all fronts for their very existence. Most of them don't know how to do that. They're going to have to learn. Fast. Book 2 in the Perilous Miles Series by P.A. Glaspy. Continue the journey!
15 Miles From Home
March 18, 2018
Word Count: Information not available
Summary: An EMP attack by North Korea has left most of the United States dark, cold, and in chaos. Major Damon Sorley is on a mission to bring the president-elect to Washington as quickly as possible. The road is full of peril, as people realize this won't be fixed anytime soon. But he's not alone. He and his fellow soldiers will have to make some tough decisions. Their lives will depend on it. Having lived in blissful ignorance of the darker side of human nature, the Marshalls and Chandlers are finding out quickly that no place is safe from the desperation of those who find themselves ill-prepared to face their new reality. They must learn new skill sets if they are to survive — whether they want to or not. Can a tyrannical president be stopped? Will people who have never had to defend themselves be able to learn how in time? Grab the next installment in the Perilous Miles series by P.A. Glaspy today!
200 Miles To Liberty
August 1, 2019
Word Count: Information not available
Summary: North Korea can't reach us with a nuke. But ... what if they can? A nuclear warhead detonated at 300 miles above the center of the United States would effectively take out the entire electrical grid and infrastructure of the forty-eight contiguous states. Most people don't think this is a possibility. But what if it is? What if a country like North Korea actually has the capability to do this but has led us to believe they don't? What if they had acquired stealth technology that would let them launch a missile that we didn't know about until it was too late to stop it? Carly Marshall is a twenty-first-century single mom. She works hard and lives modern. Take-out food, the latest technology, and all the modern conveniences of the time make up her life. She doesn't have to worry about feeding her family. She doesn't think twice about water coming out of the faucets. She's on the path to advancement at her firm. Life can't get much better. But what if it could get worse? Check out Book 1 in the Perilous Miles series by P.A. Glaspy. Readers are saying it's better than her first series. Find out for yourself!
300 Miles
January 29, 2018
Word Count: Information not available
Summary: Welcome to the last of the great flying Cities! It's 9172, YE (Year of the Empire), and the future has forgotten its past. Soaring miles over the Earth, Autumn, the sole surviving flying city, is filled to the brim with the manifold forms of humankind: from Human Plus "floor models" to the oppressed and disfranchised underclasses doing their dirty work and every imaginable variation between. Valerius Bakhoum is a washed-up private eye and street hustler scraping by in Autumn. Late on his rent, fetishized and reviled for his imperfect genetics, stuck in the quicksand of his own heritage, Valerius is trying desperately to wrap up his too-short life when a mythical relic of humanity's fog-shrouded past walks in and hires him to do one last job. What starts out as Valerius just taking a stranger's money quickly turns into the biggest and most dangerous mystery he's ever tried to crack – and Valerius is running out of time to solve it. Now Autumn's abandoned history – and the monsters and heroes that adorn it – are emerging from the shadows to threaten the few remaining things Valerius holds dear. Can the burned-out detective navigate the labyrinth of lies and maze of blind faith around him to save the City of Autumn from its greatest myth and deadliest threat as he navigates his feelings for his newest client, the handsome golem Alejandro?
A Fall in Autumn
January 1, 2019
Word Count:
108000
Summary: Now what? As Kendra recovers from her wounds, Artemis is planning their next strike. But so are others. Artemis has been too corrupt for too long; their own people are ready to take control. It's just going to take a little encouragement...
A Quiet Revolution
April 16, 2021
Word Count: Information not available
Summary: The year: 2157 The mission: change everything The Unit: Democratic State Force Base 1407 Call handle: The Wildcards Seven Corporations control what was the United States of America. The food supply and its production is controlled by American AgCo. All agricultural seeds in the United States have been genetically designed to fail outside Corporate control. At least, that's what the Corporations say. There's a rumor that a seed bank has survived the destabilization that brought down old America, and the seventy-five years of Corporate ownership that followed. If it still exists, it would provide free, accessible food for the Democratic State Force and everyone in their care. It's a risky hunt for a treasure that may or may not exist. Something to put the most resourceful team in the Force to work on. The Wildcards just got the call. A hunt for hidden treasure. Free food. What could go wrong? Never ask that question. Life's a bitch. She'll answer.
Aces and Eights
May 16, 2020
Word Count:
161705
Summary: An underground city, built centuries ago to ride out the devastating heat. A society under attack. And a young solar engineer whose skills may be the key to saving her city…if she doesn't get herself killed first. When Jossey was ten, the creatures of the aboveground took her brother and left her for dead, with horrible scars. Now, years later, she's a successful solar engineer, working to keep her underground city's power running, but she's never really recovered. After she saves dozens of people during a second attack, she is offered a top-secret assignment as a field Engineer with Patrol, but fear prevents her from taking it…until Patrol finds bones near where her brother disappeared. She signs on and finds herself catapulted into a world that is far more dangerous, and requires far more of her, than she ever imagined. The creatures and the burning heat aboveground are not the only threats facing the City, and what she learns during her assignment could cost her her life: one of the greatest threats to the City may in fact lie within. With thousands of lives at stake, can she act in time? Aestus is an adult dystopian science-fiction series set centuries after climate change has ravaged much of Earth. An epic story of vengeance, power, shifting loyalties, and survival that looks at just how far people will go to protect what they love, brought to you by science writer S.Z. Attwell, Aestus paints a picture of a world in which far too little has changed. 
Aestus, Book 1: The City
August 6, 2020
Word Count: Information not available
Summary: Memories of another life and lover guide her, but are they even hers? She is a Bearer—keeper of past lifetimes and gifted with strange talents. Ember must find her answers away from safe Longquan Village, snared instead in the sensuality and dangers of The City. Hidden among spider farmers and slaves, prostitutes and weavers, a nest of people like her are waiting. A powerful man outside The City raises his forces, determined to hunt down the 'demons' who could taint his followers. Threatened from without and within, can the Bearers even trust each other? Powers will rise and alliances will be forged in a dark new world. The Memory Bearers are coming. This book includes violent and mature content. Reader discretion is advised.
After the Garden
November 14, 2014
Word Count:
67000
Summary: Androids & Aliens is Scott's third short story collection - eight sci fi and sci-fantasy shorts that run the gamut from cyborgs to (comedic) alien invasions: Rise: The rise in sea levels caused by climate change swallowed Venice beneath the lagoon half a century ago. But what if we could bring it back? Ping: I was a real estate agent by day, and a museum curator in the evening at a sci-fi museum. What I saw one night changed everything. What the Rain Brings: Miriam struggles to make a living in post-climate-change Vancouver. But her friend Catalina has it even worse in the Arizona desert. So Miri hatches a plan. High Seven: Zan dreams of making full reals - immersive live virtual reality skins - but his low score may doom him to a life of cheap coding. Full Real: Dek's given up his life of spying for the city. But one more case awaits him. Will he regret it more if he takes it, or turns it down? Shit City: The Bay Area is being walloped by a hurricane, and seventeen-year-old Jason Vasquez has been relocated to a refugee city in the Nevada Desert. Will it be temporary shelter, or change his life? Firedrake: Kerry has always wondered about his deadly powers. But a mysterious bunch of violet roses starts him on the path to discovery - even if he's not sure he's going to like what he finds. The Last Human Heart: I'm one of the Remainers, the few cyborg humans still living on this busted planet. But if my still-human heart finally gives out, I may not live to find out the truth about who I am. This is the first time all of these stories have all been collected in one place, and the first publication of the Pacific Climate Tryptich - What the Rain Brings, High Seven, and Full Real - in any form.
Androids & Aliens
December 8, 2022
Word Count: Information not available
Summary: For some, the road leads to salvation. For others, it's the last chance for freedom. The Chambers family has come to grips with the world as they knew it being gone. They know the city is the last place they want to be. With no modern vehicles working, they need another way to get out. They just have to figure out what that is. Major Sorley has to acquire the president-elect in New York City and get him back to Washington before President Olstein can destroy what remains of the Republic. This is not a one-man job. He's going to need help. A family's plight to escape; a soldier's mission to complete. Continue the story of the Perilous Miles series by P.A. Glaspy. Gripping, realistic, you-can't-put-it-down fiction!
Another 20 Miles
June 14, 2018
Word Count: Information not available
Summary: Olson lives in a city that has been sealed from the outside world. He's an Eleven Year and close to citizenship. His life is upended when one of the few adults who cares about him commits suicide - or so it appears at first. While investigating, Olson meets a girl named Natalie snooping around his school. He soon learns that one of her friends died under similarly mysterious circumstances. Together, they start looking for answers, and end up discovering the city's darkest secrets.
Atmospheric Pressure
September 9, 2016
Word Count: Information not available
Summary: Edward has one chance to save a man he forgot he ever loved. All he has to do is destroy the world. The disastrous events of the Zenith mission behind them, Marty and Edward lead very different lives at either end of time. Martin has been tapped to lead an elite military operation designed to curtail and ultimately eliminate the threat of time travelers. But Henry Bradford has other ideas, and seeks to entice him into taking up the role of captain of the rechristened starship Azimuth. Almost a quarter century in the future, Edward lives a life of wealth and influence as the adopted son of Starfire's CEO, Trevor Sutton. But the mystery of his birth father's murder still weighs heavily on his mind, eclipsed only by the baffling appearance of Martin's dogtags around his neck. The distance he will go for answers will determine the ultimate course of human history, as he is pitted head to head once more against the destructive agenda of the time traveler he knows only as Gifford.
Azimuth
July 1, 2015
Word Count:
93000
Summary: When a change in collective conscious sends the Outsiders, a group of aliens, to the shadows below the city, humans reason that the demonization of their peers is simply more "humane." There's no question, nor doubt. Just acceptance. Lydia had embraced that sense of "truth" for as long as she can remember. The daughter of a powerful governor, she has been able to live her life with more comforts than most. Comforts can be suffocating, though, and when the opportunity to teach Outsider children in their private, "humane" community becomes available, she takes it. What she finds beneath the city is far from the truth she had grown to know. There she meets Alessia, an Outsider with the knowledge and will to shake the foundation of all those who walk above ground. The two find a new and unexpected connection despite a complete disconnect from the technological world. Or perhaps in spite of it. Still, it takes a lot more than an immutable connection to change the world. Lydia, Alessia, and a small group of Outsiders must navigate a system of corruption, falsehoods, and twists none of them ever saw coming, all while holding on to the hope to come out alive in the end. But it's a risk worth taking, and a future worth fighting for.
Beneath the Surface
January 19, 2018
Word Count:
81000
Summary: Alessia is an Outsider—a member of the not-quite-human community that has recently been released from their underground prison. Shortly after their liberation, Alessia is given an ultimatum: obey all the United Earth Alliance's demands, or her mother will forever remain a hostage—a mother she'd believed dead for fifteen years. Reluctantly, she agrees, though she has no idea what those demands may be or how she will balance her obligations to the UEA with her responsibilities to her people and her family. As the UEA tightens its grip on humans and Outsiders alike, it becomes clear that meaningful social change will not be possible without a revolution. Alessia and her peers embark on a mission to discover just how far the government is willing to go to maintain their monopoly on power. What Alessia and her comrades discover, however, goes much deeper than they'd ever anticipated. Who are the Outsiders, really? What secrets of their destiny lay hidden within a top-secret space station? And why are the Outsiders linked to an emerging disease the UEA seems desperate to keep secret?  As they delve deeper, it isn't only Alessia's identity that will be called into question, but the fate of the entire planet.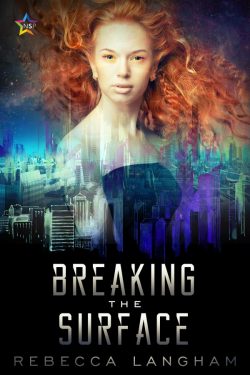 Breaking the Surface
January 13, 2020
Word Count:
60,000
Summary: Queer Handmaid's Tale meets hyper-capitalist dystopia. Nonbinary, queer main character BREEDER is set in a distant but bleakly familiar future, where each person exists to repay Units to the violent Corporation. But girls and women can only be Breeders in this world, and can only repay the Corporation through reproduction. Is the price of survival worth the cost of submission? Will Meadows is a seemingly average fifteen-year-old Westie, who lives and works in Zone F, the run-down outermost ring of the Corporation. In the future state of the Corp, a person's value comes down to productivity: the right actions win units, the wrong ones lose them. If Will is unlucky and goes into unit debt, there's only one place to go: the Rator. But for Zone F Breeders, things are much worse—they're born into debt and can only accrue units through reproduction. Every day in Zone F is a struggle, especially for Will who is fighting against time for access to an illegal medical drug, Crystal 8. Under the cover of night, Will travels to the Gray Zone, where life is less regulated and drugs—and people—are exchanged for gold. There, Will meets Rob, a corrupt member of the Corporation running a Breeder smuggling operation. Will also meets Alex, another teen whom he quickly recognizes as a Breeder in disguise. Suddenly, Will has an illicit job and money, access to Crystal, and a real friend. As the pair grows closer, Alex shares her secret: she is part of the Response, an uprising to overthrow the Corporation. Caught up in the new friendship, Will and Alex become careless as the two covertly travel into Zone B for a day of adventure. Nothing goes as planned and Will's greatest fear is realized. Will his true identity be revealed?
BREEDER
July 13, 2021
Word Count:
65000
Summary: A young man sold into servitude has his loyalties tested in ways he never imagined. Raised in an orphanage in Dickens, Daniel doesn't know who his parents were, where he comes from, or even his last name. Like all orphans, on his 16th birthday, he's sold to the highest bidder. Not knowing where he's going, who's bought him, or what they even want with him, Daniel embarks on an adventure he never thought he'd take. He finds love, a family, and a secure future - yet in a split second, makes a decision he ends up regretting the rest of his life. Brothers begins fifteen years before the Red Dog Conspiracy series. Warning: Language, smoking, use of alcohol and drugs, attempted suicide by hanging, M/M underage sexuality with consent issues, forced servitude, blood, gun violence, a man being beaten by a horsewhip, murder, discussion of child prostitution, underage M/F sexuality with age gap (female older).
Brothers
June 1, 2022
Word Count:
22000
Summary: RELEASING IN AUDIOBOOK FORMAT APRIL 26TH, 2021 Colton is a trans man living in a climate-changed world. He plies the canals that used to be city streets, earning a living taking tourists on illicit journeys through San Francisco's flooded edges beneath the imposing bulk of the Wall. Tris is an elf who comes through the veil to the City by the Bay - the Caille - on a coming of age pilgrimage called the Cailleadhama. He is searching for his brother Laris, who went missing after crossing through the Caille years before. The two men find they have common cause, and together they set off to find Laris in a world transformed by the twin forces of greed and climate change. And in the end, they find out more than they ever expected, both about the warming world and their own selves. Note: This story was originally published in the "Myths Untold: Faery" anthology from Wilde City Press. It is presented here in its original form.
Cailleadhama: Through the Veil
April 26, 2021
Word Count:
80000
Summary: It costs a lot to win. And even more to lose. Seven Corporations rule the former United States with seven codes of conduct based on their ideas of morality. Comply with the code of the Corporation that holds your Citizen Contract, or suffer the economic consequences. Or fight back. For sixty years the Democratic State Force has been fighting to return representative democracy to the country. Living in the no man's lands between cities and hanging on by their fingernails, the thinly spread guerrilla force hasn't gotten far. But they have a secret weapon: their finest unit, Base 1407. Handle: The Wildcards. Pulled together after disaster by Commander Aidan Headly, the Wildcards are on top of their game again. They'd better be. They've just been called to act as backup in a mission bigger than anything the Force has attempted before. The team that went in first is probably dead.If they pull their mission off, everything will change.If they don't, they'll be lucky to survive the year. Life's a bitch. She's got the game rigged. Keep the cards close to your chest.
Call the Bluff
December 24, 2018
Word Count:
88400
Summary: On planet Earth, it's aliens against humans and humans are losing the battle. While a few brave humans are ready to fight to regain their freedom from their alien conquerors, the future of the human race falls on Khara, a woman whose sole focus is her personal fight for survival. As the human population dwindles toward extinction, will the strange and reluctant friendship that develops between Khara and an alien show them all a new way - coexistence? Or will the human race finally be eliminated once and for all? This gritty alien invasion story is told from both human and alien points of view, a la C.J. Cherryh, and puts a new twist on the idea of "first contact."
Carapace
June 30, 2017
Word Count: Information not available
Summary: This book is concurrent with Sunset (Pact Arcanum: Book 1) in story continuity. Child of Twilight Venice, Italy, 2039. When Michael Danvers witnesses a vampire attack, his latent ability to shapeshift awakens. Revealed as a Sentinel, the natural enemy of Nightwalkers, 13-year-old Michael must turn his back on his family and his safe, predictable life. But a supernatural battlefield is no place for a child, not even a genius like Michael. Betrayed by his own kind, he leaves Earth behind, hoping to find a new path with the Spacer Guild – and the stars. Tempered by Moonlight Relocating to the Citadel, Michael quickly makes a name for himself at the Spacer Guild Academy. But each advancement means less to him than the friendships he acquires, of fellow cadets William and Ariel, even as Michael is promoted above them. Forged in Starlight Everyone had plans for Michael's future: his parents, the Sentinels, the Guild—even his best friend, Will. But Michael takes control of his destiny, and when called upon to make a fateful decision with countless lives hanging in the balance, the only sense of honor that matters is his own.
Cathedral of the Sky
September 2, 2012