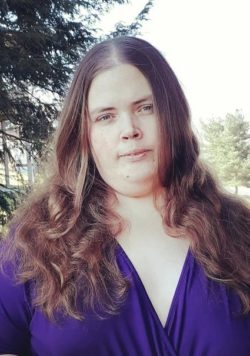 A longtime fan of horror and fantasy, Ms. Lyons writes character-driven novels that, while influenced by the dark and gothic, can also be heavily laced with fantasy, romance, history, and magic. Amanda M. Lyons has lived her whole life in rural Ohio, where she lives with her fiance and two children. She is the author of Wendy Won't Go, Eyes Like Blue Fire, Water Like Crimson Sorrow, Cool Green Waters, Other Dangers Part 1: Slipped Through, Other Dangers: This is How the World Ends, Sacrum Umbra: The Gothic Stories of Amanda M. Lyons, In Ventre Tuo: Tales of Madness and Gore, The Lesser Apocrypha, and The Hungry Season: Three Stories for Hungry Hearts. She is also a coauthor of Feral Hearts with authors Catt Dahman, Mark Woods, Jim Goforth, Edward P. Cardillo, and Michael Fisher and a contributing author to several anthologies.
Look for titles like Other Dangers: Further Down the Spiral, Vast Ocean/Vast Sea, Night is Falling, Hollow Black Corners of the Soul, Jodie, Thy Fearful Symmetry and others in the coming future.
Contact Information:
Email Address: nightshade44637@gmail.com
Books By Amanda M. Lyons
Stand-Alone Books
Word Count: Click here to reveal47,845 (Click here to hide)

Summary: In the dark heart of our imagination, and the haunted corners our past there are places we fear to tread. As much as we might try to outrun them, as much as we might try to deny their truths, we are owned by their shape, molded by their claws. The story of our being, they form a Sacrum Umbra, a sacred shadow of improbable origin- our own dark heart.
Sacrum Umbra
Word Count: Click here to reveal32,507 (Click here to hide)

Summary: In Sacrum Umbra you were treated to tales from the shadows, the literary darkness that lives within all of us. Here you will find tales of another sort, the type you might find in the less wholesome end of the collective unconscious and the very depths of the gut. From stories of childhood gone horribly wrong to sex and madness with an impossible cost, this is where you'll find the more gruesome end of the spectrum.
In Ventre Tuo
Word Count: Click here to reveal24,074 (Click here to hide)

Summary: While Sacrum Umbra showed us the darkness of our own shadow, and In Ventre Tuo the guts of our inner monster, The Lesser Apocrypha is still another beast altogether. Meant to gather together the stranger stories, it contains some of the more surreal and ephemeral stories, the ones that just are without much rhyme or reason. Stories like an odd moment in the park, the strange child who won't stop haunting you, an alien invasion that gets very personal, an AI born of a lolcat, monsters in the woods, and a spell gone terribly wrong.
The Lesser Apocrypha
Word Count: Click here to reveal132,220 (Click here to hide)

Summary: Bobby Gene is a man who stands out even among his people. Guided by the knowledge of his heritage as a backwoods shaman and more perceptive than many, he's grown to be a valuable asset to those he knows. While he isn't surprised to be the first to know when the woods around him begin to show clues that something isn't right, he doesn't expect just how much these omens and signs will prove to foretell something far more sinister to come. Soon strange dreams and inexplicable encounters have him questioning everything he knows- and then the people who live in his woodland Appalachian community begin to disappear. It's his job to protect and guide the others, what will he do when he's the only thing between them and the end of life as they know it?
Night is Falling
Series: Shades of Midnight
Word Count: Click here to reveal42,203 (Click here to hide)

Summary: Katja has long spent her life buried in the pain and sorrow of her past, a vampire abandoned to her fate for over 300 years, she never expects to meet another who could help her reclaim her existence. Raven, a poet and fellow lost soul, could be the one to spur her on, but in order to have the future she has only begun to grasp, she must uncover the truth about her origins and the awful event which left her alone centuries before. If she cannot face her past and reclaim her strength, she will lose everything.
Eyes Like Blue Fire