Mystery, action, chills, and thrills spiced with romance and desire. ELIZABETH NOBLE lives by the adage "I can't not write." She doesn't remember a time when she didn't make up stories and eventually she learned how to put words on a page. Those words turned into books and fan fiction that turned into a genuine love of M/M fiction. A part of every day is spent living in worlds she created that are filled with intrigue and espionage. She has a real love for a good mystery complete with murder and twisty plots as well as all things sci-fi, futuristic, and supernatural.
When she's not chronicling the adventures of her many characters, Elizabeth is a veterinary nurse living in her native Cleveland, Ohio. She has three grown children and now happily shares her little, brick house with two spunky Cardigan Welsh Corgis and their feline sidekicks. Elizabeth is a fan of baseball, basketball (go Cavs and Guardians) and gardening. She can often be found working in her 'outside office' listening to classic rock and plotter her next novel waiting for it to be dark enough to gaze at the stars.
Elizabeth has received a number of amateur writing awards. Since being published, several of her novels have received Honorable Mentions in the Rainbow Awards. Jewel Cave was a runner-up in the Gay Mystery/Thriller category in the 2015 Rainbow Awards. Ringed Love was a winner in the Gay Fantasy Romance category of the 2016 Rainbow Awards.
This author has been favorited by 6 users.
Contact Information:
Email Address: elizabeth.noble19@gmail.com
Books By Elizabeth Noble
Stand-Alone Books
Word Count: Click here to reveal7200 (Click here to hide)

Summary: Being gay and pagan can make for a lonely holiday season, as Liam knows well. He's used to celebrating alone. The last place he expects to meet a like-minded guy is at LAX during a twenty-nine-hour layover. Liam's never felt so comfortable or compatible with another man, even if there is an air of mystery to Race. Race is no stranger to holiday isolation, and he decides they should seize the opportunity they've been given and observe the Saturnalia the way it was meant to be. A grand celebration ensues, where every moment is special and every meal a feast. The ancient traditions take on new meaning as the men find meaning in each other. Each of them has a destiny and for their paths to continue together, it'll take a kind of magic that hasn't been seen in centuries. Can Race convince Liam to accept that destiny?
Twenty-Nine Hours to Eternity
Word Count: Information not available
Summary: Kyle Anderson grew up with the lie that he was one of the last humans born. Then Kyle's quiet, lonely life as a research assistant and student is shattered when he discovers the government has been lying to the world for more than twenty years. Now on the run from authorities who would kill for his silence, Kyle is taken in by Daniel Shanks, a member of a militia group dedicated to discovering the truth. Daniel has seen death and violence in this new, radically changed society, and the closer he gets to Kyle, the harder his fears ride him. They will need to stop listening to the lies told by the government and start facing the lies they've been telling themselves, because the only place strays like them may be safe in this uncertain world is in each other's hearts.
Strays
Series: El Corazon
Word Count: Click here to reveal73900 (Click here to hide)

Summary: How far is too far to go to save someone you love? Brandon Lynch is magical. He's a scintilla, wielder of electricity and is in love with a werewolf—or maybe he'd just in love with the idea of loving a werewolf? Raul Fierro is a bounty hunter and a werewolf. He knows he loves Brandon. He's made a promise to always protect Brandon and will carry out that promise at all costs. When Brandon and Raul go head to head with human traffickers, Brandon's morals are stretched to their limits. Will Raul keeping his promise tear them apart?
Scintilla
SALE
Series: Sentries
Word Count: Click here to reveal74,000 (Click here to hide)

Summary: When one society fell, assaulted by natural disaster, in its place rose another, molded into something entirely different. Protectorates were divided by beliefs and distance. Slavery was accepted and threats both natural and supernatural were commonplace. This became a world where sentries were needed. Trained almost from infanthood, these tough men and women lived in a society within a society. They were warriors and protectors, ferreting out evil and defending the citizens of New Colorado Protectorate from inhuman terrors and, on occasion, human ones. Todd Ruger was born into life as a sentry. Raised by a hard father into a hard life, Todd becomes the consummate sentry, tough, dangerous, and good at what he does. When he wasn't quite into his teen years, he was bonded to a special young slave named Nick. For years their only interaction was through letters. Friendship turned to a sort of courtship between them. Todd lived for the day Nick became of age and Todd's ownership would take effect. That was the day Nick would leave the village with Todd. They'd begin a life together. They'd make a difference. Raised as a slave, Nick never wanted to be special, but nature had other ideas for him. He grew up in a village with other slave children and was taught to be useful to his future master because he a gift ... or curse. The tutors responsible for his upbringing didn't understand what Nick could do, what he was; they were afraid of him. If sentries hadn't bought him, it was likely he'd never have lived to see the age of five. All that changes the day Nick leaves the village with Todd. He's cared for and shown a new, better life with a man who loves him honestly and wholly. But after being together barely a day, Nick is brutally attacked and injured. Though he recovers without incident, Todd's heart fills with revenge. The guardian in him turns into a dangerous, driven assassin, a wolf on the hunt. Todd's obsession with tracking down the men who hurt Nick and making them pay could very well get them both killed. Can they survive and build the life together they've both dreamed of for years? NOTE: This is the third edition of Marked Yours. The first and second editions were released by another publishing house. This story has been revised and re-edited with the end result being a better, stronger story.
Marked Yours
Word Count: Click here to reveal61424 (Click here to hide)

Summary: Todd Ruger is a sentry, a very good one, some might say the best. He was eleven when he and Nick were bound as master and slave. Todd spent the years Nick lived in the slave village waiting for the day Nick could leave and they'd be together, bit by bit building a life for both of them. He took his role of master seriously. It was his responsibility to provide for Nick, protect him and along the way he learned to love him. Todd loved Nick deeply and completely. They were more than a pair of sentries. Todd and Nick were friends, lovers, mates. Eighteen months ago, Nick left the small village where he'd spent his entire life being raised and trained as a slave. Blessed with a unique skill set, Nick became a sentry. He took his place beside his master, Todd Ruger, defending society against the many paranormal threats that abound. They became more than master and slave, they became mates. Nick had found a home with Todd and together they became a family. Eventually, Nick's special abilities and skills attract the attention of the second most powerful man in New Colorado Protectorate's government, Vice Chancellor Clarke. Or, maybe certain people knew of Nick all along and just now had cause to use him. He believes Nick might be the answer to explaining Chancellor Shaffer's sudden, unusual behavior. Forced to go undercover at the Chancellor's Estate, Todd and Nick discover an ancient and deadly creature preying on residents of the estate. The same creature that is radically effecting Chancellor Shaffer. A creature only Nick can see in its true form. It hunts using specialized skills and has Todd and Nick in its crosshairs. Even if they defeat the creature and survive, they still face the possibility of being torn from each other when their lives are thrown into chaos by the thing they're hunting.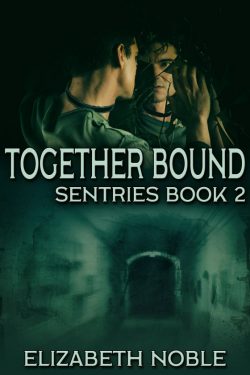 Together Bound
Word Count: Click here to reveal63,700 (Click here to hide)

Summary: Todd and Nick Ruger are on the run after narrowly escaping the war in New Colorado, where they were implicated in the assassination of Chancellor Shaffer. Todd is gravely ill and Nick has serious injuries, but that's the least of their problems. They're alone with dwindling supplies and facing the harsh winter bearing down on them far north in Yellowknife Protectorate. Just when it seems they're trapped between the proverbial rock and hard place, they are offered refuge with a doctor in the isolated town of Elk's Ridge. As they heal, they're offered a fresh start in Elk's Ridge. But just as they begin to rebuild their lives, tragedy strikes. Victor Raleigh, the new Vice-Chancellor of New Colorado, knows all about Nick's psychic abilities, and he'll settle for nothing less than total control over Nick. He's aligned himself with a vicious creature, a type of psychic vampire capable of wielding control over individuals such as Nick. When Nick is betrayed and captured, Todd sees no alternative but to head back into the war zone to rescue him. Will Nick be the same man Todd loves after Raleigh's pet psychic vampire is through with him? Can Nick accept the fact Todd can love him after what Raleigh forces him to do, or will his guilt consume and destroy him?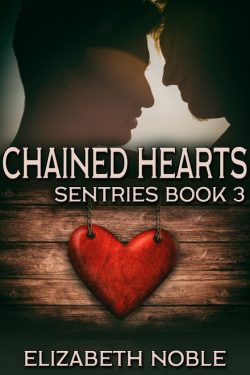 Chained Hearts
Word Count: Information not available
Summary: It seemed so simple, cross a train yard, hop a train and Todd and Nick would be free, on their way home to Elk's Ridge in Yellowknife. Nothing is ever simple or easy for the Ruger men, however. Captured by Vice-Chancellor Raleigh, Todd is imprisoned, leaving Nick alone and seeking a way to free his mate. Help comes from an unlikely and unexpected ally. Todd's freedom places the Rugers yet again into the Chancellor's debt. He sends them on a fact finding mission to the small village of Eldrid, the same village where Nick was raised a slave. There they discover how past events led to their present society, the origins of sentries and slaves and what made some of them so special. They also uncover a conspiracy spear-headed by Vice-Chancellor Raleigh. An attempt at stopping him isn't as successful as they'd hoped when old enemies are confronted. The realities of war, and why some people don't survive, are hard lessons for both Todd and Nick to learn. Through firefights, explosions and a vicious attack from a seemingly unbeatable supernatural being, one thing is reinforced over and over—the most important thing each one has is each other. Will they survive or join an ever growing list of casualties?
Collared Souls
Word Count: Click here to reveal62000 (Click here to hide)

Summary: Wars are fought on many fronts. A battle is raging across New Colorado Protectorate with both human and demonic players. Todd and Nick Ruger are sentries with an arsenal of talents and training to combat threats from a variety of enemies. Todd and Nick are given a mission to find and stop weapons smugglers by going undercover on the riverboat, Annabelle. These aren't typical arms dealers, they're demons and they're not afraid of a pair of sentries. The Rugers will have to use all their skills and their most powerful weapon, the bond between them, just to stay alive. Stopping the supply of illegal weapons turns to trying, and failing, to thwart an assassination. Todd and Nick have each other, but will they be able to keep their love intact?
Tethered Pair
Word Count: Click here to reveal61,000 (Click here to hide)

Summary: New Colorado Protectorate fell with the assassination of Chancellor Clarke. Like many others, Todd and Nick Ruger left the land of their birth and made a home to the north in Yellowknife. Their world was ever changing. The time came to say a sad farewell to some of their friends and loved ones, but they were taken in with open arms by others and in turn offered shelter to yet more. Through the years they remained steadfast in their duty as sentries to protect and defend those that needed it the most. Time marches on but through it all they hold each other dear and cherish the love they've shared. There are still angry ghosts, Windigos and water spirits to contend with. Their lives change, offering them new roles. When the time comes, they do what sentries have done for generations prior and teach others the skills to carry on as sentries. The Rugers lives were rich and their hearts full with their devotion and love for each other. The tradition of the sentries lived on forever. It was the legacy of Todd and Nick Ruger. That was the way it was always meant to be. Winner Gay Fantasy Romance category 2016 Rainbow Awards and Runner Up Best Gay Book 2016 Rainbow Award
Ringed Love
Series: The Sleepless City
Word Count: Click here to reveal68000 (Click here to hide)

Summary: When a vampire finds his soulmate, the bond is forever. It's love at first sight. Or is it? Homicide Detective Jonas Forge has been a vampire for centuries. He's fought wars, seen life go from the simple colonial days to the modern high-tech world. He's evolved with the times, adapted to each new era, blended into each new life. The one constant is his best friend, mentor, and lover, Declan. Even though not fated to bond as soulmates, Forge and Declan are happy and settled in their life together. Until Forge's real soulmate falls, literally, into his life. Forge isn't thrilled with the guy, despite the pheromones attracting them to each other, and the feeling seems mutual. While trying to adjust to his clumsy soulmate and equally awkward feelings, Forge is also on the hunt for a serial-killer witnesses can't identify who's leaving a trail of bodies in its wake. Will the bond Forge is finally forming with his soulmate be destroyed when the hunter becomes the victim? If you like fated mates who aren't perfect for each other, a paranormal killer who might not be caught and found families then you'll love Elizabeth Noble's Electric Candle.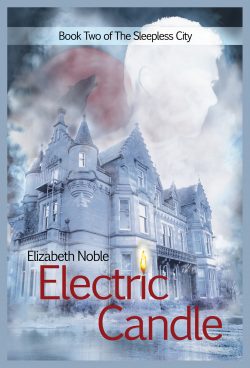 Electric Candle
Word Count: Click here to reveal81500 (Click here to hide)

Summary: We aren't a we without all of us. Chaos reigns in The Sleepless City and it's really beginning to piss Detective Jonas Forge off. He's separated from his soulmate, Blair Turner. A separation he fears might be permanent. Nothing is going right. It's as if the universe is conspiring against him. A long closed off door buried deep within his psyche cracks open when a turn of events he never saw coming flips his world upside down. There's a monster behind that door and he's not sure where the monster leaves off and he begins. Hallucinations grip the town and everyone in it, threatening to tear the family in Boggs's Castle to shreds. The only way forward is to bare all to each other. While Forge and Declan confront horrors from their shared past, they all learn a terrible truth about vampires—one not even imagined in their worst nightmare. Demons lurk around every corner, seeking to cause havoc. Unless the tenuous thread woven between Blair and Forge is strong enough to pull Forge to safety, those demons might just be his demise. Can they turn it all around and control a monster in order to defeat a demon? If you like imperfect heroes with tarnished pasts who don't know how to quit, then you'll love Shifting Chaos by Elizabeth Noble, the action-packed, emotional conclusion to The Sleepless City. Author's note: This book was originally published in 2015. It has been rewritten with new chapters and scenes and re-edited.
Shifting Chaos
Series: The Vampire Guard
Word Count: Click here to reveal72000 (Click here to hide)

Summary: Vampires and werewolves live long lives. The Sleepless City saga might have ended but the story continues… Welcome to the Vampire Guard, where legend and myth meet science and technology.   Vampires make the best spies. Throw a smart-mouthed werewolf in with three vampires, mix well, and The Vampire Guard's newest team is bound to become one of their greatest assets. Super spies with a full range of skills. Warrior, hacker, thief, and scientist.  They get in, do the job and get out before the bad guys ever know what hit them. Forge, Blair, Declan, and Lucas are thrust into the world of high-tech spies and top-secret espionage conspiracies. Recruited into the world's most elite and secret organization with one singular mission. Protect those who can't defend themselves from ruin. Life becomes complicated when an impending Presidential visit to their town, Boggslake, throws them headlong into the world of the vampires and werewolves of the Vampire Guard. Very quickly they uncover and confront a werewolf terrorist organization known as the Qiguan. Together they must thwart an assassination attempt on the open waters of Lake Superior while tracking a previously unknown biological weapon controlled by the Qiguan—a weapon which may very well mean death for one of them.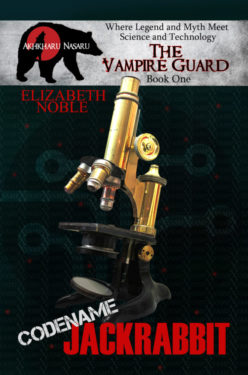 Code Name Jack Rabbit
Word Count: Information not available
Summary: Four members of The Vampire Guard—Forge, Blair, Declan, and Lucas—face a dangerous and elusive enemy. And this time, it's personal. When massive tech outages impact everything from Wi-Fi to traffic control, Blair, Forge, Declan, and Lucas think it's a simple matter of catching troublesome hackers. But they quickly realize far more is at stake. Millions of dollars in art are the target of a thief who's not afraid to kill---and he's no stranger. Not only has he escaped capture, twice, a decade ago, but he's had a hand in life-altering tragedies throughout their lifetimes. Once it becomes clear that art theft is just a fraction of his plan for mass destruction, they realize time is running out. The clock's ticking. Catastrophe is imminent. Can they find and disarm all the bombs in time or will countless lives be lost?
Quarry
Word Count: Click here to reveal62,900 (Click here to hide)

Summary: A werewolf and seven vampires are all that stand between the world and complete annihilation. When Kai Richter and Ori Bier met, sparks flew. Then a train blew up. Tracking an organism deadly to not only humans, but vampires and werewolves alike, brings Kai and Ori into the Vampire Guard. Decades later, they, along with Operative Team Jack Rabbit, come face to face with the horrors that same virus produces. Dead bodies are coming back to life, and rational people are becoming violent and brutal killers. A massacre is taking place nearly a mile under the Atlantic Ocean. Two teams of The Vampire Guard are in the thick of it, fighting to survive.
Endosymbiont