Resident of the lower mainland in BC, I've lived all over Canada, but I've been in this area since '94 or so, and am unlikely to leave.
I've always been a creative sort, composing music on the computer (tracking Mods and related formats) drawing and graphic design, but in the last couple of decades, writing has come to the forefront- going from the occasional short story for fun that I've done all my life, to full-fledged novels.
In 2001, I was cycling to work, and got into a fight with a car, and the car won. Since then I'm been a paraplegic. When I'm rich and famous, I'll buy a model of the car that hit me, and give it a solid whack every day.
I'm father to two insane lil punks, Catilin in 2007, and Lachlan in 2011. I've been predominantly a stay at home dad since then, but volunteer work at a local seniors' activity centre recently led to a job with the organization. It's an amazingly positive environment.
My rate of pumping out novels isn't so fast, but the ideas are waiting. If the next Rubberman book ties up the series (it may or may not) I have a series in mind that serves as a spin-off of sorts from the Lifehack series.
Contact Information:
Email Address: joe@ozero.ca
Books By Joseph Picard
Word Count: Click here to reveal92782 (Click here to hide)
Summary: A story of oppression and loss, of uprising and joys. Rubberman's Citizens pushes through grim tyranny with the courage, compassion, and humour of those forced to fight troubled times. In Citizenry, Leena knew cruelty was normal. Order was kept by Warren, through intimidation and abuse. Normal meant deliveries from above, supplies from the great, unknowable, Actual. Normal meant hating the lessers who live below. Normal meant routine public degradation. Normal meant hearing screams, and knowing no one dared help. Normal was knowing that tomorrow, it could be your own screams being ignored. Leena found a way to help. Leena found a chance. Leena discovered revolution.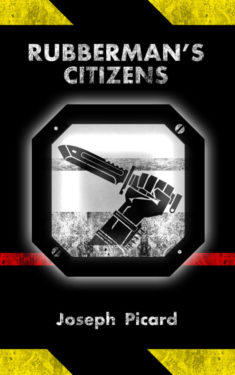 Rubberman's Citizens
Joseph Picard ...
February 7, 2018
Word Count: Click here to reveal89180 (Click here to hide)
Summary: Lenth grew up in a lie. Apparently there's more than five people in the world. Savage Citizens, orderly Providers, keepers of ignorance, and a damaged killer stand in the way of the world's simple truths. Four Brothers live their lives in an enclosed habitat as directed by the silent Rubberman above them. When they disobey, they get shocked. This is normal. It always has been. When a Brother dies, they learn of death. When he is replaced by someone new, they learn they are replaceable. When the ceiling above the ceiling cracks open, Lenth plans a journey beyond the known universe: A third floor. Up.
Rubberman's Cage
Joseph Picard ...
October 7, 2014
Word Count: Click here to reveal86000 (Click here to hide)
Summary: Regan has her ups and downs. -Dumping her girlfriend: Down. -Moving in with her loving brother: Up. -Waking up to a plague of undead: REALLY down. After the undead began roaming the neighborhood, Regan lost track of her brother. She's spent the last two years searching for him. In the meantime, she's fallen in love, only to be told, "Sorry, I'm straight. And you're a lunatic." There's a psycho out there somewhere who caused the outbreak, using nanotechnology, just for the fun of it, and Regan intends to hunt him down. Oh, and the crush she still has on the straight gal? Dangerously distracting, when there's a zombie around every corner.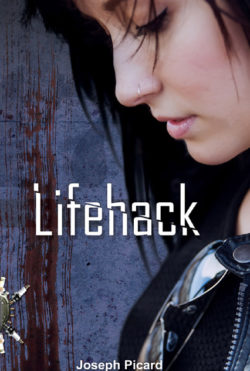 Lifehack
Joseph Picard ...
June 3, 2012
Word Count: Click here to reveal120412 (Click here to hide)
Summary: Sarah's got daddy issues. He lives in her head, built her out of fish, and killed millions of people. But he's really sorry. Honest. A father that lives in your head wouldn't be so bad if he wasn't the killer of millions. At least it's comforting to know that he didn't murder the fishes used to create your body. Or the seagull. Sarah hides her illegal nanite origins in an effort to build an ordinary life, but the legacy of dad's horrors makes it difficult. Especially when new but familiar zombie-like abominations begin to appear in the city.
Echoes of Erebus
Joseph Picard ...
June 12, 2010
Word Count: Click here to reveal109700 (Click here to hide)
Summary: Cassidy needed a fresh start, and the offer of a guard posting for a historic temple in the middle of the desert sounded like a good way to clear her head. She didn't expect to find a new girlfriend- maybe even a soul mate. She didn't expect to be in the crossfire of a terrorist, a cowardly scientist, and a fleet of microscopic invaders. She didn't expect to lose. In the years after Lifehack and the Erebus incident, the world settles into relative quiet under strict nanite bans, but underground activity keeps dangerous nano-tech alive and well. (Although Watching Yute is a complete tale within the Lifehack series, it chronologically takes place between Lifehack and Echoes of Erebus.)
Watching Yute
Joseph Picard ...
August 29, 2009