I get asked about my name a lot. It's not something exotic, though. "Kaje" is pronounced just like "cage" – it's an old nickname.
I live in Minnesota, where the two seasons are Snow-removal and Road-repair, where the mosquito is the state bird, and where winter can be breathtakingly beautiful. Minnesota's a kindly, quiet (if sometimes chilly) place and it's home now.
I've been writing for far longer than I care to admit (*whispers – forty years*), mostly for my own entertainment. My spec fic usually includes a gay romance element in a paranormal, SciFi or high fantasy setting. I also have two collections of LGBTQ Young Adult stories released under the pen name Kira Harp, which range across genres and identities.
I now have a good-sized backlist in ebooks and print, both free and professionally published. A complete list with links can be found on my Books page.
I also have  an author page on Goodreads where I do a lot of book reviews. You can find me to chat there– I hang out on Goodreads a lot because I moderate the  Goodreads YA LGBT Books group there. I also post free short YA stories on that group, more than 50 of them so far. Or find me on Facebook – https://www.facebook.com/KajeHarper
This author has been favorited by 3 users.
Contact Information:
Books By Kaje Harper
Word Count: Click here to reveal90000 (Click here to hide)

Summary: Alan I haven't been out with a guy in the last two years. Partly because I'm a gay elementary-school teacher in a fairly small, conservative town. Partly because I'm a sorcerer, and dating ordinary humans only leads to trouble. Sleeping with one though? That's doable, so when my birdbrained familiar Sunny lines up a tall, muscular firefighter for me, I'm not going to say no. Just once, though. Maybe twice. I don't need more trouble in my life. Jason I don't regret moving back to my hometown and my big family. Well, not much. I'm not out to them, and I miss the anonymity of the big city, but I like the local fire house and the slower-paced life. Still, when I see my niece's teacher, Mr. Hiranchai, in gray sweatpants talking to a mini-parrot on his shoulder, something inside me (or maybe something in front of me) perks up and says "I want that one." I can't have an actual boyfriend, but I sure wouldn't mind getting laid, and Alan's slim, dark-haired, smart-assed style rings all my bells. It's no surprise we turn out to be great together, even if my job and his responsibilities make it hard to find time. It is a surprise when I realize I want more than just an occasional night. But some weird fires out in the brush keep us firefighters hopping, and when this strange carnival comes to town and lands me with a pair of magical doll shoes, life gets truly confusing. There's more to Alan than he's telling me, and I'm getting a bad, bad feeling about all this. Magic Burning is a story in the Necromancer universe, 60 years after Marked by Death, and is part of the multi-author Carnival of Mysteries Series. Each book stands alone, but each one includes at least one visit to Errante Ame's Carnival of Mysteries, a magical, multiverse traveling show full of unusual acts, games, and rides. The Carnival changes to suit the world it's on, so each visit is unique and special. This book contains a snarky, matchmaking bird, a lonely young teacher, and a gay firefighter finally coming out to his large family.
Magic Burning
Word Count: Click here to reveal72000 (Click here to hide)

Summary: Twenty years before Simon found Paul, a decade before Aaron joined the Minneapolis West pack, there were other gay wolves living hidden lives. Sawyer Holt thought he was dead at the age of sixteen when his brother Leon caught him kissing a human man. Dragged up in front of his Alpha, he could only hope for a painless end, especially when Rick Brown stared at him with an icy gaze and said to Leon, "I'll take care of it." Except what Rick gave Sawyer wasn't death, but a new concealed life. In Minot, North Dakota, Sawyer has spent fourteen years isolated among humans, carving out a future for himself. Until a messenger arrives from Rick, saying that Leon has discovered the ruse, and it's time to run again. Sawyer's furious about losing his hard-won life, but intrigued by the young man carrying the message. James Ferguson doesn't appreciate being sent from his home and pack in Virginia to run errands for the Chicago Alpha, but as Twelfth out of twelve adult wolves, he's in no position to complain. He figures he'll deliver the message and package, and hurry home for Thanksgiving. But a snowstorm, and the huge, muscular, confusing werewolf who rescues him, upend his plans. Soon, James's whole world changes, and the only future he may have depends on whether he and Sawyer can survive being hunted, together. Unseen Past is a prequel novel set in the world of the Hidden Wolves, twenty years before Book 1.
Unseen Past
Word Count: Click here to reveal74000 (Click here to hide)

Summary: Sometimes you have to fight fire with fire. Darien's ready for a quiet life— back to studying, sleeping with his ridiculously appealing necromancer, playing magical Fetch with his dog-familar. But breaking the demon portals was only a temporary solution, when there are sorcerers out there rebuilding them. Much as he'd like to shove the rest of the job on someone else, Darien's not willing to see his world burn. Silas is ready to turn the whole hunting-dark-sorcerers mess over to the Guild. Except he doesn't trust his council members as far as he can throw them, the sorcerer Chicago has sent sets his teeth on edge, and if they get it wrong, Darien's life is at risk. So with Grim at his side, and Pip encouraging Darien, they, Jasper, and Magda will take on one more hunt to find and stop the portal-builders.
Consumed by Fire
Word Count: Click here to reveal68000 (Click here to hide)

Summary: They'll take a leap into the unknown to protect the world. There's something seriously wrong with Earth's magic. A demon has appeared unsummoned out of thin air, familiars can't return Home, and as Grim points out, rats smell like summer in the middle of winter. Grim and Pip can deal with rats; Silas can banish one wayward demon. But soon there are other demons, more each day, and Silas's old mansion is full of mysteries. He and Darien will need their familiars, their friends, plus a whole lot of luck, as they search beyond Earth for the forces that have changed their world. And to have any chance of getting safely home, Silas will have to confront a past he's avoided for ten long years.
Beset by Demons
Word Count: Click here to reveal37000 (Click here to hide)

Summary: He'll get by with a little help from his mate. When Paul's long-buried past reaches out for him, having Simon at his back should make all the difference. The shy, studious teen who ditched his hometown is now a grown man with a good life, an honorable profession, and a werewolf boyfriend. So why is still so hard to go home? A new 37,000 word novella in the same time frame as book 6 in the Hidden Wolves series brings challenges, pain, love, and their HEA for our favorite guys. Content warning for assisted suicide.
Unplanned Coda
Word Count: Click here to reveal54000 (Click here to hide)

Summary: Silas Thornwood's worst nightmare has come to life. Darien's familiar Pip is gravely injured, and Darien and Jasper have been kidnapped. Someone ruthless and violent is holding the man Silas loves prisoner, for purposes he doesn't want to imagine. Silas needs help from his friends to locate and rescue Darien. And when he does, those responsible― whether sorcerer, human, or demon― are going to be truly, utterly sorry…
Trapped by Greed
Word Count: Click here to reveal120000 (Click here to hide)

Summary: Some bonds are strong enough to last a lifetime, and change the world. Rory O'Sullivan has spent his life alone. Once upon a time, he made one real human connection as a gay man. That moment happened in Nazi captivity, and the wolf he escaped with was a Soviet soldier. They had a taste of what love might mean, but in 1944, personal happiness had to come second to survival. Now, seventy years later, when he feels the presence of Nikolai, somehow close and needing him after all that time, no one— not gay Alpha Aaron of the Minneapolis West pack, or rising political threats, or even top Alpha Rick Brown himself— will stop him. Rory's going to answer the appeal he's waited a lifetime for. Some bonds can't be denied. This is a new novel in the Hidden Wolves series.
Undeniable Bonds
Word Count: Click here to reveal120000 (Click here to hide)

Summary: Nothing wrecks a guy's day like finding out he's a werewolf. From the moment artist Dylan Shore arrives in Chicago, his life gets twisted like a kaleidoscope. Why does a street gang he's never met before want him dead? Why is a hot but odd mathematician stalking him? And how can half the things Alex Corwin says possibly be true, no matter how honest he seems? Alex has a frightening dilemma. Dylan is attractive, appealing, out and proud. He's also completely unaware that he's a werewolf. It shouldn't be Alex's job to tell him, and warn him that gay wolves usually end up dead. But someone has to, before he finds out in blood and violence. Chicago's not Alex's hometown, but somehow he needs to protect Dylan from the local packs, protect the wolves from being outed by Dylan, and keep his cool around the first man to touch his own deeply-closeted heart. (This is a lightly edited rerelease of the 2016 original.)
Unsafe Exposure
Word Count: Click here to reveal135000 (Click here to hide)

Summary: His pack would've killed him for his kinks and desires, but his human lover might destroy his wolf. Brandt Davis loved being part of his Michigan werewolf pack, until they found his stash of gay porn. He escaped their anger, running in wolf-form into the wilderness, but he can't live that way forever. And he can't hide in fur like a coward when an injured man needs his help. Ethan Sjulstad knows life is making him crazy when a solo hike into the Minnesota Boundary Waters seems reasonable. Then a bad fall leaves him seriously hurt and facing death. Delirious, he hallucinates being rescued by a big gray wolf and a naked woodland godling. For a man who has always loved fantasy, it's worth surviving just to find out what the hell is going on. (This is a lightly edited rerelease of the 2014 original.)
Unjustified Claims
Word Count: Click here to reveal100000 (Click here to hide)

Summary: He'd rather fight enemy wolves and rogue humans than face his own heart. When Aaron took down a violent, power-crazed wolf and inherited half a pack, he knew being Alpha wasn't going to be easy. A week later, he's finding out what an understatement that was. Other werewolves are calling for the extermination of his pack's gay wolf, or for Aaron's own death, and the risk of exposure to humans is growing. Aaron can't afford to let his long-suppressed sexuality escape his rigid control. When one of his younger wolves is in trouble, it's simply Aaron's job as Alpha to help and protect him. But keeping a cool distance from a young man who appeals to all his senses could be Aaron's toughest challenge. (This is a rerelease of the 2012 original with light editing. Content warning for substance abuse, some violence.)
Unexpected Demands
Word Count: Click here to reveal23000 (Click here to hide)

Summary: Christmastime brings out memories, and ghosts. Silas tracks down a poltergeist haunting a local tree farm. Darien hopes to convince Silas that despite experiences with demons and hells, Christmas can still be fun. Pip tries to catch his first rat. And Grim watches from a high vantage point and a position of moral superiority—he has holiday memories of his own, but cats know how to keep a secret. - A 23,000 word holiday novella in the Necromancer series.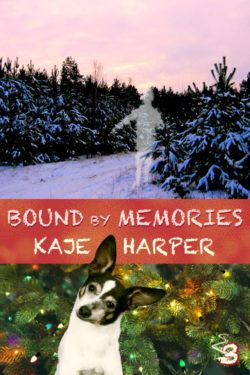 Bound by Memories
Word Count: Click here to reveal52000 (Click here to hide)

Summary: An untrained sorcerer and a reclusive necromancer face a ghost-infested town. Darien is free of his dead invaders, and his eyes have opened to a new reality. In a world of sorcerers and necromancers, he's full of power and potential, but completely ignorant. Necromancer Silas, and Silas's cat familiar, Grim, are teaching him basic skills, but danger won't hold off, just because he's not ready. Silas never planned to share his life with anyone, but after a week of shared battles and shared nights, Darien has become a fixture in his home. Silas has never met anyone with more raw magical ability, or less idea what to do with it. When Silas is offered a job hunting ghosts, he's tempted to refill his depleted bank account, but reluctant to bring untrained Darien along. Darien's eager to help, though, and eventually Silas gives in. It's just a few ghosts. Nothing he hasn't handled before. What could go wrong?
Powered by Ghosts
Word Count: Click here to reveal50000 (Click here to hide)

Summary: Asking a necromancer for help is scary; falling for him may be downright terrifying. Darien Green's afraid he's going insane. The voices in his head are getting louder, weirder, and more numerous. But tattoos appearing on his skin say that there might be a magical reason, something other than his own brain going around the bend. He's worked up the nerve to ask the local necromancer for help. Now he just has to survive his encounter with tall, dark, and talks-to-ghosts. Necromancer Silas Thornwood doesn't appreciate being woken out of his bed by a stranger pounding on his door. But when that stranger turns out to be a half-frozen young man with an unexpected appeal, Silas can't turn him away. Even Grim, his cat-familiar, agrees— in a world of death and demons, protecting gorgeous, ghost-ridden Darien is Silas's next difficult job.
Marked by Death
Word Count: Click here to reveal127000 (Click here to hide)

Summary: An ex-cop and a psychic on the mend find their safe haven threatened by vandalism, arson, and the shadow of their dangerous past. After overusing his Talent till he almost died, Brian wants nothing more than a quiet job on the farm, with Nick to come home to. He's trying to start a new life, despite bad dreams he can't shake, vandalism close to home, and his sister's problematic baby on the way. Nick gave up the police force and moved to North Carolina to be with Brian, and he doesn't regret it. But he's at loose ends, with no real work, the lurking specter of Brian's brother Damon hanging around, and a worry in the pit of his stomach that Damon's old enemies might still be after Brian. Nick's keeping his eyes open and his gun loaded.
Tracefinder: Choices
Word Count: Click here to reveal22000 (Click here to hide)

Summary: Desperate times call for desperate measures. Garvin's worst fear is realized when he runs home from the fields to find his lover's forge empty, his tools scattered, and the ground trampled by a band of soldiers. Nyle has been kidnapped and conscripted into the King's army—a death sentence even for a big smith like Nyle. Garvin is untrained, unarmed, and nowhere near strong enough to take on one soldier, let alone a whole army. His household skills and a way with horses aren't much to work with, but he can't let that stop him. For the first time in his life, he prays to the Goddess for the help he desperately needs. He's not expecting an answer. Particularly the one he gets. ~*~*~* This is a rerelease of the 2012 Storm Moon Press story. It has been edited and polished, but there are no substantial changes. Content warning - contains a brief on-page episode of dubious to non-consensual sex.
Gift of the Goddess
Word Count: Click here to reveal133000 (Click here to hide)

Summary: Brian can Find a lost child or a wanted criminal, but when his secret gets out, even Nick's skills and connections may not be enough to keep them safe. Brian Kerr is now free of his dangerous boss and his domineering brother. He's eager to start using his psychic Finding talent to help people, if he can figure out how to do that safely. His dyslexia, and his tendency to act simpleminded under stress, make building his new life a daunting challenge. And while his not-quite-boyfriend, Nick, is willing to support him, in bed and out of it, Brian doesn't want to lean on Nick. If their relationship is going anywhere, he has to be a full partner and handle his own problems. Nick Rugo's walking a tightrope instead of settling into the ordinary cop's life he'd hoped for. He's hiding too many things from too many people. He has told professional and unprofessional lies that will come back to haunt him. Now, with Brian determined to start Finding again, he's not sure he can protect the man he cares for. If all that wasn't enough to make him start punching walls, he also has a suspicion that Brian's brother Damon and sister Lori may be out there, lurking, ready to complicate their lives.
Tracefinder: Changes
Word Count: Click here to reveal141000 (Click here to hide)

Summary: What could an undercover cop and a drug lord's pet psychic have in common? Brian Kerr has spent years hiding behind a facade of mental slowness. His brother and sister got all three of them off the streets and into a cushy life, under the protection of a dangerous criminal. But to keep that safety, Brian has to use his Finding talent to track down the boss's enemies. Although he pretends not to know what he's really doing, each Find takes its toll, and he's trapped in a life he hates, losing touch with his true self. Nick Rugo's job is to protect and serve the people of Minneapolis as an undercover cop. He isn't closeted, but he isn't out at work, and there's a wild, angry side to him that he's managed to keep hidden until now. When he's assigned to bring Brian's boss to justice, he intends to use anything and anyone it takes to do that. Nick initially sees Brian as a pawn to be played in his case, but he keeps getting glimpses of a different man behind the slow, simpleminded mask. As the two men get to know each other, it becomes clear they share secrets, some of which might get them both killed.
Tracefinder: Contact
Word Count: Click here to reveal90000 (Click here to hide)

Summary: Biology professor Roman Janz was walking across campus and planning his next plant-collecting trip to Brazil, when something stung him on the neck. And now… now he's wandering in the dark, in the blue, floating, disembodied, and confused. There has to be a good explanation, if he can just find someone, anyone, he can actually talk to about it. Xavier Faulkner is intelligent, creative, and made millions when he sold his tech-security company. But all his wealth and skills couldn't keep his sister Tam from being poisoned by food contamination. She lived, but her health was damaged, and her job as a cop is gone. In the antebellum house he moved them to, Xavier hopes to find both a distraction and maybe a purpose for their lives. But the old house seems to come with strange noises, and odd blue lights, and maybe― if Xavier isn't just going crazy― a naked guy, walking away into the blue… This story was written as a part of the M/M Romance Group's "Love's Landscapes" event. Group members were asked to write a story prompt inspired by a photo of their choice. Authors of the group selected a photo and prompt that spoke to them and wrote a short story. Dear Author, I just moved into this old antebellum home I bought with the intentions of restoring. I often find myself awoken in the night by strange noises I cannot identify or hear during the day. At first, I think it's just a dream… this seemingly phantom always walking away. Who is he and how can I get him to finally turn around and see me? 79,000 words
Laser Visions
Word Count: Click here to reveal103000 (Click here to hide)

Summary: First I was a sorcerer. Then I was a hermit. For so long—for years that seemed to go on forever—I couldn't bear to be touched. I put up not just walls but whole stone bunkers to keep everyone out, emotionally, and physically as well. I was protected from people, from ghosts, from specters real and imagined. Sure, I was alone. But I felt safe. Only, after a while, I wasn't sure any longer whether a totally "safe" empty life was really worth living. Then Tobin came along. Out of the blue, out of my past, with a summons from the king that he wouldn't let me ignore. I tried to cling to my isolation, but he wouldn't give up on me. Tobin never believed in walls. This story was written as a part of the M/M Romance Group's "Love Has No Boundaries" event. Group members were asked to write a story prompt inspired by a photo of their choice. Authors of the group selected a photo and prompt that spoke to them and wrote a short story. 103,000 words
Nor Iron Bars a Cage
Word Count: Click here to reveal34000 (Click here to hide)

Summary: Do strangers want to join Aaron's pack, or wipe it from the face of the earth? Aaron, Alpha of Minneapolis West, is tired of other werewolves threatening his pack for harboring a gay wolf and his mate. Werewolves have more important things to worry about, with humans closing in on discovering them. But the arrival of two strange wolves on his doorstep, asking for sanctuary, pits compassion against safety. Can he let these two in and still keep his pack and his mate Zach safe? Or is that a risk he can't afford to take? (34,000 words; This is a lightly edited re-release of the 2013 novella 2.5, renumbered to 3)
Unwanted Appeal
Word Count: Click here to reveal11000 (Click here to hide)

Summary: *This story is included in the new 2021 edition of Unacceptable Risk but kept available for those who have the old edition A free short-story epilogue that contains spoilers for Unacceptable Risk - Hidden Wolves book 1 Paul Hunter just spent two days as a captive to werewolves, his life hanging in the balance, a witness to crimes and craziness. Now he's back in his regular life, and living with Simon, the man he's been falling for. And he's part of a werewolf pack. He needs his brain to somehow catch up with all of that. Simon thought saving his human mate from his own pack would be the hardest thing he'd face with Paul, but he's beginning to realize that was just the beginning. He has to figure out how their future will work, and convince his skittish lover that staying with the pack is better than leaving it, while hints of threats to Paul's safety keep him awake at night. Fortunately Simon is up for the challenge.
Unsettled Interlude
Word Count: Click here to reveal111000 (Click here to hide)

Summary: Now a Free novel in ebook: For a hidden shifter, falling in love with a man may be the death of them both. Simon Conley knows about being an outcast. Born into a secret werewolf pack, he's the lone gay wolf, an outsider even among his packmates. The top wolves consider him a perversion, a failure, and a security risk. To survive in the human world, werewolves rely on absolute secrecy, and any breaches of their code are dealt with swiftly— and violently. So when Simon falls in love with Paul, a human man, even his Alpha's grudging tolerance won't protect him. He must keep Paul from discovering the truth about him and the secrets the pack jealously guards, or it's not just their love that'll end up dead. (rereleased Jan 2021 with light editing and the 1.15 short story included)
Unacceptable Risk