After having the Last Rights read to him at the age of twenty-five, Lee Hunt came to appreciate the power of catharsis. He was born on a farm with only one working lung but has gone on to become an Ironman triathlete, sport rock climber, professional geophysicist, and writer.
As a scientist, Lee has published close to fifty papers, articles, or expanded abstracts, has been awarded numerous technical awards, and was even sent on a national speaking tour. He enjoys discussing the amorality of science and is useful at parties in explaining the physics of whether fracture stimulation might be a risk to the fuzzy, cuddly things of nature. After 28 years trying to understand the earth as a geophysicist, Lee turned to writing fiction. He now spends time hiking, cycling, floundering in a lake, clinging desperately to a wall, or at his desk trying to write an entertaining story.
This author has been favorited by 1 user.
Contact Information:
Email Address: dynamicistauthor@gmail.com
Books By Lee Hunt
Knight in Retrograde
Lee Hunt ...
September 8, 2020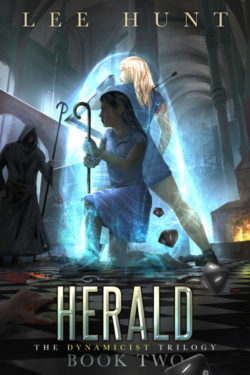 Herald
Lee Hunt ...
May 26, 2020
Dynamicist
Lee Hunt ...
February 20, 2020