Matt Doyle is a speculative fiction author from the UK and identifies as pansexual and genderfluid. Matt has spent a great deal of time chasing dreams, a habit which has led to success in a great number of fields. To date, this has included spending ten years as a professional wrestler, completing a range of cosplay projects, and publishing multiple works of fiction.
These days, Matt can be found working on multiple novels and stories, blogging about pop culture, and plotting and planning far too many projects.
Contact Information:
Email Address: mattdoylemedia@hotmail.com
Books By Matt Doyle
Word Count: Click here to reveal48,300 (Click here to hide)

Summary: The final book in The Cassie Tam Files is here! With Angel Tanner, the android that runs California's criminal underworld, pulling the strings, PI Cassie Tam finds herself thrust into a conflict with New Hopeland's biggest and baddest. But working with the murderous AI may be the only way that Cassie can get to the bottom of her home's greatest mystery: What is New Hopeland City? As she struggles to balance her dealings with allies and enemies alike, Cassie is left with a difficult choice. She has always straddled the line between light and dark. Now, the time to decide which side she's on is drawing close…if she can figure out which is which.
Half-Light
Word Count: Click here to reveal59,100 (Click here to hide)

Summary: Shadows of the Past is the new novella collection set in The Cassie Tam Files universe! Enjoy two new stories that follow PI Cassie Tam and her girlfriend Lori Redwood as they deal with the fallout from LV48. This book is part of a series and needs to be read in sequence. A Week in New Hopeland When Lori Redwood agrees to help out her girlfriend, PI Cassie Tam, by going undercover at a local shipping firm, she gets more than she bargained for. Her 'boss' Mr. Graves is a misogynist and a bully, and has been targeting one girl in particular. Cassie is known to him, and he tends to be cautious around Tech Shifters. Which means that Lori may be the best person for the job. Will Lori be able to help Cassie gather enough evidence for the police to act, or will she become the next target? Shadows of the Past PI Cassie Tam is not the only person who lives with regrets, and like most people, she just wants to get on with her life. But in New Hopeland, the past never remains buried. When she's hired to track a stalker that's been using some interesting tech to mask their identity on the city's security cameras, Cassie ends up face-to-face with her darkest memory. Can Cassie find out who's responsible before her past mistakes tear her – and her friends – apart?
Shadows of the Past
Word Count: Click here to reveal66400 (Click here to hide)

Summary: New Hopeland City may be the birthplace of Tech Shifter gear, but it isn't the only place that likes to blend technology with folklore. Now, a new nightmare is stalking the streets… When PI Cassie Tam is attacked on the way home one night, she expects the police to get involved. What she doesn't expect is to be forced into acting as bait to lure out a lunatic in a tech-suit that's literally out for blood. But past actions have consequences, and doing so may be the only way she can get a clean slate from the city's law makers. If only that didn't mean having to face down a wannabe vampire.
LV48
Word Count: Click here to reveal58000 (Click here to hide)

Summary: New Hopeland City may have been built to be the centerpiece of the technological age, but some remnants of the old world still linger. The tools of the trade have changed, but the corruption remains the same, even in the criminal underworld … When PI Cassie Tam and her girlfriend Lori try to make up for their recent busy schedules with a night out at the theatre to watch the Tech Shift performer Kitsune, the last thing they expected was for Cassie to get a job offer. But some people are never off the clock, and by the end of the evening, Cassie has been drawn into a mundane but highly paid missing pet case. Unfortunately, in New Hopeland City, even something as simple as little lost dog can lead you down some dark paths. Until now, Cassie wasn't aware that there even was a rabbit hole, let alone how far down it goes.
The Fox, The Dog, and The King
Word Count: Click here to reveal56000 (Click here to hide)

Summary: New Hopeland was built to be the centre of the technological age, but like everywhere else, it has its dark side. Assassins, drug dealers and crooked businessmen form a vital part of the city's make-up, and sometimes, the police are in too deep themselves to be effective. But hey, there are always other options … For P.I. Cassie Tam, business has been slow. So, when she's hired to investigate the death of a local VR addict named Eddie Redwood, she thinks it'll be easy money. All she has to do is prove to the deceased's sister Lori that the local P.D. were right to call it an accidental overdose. The more she digs though, the more things don't seem to sit right, and soon, Cassie finds herself knee deep in a murder investigation. But that's just the start of her problems. When the case forces Cassie to make contact with her drug dealing ex-girlfriend, Charlie Goldman, she's left with a whole lot of long buried personal issues to deal with. Then there's her client. Lori Redwood is a Tech Shifter, someone who uses a metal exoskeleton to roleplay as an animal. Cassie isn't one to judge, but the Tech Shifting community has always left her a bit nervous. That wouldn't be a problem if Lori wasn't fast becoming the first person that she's been genuinely attracted to since splitting with Charlie. Oh, and then there's the small matter of the police wanting her to back off the case. Easy money, huh? Yeah, right.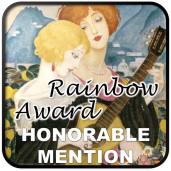 Honorable Mention: Rainbow Awards 2017 - Lesbian Sci-Fi Category
Addict