Sherrie Cronin is the author of a collection of six speculative fiction novels known as 46. Ascending and is now in the process of publishing a historical fantasy series called The War Stories of the Seven Troublesome Sisters. A quick look at the synopses of her books makes it obvious she is fascinated by people achieving the astonishing by developing abilities they barely knew they had.
She's made a lot of stops along the way to writing these novels. She's lived in seven cities, visited forty-six countries, and worked as a waitress, technical writer, and geophysicist. Now she answers a hot-line. Along the way, she's lost several cats but acquired a husband who still loves her and three kids who've grown up just fine, both despite how odd she is.
All her life she has wanted to either tell these kinds of stories or be Chief Science Officer on the Starship Enterprise. She now lives and writes in the mountains of Western North Carolina, where she admits to occasionally checking her phone for a message from Captain Picard, just in case.
Contact Information:
Books By S. R. Cronin
Word Count: Click here to reveal70000 (Click here to hide)

Summary: Do you know what your problem is? Celestine, the fifth of seven sisters, is tired of hearing about hers. Father thinks she's frivolous because she likes pretty clothes and caters to the crowds in the taverns who adore her music. Mother thinks that because she's the most social daughter in the family, she can't keep quiet about anything. They're both wrong. Celestine hides a secret she has kept for most of her life. As the family beauty and a talented musician with a lyrical voice, she has the best prospects for marriage to a prince. When such a liaison never happens, people assume Celestine is too choosy. But even in somewhat tolerant Ilari, a daughter hates to disappoint her family. How can she tell them she's in love with a princess instead? Lucky for Celestine, all her sisters are obsessed with an invading army headed to their realm. Celestine would rather ignore the threat and enjoy the freedom their lack of attention gives her. But, her voice can unlock a power that may help save Ilari. And the woman she loves is determined to fight these invaders. And her family, for all their talents, seems clueless about how to motivate the masses. Celestine knows she can inspire the citizens of Ilari to do what needs to be done. Is it time to put her inhibitions aside and use her voice to save those she cares about?
She's the One Who Can't Keep Quiet
Word Count: Click here to reveal70,000 (Click here to hide)

Summary:
Do you know what your problem is? Olivine knows hers. This quiet thirteen century artist has been hiding a secret as she travels to K'ba to meet her friends. Others assume she's fallen in love with another artist, but it's much worse than that. For on the way to K'ba is the dirt poor nichna of Scrud, a place scorned by other Ilarians. And in Scrud is the one man who understands her. However, Bohdan recognizes the dangers posed by an impending Mongol invasion. When he learns of Olivine's unusual visual powers, he convinces her to pick up her bow and start practicing. She does, though she's more concerned with moving to K'ba where she can paint all day and see Bohdan whenever she wants. If only her sister hadn't decided Olivine and her fellow long eyes held one key to defending the realm. Then, as if life wasn't complicated enough, Olivine learns the artist community she yearns to be part of has developed a different take on the invasion. They're certain the only way to survive is to capitulate completely to the Mongols' demands. Artists who feel otherwise are no longer welcome.
Where does her future lie? The invasion is coming soon and Olivine doesn't have much time to decide.
She's the One Who Doesn't Say Much
Word Count: Click here to reveal70,000 (Click here to hide)

Summary: Do you know what your problem is? Sulphur knows hers. This 13th-century woman has trained as a fighter all her life in hopes of joining the army. Then, within days, both of her older sisters announce plans and suddenly Sulphur is expected to find a man to marry instead. Is it her good fortune her homeland is gripped by fear of a pending invasion and the army now goes door to door encouraging recruits? Sulphur thinks it is. But once she's forced to kill in a small skirmish, she's ready to rethink her career decision. Too bad it's too late. The invasion is coming, and Ilari needs every good soldier it has. Once Sulphur learns Ilari's army has made the strategic decision to not defend certain parts of the realm, including the one where her family lives, she has to re-evaluate her loyalty. Is it with the military she's always admired? Or is it with her sisters, who are hatching a plan to defend their homeland with magic? The problem with being a woman who fights for what's right is that now, she has to figure out what is.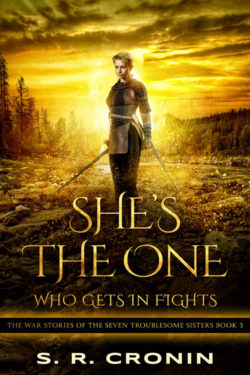 She's the One Who Gets in Fights
Word Count: Click here to reveal70,000 (Click here to hide)

Summary: Do you know what your problem is? Coral knows hers. People have been telling this tenderhearted 13th-century woman for years. So when a heroic army officer proposes, she decides she's stronger than people realize and her dreams have come true. Except, the perfect man turns out to be less than ideal. And she's gotten pregnant. And her homeland is gripped with fear of a pending Mongol invasion and she cries about everything now that she's with child. When a friend suggests the ever-caring Coral possesses a power well beyond what anyone imagines, Coral's sister decides this formidable talent is what the realm needs. Can Coral raise a baby, placate an absent military husband who thinks he's stopping the invasion, and help her sister save her homeland? This is just the sort of problem encountered by a woman who cares too much.
She's the One Who Cares Too Much
Word Count: Click here to reveal70000 (Click here to hide)

Summary: Do you know what your problem is? Ryalgar knows hers. People have been telling this over-educated 13th-century woman for years. So when an equally intellectual prince decides he loves her, it looks like everyone was wrong and her dreams have come true. Except, this prince is obligated to marry another. He is leading the army training to defend their tiny realm against an expected Mongol invasion. And he is considering sacrificing Ryalgar's home nichna by abandoning it's rich farmlands to their foes. If only he wasn't such a nice guy.  Another woman would ….. Actually, Ryalgar has no idea what another would do. All she knows is she has a multitude of university intellectuals and a family of tough farmers behind her, and a newfound connection with the witches in the forest. Why not devise her own strategy to keep the invaders from destroying her home? Then she can figure out what to do about this problem prince. It's just the sort of thing that happens when a woman thinks too much.
She's the One Who Thinks Too Much
Word Count: Click here to reveal90000 (Click here to hide)

Summary: Join an extraordinary family on a heart-pounding adventure as they face mortal danger. Telepathy creates as many problems as it solves, as everyone in the secret organization x0 would admit. Those problems become much worse when budding psychic Lola discovers another group of telepaths associated with a powerful media empire. This group is willing to destroy anyone capable of challenging them. Soon, Lola's family and friends are in danger. Fortunately, they are gifted with astonishing abilities of their own. Yet, none of them know how to fight. It will take every power they possess, and the allegiance of a helpful warrior, to bring down the arrogant adepts who do the bidding of a man hell-bent on promoting destruction. Can the talented people Lola cares about learn to trust each other and work together in order to save the world?
One of Two
Word Count: Click here to reveal80000 (Click here to hide)

Summary: Cling to the edge of your seat in this high-finance, high-stakes adventure. What do we do with knowledge of the future? Clairvoyant Ariel has been doing her best to ignore it, finding the whole thing a nuisance. But when she comes across people using similar abilities to get extremely rich, her interest is piqued. Then she discovers a second collection of gifted people. Their cause is less about money and more about ensuring the survival of the human race. That doesn't stop them from being as dangerous and crazy as the first group, however. Soon Ariel finds herself the object in a game of tug of war as each faction fights to have her--and her particular talents--on their side. She can't possibly help both groups. Aligning with either could be a terrible idea. But how can she stay out of it when so much is at stake?
Flickers of Fortune
Word Count: Click here to reveal80000 (Click here to hide)

Summary: Celebrate those who light a candle in the darkness in this compelling and eye-opening tale. Teddie is into country music, her old pick-up truck and getting through high school with as little drama as possible. Yet somehow her best friend, Michelle, talks her into spending a semester in Darjeeling, India. The thrilling adventure turns treacherous when she uncovers a seedy underworld in which young women are bartered and sold—including her friends. As she fights to understand a depravity she never dreamed existed, a stranger makes her an unexpected offer. He will train her to find her missing friends, but she will need to have trust in abilities she barely believes exist and more courage than she ever thought she could summon. And there will be no going back. Given the choice between this and abandoning her friends to their horrifying fate, the decision is simple. She must rise to the challenge. But how can she be a superhero when she doesn't know what her power is? (Layers of Light is part a collection of interrelated stand-alone novels. It contains some non-graphic mature content and references to human trafficking and the sex trade.)
Layers of Light
Word Count: Click here to reveal80000 (Click here to hide)

Summary: Uncover the startling truth before time runs out in this complex search for an ancient treasure. Alex is a former basketball player who has always been able to bend time. These days he teaches physics and parents three quirky children alongside his unusual wife. When the administration at his high school wants to resume its connection with organized hate groups, Alex can no longer remain the quiet bystander. He must stand up and fight for what he believes is right. Just when he has his hands full at school, Alex is drawn into a treasure hunt. An old high school rival and a handful of his grad students lost an obsidian box years ago containing partial directions to a big discovery. The box has mysteriously reappeared and Alex's code-cracking skills can help locate hidden relics containing remaining clues to the treasure. But can he do it fast enough to beat another unknown team of treasure seekers? As both of Alex's situations grow more dire, it becomes clear he must tap into the abilities he left behind. Can he manipulate time for the people and causes he cares about most?
Twists of Time
Word Count: Click here to reveal80000 (Click here to hide)

Summary: Sail the Pacific in this mystery adventure where things are not always as they appear. Zane, a young man who can change his physical appearance, is starting his first job at Penthes Pharmaceuticals. It's nothing like what he expects. Soon he is drawn into a world of corporate secrets and dangerous knowledge. But the deceptions are only beginning. Sent on a sales trip to the South Pacific, Zane finds new friends with abilities as surprising as his own. Too bad an unsolved murder sends them all fleeing, as issues from back home threaten to destroy lives half a world away. Can Zane use his unique talents to unravel the mysteries he's encountered? Can he find love in a world so different from his own? More importantly, can he find out who framed his friend for murder before it's too late?
Shape of Secrets
Word Count: Click here to reveal80000 (Click here to hide)

Summary: Celebrate the superhero in each of us in this unique exploration of the connections we forge. A young Nigerian telepath faces a crisis when her sister is forced into a frightening marriage, then disappears. Once Somadina cannot locate her sibling's thoughts, she seeks another telepath to help. What she finds is Lola, a busy Texan scientist who has ignored the disturbing phenomenon in her mind for decades, and has no intention of embracing this nonsense now. Yet these two women have more in common than they know, and a powerful link will be forged. When Somadina discovers her sister is a pawn in a dangerous political game, the stakes rise for everyone, including an ancient organization of telepaths compelled to intervene. For both women are stronger than they realize, and they have ignited the wrath of a fanatic willing to kill anyone to alter his nation's future.
One of One