Paranormal fiction featuring people who have the ability to shift into other forms, usually animals. Return to general Paranormal
Note: these books are currently sorted by release date, with newest first.
Filter by:
Genres
Fantasy
Fantasy - Alternate History
Fantasy - Comedy
Fantasy - Contemporary
Fantasy - Dark Fantasy
Fantasy - Erotica
Fantasy - Faery & Fae
Fantasy - Fairy Tale / Folklore
Fantasy - Fantasy of Manners
Fantasy - Gothpunk
Fantasy - Heroic
Fantasy - High & Other World
Fantasy - Historical
Fantasy - Hopepunk
Fantasy - Knights & Castles
Fantasy - Latinpunk
Fantasy - LGBTQ+
Fantasy - LitRPG
Fantasy - Low Fantasy
Fantasy - Magical Realism
Fantasy - Mythic
Fantasy - Mythpunk
Fantasy - New Adult
Fantasy - Paranormal
Fantasy - People of Color
Fantasy - Piratepunk
Fantasy - Quiet
Fantasy - Romance
Fantasy - RPG
Fantasy - Slipstream
Fantasy - Steampunk
Fantasy - Sword & Sorcery
Fantasy - Urban & Magical Beings
Fantasy - Weird Fantasy
Fantasy - Young Adult
Fantasy – Gods and Heroes
Horror
Horror - Angels & Devils
Horror - Comedy
Horror - Fairy Tale/Folklore
Horror - Ghosts & Haunted Houses
Horror - Gothic
Horror - LGBTQ+
Horror - LitRPG
Horror - Lovecraftian/Cthulhu
Horror - Man-Made Horrors
Horror - Monsters
Horror - Mythic
Horror - New Adult
Horror - Noir
Horror - Occult
Horror - People of Color
Horror - Post-Apocalyptic
Horror - Psychic Talents
Horror - Psychological
Horror - Shifters
Horror - Splatterpunk
Horror - Vampires
Horror - Weird Horror
Horror - Werewolves
Horror - Witches
Horror - Young Adult
Horror - Zombies
Nonfiction
Nonfiction - Writing Guides
Paranormal
Paranormal - Angels & Devils
Paranormal - Comedy
Paranormal - Dark
Paranormal - Ghosts & Haunted Houses
Paranormal - LGBTQ+
Paranormal - LitRPG
Paranormal - Magical Beings
Paranormal - Monsters
Paranormal - New Adult
Paranormal - People of Color
Paranormal - Psychic Talents
Paranormal - Reincarnation
Paranormal - Romance
Paranormal - Shifters
Paranormal - Vampires
Paranormal - Young Adult
Paranormal - Zombies
Poetry
Sci Fi
Sci Fi - Alien Invasion
Sci Fi - Alien Races
Sci Fi - Aliens
Sci Fi - Alternate / Parallel Reality
Sci Fi - Alternative History
Sci Fi - Apocalyptic Fiction
Sci Fi - Artificial Intelligence
Sci Fi - Biopunk
Sci Fi - Christian
Sci Fi - Climate Fiction (Cli-Fi)
Sci Fi - Clockpunk
Sci Fi - Clones
Sci Fi - Colonization
Sci Fi - Comedy
Sci Fi - Cyberpunk
Sci Fi - Cyberspace
Sci Fi - Decopunk
Sci Fi - Detective
Sci Fi - Dieselpunk
Sci Fi - Distant Planet
Sci Fi - Dying Earth
Sci Fi - Dystopian & Post-Apocalyptic
Sci Fi - First Contact
Sci Fi - Frontier
Sci Fi - Furry
Sci Fi - Galactic Empire
Sci Fi - Generation Ship
Sci Fi - Genetic Manipulation
Sci Fi - Gothpunk
Sci Fi - Greenpunk
Sci Fi - Hard Sci Fi
Sci Fi - Hollow Earth
Sci Fi - Hopepunk
Sci Fi - Human Evolution
Sci Fi - Immortality
Sci Fi - LGBTQ+
Sci Fi - LitRPG
Sci Fi - Lost Worlds
Sci Fi - Military
Sci Fi - Mind Uploads
Sci Fi - Multiverse
Sci Fi - Mutants
Sci Fi - Nanopunk
Sci Fi - Near Future
Sci Fi - New Adult
Sci Fi - Nowpunk
Sci Fi - People of Color
Sci Fi - Piratepunk
Sci Fi - Pulp
Sci Fi - Realistic
Sci Fi - Robots/Androids
Sci Fi - Romance
Sci Fi - RPG
Sci Fi - Science Fantasy
Sci Fi - Singularity
Sci Fi - Slipstream
Sci Fi - Social
Sci Fi - Soft
Sci Fi - Solarpunk
Sci Fi - Space Exploration
Sci Fi - Space Opera
Sci Fi - Space Western
Sci Fi - Spacepunk
Sci Fi - SpyFi
Sci Fi - Steampunk
Sci Fi - Superheroes & Villains
Sci Fi - Terraforming
Sci Fi - Teslapunk
Sci Fi - Theological
Sci Fi - Time Travel
Sci Fi - Transhuman
Sci Fi - Uplift
Sci Fi - Utopian
Sci Fi - Virtual Reality
Sci Fi - Weird Sci Fi
Sci Fi - Young Adult
Tropes
Abandoned Place
AI Uprising
Alien Artifacts
Alien Eggs
Alien Invasion
Alien Ruins
Aliens Among Us
Aliens as God
Aliens in History
Ancient Astronauts
Ancient Weapon
Antihero
Arthurian Legends
Asteroid Miner
Astral Projection
Bad Robot
Band of Brothers/Sisters
Band of Misfits
Bar Tales
Becoming a Monster
Benevolent Aliens
Beyond the Grave Communication
Big Sword
Black and White Morality
Body Modifications
Bodysnatchers
Book of Spells
Born Hero
Burial Ground/Cemetary
Changing Painting
Chosen One
Clones
Conspiracy
Crazy Clairvoyants
Cross-Species Friendships
Cryosleep
Dark Enemy
Dark Lord
Death by Sex
Demonic Possession
Dragonriders
Dying World
Dystopian Governments
Enemy to Ally
Evil Megacorporation
Evolving Powers
Fallen Hero
Farmer to Hero
Farmer to Royalty
Fated Mates
Fellowship
Fetus of Doom
First Contact
Fish Out of Water
Found Family
FTL
Galactic Civilization
Generation Ships
Good Robots
Haunted House
Here Comes the Cavalry
Humanity is Dangerous
Humanity is Good
Humans Evolved From Aliens
Hunted
I Am Your Father
I See Dead People
Immortality
Inaccessible Magic
Interspecies Adoption
Interspecies Romance
Interstellar Travel
Killer Aliens
Library of Secrets
Lost Civilization
Lucky Novice
Mad Scientist
Magic Furniture
Magic Talisman
Magical Disaster
Marooned
Mirror Shows True Self
Modern Human in Fantasy World
Museum/Store of the Unusual
No Cell Coverage
Old Person in the Woods
Oxygen Leak
Parallel Worlds
Past People/Future Tech
Person in Distress
Portals
Possession
Post-Apocalyptic
Powerful Artifact
Prophesy
Pseudo European Society
Psionic Powers
Quest
Redemption Arc
Reluctant Hero
Reluctant Vampires
Robin Hood Legends
Roguish Thief
Secret Heir
Secret Royalty
Secret Society
Sentient AI
Sentient Spaceships
Sex Magic
Singularity
Space Battles
Space Dentistry
Space Detectives
Space is Empty
Space is Full
Space Medicine
Space Pilot
Space Pirates
Space Psychology
Space Smugglers
Superpowers
Sword of Destiny
Time Loop
Time Travel
Training
Ultimate Evil
Undiscovered Planet
Uploaded Consciousness
Vengeful Spirit
Villain to Hero
Waiting/Sleeping Evil
Wise Mentor
Tags
author - american
author - arabian
author - australian
author - belgian
author - british
author - canadian
author - dutch
author - european
author - french
author - italian
author - new zealander
author - saudi arabian
format - anthology
format - audiobook
format - book
format - box set
format - collection
format - free
format - hardcover
format - illustrated novel
format - kindle
format - kindle unlimited
format - large print
format - netgalley
format - novel
format - novel >100K
format - novel <100K
format - novel 40-100K
format - novella 15k-40K
format - novellette <15k
format - omnibus edition
format - paperback
format - payhip
format - planner
format - prequel
format - self published
format - sequel
format - series
format - shared universe
format - short stories
format - short story <15K
identity - aromantic
identity - asexual
identity - bisexual
identity - demisexual
identity - gay
identity - gender fluid
identity - intersex
identity - lesbian
identity - non-binary
identity - pansexual
identity - polyamorous
identity - transgender
potential trigger
potential trigger - abduction-captivity
potential trigger - addiction
potential trigger - avalanche
potential trigger - blood
potential trigger - death
potential trigger - gore
potential trigger - graphic torture
potential trigger - murder
potential trigger - rape
potential trigger - sexual abuse
potential trigger - stalking
potential trigger - suicidal ideation
potential trigger - suicide
potential trigger - torture
potential trigger - traumatic past
potential trigger - violence
what - concept - amnesia
what - concept - curse
what - condition - blindness
what - condition - disability
what - condition - mental illness
what - condition - ptsd
what - element - ferocious poodle
what - holiday - general
what - topic - cartel
what - topic - chinese medicine
what - topic - chinese mythology
what - topic - climate change
what - topic - compassion
what - topic - crime
what - topic - desert survival
what - topic - disaster
what - topic - flying
what - topic - genetic engineering
what - topic - harem
what - topic - haunting
what - topic - japanese mythology
what - topic - learning disabilities
what - topic - legend
what - topic - magic
what - topic - multicultural
what - topic - music
what - topic - natural disaster
what - topic - non-violence
what - topic - politics
what - topic - ransom
what - topic - reincarnation
what - topic - religion
what - topic - revenge
what - topic - science experiment
what - topic - secret
what - topic - secret organization
what - topic - superstition
what - topic - taboo
what - topic - technology
what - topic - terrorism
when - period - 16th century
when - period - 17th century
when - period - 18th century
when - period - 1920s
when - period - 1930s
when - period - 1950s
when - period - 1960s
when - period - 1970s
when - period - 1980s
when - period - 1990s
when - period - 19th century
when - period - 20th century
when - period - ancient greece
when - period - ancient rome
when - period - edwardian
when - period - georgian
when - period - great war
when - period - middle ages
when - period - near future
when - period - prehistoric
when - period - prohibition
when - period - victorian
where - fictional - moon colony
where - general - alternate universe
where - general - carnival
where - general - castle
where - general - cave
where - general - cruise ship
where - general - forest
where - general - military
where - general - mountains
where - general - private school
where - general - rural
where - general - small town
where - general - swamp
where - general - uncharted island
where - general - underground
where - general - underwater
where - Mars
where - non-Earth planet
where - space - international space station
where - space - space station
where - space station
where - spaceship
who - description - alpha male
who - description - alphas and omegas
who - description - tattoos
who - magical humans
who - occupation - apothecary
who - occupation - archaeologist
who - occupation - artist
who - occupation - assassin
who - occupation - astronaut
who - occupation - astronomer
who - occupation - author
who - occupation - baker
who - occupation - barista
who - occupation - bodyguard
who - occupation - botanist
who - occupation - bounty hunter
who - occupation - castle laird
who - occupation - computer programmer
who - occupation - contractor
who - occupation - coroner
who - occupation - cowboys
who - occupation - detective
who - occupation - doctor
who - occupation - engineer
who - occupation - ex-convict
who - occupation - federal agent
who - occupation - guard
who - occupation - hacker
who - occupation - healer
who - occupation - herbalist
who - occupation - historian
who - occupation - horsemaster
who - occupation - innkeeper
who - occupation - inventor
who - occupation - journalist
who - occupation - king
who - occupation - knight
who - occupation - law enforcement
who - occupation - librarian
who - occupation - lord
who - occupation - mage
who - occupation - marine
who - occupation - mechanic
who - occupation - medical
who - occupation - mercenary
who - occupation - military
who - occupation - missionary
who - occupation - motorcycle rider
who - occupation - musician
who - occupation - nurse
who - occupation - pilot
who - occupation - pirate
who - occupation - police
who - occupation - politician
who - occupation - priest
who - occupation - prince
who - occupation - prisoner
who - occupation - professor
who - occupation - psychic
who - occupation - royalty
who - occupation - sailor
who - occupation - scientist
who - occupation - security
who - occupation - serial killer
who - occupation - servant
who - occupation - sex worker
who - occupation - sheriff
who - occupation - soldier
who - occupation - space marines
who - occupation - spaceship captain
who - occupation - spy
who - occupation - starship captain
who - occupation - student
who - occupation - superhero
who - occupation - tattoo artist
who - occupation - teacher
who - occupation - thief
who - occupation - tracker
who - occupation - undercover agent
who - occupation - warrior
who - occupation - writer
who - religion - catholic
who - religion - jewish
who - religion - muslim / islamic
who - religion - pagan
who - religion - shinto
who - sea dragon shifter
who - shifter
who - type - alien
who - type - altered human
who - type - angels
who - type - badass heroine
who - type - bear shifters
who - type - bigfoot
who - type - centaur
who - type - cyborg
who - type - demons
who - type - dragon shifters
who - type - dragons
who - type - elves
who - type - fae
who - type - fox
who - type - ghosts
who - type - god
who - type - griffins
who - type - incubus
who - type - kitsune
who - type - merman
who - type - nekomata
who - type - nephilim
who - type - panther shifters
who - type - reindeer shifters
who - type - robot / cyborg
who - type - sea god
who - type - selkie
who - type - spiders
who - type - spirit
who - type - succubus
who - type - unicorns
who - type - vampires
who - type - vegan
who - type - werecats
who - type - werewolves
who - type - witch
who - type - wizard
who - type - wolf
who - type - yokai
who - type - zombies
who - world defender
Word Count: Information not available
Summary:
When Sunny retires to the northern Ontario wilderness to mourn his parents' deaths, he's hoping the change of scenery will afford him some peace and quiet.
His hopes are soon spectacularly dashed.
In self-imposed exile, dragon Emile runs across the Fold between his dimension and Sunny's—and right into Sunny's arms. Centuries out of touch with human culture, bright, beautiful Emile incinerates any hope Sunny had for an ordinary existence. With dryads and water sprites coming to life all around them, Sunny can't deny the magic Emile brings to his life—or his heart. But that same magic leads the unrelenting dragon who would keep Emile captive right to them. To save his love, Sunny will have to reach deep and find some magic of his own.
Sunshine in the Dragon's Heart
December 4, 2018
Word Count:
49000
Summary: Thrust into the role of Prince of the Lycans, Tristan strives to find his footing in a life suddenly rife with secrets and lies—and danger. Betrayed by a Goddess meant to safeguard him, desperate to protect his consort and their growing tribe, he can only prepare for the worst and struggle to hope. And then the worst comes to kill them...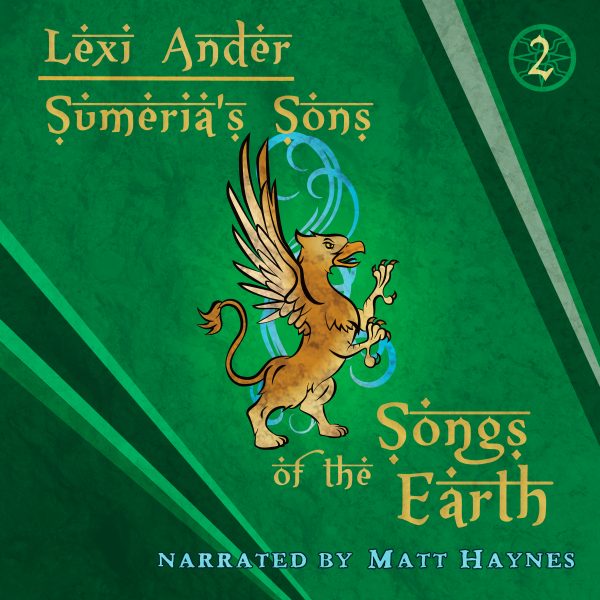 Songs of the Earth (Audiobook)
December 3, 2018
Word Count:
75000
Summary: A match between a vampire and shifter could be deadly—but one broken beaver doesn't give a dam. Silent film actor Casimir Moreau had imagined that life as a vampire would be freewheeling and glamorous. Instead, he's plunged into a restrictive society whose rules he runs afoul of at every turn. To "rehabilitate" him, the vampire council orders him mated to an incubus with impeccable breeding who'll mold Cas into the upstanding vampire he ought to be. Or else. As an inactive beaver shifter, construction engineer Rusty Johnson has fought—and overcome—bias and disrespect his entire life. But when his longtime boyfriend leaves him for political reasons, Rusty is ready to call it a day. Next stop? Supernatural Selection and his guaranteed perfect mate, a bear shifter living far away from Rusty's disapproving clan. But then a spell snafu at Supernatural Selection robs both men of their intended husbands. Rusty can't face returning to his clan, and Cas needs somebody on his arm to keep the council happy, so they agree to pretend to be married. Nobody needs to know their relationship is fake—especially since it's starting to feel suspiciously like the real thing.
Vampire With Benefits
November 26, 2018
Word Count:
40000
Summary: A Lycan descendant of Gilgamesh and Enkidu, Tristan is not as extraordinary as his ancestors. He is an average warrior, unremarkable throughout. But this fact does not trouble him because he has found his Twin Flame, the one person destined to be his, who will love him unconditionally, life after life. Then his Flame betrays him, leaving him shattered and dying. Brokenhearted, Tristan dissolves the sacred bond and leaves. His best friend, Ushna, accompanies him, vowing to guard and protect him, and Tristan slowly comes to realize that love does not require a sacred bond. But if he hopes to keep the love he chooses, they will first have to survive ancient secrets, lies, mythical creatures, and the return of absent gods...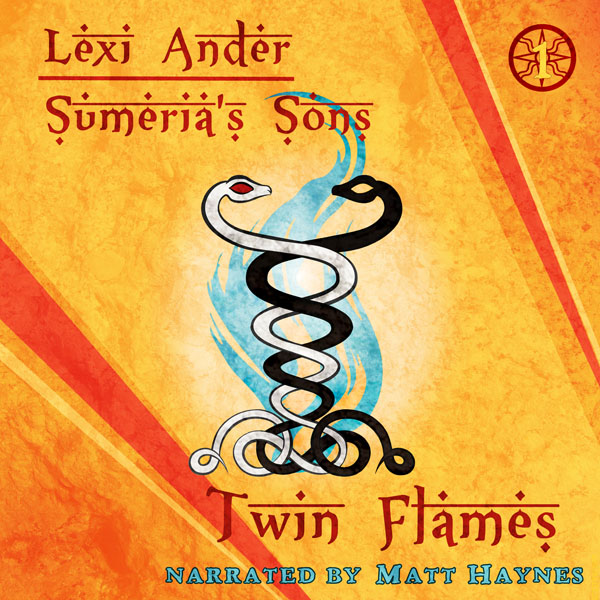 Twin Flames (Audiobook)
November 8, 2018
Word Count:
53000
Summary: Previously on Dragon War Chronicles, we left our heroes fighting for their lives in the midst of battle... Kollin races against time to get samples of the weapon used in Canada to their lab in Oslo. Kenshin races to get Danica back home in time to save her, Aiden and Xander. Danica's allies converge in Toulouse to prepare for what may come. Will Kollin be able to help save Danica, Aiden, and Xander before all is lost? Will Matt be able to track down who's responsible for a new weapon that threatens them all? What will happen when Danica's biggest secret is revealed? Secrets are revealed that will change the future for all dragon and SLIP kind alike. Warning: This book contains explicit sexual situations that are MM, MF, and MMMF. There are romantic relationships displayed that are MM and some depictions of loving and consensual BDSM relationships. There are also bad puns, a game of tag with an invisible dragon, and lions, jaguars, and bears. Oh my! Dragon War Chronicles is a continuous series. It is best read in order. SYN Consulting Secrets Revealed First Strike Dragon's Hoard
Secrets Revealed
November 2, 2018
Word Count:
82000
Summary: Does a bear shift in the woods? Well, partially. That was what got grizzly shifter Ted Farnsworth into trouble. He wasn't trying to break the Secrecy Pact. He just wants people to see the real him. So he signs up with the mate-matching service Supernatural Selection — which guarantees marriage to a perfect partner. Not only will Ted never be lonely again, but once his new beaver shifter husband arrives, they'll build Ted's dream wilderness retreat together. Win-win. Quentin Bertrand-Harrington, scion of an incubus dynasty, has abstained from sex since nearly killing his last lover. When his family declares it's time for him to marry, Quentin decides the only way not to murder his partner is to pick someone who's already dead. Supernatural Selection finds him the ideal vampire, and Quentin signs the marriage agreement sight unseen. But a mix-up at Supernatural Selection contracts Quentin with Ted. What's Ted supposed to do with an art historian who knows more about salad forks than screwdrivers? And how can Quentin resist Ted's mouthwatering life force? Yet as they work together to untangle their inconvenient union, they begin to wonder if their unexpected match might be perfect after all.
Single White Incubus
October 22, 2018
Word Count: Information not available
Summary: When a shifter and a human are bound by fate, neither man knows if their connection will be enough to save not only their growing love, but their lives. Shahin Halcón has been taught that if and when he meets his soul mate, he'll know immediately. Always the rebel, he doesn't believe it until the day he crosses paths with Cai, a full-human. Plagued by unsuccessful relationships and heartache, Cai Banes's life is quiet and unexciting. When he meets young and wild Shahin, his life is turned upside down, and he's not sure he likes it. But neither can deny the powerful pull that draws them together. Old secrets and ancient myths about cross-species relationships plague their romance and threaten to put their happiness and life at risk. Will their love for each other be strong enough to survive?
Infinite Blue
September 8, 2018
Word Count: Information not available
Summary: You're never too young or too old to experience a paradigm shift. Toria Connor is 25 when tripping over an artifact in the ruins of Nacostina thrusts her a century into the past, before the city is destroyed during the Last War. Now, she finds herself alone. Adrift in a time where she must hide everything important to her, from her mercenary career to her true magical ability. Victory is over eight centuries old when she follows her adopted daughter. She has seen empires rise and fall, but never anything like this. She must survive alone in a city inhospitable to vampires, dodging friends and foes from her past alike. Both of them know the clock is ticking down to the moment when the city is wiped off the map. Now, they're in a race against time. To find each other. To escape the past. And to save the future.
Steel Time
September 6, 2018
Word Count:
65000
Summary: Continue to hide or help save the very kin she's hidden from? Welcome to SYN Consulting, the top business strategy consulting firm in Europe, home to a motley crew whose leader has a life changing secret. CEO, Danica Lestrange, is the first female dragon born in the last 800 years. Hidden from the rest of her kin and raised in the human world, she built a life that she would defend until her death. A devious plan is unearthed while working on a new business deal that could plunge the dragons into another war with the humans. The humans may have forgotten the last dragon-human war, but the dragons have not. Will the war reveal this hidden world to the humans, or will the clans come together to defeat their enemies and maintain their anonymity? Danica must gather her allies and help the very dragons she's hidden from her whole life. She can only hope that she'll be strong enough to protect her chosen family. This is the first book in a new series about dragons who want nothing more than to live in peace, but refuse to be subjugated. In war there's also love, and love is blind. Love doesn't care about gender, race, species (in this case), or sexuality. Warning: This book contains explicit sexual content between consenting adults. The sexual scenes are MM, MF, and MMF. There are romantic relationships depicted that are MM. There is also a high level of explicit language, snark, kink, and possibly bad puns and fart jokes. This book does end in a cliffhanger. Dragon War Chronicles is a continuous series. It is best read in order. SYN Consulting Secrets Revealed First Strike Dragon's Hoard
SYN Consulting
August 17, 2018
Word Count:
113000
Summary: A twist of fate changed both their destinies. The wyrbears, once a long-lived species, were being lost to the forest in their prime. A people borne of a curse, their abilities not a gift but something wrongly taken, they nonetheless live in harmony with their animal spirits. But over time the curse they lived under changed, mutated, and now what once was a refuge from the world when they became too weary is culling mathan in their prime. Ewen mhic Friscalach, the leader of his peoples, lost his father too early and is now a widower with four children. The vow he made as a youth to break the curse afflicting wyrbears has been buried by grief and responsibility. Roi mhic Alric, a priest of Cerridwen and seer, watched his fellow priests slaughtered and his temple desecrated. The only thing that kept him going the last three horror-filled years was the vision Cerridwen had granted him of his emancipation. If freedom came at the cost of his life, well, he was more than ready for the Otherworld. A fated meeting upon a bloody field of battle. A wrong done long ago. Their choices could save a people… or send them into extinction. Either way, their love will be legend.
Caledonia Destiny
July 9, 2018
Word Count:
80435
Summary: A modern-day knight in shining armor is a man with a secret. He's an immortal direwolf shifter. A man who can trace at will into a lethally dangerous canine who holds the ability to step into the stillness and achieve any goal. When he finds himself without a career after retiring disabled from his last mission in the military, he has to rethink the direction of his life. He needs to reinvent himself before anyone realizes that he stopped aging at the age of thirty-five. He's learned just enough to make his existence a bit dangerous. The sexy high school teacher neighbor he's been near stalking has her own secret. She feels like everything and claiming her is all he can focus on. He's determined to win her as his own until a shadowy evil attacks her and reveals a situation that forces him to be the man of action that he's always been. To keep the woman he loves safe, he'll become the alpha pack leader he was born to be. A Pack Forms is the first volume in the steamy paranormal romance saga of Draoithe.
Draoithe: A Pack Forms
May 28, 2018
Word Count:
95000
Summary: Bitten by a werewolf. Taught by a vampire. At this rate, she's going to start a war. Literature major Jordan Abbey ordered a double mocha latte, but it wasn't supposed to come with a side order bite by a love-sick werewolf. When a vampire comes to her rescue, gut instinct tells her he has questionable motives. But he's the only one she can trust to help get in touch with her inner animal. Within a week, her smart mouth lands her in trouble with the hostile alpha of the local pack and the stiff-necked vampire elder. She now has less than a moon cycle to master shape changing... or else. And the besotted werewolf who started this whole mess is stalking Jordan and killing her friends. He won't take no for an answer. In the Northern California town of Rancho Robles where the children of the Wolf and the Bat share an uneasy coexistence, one woman makes an epic mess of the status quo.
Chaos Wolf
SALE
May 15, 2018
Word Count:
73000
Summary: "Your bullets can't kill me. I'm already dead. Inside and out." When his fiancée is brutally murdered on Valentine's Day, Ash Corvus is unwittingly plunged into the nightmarish world of the Arpadeem, or as the movies call them… Vampires. What begins as a personal quest for revenge becomes a struggle for the fate of the city itself as Ash's search takes him into Cedar Rapids' secret criminal underworld. Ash must cast off his humanity and become a monster himself if he hopes to bring vengeance upon the monster who murdered his love… the man with the scar. A dark, violent thriller from the author of The Weller and War of the Worlds: Goliath!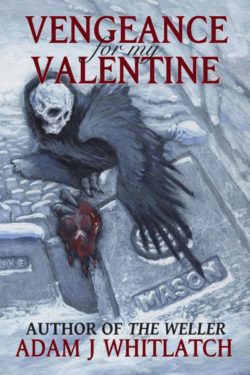 Vengeance for My Valentine
April 27, 2018
Word Count:
119,0000
Summary: Ben is a recovering vampire determined to pick up the pieces of the life that came to a halt when he was murdered over a year ago—even if that means distancing himself from his few remaining friends. Nate, struggling to navigate his new identity as a Class 3 Unknown paranormal, knows it will take more than mastery of his affinity with plants to convince Ben they belong together. When Ben's application for human status is denied, he must fight to leave the paranormal world behind him while Nate's generous impulses drag him into conflict with a werewolf pack with designs on ruling New Camden. As Ben's vampire family draws closer to finding him, his vampire instinct awakens—throwing his continued existence into jeopardy. The hunt for the missing werewolf continues, and Nate and Ben become pawns in Councilor Wisner's plans to take control of the city. Their only hope is each other—if they can see that before all is lost.
Life After Humanity
January 15, 2018
Word Count:
60000
Summary:
Frank's family taught him that his wolf was dangerous, unwanted. Now his best friend's brother wants him in bed and on stage. But giving into his wolf's need for love could risk the quiet life Frank has created for himself—and his heart. Settled in the small town of Waycroft Falls, Frank is content to be a lone wolf among the white picket fences and dollar book bins until he finds himself sniffing his best friend's brother. Tom smells like hot apple pie and his Broadway smile has Frank lolling his tongue. But when the visiting actor learns Frank's secret and plies him with hot kisses to get him to star in his play, Frank can't help but wonder if Tom is only acting. Tom ran away from family obligations to be a Broadway star. If he could make it there, he could make it anywhere…but he didn't. Trudging home to Waycroft Falls to open his sister's new performance space brings him face to face with a werewolf—a werewolf that would be perfect for Tom's shoestring production of Beauty and the Beast. Staying in Tiny Town USA would be worth it if he can somehow convince the sexy wolf to expose his furry condition on stage and howl privately in Tom's bed. Wolf Around The Corner, a paranormal semi-finalist in Passionate Ink's 2017 Sexy Scribbles Contest, is a full-length fairytale romance with a side of wolf shifter. If you like your romance with gorgeous men, humor, and small town magic, you'll love Wolf Around the Corner! Buy your copy now and settle in to watch the drama unfold!
Wolf Around The Corner
November 14, 2017
Word Count:
83000
Summary: Go to work. Come home. Repeat. Phil's life is boring and he loves every second of it. No excitement, no boyfriends breaking up with him over cereal in his underwear. When everything's predictable, nothing bad happens. But nothing good does, either. One night, when his best friend forces him to step outside of his comfort zone, he meets Shige who's too enigmatic to really be interested in him. He's trouble, but Phil can't help ignoring his own advice. Decades have gone by while Shige's kept himself locked away. He's tired of the world, of humans and vampires. He was happy collecting dust until one day he wasn't. On a whim, he ventures out and meets Phil, setting them on a path that'll change them both. Whatever this is between them, it won't come easy. Plagued by distrust and danger from within and without, but if they survive, it just might be worth it.
Nasu
November 14, 2017
Word Count:
82000
Summary: The Blackwood Pack saga begins…Follow the journey of the Blackwood Pack, seven brothers who are wolf shifters in search of their fated mates – stories about love at first sight with twists and turns, angst and humor, romance and adventure. Each book has two men who meet, fall in love, mate and achieve an HEA but the stories also chronicle the continuing saga of the Blackwood Pack. For more than 100 years, Steel, one of the last Dire Wolves, has been looking for his mate the Fates promised him. Discouraged after meeting his latest date, he takes a short cut home, seeing in a naked hitchhiker everything he envisions the man of his dreams to be. His wolf and body tell him the man is his fated mate but why can't he pick up his scent? Robbed of his car, clothes and money, Jackson, Alpha of the Blackwood Pack, is left with no choice but to thumb a lift, frantic to get home to his six brothers. He's been protecting them from a rival pack who massacred most of his family and wants to finish off the rest. When Steel rolls down his window, Jackson knows he's found his fated mate but it would be too dangerous to claim him with his pack under attack. After the intervention of an Oracle and a Witch, Jackson finds the Fates gave him an unusual gift that made him unique-- and just for Steel. Navigating the mine field this revelation brings, Jackson and Steel must figure out how to make their relationship work while dealing with external forces determined to kill them and the rest of the Blackwood pack.
Dire Warning
October 23, 2017
Word Count: Information not available
Summary: As her children begin lives of their own, Victory struggles with the loneliness of an empty nest. Just when the city of Limani could not seem smaller, an old friend requests that she come out of retirement for one final mercenary contract—to bodyguard his granddaughter, a princess of the Qin Empire. For the first time in a century, the Qin and British Empires are reopening diplomatic relations. Alongside the British delegation, Victory and her daywalker Mikelos arrive in the Qin colony city of Jiang Yi Yue. As the Qin weredragons and British werewolves take careful steps toward a lasting peace between their people, a connection between the Qin princess and a British nobleman throw everyone's plans in disarray. Meanwhile, a third faction stalks the city under the cover of darkness. This is not a typical romance. It's a good thing Victory is not a typical vampire.
Steel Blood
July 19, 2017
Word Count:
104000
Summary: Ghost, once known as the cub Luca, is finally home. Back among his kind and learning what it means to be both a man and a shaman, Ghost battles the expectations of his people, his family, and the pressures of a society that is both foreign and familiar. His power is greater than any seen before, dwarfing that of even the legendary Shaman Gray Shadow—and his union with Kane places him in the center of a controversy that rattles wolfkin society around the world. Kane, greater alpha and Heir to Black Pine Clan, has finally defeated the traitor and murderer that destroyed the heart of Black Pine years before. Freed at last from guilt and pain, Kane has a new enemy to face: his own people. Placed on trial for violation of Law and blasphemy, Kane will have to fight to the death to preserve his bond with Ghost and keep his mate and people safe. The soulbond between Ghost and Kane is forged by the creator and Goddess of the wolfkin. Usually, a sacred and treasured union that honors the pair and their clans, this soulbond is seen not as a gift, but a threat to eons of tradition and Clan Law. The union of a Shaman and Alpha is anathema—but how to reconcile that belief when it is the wolfkin Goddess who forged it? Can Ghost and Kane save themselves, preserve their bond, and find a new future when the laws of the ancient past threaten to tear them apart? **This book is part of a series and is not standalone. Prior books should be read to understand content. 104,000 words. Brief flashbacks of sexual assault and abuse. Mature content and violence.*** Gay Paranormal Shifter Romance
Wolf of the Northern Star
June 15, 2017
Word Count: Information not available
Summary: Jax's little brother Mason is all grown up and finds himself longing for a life of adventure. He finds it in a way he never planned late one night while walking home to the lodge beneath a full moon, when he is attacked, bitten and left for dead by a huge black werewolf. As he's dying and all hope is fading, he is discovered on the trail and believes he's being saved. Instead, he's bitten a second time, and this time by a vampire. Mason finds himself in the middle of an ancient war between the vampires and the Dire werewolves, and during a raid, he's captured by the wolf who first bit him, a strong alpha named Finn. Finn is powerfully attracted to him, but Mason is changing, becoming something not quite wolf and not quite vampire—a new creature with powers of his own.
Hybrid
March 29, 2017