Paranormal fiction featuring people who have the ability to shift into other forms, usually animals. Return to general Paranormal
Note: these books are currently sorted by release date, with newest first.
Word Count:

83000
Summary: Go to work. Come home. Repeat. Phil's life is boring and he loves every second of it. No excitement, no boyfriends breaking up with him over cereal in his underwear. When everything's predictable, nothing bad happens. But nothing good does, either. One night, when his best friend forces him to step outside of his comfort zone, he meets Shige who's too enigmatic to really be interested in him. He's trouble, but Phil can't help ignoring his own advice. Decades have gone by while Shige's kept himself locked away. He's tired of the world, of humans and vampires. He was happy collecting dust until one day he wasn't. On a whim, he ventures out and meets Phil, setting them on a path that'll change them both. Whatever this is between them, it won't come easy. Plagued by distrust and danger from within and without, but if they survive, it just might be worth it.
Nasu
Word Count:

82000
Summary: The Blackwood Pack saga begins…Follow the journey of the Blackwood Pack, seven brothers who are wolf shifters in search of their fated mates – stories about love at first sight with twists and turns, angst and humor, romance and adventure. Each book has two men who meet, fall in love, mate and achieve an HEA but the stories also chronicle the continuing saga of the Blackwood Pack. For more than 100 years, Steel, one of the last Dire Wolves, has been looking for his mate the Fates promised him. Discouraged after meeting his latest date, he takes a short cut home, seeing in a naked hitchhiker everything he envisions the man of his dreams to be. His wolf and body tell him the man is his fated mate but why can't he pick up his scent? Robbed of his car, clothes and money, Jackson, Alpha of the Blackwood Pack, is left with no choice but to thumb a lift, frantic to get home to his six brothers. He's been protecting them from a rival pack who massacred most of his family and wants to finish off the rest. When Steel rolls down his window, Jackson knows he's found his fated mate but it would be too dangerous to claim him with his pack under attack. After the intervention of an Oracle and a Witch, Jackson finds the Fates gave him an unusual gift that made him unique-- and just for Steel. Navigating the mine field this revelation brings, Jackson and Steel must figure out how to make their relationship work while dealing with external forces determined to kill them and the rest of the Blackwood pack.
Dire Warning
Word Count: Information not available
Summary: As her children begin lives of their own, Victory struggles with the loneliness of an empty nest. Just when the city of Limani could not seem smaller, an old friend requests that she come out of retirement for one final mercenary contract—to bodyguard his granddaughter, a princess of the Qin Empire. For the first time in a century, the Qin and British Empires are reopening diplomatic relations. Alongside the British delegation, Victory and her daywalker Mikelos arrive in the Qin colony city of Jiang Yi Yue. As the Qin weredragons and British werewolves take careful steps toward a lasting peace between their people, a connection between the Qin princess and a British nobleman throw everyone's plans in disarray. Meanwhile, a third faction stalks the city under the cover of darkness. This is not a typical romance. It's a good thing Victory is not a typical vampire.
Steel Blood
Word Count:

104000
Summary: Ghost, once known as the cub Luca, is finally home. Back among his kind and learning what it means to be both a man and a shaman, Ghost battles the expectations of his people, his family, and the pressures of a society that is both foreign and familiar. His power is greater than any seen before, dwarfing that of even the legendary Shaman Gray Shadow—and his union with Kane places him in the center of a controversy that rattles wolfkin society around the world. Kane, greater alpha and Heir to Black Pine Clan, has finally defeated the traitor and murderer that destroyed the heart of Black Pine years before. Freed at last from guilt and pain, Kane has a new enemy to face: his own people. Placed on trial for violation of Law and blasphemy, Kane will have to fight to the death to preserve his bond with Ghost and keep his mate and people safe. The soulbond between Ghost and Kane is forged by the creator and Goddess of the wolfkin. Usually, a sacred and treasured union that honors the pair and their clans, this soulbond is seen not as a gift, but a threat to eons of tradition and Clan Law. The union of a Shaman and Alpha is anathema—but how to reconcile that belief when it is the wolfkin Goddess who forged it? Can Ghost and Kane save themselves, preserve their bond, and find a new future when the laws of the ancient past threaten to tear them apart? **This book is part of a series and is not standalone. Prior books should be read to understand content. 104,000 words. Brief flashbacks of sexual assault and abuse. Mature content and violence.*** Gay Paranormal Shifter Romance
Wolf of the Northern Star
Word Count: Information not available
Summary: Jax's little brother Mason is all grown up and finds himself longing for a life of adventure. He finds it in a way he never planned late one night while walking home to the lodge beneath a full moon, when he is attacked, bitten and left for dead by a huge black werewolf. As he's dying and all hope is fading, he is discovered on the trail and believes he's being saved. Instead, he's bitten a second time, and this time by a vampire. Mason finds himself in the middle of an ancient war between the vampires and the Dire werewolves, and during a raid, he's captured by the wolf who first bit him, a strong alpha named Finn. Finn is powerfully attracted to him, but Mason is changing, becoming something not quite wolf and not quite vampire—a new creature with powers of his own.
Hybrid
Word Count: Information not available
Summary: Roar is one of the rare Phoenix tribe hunted to near extinction thousands of years ago. They have just started to emerge from isolation and he finds a female that makes him burn. What can he do? Treva has been imprisoned in the labs all her life. She likes the Phoenix, a lot. What can she do about it? Two awkward people with strong feelings. Will they figure it out amid all the danger surrounding them?
Roar
Word Count:

98659
Summary: Many obstacles stand in Warrick Synclaire's way. A baronet's son, he's in love with his best friend, Thomas Smythe. Same-sex love is illegal in early 20th century England. To complicate things, Warrick is heading for Canada, while Thomas is destined for the military college at Sandhurst. Warrick isn't sure he can bear the separation. The day before Warrick leaves, Thomas persuades him to see a fortuneteller. The old gypsy woman's warnings don't scare Warrick, but another gypsy, Nicolae, intrigues, arouses, and terrifies him. Later that evening, Nicolae breaks into Warrick's bedchamber, bedding then biting him. But Warrick convinces himself it was just a bad dream and sails off to Canada to start a new life. There Warrick renews his acquaintance with Fox Sullivan, who he first met during the war. Soon the two become lovers, but for Warrick, the relationship is purely physical. Thomas still owns his heart. When he can no longer bear their separation, Warrick returns to his ancestral home in Kent, determined to reunite with Thomas, who now has a lover of his own. But the encounter with Nicolae changed Warrick considerably. Every full moon he turns into a ravenous creature, which seems able to rule his life even during daylight hours. Determined to win over Warrick, Fox sells his medical practice and heads for England. But will he be too late to save the man he loves?
Destiny's End
Word Count:

87200
Summary: What do you do when you finally prove the existence of the otherworld, but the ghosts kick your ass? For Trent Pielmeyer, the answer is run like hell—away from his hostile family, away from the disbelieving cops, and far, far, far away from anything that smacks of the supernatural. After seven years' captivity in a whacked-out alternate dimension, he is so over legend tripping. When Christophe Clavret spots Trent in a Portland bar, he detects a kindred spirit—another man attempting to outrun the darkness of his own soul. But despite their sizzling chemistry, Trent's hatred of the uncanny makes Christophe hesitant to confide the truth: he's a werewolf, one of a dwindling line, the victim of a genetic curse extending back to feudal Europe. But dark forces are at work, threatening more than their growing love. If Christophe can't win Trent's trust, and if Trent can't overcome his fear of the paranormal, the cost could be Trent's freedom and Christophe's humanity. Or it might be both their lives.
Wolf's Clothing
Word Count: Information not available
Summary: Funerals are usually the end of the story, not the beginning. Newly graduated warrior-mages Toria Connor and Kane Nalamas find themselves the last remaining mages in the city when a mage school teacher mysteriously falls ill and dies. But taking over the school themselves isn't in the cards. They're set to become professional mercenaries–if they make it through the next 18 months as journeymen first. The debate over whether to hunt mutated monsters in the Wasteland or take posh bodyguard jobs is put on hold when a city elder hires them to solve the mystery of the disappearing mages. Toria and Kane's quest brings them to the British colonial city of New Angouleme, where their initial investigation reveals that the problem is even greater than they feared. But when a friend is kidnapped, they'll have to travel to the other side of the globe to save her, save themselves, and save magic itself.
Steel Magic
Word Count: Information not available
Summary: Razar needs a mate but on his planet there are nine males to one female. Humans look like they are compatible but if they find out the secrets of his kind they will refuse to send them mates. Lista needs money for her mother's operation or she will die. Her sister has volunteered her to be a bride for an alien. If she wins the mating game she will be free to keep the money and return home. Can she outwit him or will he claim her heart before it's game over?
Razar
Word Count: Information not available
Summary: An ancient civilization long hidden from humanity is on the brink of chaos and war. Peaceful for thousands of years, the wolfkin clans are mysteriously losing packmates, kidnapped and killed by unknown foes. The nightmare begins with an ambush by humans at a gathering of their kind, and lives are lost. Among them is Luca, youngest grandson of the two most powerful wolves in the Northern Clans. Thought long dead and gone, he is forced into a half-life, hidden in the far northern wilds of Canada and cut off from his kind. Those who raised him have no idea the creature they harbor in their midst, and name him Ghost. He begins to lose himself over the long years, and though he barely recalls his true name, the one wolf he never forgets is Kane. Kane, Heir to the wolfkin clan Black Pine, is charged with hunting down the traitors who betrayed their kind to the humans. Years fly by, and more wolves are dying. He refuses to give up, and he vows to never again fail another of their kind, as he failed young Luca years before. His heart tells him Luca lives, but his mind tells him that it's foolish hope, his guilt eating him alive. Fate and magic change the course of their lives, and the two wolves long separated by the years find their paths intertwining. Though the gift of their reunion doesn't come without price. Faced by the consequences of their growing love, and the goddess-forged bond between them, Kane and Ghost are besieged on all sides. Enemies are coming for their blood, and without the steadfast loyalty and love of family and friends, they may not be safe from the very people they fight to protect.
Wolves of Black Pine
Word Count:

75000
Summary: One hundred years ago, the vampire Victory retired from a centuries-long mercenary career. She settled in Limani, the independent city-state acting as a neutral zone between the British and Roman colonies on the New Continent. Twenty years ago, Victory adopted a human baby girl, who soon showed signs of magical ability. Today, Victory is a city councilwoman, balancing the human and supernatural populations within Limani. Her daughter Toria is a warrior-mage, balancing life as an apprentice mercenary with college chemistry courses. Tomorrow, the Roman Empire invades.
Steel Victory
Word Count: Information not available
Summary: A third of the world's population are cursed to become werewolves on the full moon, and walled cities like Seattle protect the Clean Bloods.  People like Detective Daria McQueen defend the gates of the city to stand against the packs of wolves, three nights a month. Daria discovers a breach in the wall while on her patrol, and saves a family from infection by three hungry wolves.  Daria herself is saved by a Wolf Hunter she had believed to be nothing but an urban legend, the Red Hood, Maireni Damaschin.  The mysterious woman in a red cloak seems to possess inhuman abilities. Daria and Maireni find themselves caught in a tangled web of deception that goes back centuries, which could spell the end to Clean Bloods and throw the world into servitude.
Urban Fairytales: Red Hood - The Hunt
Word Count:

49000
Summary: Thrust into the role of Prince of the Lycans, Tristan strives to find his footing in a life suddenly rife with secrets and lies—and danger. Betrayed by a Goddess meant to safeguard him, desperate to protect his consort and their growing tribe, he can only prepare for the worst and struggle to hope. And then the worst comes to kill them...
Songs of the Earth
Word Count: Information not available
Summary: A past that won't let go… After losing his job, Chase Sarim finds himself living in a shit hole apartment. His new neighbor calls himself Seven, wears aluminum hats and carries around a ceramic rooster. He also seems to know what Chase is going to do or say before it happens, and talks about people named, Nine, Three, and Four. Chase knows better than to get involved with someone like that. But some men are just too hot to resist. A future of fear… Seven has been running for his life ever since he escaped Sub-Floor. In order to elude those hunting him he can never have a home, never have friends…and love? It's nothing but a weakness that can be used against him. Hiding had become a way of life. Until Chase. Greed, power, and corruption… Dr. David Stone knows Seven has a secret. Why else would his colleague, Dr. Radcliff, help Seven escape Sub-Floor? It wasn't the loss of a defective precog that bothered Stone, it was the fact Radcliff was willing to die to keep Stone from knowing why he did it. Or better yet, how. Two men, one love, brought together by a series of impossible circumstances and destined by fate for an entangled future. But maybe fate has nothing to do with it.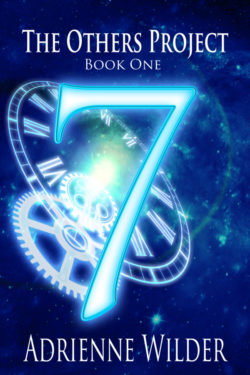 Seven
Word Count:

34000
Summary: Do strangers want to join Aaron's pack, or wipe it from the face of the earth? Aaron, Alpha of Minneapolis West, is tired of other werewolves threatening his pack for harboring a gay wolf and his mate. Werewolves have more important things to worry about, with humans closing in on discovering them. But the arrival of two strange wolves on his doorstep, asking for sanctuary, pits compassion against safety. Can he let these two in and still keep his pack and his mate Zach safe? Or is that a risk he can't afford to take? (34,000 words; This is a lightly edited re-release of the 2013 novella 2.5, renumbered to 3)
Unwanted Appeal
Word Count:

11000
Summary: *This story is included in the new 2021 edition of Unacceptable Risk but kept available for those who have the old edition A free short-story epilogue that contains spoilers for Unacceptable Risk - Hidden Wolves book 1 Paul Hunter just spent two days as a captive to werewolves, his life hanging in the balance, a witness to crimes and craziness. Now he's back in his regular life, and living with Simon, the man he's been falling for. And he's part of a werewolf pack. He needs his brain to somehow catch up with all of that. Simon thought saving his human mate from his own pack would be the hardest thing he'd face with Paul, but he's beginning to realize that was just the beginning. He has to figure out how their future will work, and convince his skittish lover that staying with the pack is better than leaving it, while hints of threats to Paul's safety keep him awake at night. Fortunately Simon is up for the challenge.
Unsettled Interlude
Word Count:

75,000
Summary: Reylan is everything a Sydney vampire aspires to be: wealthy, handsome and independent, carefully feeding off companions plucked from the gay bars of Oxford Street. When one of those companions is killed by Jorgas, a hot-headed young werewolf prowling his streets, Reylan reluctantly puts his cherished lifestyle of blood and boys on hold to help a mysterious alliance of supernatural beings track down the beast. It can't be that hard... not when Jorgas keeps coming after him. But there's more to this werewolf than a body count and a bad attitude. As their relationship grows deeper and more twisted, Reylan tastes Jorgas' blood, reawakening desires the vampire had thought long dead. And what evolves between them may be far more dangerous than some rival predator in the dark...
The Beast Without
Word Count: Information not available
Summary: This book is concurrent with Sunset (Pact Arcanum: Book 1) in story continuity. Child of Twilight Venice, Italy, 2039. When Michael Danvers witnesses a vampire attack, his latent ability to shapeshift awakens. Revealed as a Sentinel, the natural enemy of Nightwalkers, 13-year-old Michael must turn his back on his family and his safe, predictable life. But a supernatural battlefield is no place for a child, not even a genius like Michael. Betrayed by his own kind, he leaves Earth behind, hoping to find a new path with the Spacer Guild – and the stars. Tempered by Moonlight Relocating to the Citadel, Michael quickly makes a name for himself at the Spacer Guild Academy. But each advancement means less to him than the friendships he acquires, of fellow cadets William and Ariel, even as Michael is promoted above them. Forged in Starlight Everyone had plans for Michael's future: his parents, the Sentinels, the Guild—even his best friend, Will. But Michael takes control of his destiny, and when called upon to make a fateful decision with countless lives hanging in the balance, the only sense of honor that matters is his own.
Cathedral of the Sky
Word Count: Information not available
Summary: Devin Marshall is alone and on the run from a coven of dark witches. New to the world of magic, Devin tries his best to outrun and outlast the coven he once swore loyalty to in order to save his soul. In a last ditch attempt at freedom he discovers help where he least expects it, but also manages to upset a pack of deadly werewolves along the way. Two supernatural cultures clash as Devin discovers hidden secrets about his past in an all or nothing attempt at survival. Coven of Wolves takes readers around the globe and back into time as a new universe of hidden societies, powerful witches, and sinister creatures dominate the landscape in their fight for control of an unsuspecting world.
Coven of Wolves