Paranormal fiction featuring our favorite bloodsucking friends. Return to general Paranormal
Note: these books are currently sorted by release date, with newest first.
Word Count:

76,000
Summary: Abandoned by his werewolf lover, the only thing Reylan wants is to return to his vampire life of blood and beautiful boys. It's a solid plan, until his first meal as a single man tries to kill him. Hoping to free his young would-be assassin from the religious zealots that sent him, Reylan enlists the help of Iain Grieg, a charismatic priest with unsettling knowledge of the night's secrets. Surrounded by conflicting agendas and an army fuelled by hate, Reylan fights to secure his future, if he can only trust the mysterious priest and bury the ghosts of the past.
Sins of the Son
Word Count:

74000
Summary: Three years ago, Danu banished Diego for a time from the human world. Three years and three days doesn't seem that long to be away from home but living among the wild fae can change a man and the human world returns the favor by changing while he's gone. There's a vampire on Tearmann Island's security force. A curious selkie's followed him home. So much to do to keep the world safe...but Diego's no longer sure he has the right to interfere. Theo Aguilar started his vampire life on the wrong side of the law. He's killed and knows he's dangerous if he doesn't stay in control every moment. But the fae took him in and Prince Lugh has given him a position of trust. So when Diego and Finn are arrested on a diplomatic mission far from home, he knows his duty. He's striking out on his own to rescue them, a lone vigilante once again, this time for the good guys. The only glitch? The selkie, Limpet, can't seem to understand the alone part.
No Fae Is An Island
Word Count:

29379
Summary:
As a freshly turned vampire, Neil had frozen in panic when he'd found himself face-to-face with his ex-boyfriend, Cameron. Neil thought that misstep and its associated danger was all in the past, but Cameron's current boyfriend, Dennis, is like a dog with a bone, and a keen imagination. When the two men's curiosity progresses to the point the vampires consider their secrecy to be endangered, choices must be made.
Now that faction leader Albert has a bloodmate, he finds himself second-guessing his decisions. Neil would be crushed knowing his mistake led to human deaths, but Albert shouldn't factor that into the difficult choices he must make. Will Albert's indecision put the entire vampire establishment in danger? Or is redemption only a flamethrower away?
Keywords: gay, bisexual, paranormal, romance, vampire, vampires, fated mates, bloodmates, novella, ebook
The Choice
Word Count:

75000
Summary: A match between a vampire and shifter could be deadly—but one broken beaver doesn't give a dam. Silent film actor Casimir Moreau had imagined that life as a vampire would be freewheeling and glamorous. Instead, he's plunged into a restrictive society whose rules he runs afoul of at every turn. To "rehabilitate" him, the vampire council orders him mated to an incubus with impeccable breeding who'll mold Cas into the upstanding vampire he ought to be. Or else. As an inactive beaver shifter, construction engineer Rusty Johnson has fought—and overcome—bias and disrespect his entire life. But when his longtime boyfriend leaves him for political reasons, Rusty is ready to call it a day. Next stop? Supernatural Selection and his guaranteed perfect mate, a bear shifter living far away from Rusty's disapproving clan. But then a spell snafu at Supernatural Selection robs both men of their intended husbands. Rusty can't face returning to his clan, and Cas needs somebody on his arm to keep the council happy, so they agree to pretend to be married. Nobody needs to know their relationship is fake—especially since it's starting to feel suspiciously like the real thing.
Vampire With Benefits
Word Count:

123179
Summary: Arrigo Giancarlo's friends think he's a rich young man with the unusual job of paranormal investigator, working with his psychic assistant in Las Vegas. In truth he's a two-thousand-year-old vampire and member of the Chiaroscuro, a group of Supernaturals dedicated to keeping humanity safe from the more dangerous of their kind. He's also openly bisexual… but alone. When he spots Luc St. John in a bar, Arrigo is intrigued. What begins as an effort to repay the kindness shown to him in the past quickly turns into much deeper feelings for the suffering and displaced Cajun. For Luc's part, he feels too poor, too uneducated, and too bound to his hateful family to ever be worthy of elegant and cultured Arrigo. An old enemy, Eleni, blames Arrigo for murdering her true love. On the anniversary of that death, she's back to take revenge. As Arrigo's closest friends fall victim to savage attacks, he fears nothing will keep Luc safe. Should he break both their hearts and let Luc go, or is it too late? If Luc's already in Eleni's sights, Arrigo knows that like most things in Vegas, the odds are against him.
Blood Red Roulette
Word Count:

52,500
Summary: The cerebral interface has revolutionised society. Need a ride? With a thought, the cab is on its way. Want an adventure? Enter a VR 5 computer game nearly indistinguishable from reality. Amanda arranges for her Big Sisters Program little sister, Rachel, to spend a day gaming as a fourteenth birthday present. Amanda never suspects that her insane ex-boyfriend, Jim, will use a computer virus to trap her and her companions in the game. A pleasant diversion becomes a life and death struggle as her party seek a way to come back to the real world without triggering a program that will cause nanobots to rip their brains to shreds. To complicate matters, in the game scenario the adventurers have been transformed into cats. Will the party survive? Will Amanda admit that Rachel's older brother, Tyrell, might just be her future? Will the computer virus Jim used to trap them become a cyber plague that could kill thousands?
Cats
Word Count:

57800
Summary: Ethan Roam suffers from night terrors and vivid daydreams, which lead him to the doorstep of the eccentric Dr. Grady Hunter, who thrusts him into a world of supernatural misfits. Ethan quickly learns that there's more reality to his dreams than he suspected. As Ethan unravels the truth behind his nightmares and falls into his first experience with love, he also finds himself the target of a sinister plan. Ethan's trust in his new companions will be tested and he'll have to decide who he can rely on and who he must defy in order to survive a fatal Halloween night.
ROAM
Word Count: Information not available
Summary: You're never too young or too old to experience a paradigm shift. Toria Connor is 25 when tripping over an artifact in the ruins of Nacostina thrusts her a century into the past, before the city is destroyed during the Last War. Now, she finds herself alone. Adrift in a time where she must hide everything important to her, from her mercenary career to her true magical ability. Victory is over eight centuries old when she follows her adopted daughter. She has seen empires rise and fall, but never anything like this. She must survive alone in a city inhospitable to vampires, dodging friends and foes from her past alike. Both of them know the clock is ticking down to the moment when the city is wiped off the map. Now, they're in a race against time. To find each other. To escape the past. And to save the future.
Steel Time
Word Count:

47,000
Summary: A collection of tales filled with monsters, be they human or beast, ranging in setting from dystopia to pitch black noir and even general silliness. From the ludicrous to the frighteningly plausible; from deep space to after the end of the world. There are clumsy werewolves and bloody revenge, monster sleep overs and a dieting fad sure to kill your appetite. Whether looking into the past or the future, you're sure to find that stuff gets really weird.
Shotgun Bastards and Other Stories
Word Count:

22181
Summary:
Albert Manlii has walked this earth for more than two thousand years, but survival on his own was never easy. Now he leads a faction of highly organized vampires who carefully guard the secret of their existence. Unlike the old days, potential recruits are carefully selected and presented with an offer.
Phillip Brewer has weeks to live—if he lets his disease run its course. He doesn't want to die, but given a choice, will his desire to live outweigh his concerns about the vampires' ethics?
When the new recruit's missteps are cause for concern, can Albert control the fallout, or will Phillip's life once again be torn apart?
Keywords: gay, bisexual, paranormal, romance, vampire, vampires, paranormal, death, considering suicide, bloodmates, fated mates, novella, ebook

The Recruit
Word Count:

80435
Summary: A modern-day knight in shining armor is a man with a secret. He's an immortal direwolf shifter. A man who can trace at will into a lethally dangerous canine who holds the ability to step into the stillness and achieve any goal. When he finds himself without a career after retiring disabled from his last mission in the military, he has to rethink the direction of his life. He needs to reinvent himself before anyone realizes that he stopped aging at the age of thirty-five. He's learned just enough to make his existence a bit dangerous. The sexy high school teacher neighbor he's been near stalking has her own secret. She feels like everything and claiming her is all he can focus on. He's determined to win her as his own until a shadowy evil attacks her and reveals a situation that forces him to be the man of action that he's always been. To keep the woman he loves safe, he'll become the alpha pack leader he was born to be. A Pack Forms is the first volume in the steamy paranormal romance saga of Draoithe.
Draoithe: A Pack Forms
Word Count:

95000
Summary: Bitten by a werewolf. Taught by a vampire. At this rate, she's going to start a war. Literature major Jordan Abbey ordered a double mocha latte, but it wasn't supposed to come with a side order bite by a love-sick werewolf. When a vampire comes to her rescue, gut instinct tells her he has questionable motives. But he's the only one she can trust to help get in touch with her inner animal. Within a week, her smart mouth lands her in trouble with the hostile alpha of the local pack and the stiff-necked vampire elder. She now has less than a moon cycle to master shape changing... or else. And the besotted werewolf who started this whole mess is stalking Jordan and killing her friends. He won't take no for an answer. In the Northern California town of Rancho Robles where the children of the Wolf and the Bat share an uneasy coexistence, one woman makes an epic mess of the status quo.
Chaos Wolf
SALE
Word Count:

73000
Summary: "Your bullets can't kill me. I'm already dead. Inside and out." When his fiancée is brutally murdered on Valentine's Day, Ash Corvus is unwittingly plunged into the nightmarish world of the Arpadeem, or as the movies call them… Vampires. What begins as a personal quest for revenge becomes a struggle for the fate of the city itself as Ash's search takes him into Cedar Rapids' secret criminal underworld. Ash must cast off his humanity and become a monster himself if he hopes to bring vengeance upon the monster who murdered his love… the man with the scar. A dark, violent thriller from the author of The Weller and War of the Worlds: Goliath!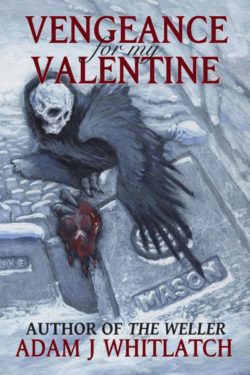 Vengeance for My Valentine
Word Count:

110100
Summary: Nate's no supernatural expert, but even he knows a murdered man coming back to life to kill him can only mean one thing—the necromancer is back and out for revenge. Recruited by Department Seven in a desperate attempt to stop Peter before he claims new victims, Nate quickly realizes he's in way over his head. His powers are failing him, he's haunted by Peter's ghost, and he can't even remember how he stopped Peter the first time—or why he feels that someone very important is missing from his life. Ben is fighting for his afterlife. Trapped in the supernatural version of solitary confinement, he knows freeing himself will destroy New Camden's fragile peace—but what choice does he have? The longer he spends in his magical prison, the harder it becomes to resist his inner vampire. But if Ben wants to help Nate prevent Peter taking over the city, he has to prove himself to his sire—Saltaire, a thousand-year-old vampire with no qualms about using his immense power to suppress Ben's free will. As the casualties mount and the city descends into chaos, Ben and Nate must overcome their worst fears and impossible odds—or be written out of existence entirely.
Dead Wrong
Word Count:

66000
Summary: Sarah Wright woke up a few times after parties in strange places―but the morgue's a first. At eighteen, she's eager for a taste of independence, moving out of state to attend college. A change of scenery is extra-needed due to a bad breakup with her boyfriend, Scott. However, soon after escaping the body cooler, she makes two startling realizations: vampires are real, and she is one. There's nothing quite like an untimely death to ruin plans. California's sunny beaches aren't the best place for vampires to chill, and worse, not only does she wind up stuck in Seattle, she's still living (figuratively) with her parents. They take the news surprisingly well―after all, it's better than burying her―even helping move her bedroom to the basement. A disinterested sire, distraught friends, nosy Men in Black, and awestruck younger siblings complicate her adjustment to the new normal of being an immortal still subject to her parents' rules. Undeath has its perks, but it also brings enemies. Without a copy of 'Fangs for Dummies,' Sarah's left scrambling for answers when one such new enemy attacks her siblings and friends. If she can't figure out how to vampire, her attempt to spare her family the grief of losing her may wind up killing them.
A Nighttime of Forever
Word Count: Information not available
Summary:
In 1920s Chicago, postal employee Saul Imbierowicz is unwittingly swept up in a city-wide conflict between rival gangs, federal agents, and supernatural forces beyond his control. After striking out on his own from his overbearing Jewish family, Saul quickly becomes involved with the seductive and mysterious Moira. He soon becomes mixed up in the events of the St. Valentine's Day Massacre, witnessing the shooting and fleeing from the scene after Moira takes a bullet and is presumed dead. However, Moira is far from dead, and due to her influence Saul finds himself increasingly entangled in the rival factions seeking control over the city, coming face to face with Bugs Moran, Al Capone, and the federal agents pursuing both. Everybody wants something from Saul, but will he be able to save himself and his family, and uncover the supernatural secrets of the city, before it's too late?
Unremarkable
Word Count:

119,0000
Summary: Ben is a recovering vampire determined to pick up the pieces of the life that came to a halt when he was murdered over a year ago—even if that means distancing himself from his few remaining friends. Nate, struggling to navigate his new identity as a Class 3 Unknown paranormal, knows it will take more than mastery of his affinity with plants to convince Ben they belong together. When Ben's application for human status is denied, he must fight to leave the paranormal world behind him while Nate's generous impulses drag him into conflict with a werewolf pack with designs on ruling New Camden. As Ben's vampire family draws closer to finding him, his vampire instinct awakens—throwing his continued existence into jeopardy. The hunt for the missing werewolf continues, and Nate and Ben become pawns in Councilor Wisner's plans to take control of the city. Their only hope is each other—if they can see that before all is lost.
Life After Humanity
Word Count:

50655
Summary: 'Old actors never die' shouldn't be literally true. Carrington Loveless III, skim-blood vampire and senior officer of Philly's paranormal police department, has long suspected that someone's targeting his squad. The increasingly bizarre and dangerous entities invading their city can't be a coincidence. So when a walking corpse spouting Oscar Wilde attacks one of his officers, Carrington's determined to uncover the evil mind behind it all. As a rare books librarian, Erasmus Graham thought he understood some of the stranger things in life. Sharing a life with Carrington has shown him he didn't know the half of it. They've survived attack books and deadly dust bunnies together and got through mostly unscathed. Now his world and his vampire's appear ready to collide again. Books are missing from the Rare Book collection—old tomes of magic containing dangerous summonings and necromancy. He's certain whoever has been stalking the Seventy-Seventh is composing their end game. It's going to take a consolidated effort from paranormal police, librarians and some not-quite-authorized civilians to head off the impending catastrophe.
All The World's An Undead Stage
Word Count:

108000
Summary: Being a nobody isn't Duncan Alexander's life goal, but it's worked for him. He has a nondescript job, a few good friends, and overall he's content. That's until one fateful trip to San Jose, California, where he is "Called" to meet the mysterious Juliet de Exter. Juliet is a beautiful, wealthy, powerful Immortal who is undertaking The Calling—a search for a human to join her world of Immortals. Inexplicably, Duncan's calling is more dangerous than any of the Immortals, even Juliet, ever thought it would be. There is more to this nobody, this only child of long-deceased parents, than anyone thought. When Duncan experiences uncontrollable dreams of people he doesn't know and places he hasn't been, Juliet and the other Immortals worry. Soon, his visions point to a coven of long-dead witches. The dreams also lead Duncan to his one true love. How will Duncan navigate a forbidden romance with an outcast Immortal? How will he and the others keep the balance between the Light and Dark, survive vicious attacks, and keep the humans from learning who they truly are? More importantly, who is this implacable foe Duncan keeps seeing in his dreams?
The Calling
Word Count:

83000
Summary: Go to work. Come home. Repeat. Phil's life is boring and he loves every second of it. No excitement, no boyfriends breaking up with him over cereal in his underwear. When everything's predictable, nothing bad happens. But nothing good does, either. One night, when his best friend forces him to step outside of his comfort zone, he meets Shige who's too enigmatic to really be interested in him. He's trouble, but Phil can't help ignoring his own advice. Decades have gone by while Shige's kept himself locked away. He's tired of the world, of humans and vampires. He was happy collecting dust until one day he wasn't. On a whim, he ventures out and meets Phil, setting them on a path that'll change them both. Whatever this is between them, it won't come easy. Plagued by distrust and danger from within and without, but if they survive, it just might be worth it.
Nasu