Word Count:

23,454
Summary: First contact with an alien race calling themselves Humans. Kai and Tishla face a food crisis, and the humans offer a solution, a plant they call "Potato". But will this root be the cure the humans claim, or will it make things worse?
The Roots of War: Seeds of War Book 1
Word Count: Information not available
Summary: Douglas Best is in trouble. Seven weapons of mass destruction have been removed from a planet he has setup as Jefivah's newest colony. But they've gone missing. They hold Best responsible. Now his only hope to avoid prison is a cult to Marilyn Monroe.
The Marilynists: Seeds of War Book 2
Word Count:

37,067
Summary: The son of a wealthy woman and an admiral tries to run away to the center of humanity only to end up… on a farm. There, he is introduced a radical new concept called "hard work." As he has to deal with life without the universe at his fingertips, he captures the attention of a farmer's daughter. And a local constable who believes an alien invasion is imminent.
Gimme Shelter (Seeds of War Book 3)
Word Count:

87,200
Summary: Childhood ends the night the sky explodes. Six teenagers from different backgrounds are thrown together when an unknown species seizes their world. Will they be able to put their differences aside long enough to survive?
The Children of Amargosa (The Amargosa Trilogy Book 1)
Word Count:

30,700
Summary: Quentin Austin is on a mission to retake Amargosa and try to rescue his son. As the mission starts to fall apart around him decides to salvage something useful and begins looking into why the invasion happened in the first place. He follows a mysterious trail that leads to a company called Juno, and takes him to the hellish industrial landscape of Bromdar. But someone doesn't want him learning the truth. But the clock is ticking and he must discover the answers before another colony world falls to invasion.
Broken Skies (Homefront Arc Book 1)
Word Count:

29,100
Summary: After four centuries of wormhole travel, warp drive is a reality. Hideki Okada and Peter "Tripod" Lancaster are tasked with making the new technology combat ready. Only they object to weaponizing their brainchild. And they don't like what the Compact Navy wants to do with it. They have powerful allies in Admirals Austin and Burke, but they also have the shadowy Cybercommand looking over their shoulders. Warp drive is not ready for prime time. And if an enemy doesn't shoot them out of the sky, some unseen object in interstellar space just might.
Warped (Homefront Arc Book 2)
Word Count:

37,000
Summary: A world embroiled in chaos and war, abandoned both by The Realm and the Compact, sits on the knife-edge of destruction. Tishla, the newly appointed First Citizen, must strike a balance between the humans and the alien race they fight if peace is to last. Someone doesn't want Tishla to succeed and they will stop at nothing to eliminate her and her unborn twins - the key to their future survival.
Tishla (Homefront Arc Book 3)
Word Count:

80,000
Summary: Amargosa is under occupation. But a fallen starship may turn the tide for the resistance. JT Austin, Davra Andraste, and Eric Yuwono disobey orders to reach this ship. Along the way, they discover that not every enemy is Gelt, not every ally is human, and humans and Gelt are not the only intelligences on Amargosa.
Second Wave (The Amargosa Trilogy Book 2)
Word Count:

38,700
Summary: Douglas Best investigates the mysterious Juno, a bizarre biotech startup that once burrowed its way into the Compact's biggest corporation and was present on three colonies that fell to a previously unknown enemy. Together with his wife, Carolyn, and an unexpected ally in a high cleric of the Marilynist Temple, they follow a thread that leads from Antarctica to the Neanderthal homeworld of Gohem to the industrial hellscape of Bromdar. As people die around them, they learn Juno is not a company at all. It's a conspiracy to hijack the future of human evolution itself.
The Amortals (Gathering Storm Arc 1)
Word Count:

37,450
Summary: Giddeus Modesto and Mitsuko Yamato, two well-connected junior officers, get a front-row seat to the build-up to liberate Amargosa. Between a completely avoidable crash on frozen Demeter to the distant core world of Metis to the burgeoning new world of Hanar, they will train with both human and Gelt to retake Amargosa from its occupiers. What happens next is anyone's guess. However, they'll find their biggest battle with not be with the invaders. It will be with each other.
Flight Blade (Gathering Storm Arc 3)
Word Count:

85,000
Summary: Oh, so you thought your quarantine was bad? John Farno wakes up in a rover on a Mars-like world to discover the rest of the planet has been purged of all human life. With only the contents of his rover, he must figure out how to survive. He has no communications off-world, no ship to use for escape, and no human being within 40 light-years. It is the ultimate in social distancing.
No Marigolds in the Promised Land
Word Count:

73,900
Summary: Three complete novellas: The Roots of War - Beware the alien with a potato. The "hew-man" Marq offers such a tuber to Kai and Tishla as the face a famine. But there's more at stake than the failure of a prison colony on a poisonous planet. Marq says three planets are really rogue colonies causing a mysterious "Compact" trouble. Invade away, and they're problems are solved. Only Kai smells the Gelt equivalent of a rat. But can he stop two species from going to war? Read an excerpt! The Marylinists - Douglas Best has found three colonies for his backward world of Jefivah. Just remove the military's weapons of mass destruction. But Compact Intelligence is not happy. The weapons have disappeared. They think Best knows where they are. And to avoid prison, Best is going to have to turn to Jefivah's only major religion for help: A cult to the Blessed Mother, Marilyn Monroe. Read an excerpt! Gimme Shelter - JT Austin has it all. His mother is a wealthy shipping heiress leading the Compact's largest corporate entity. His father is a newly minted admiral. But when he abuses his mother's wealth one too many times, they decide he needs military school. He decides he needs to flee to Tian, humanity's richest and most advanced world. Instead, he ends up on the distant farming world of Amargosa, lusted after by a farmer's daughter, suspected by a shady constable, and in the crosshairs of an alien invasion. Read an excerpt! All three novellas now in one volume. Get yours today!
Seeds of War Omnibus
Word Count:

97,000
Summary: Amargosa has fallen, but beyond it, humanity gears up to battle an unseen enemy. And finds an ally in an unexpected quarter. Here now are the three novellas comprising The Homefront Arc in one volume.
Broken Skies - The attempt to liberate Amargosa in the early days of the Gelt occupation fails. Force Admiral Quentin Austin finds himself in the political crosshairs for an operation that should never have taken place. While he awaits his fate, the Navy gives him an assignment: Find out the true nature of Juno, the shadowy company even its own parent corporation knows little about. Juno was present before the fall of every colony that has gone silent. And they're visiting another. Read an excerpt!
Warped - True FTL is here, powered by sarcasm. And a dwarf. Hideki Okada and Peter Lancaster have perfected warp drive after 400 years of wormhole travel. Now the Navy wants to mount their discovery on a warship. Only Okada and Lancaster have some reservations about how the Compact wants to retaliate against their new enemy, the Gelt. They are shadowed by the secretive Cybercommand but find allies in Admirals Burke and Austin. The question is whether they will need to commit treason to do the right thing. Read an excerpt!
Tishla - Only she can unite two warring species. If they don't kill her first. Lattus Tishla goes from indentured servant to Elevated noble woman to leader of the fractured world of Hanar, formerly Gilead. Burdened with guilt for the Gelt invasion that slaughtered thousands of humans and displaced the survivors, she offers them a choice: Rebuild with her, or accept her head on a platter. The humans accept her offer and start building. Except some don't like this new order. And they'll stop at nothing to restore Hanar to either Compact or Gelt rule. Even murder her unborn twins. Read an excerpt!
The Homefront Arc Omnibus
Word Count:

97,000
Summary: It's a war to take back Amargosa. A senior Compact official looks into the mysterious Juno and discovers a war for control of human evolution. A failed assassin must do penance by recruiting settlers for the woman he tried to kill. Two junior officers get a front row seat to the liberation, but their biggest fight is with each other. Those who have stolen Amargosa do not face an invasion.They face a gathering storm...
The Gathering Storm Omnibus
Word Count:

99,800
Summary: The Storm has arrived. For Davra Andraste, redemption comes as she accompanies the resistance commander to confront the human warlord fighting against both sides. And the newest overlord on Amargosa. For an ambitious politician, control of human evolution is almost in his grasp. Only a very old foe threatens to undo his plans. For Laral Farad, it is his family's last hope to tame the "rogue colony" called Cyal, which humans call Amargosa. For JT Austin, it's a now or never moment to prove himself as he trains to liberate his adopted homeworld. For Amargosa, it's a chance to end a year-long nightmare. The Amargosa Trilogy comes to a thrilling conclusion!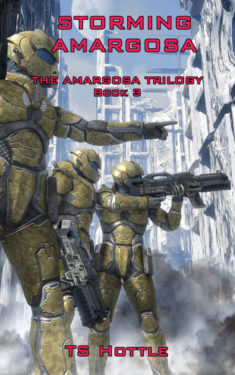 Storming Amargosa (The Amargosa Trilogy Book 3)