Word Count:
80000
Summary: In this groundbreaking work of science fiction, one man attempts to return to Earth after years of living in an off-planet structure. Twenty-five-year-old Bryan is a student scientist living off-planet with the two men he loves. But when he senses that danger is about to befall his adopted home, Bryan wants to evacuate. Convincing one of his lovers to board a spaceship toward home, Bryan is soon confronted with the truth about his life. His journey through the void of space not only exposes his current troubled relationships but also threatens to uncover the secrets about his past. Now, Bryan must finally come to terms with who he is and how his origins might put his lovers in danger. A story of three polyamorous lovers and one man's secrets, Trials on the Hard Way Home is an intense and dramatic journey embracing the best in science fiction and LGBTQ+ literature.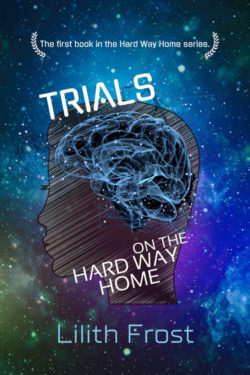 Trials on the Hard Way Home
June 7, 2021
Word Count:
120000
Summary: In this explosive sequel to Lilith Frost's groundbreaking debut novel Trials on the Hard Way Home, Bryan, now James, must undertake a harrowing journey into his past amidst the treacherous landscape of an apocalyptic America. James must do whatever it takes to continue protecting a lifetime of secrets—secrets that first led him to his new life and have since made him the target of nefarious plots. In the harsh realities of home, supernatural dangers lurk around every corner, and nothing is quite what it seems in the dark. James must contend with the horrors of his youth and his decision to abandon a brighter future with the men he loved, all while struggling to survive against human treachery and creatures of the night. Reconnected with family and a lost love he never thought he would see again, the past and present collide in this thrilling and heart-wrenching mystery that breathes fresh life into the science fiction, LGBTQ+, and fantasy genres. How to See in the Dark is an exciting and poignant story in which one man must face the traumas of his youth, navigate the challenges of unconventional love, and trust in the loyalty of friends in a world where everyone has a secret to protect.
How to See in the Dark
June 13, 2021
Word Count:
174000
Summary: In a race against time to save David from near-certain death as he confronts his mystical fate, his partners Bryan and Brennan are plunged into a new world of mystery and intrigue among London's supernatural factions. Faced with new threats to their relationship greater than any they've known, the three men must confront what it means to love someone unconditionally. Aided by a rogue anti-corporatist werewolf and Bryan's own strong-willed daughter, Leap takes readers on an unparalleled journey across two continents to uncover technology giants' sinister plots to harness the supernatural to transform the world for their own gain. Ancient prophecies, mythical beings, ethical quandaries, and the seedy underbelly of a technological corporatocracy all converge in the third book in Lilith Frost's breakout Hard Way Home series. Can love overcome any obstacle when they come from another world? Leap continues to blend the best of science fiction and fantasy while introducing unique themes that make it a must-read for fans across genres of LGBTQ romance, urban fantasy, and dystopian drama.
Leap
October 6, 2021