Word Count:
50000
Summary: Asking a necromancer for help is scary; falling for him may be downright terrifying. Darien Green's afraid he's going insane. The voices in his head are getting louder, weirder, and more numerous. But tattoos appearing on his skin say that there might be a magical reason, something other than his own brain going around the bend. He's worked up the nerve to ask the local necromancer for help. Now he just has to survive his encounter with tall, dark, and talks-to-ghosts. Necromancer Silas Thornwood doesn't appreciate being woken out of his bed by a stranger pounding on his door. But when that stranger turns out to be a half-frozen young man with an unexpected appeal, Silas can't turn him away. Even Grim, his cat-familiar, agrees— in a world of death and demons, protecting gorgeous, ghost-ridden Darien is Silas's next difficult job.
Marked by Death
October 23, 2020
Word Count:
52000
Summary: An untrained sorcerer and a reclusive necromancer face a ghost-infested town. Darien is free of his dead invaders, and his eyes have opened to a new reality. In a world of sorcerers and necromancers, he's full of power and potential, but completely ignorant. Necromancer Silas, and Silas's cat familiar, Grim, are teaching him basic skills, but danger won't hold off, just because he's not ready. Silas never planned to share his life with anyone, but after a week of shared battles and shared nights, Darien has become a fixture in his home. Silas has never met anyone with more raw magical ability, or less idea what to do with it. When Silas is offered a job hunting ghosts, he's tempted to refill his depleted bank account, but reluctant to bring untrained Darien along. Darien's eager to help, though, and eventually Silas gives in. It's just a few ghosts. Nothing he hasn't handled before. What could go wrong?
Powered by Ghosts
November 26, 2020
Word Count:
23000
Summary: Christmastime brings out memories, and ghosts. Silas tracks down a poltergeist haunting a local tree farm. Darien hopes to convince Silas that despite experiences with demons and hells, Christmas can still be fun. Pip tries to catch his first rat. And Grim watches from a high vantage point and a position of moral superiority—he has holiday memories of his own, but cats know how to keep a secret. - A 23,000 word holiday novella in the Necromancer series.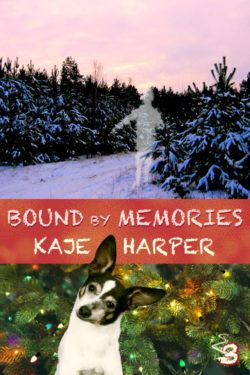 Bound by Memories
December 19, 2020
Word Count:
54000
Summary: Silas Thornwood's worst nightmare has come to life. Darien's familiar Pip is gravely injured, and Darien and Jasper have been kidnapped. Someone ruthless and violent is holding the man Silas loves prisoner, for purposes he doesn't want to imagine. Silas needs help from his friends to locate and rescue Darien. And when he does, those responsible― whether sorcerer, human, or demon― are going to be truly, utterly sorry…
Trapped by Greed
July 29, 2021
Word Count:
68000
Summary: They'll take a leap into the unknown to protect the world. There's something seriously wrong with Earth's magic. A demon has appeared unsummoned out of thin air, familiars can't return Home, and as Grim points out, rats smell like summer in the middle of winter. Grim and Pip can deal with rats; Silas can banish one wayward demon. But soon there are other demons, more each day, and Silas's old mansion is full of mysteries. He and Darien will need their familiars, their friends, plus a whole lot of luck, as they search beyond Earth for the forces that have changed their world. And to have any chance of getting safely home, Silas will have to confront a past he's avoided for ten long years.
Beset by Demons
February 22, 2022