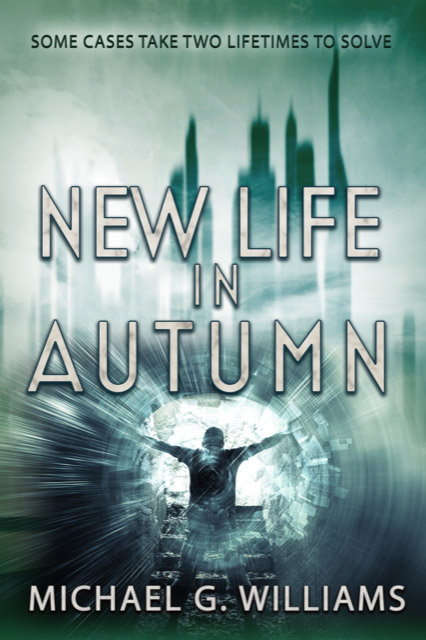 Genre: Sci-Fi, Mystery
Reviewer: Maryann
About The Book
RETURN TO THE MEAN STREETS OF AUTUMN
Valerius Bakhoum is dead and buried.
Too bad he's still flat broke and behind on the rent.
Unsure what to do with himself—and of who he is—Valerius resumes his career as a detective by taking up the oldest case in his files: where do the children go?
Throughout his own youth on the streets of Autumn, last of the Great Flying Cities, Valerius knew his fellow runaways disappeared from back alleys and other hiding places more than anyone realized. Street kids even had a myth to explain it: the Gotchas, who steal urchins away in the night.
With nothing but time on his hands, Valerius dives in head-first to settle the question once and for all and runs smack into a more pressing mystery: who killed one of Valerius' former lovers?
And do they know Valerius is still alive?
Stalk the shadows of Autumn's hidden places by Valerius Bakhoum's side as he shines a light on secrets both sacred and profane, ones with shockingly personal connections to who he was—and who he might become.
New Life in Autumn is the sequel to the Manly Wade Wellman Award-winning A Fall in Autumn.
The Review
Valerius is dead. But with the aid of Alejandro, he's back as golem – Homilo Fa. His burial is sad and weird, as he watches and expresses his feelings about it.
Even with all he discovered in his first investigation, the Avenging Angels are still a puzzle. What is the connection between the Church and the Avenging Angels?
Alejandro doesn't want the investigation pursued any longer. He wants Valerius to take a break and adjust to his new death/life situation.
But Valerius is still a detective at heart, and is dedicated to investigating the missing boys. The investigation turns to more than that – now there are missing children too. He also learns of Fiono's death, which happened on neutral territory in "Eat's Alley," and he seeks out information about what really happened.
The investigations will take him below the floating City of Autumn and into the sewers. With the help of Frankie – an Inu – a gruesome discovery is made. And why does Valerius remember "The Cradle of New-Lives" cults holding secret rites?
He will do the unthinkable and take bones from the ossuary, seeking out Evangeline's help and meeting with mafioso Valentina. And once again, Valerius will put his life on the line to dig up the truth.
New Life in Autumn picks up where A Fall in Autumn left off, and deals with a bunch of things: genetics, culture, ghost drives, golems, artisanal humans, mannies; human-animal hybrids, pluses and much more, along with the politics, religion and inhabitants of Autumn. There's good and evil aplenty here, as well as those who use power, wealth, health and Isubu to lure and deceive the vulnerable.
There's so many interesting places in Autumn, including the Artisanal Human Reservation, the Imperial Reservation, the Spiralist Clinic, the Down Preserves, the Lower Market Market, Little Marseilles and Lotta's Gift – a fountain where the dead can be honored.
Valerius also has to adjust to his golem body. Will he be more Valerius, or Homilo Fa? And he needs to deal with his relationship with and feelings for Yuri. As for romance, there is none to speak of here, but he does care for Alejandro and Fiono.
I loved how many female characters were included here to help Valerius, some good some evil: Frankie, Evangeline, Valentina, Clodia, and Bronwyn.
New Life In Autumn has several things the first book didn't: "What Came Before: A Timeline of the Future's Past," and a "Glossary" at the end of the novel. It's a good idea to go over both of these informational sections before reading.
I highly suggest reading A Fall in Autumn before this one – it's fantastic, and sets up a lot of what happens in this tale. This is one of the most unique series that I've run across, and I was not disappointed. Williams melds sci-fi, a complicated mystery and an incredible character into a novel that's both riveting and unforgettable.
The Reviewer
Hi, I'm Maryann, I started life in New York, moved to New Hampshire and in 1965 uprooted again to Sacramento, California. Once I retired I moved to West Palm Beach, Florida in 2011 and just moved back to Sacramento in March of 2018. My son, his wife and step-daughter flew out to Florida and we road tripped back so they got to see sights they have never seen. New Orleans and the Grand Canyon were the highlights. Now I am back on the west coast again to stay! From a young age Ialways liked to read.
I remember going to the library and reading the "Doctor Dolittle" books by Hugh Lofting. Much later on became a big fan of the classics, Edgar Alan Poe, Mary Shelley, Bram Stoker and as time went by Agatha Christie, Ray Bradbury and Stephen Kingand many other authors.
My first M/M shifter book I read was written by Jan Irving the "Uncommon Cowboys" series from 2012. She was the first author I ever contacted and sent an email to letting her know how much I liked this series. Sometime along the way I read "Zero to the Bone"by Jane Seville, I think just about everyone has read this book!
As it stands right now I'm really into mysteries, grit, gore and "triggers" don't bother me. But if a blurb piques my interest I will read the book.
My kindle collection eclectic and over three thousand books and my Audible collection is slowly growing. I have both the kindle and audible apps on my ipod, ipads, and MAC. So there is never an excuse not to be listening or reading.
I joined Goodreads around 2012 and started posting reviews. One day a wonderful lady, Lisa Horan of The Novel Approach, sent me an email to see if I wanted to join her review group. Joining her site was such an eye opener. I got introduce to so many new authors that write for the LGBTQ genre. Needless to say, it was heart breaking when it ended.
But I found a really great site, QRI and it's right here in Sacramento. Last year at QSAC I actually got to meet Scott Coatsworth, Amy Lane and Jeff Adams.