Word Count:
36000
Summary: MI-GRA-TION (Noun) 1) Seasonal movement of animals from one region to another. 2) Movement of people to a new area or country in order to find work or better living conditions. 3) Movement from one part of something to another. Three definitions to inspire writers around the world and an unlimited number of possible stories to tell. Here are 120 of our favorites. Migration feaures 300-word speculative flash fiction stories from across the rainbow spectrum, from the minds of the writers of Queer Sci Fi.
Migration
July 24, 2019
Word Count: Information not available
Summary: Second of the Virian Chronicles Sheraleen never wanted to be a warrior, despite being born into one of the fierce Northern Virian clans. All she ever wanted was to become a sorceress. However she has to become both, as her world is invaded by the cruel Cyad Forces. Guided by visions and entities which turn out to be equally helpful and frustrating, she has to learn how to survive in hostile alien territory. Can she and her new friends help to defeat the enemy? Will she manage to return to her beloved homeland? Embark on a challenging journey which will leave everyone changed in ways they could never have imagined.
Mind Games (Virian Chronicles Book 2)
March 5, 2015
Word Count:
75000
Summary: Can an alien with no knowledge of humans or concept of sex find lasting love with a human man? Zak, an alien from the planet Trimmeron, is a member of a race of beings who transform into other species during their years of puberty. It's customary for the youngsters to be fostered to the worlds native to their new forms, to study and learn about the races who will play an important part in their lives. When Zak turns into a human, it comes as a surprise to everyone, for only one other before him has ever done so. Nevertheless he is sent to Earth, a world he views as primitive and barbaric. He arrives with a chip on his shoulder and attitude to spare. He does not believe that anyone on Earth could have anything to teach him. When Zak meets college student Sam he soon discovers he has a lot to learn, not only about humans, but also about himself. Trapped on an unfamiliar world and in a strange body that seems to have a mind of its own, Zak has no idea what is happening to him—only that Sam seems to be the key to the strange afflictions he is suffering from. But can an alien find love with a human being?
My Boyfriend's an Alien
January 24, 2014
Word Count:
approx 20k
Summary: When your dreams are real there's nowhere to escape! Andi is just holding it together. Working two jobs means she doesn't need to rely on anyone, but doesn't have much of a life. In her dreams, however, she is a hero: battling monsters and saving innocents. When her dream woman turns out to be very real, Andi's life begins to spiral out of control. Step into an exciting urban fantasy that will have you on the edge of your seat. Think The Book of Abisan, only sexier!
My Dream Woman
July 1, 2018
Word Count: Information not available
Summary: Third of the Virian Chronicles When Darien returns to her home city after a sabbatical in the countryside, she soon realises that all is not well with her family and colleagues. Faced with mysterious threats while trying to investigate a charismatic criminal mastermind, she has to venture into dangerous areas of the city and rely on assistance from an unlikely assortment of vagrants and misfits. She also has to contend with her cantankerous mother and a needy lover who is not as supportive as he should be. Take a journey into the sleazy criminal underworld of Kashmir City, where Darien searches for truth and justice, as well as trying to find her true vocation in life.
Neurotic Mothers' Battleship (Virian Chronicles Book 3)
April 16, 2015
Word Count:
19000
Summary: Scott Baxter is a workaholic with no time for love, until a djinn pulls him out of his life and deposits him into the bed of Cameron Kirk. Cut off from his life, Scott isn't happy about the idea of being forced to help the djinn grant an unspecified wish, but he soon finds he has no real choice in the matter. The djinn who has turned his life upside down has powers that prevent Scott from leaving and ensure he does nothing to ruin Cameron's day with his 'husband'. Reluctant at first, Scott finds that as the day progresses he starts to enjoy playing the role of Cameron's husband. He connects with his unexpected lover in a way he never has with other men. Scott searches for clues to help him track down Cameron after the day is over and he returns to his own life. He doesn't want the day to end, but the wish is out of his control and when the magic is finished his time with Cameron may be over too.
One Perfect Wish
January 2, 2015
Word Count:
29,400
Summary: Li Liang has found a berth to suit her: chief pilot and first officer of the all-female crew of an old space freighter, the Sappho. Then one ordinary, unremarkable morning, Liang retunes the Sappho's communications systems just in time to catch the breathless, terrible accounts from Mars of the total destruction of Earth. Earth's a cinder. The unknown alien race that destroyed it has left Mars, too, in flames and is ravening outward from the solar system, devouring every human colony on the way. Liang's one of the few survivors, racing ahead of the Devourers, rescuing as many frightened, shocked people as she can. Will Liang and the pitiful remnants of humanity find a new haven, somewhere to start again? Or will she, too, echo the dreadful last message coming out of their dead home? They're coming. Oh God, they're coming.
Passing Shadows
December 12, 2016
Word Count:
4000
Summary: Isolated on Mars, anyone could start going stir crazy… Katya should be on top of the world. She's overcome a traumatic past and now she's part of the first permanent settlement on Mars. So why do things feel so wrong? The colonists are confined to a small base on the surface of a hostile planet, so perhaps it's only cabin fever. After all, she's got great friends, an exciting career, and an ex-girlfriend who – she's sure – would do anything to have her back… But with cracks appearing in the relationships between the crew and nothing but empty Martian desert beyond the safety of their domes, it's far too easy for the mind to drift. And when it does, it can be difficult to tell what's real, and what's pure imagination… Past Imperfect is a short story set during Livid Skies, SI CLARKE's second novel. It's written for people who enjoy science fiction that challenges their preconceptions. This is a work of neurodiverse, culturally diverse, gender-bendy, socio-politico-economic, drunken-arguments-in-the-pub science fiction – not bang-bang-pew-pew science fiction. 
Past Imperfect
August 31, 2020
Word Count:
23000
Summary: When John the woodcutter realises he is about to lose the love of his life, he seeks out the wicked witch of the Enchanted Forest, hoping to buy a love potion to win his lover back. The witch refusing to help is only the start of his problems, for—on the stroke of midnight—the witch's cottage vanishes from the Enchanted Forest with him in it. Mathias is the grandson of a wicked witch and, like his mother and grandmother, he is cursed to be trapped in the cottage in a desolate wasteland for the rest of his life. He and the cottage only return to the Enchanted Forest on Midsummer Day each year. The last thing he needs is an unexpected house guest. Thrown together for a year, the spark between the two men soon ignites into passion, but can John live the rest of his life in a prison and would Mat even ask him to?
Potions & Prisons
June 20, 2019
Word Count: Information not available
Summary: First of the Vyrdigaan Prophecies, telling the back-story of Parsivaal Probyt. Parsivaal had always known his mother hated him. Everyone at the Beryk enclave believed him to be the product of rape. A chance meeting with a woman claiming to be his grandmother helps him to learn the truth of his origins. Through her, he discovers another branch of his family. His new-found relatives show him love and introduce him to a radically different culture and lifestyle. As he grows up, his life choices lead him away from his homeworld of Malvania and into the unknown. Having come from a remote enclave, he finds it difficult to adapt to life in a busy city. An unlikely travelling companion becomes his guide and helps him adjust to life outside the enclave. Dreams and visions compel him to solve a mystery and set him on a path taking him away from his new life and onwards to further adventures. Travel with him as he is propelled towards his destiny by a series of perplexing and frustrating events.
Probyt's Progress (Vyrdigaan Prophecies Book 1)
August 6, 2020
Word Count:
93358
Summary: Morgan Bentley is a bastard. Matthew knows this absolutely—until he doesn't. Matthew and his friend Cory are thrilled to attend one of the most prestigious universities in the UK. On their pre-entry visit, they met Morgan Bentley and his stuck-up friends. Matthew takes an instant dislike to the arrogant, conceited, self-obsessed, beautiful, intelligent, and charismatic boy. Throughout the next year, Matthew harbours his dislike, never missing the opportunity to complain to his best friend, Cory, what a bastard Morgan is. Then, an unexpected turn of events catapults Matthew, Morgan, and Cory into a nightmare, and all the things Cory had said about Matthew's true feelings about Morgan come crashing down on his head, and he realises that what he thought was hatred and anger was, in fact, growing attraction and begrudging admiration. But when the deadly nature of the elusive Project X is revealed, it seems their budding romance is doomed before it begins, as one of them is unlikely to survive.
Project X
January 3, 2020
Word Count:
60000
Summary: Planet H Man has toppled under the coup of the century and Mex must choose. Will she settled for her retirement fund or politicians too young to take seriously? Planet Hyman is at a loss as their new and callous leader takes a sabbatical, she has found her "pleasure dome" and while she learns there is more to life than a new manifesto, a coup rises to the occasion. With Mex hungover in Scotland there is little to stand in their way apart from a hippy colony too chilled to care, a reporter with no scruples, and a missing set of batteries.  The coup has plans to runs things the "proletarian way" they are young, idealistic, and haven't tasted luxury yet. They almost make it, grab the operations room, when their new and callous leader arises from her pleasure dome and grabs back her throne.  Will Mex pick up her leathers and defend the coupe, or return to her planet to recuperate from a Scottish "good night out"? Rebel Without A Crew is the quirky third book in the Planet Hy Man science fiction comedy series. If you like high-mileage heroines, fast-paced satire, and meticulously crafted universes, then you'll love Kerrie Noor's otherworldly farce.
Rebel Without A Crew
September 12, 2019
Word Count:
111,000
Summary:
New York: two years after the Third World War. Humanity is rebuilding its cities brick by brick; the damage done to the people, however, is a lot harder to repair.
Dan Hardacre is one of those people. An aspiring stage actor and experienced draft-dodger, Dan struggles to find his place within the Utopic rebuild of New York City. When he's not caught up with the duties of work, Dan lives a quiet life in mourning for his mother, Dyani, who went missing when he was a teenager.
One night, Dan experiences a vivid, terrifying nightmare that puts him right on the front lines of the war for which he dodged the draft; it ends with him facing Death itself in the form of a metallic, faceless humanoid creature that calls itself the Valkyrie. To investigate the reason behind his haunting experience, Dan seeks out a meeting with his estranged father, who reveals the startling truth about Dan's dream: it wasn't a dream.
With this newfound knowledge and the powers it brings, Dan makes it his mission to return to the scene of his nightmare. However, he soon comes to know that confronting the Valkyrie not only endangers him but the war-withstanding world he leaves behind.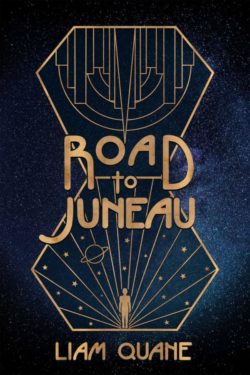 ROAD TO JUNEAU
May 18, 2021
Word Count: Information not available
Summary: The ForeRunners have destroyed Capulet's city, Ephesus, and the joint Lenar-Human search teams are needed to root out the enemy. But when the empathic Lenars refuse to work without Selena Dillon and her team of commandos, they soon find themselves back there in an uneasy alliance and a race against time to stop the enemy from destroying other cities. Throughout the galaxy billions are dying. Despite her fear that the alien Manta and their allies will turn against them, Selena needs to unite the races and find a way to destroy the ForeRunners before it's too late. Selena knows there's no more running, and that sooner or later there will be a final reckoning between herself and the queen. But even if they survive that long she needs to discover who will stand with her, and who against her, in this final confrontation with the tyrannical monarch.
Roar of Lions
October 29, 2017
Word Count:
79000
Summary: Jax has made mistakes in his life, the biggest of which was falling for Lyndon. His love died when Lyndon refused to claim him as his mate after Jax discovered he was pregnant. His feelings turned to hate when his babies were stolen from his care the day they were born. Reliant on Lyndon for the cream he needs to survive, Jax does everything he can to keep him happy and he lives for the day when he will be reunited with his children. When Jax discovers he is pregnant for a second time, he is terrified his second litter will be taken from him, too. Ty is a dual-gendered feline who dreams of carrying his own babies one day. If they are fathered by Cal, the sexy feline he feeds from, it would be even better. Ty's parents have other ideas. They don't wish the public to know that their high-born son is dual-gendered, and arrange for a mating festival to take place so Ty can choose a dual-gendered mate of his own. Although Ty has no intention of submitting to his parents' wishes, something about Jax draws Ty to him and when he and Cal discover Jax's secret, they know they must help. Ty and Cal offer Jax a way to escape Lyndon's clutches, but Jax knows almost nothing about the two felines who have offered to claim him. The stakes have never been higher and Jax must learn to trust again, or risk losing everything.
Saving Jax
December 1, 2018
Word Count: Information not available
Summary: For some, the zombies are a good thing. The man who calls himself Marcus Black spent years hiding his true identity from the world, killing to feed the shadow that lives inside him. Now the dead walk the earth and he's just trying to survive. With the dead a constant threat, Marcus is forced to suppress his true self and fight against the shadow that lives inside him. Losing that fight will leave him exposed and could cost him his life. When he discovers an abandoned camp deep in the forest Marcus believes he's finally found a home. A place where he can once again unleash the shadow. Isolated. Quiet. Safe. It's perfect. Until the outside world intrudes and Marcus finds himself caught between the living and the dead. Hiding behind a veneer of humanity, Marcus struggles to find a way to get rid of the new arrivals. But as his mask begins to slip, he discovers that he may not be the only one with a deadly secret. Dexter meets The Walking Dead in this gripping new horror series. Get Serial Killer Z today and face the dead.
Serial Killer Z
October 5, 2017
Word Count: Information not available
Summary: Every patient zero has a doctor. Edward Taylor just killed a man. It wasn't the first time but it could be the last. For the last twenty years, he's been careful, hiding his true self behind a mask of humanity. But now someone out there knows what Edward is, and he has no idea what they're planning to do with that knowledge. When he's approached by a journalist working to bring down controversial research lab, Hunter Neurologics, Edward's personal and work life collide. Cornered, and with his paranoia growing, he's forced to take action and triggers a sequence of events that might just unleash a plague of the dead on the world. Dexter meets The Walking Dead in this gripping prequel to the brand new horror series, Serial Killer Z.
Serial Killer Z: Infection
February 3, 2018
Word Count: Information not available
Summary: The dead are not the only threat. After being forced to leave the safety of Camp Redfern, serial killer, Marcus Black, has found himself a new home. Hidden in a cave deep in the mountains, he's free to unleash his true self and hunt the dead that infest the world. When a chance encounter with a group of scavengers turns violent, Marcus flees to a nearby town. Sanctuary is a safe haven for those lucky enough to survive the swarms of zombies that roam the landscape, but the cracks are beginning to show. As life in Sanctuary unravels, Marcus is caught between two factions vying for control in a cold war that threatens to spill over into violence at any moment. Forced to take sides, and with tensions rising, Marcus must decide which is more important - revenge or freedom. Dexter meets The Walking Dead in this gripping new horror series. Get Serial Killer Z: Sanctuary today and face the dead.
Serial Killer Z: Sanctuary
November 2, 2017
Word Count: Information not available
Summary: Secrets are never forgotten. Marcus Black is a killer. He hides behind a mask of humanity, preying on the living and the dead to feed the shadow that lives within him. When the outbreak began he fled to the mountains, but someone out there knows his true identity, and they've summoned him back to the city. Now the shadow is missing, and without it, he's lost. Returning home, Marcus finds the city has changed. The military run brutal work camps while the rich throw parties. Contact with the rest of the world has been lost, and there are rumors of swarms of the dead laying waste to nearby cities. When Marcus meets Cali Hart, a colleague from his former life, she eagerly draws him deeper into this bizarre new world and offers him a way to reawaken the shadow. Desperate to get back to his old life, Marcus is drawn to the idea, but should he trust Cali? Or is her own shadow more dangerous than his? Dexter meets The Walking Dead in this gripping horror series. Get Serial Killer Z: Shadows today and face the dead.
Serial Killer Z: Shadows
November 27, 2017
Word Count:
20000
Summary: Their love has defeated death. Can it defeat malice and madness? Serrai and Madan sacrificed their lives for each other, but the quiet afterlife they'd imagined doesn't exist. The Shadow Realm is at war and when the conflict threatens the human world, the Fates demand their help. Hunting down four renegade Shades and surviving on different sides of the veil between worlds needs courage, stubbornness and strength of will. Can Madan triumph over hunger, madness, and his own compassion to make it back to Serrai? Can Serrai vanquish jealousy and doubt to hold the gate long enough for Madan to return? Or will they end forever parted?
Shadow Realm: A Dornost Saga Tale (Shades #2)
October 31, 2018