Word Count: Information not available
Summary: On a parallel Earth called Kale-Ra, humans born under "star signs" are blessed with magical powers. Two factions exist: the Star Guardians, and the Shadow Guardians. Clarabelle Stewart is your average teenage girl. She doesn't have any hobbies, and manages a C+ average in most of her classes. At least, she would be average, if not for her late father. He betrayed the government while attempting to steal a treasure for a Shadow Guardian terrorist organization, the Penumbra. Ever since his death, her family has been scorned and marginalized. But when the Starlite Academy--a prestigious military school for aspiring Star Guardians--grants Clarabelle a full-ride scholarship, she realizes that this is her opportunity to turn her life around. She eagerly sets off for school, and meets a wonderful group of friends. Yet, some things are still... off. Her teacher, Slade, and her roommate, Wulfgar, claim that they know her from their past, but she doesn't remember them. And Ursula, the bubbly senior student who welcomed her into their friend group, is hiding her own set of dark, tumultuous secrets. Unbeknownst to them all, weaving backwards through the years, a sinister plot has taken hold, setting the course for each of their lives. And suddenly, the world turned upside down. Nothing is what it seems.
Star Guardians: Legend of the White Nova Volume 1
April 22, 2018
Word Count:
75000
Summary: One hundred years ago, the vampire Victory retired from a centuries-long mercenary career. She settled in Limani, the independent city-state acting as a neutral zone between the British and Roman colonies on the New Continent. Twenty years ago, Victory adopted a human baby girl, who soon showed signs of magical ability. Today, Victory is a city councilwoman, balancing the human and supernatural populations within Limani. Her daughter Toria is a warrior-mage, balancing life as an apprentice mercenary with college chemistry courses. Tomorrow, the Roman Empire invades.
Steel Victory
June 15, 2015
Word Count:
6000
Summary: The Mother Dark. The Chained Goddess The Serpent of Judgment In the space between the Realm of Mortality, the Expanse of the Celestial Choir, and the Void, Shi Coils around Hir throne. Hir opelecant gaze looks not to the singing stars nor the great black ocean of lucious agony. Instead, they look to the chains that bind the Goddess to this place. They were at first chains of sadism and dark intent. Every link forged by the Void to keep her from the love of Hir children in Mortality. Yet as she undulated within their grasp, her own sensual mind learned their construction. Now Shi is no longer a Goddess in chains, but a Goddess of chains. Forging new links in secret, Shi imbues them with the stories of Hir many children. Hir mystical eyes look into the glowing loop of eldritch metal. The patterns of silver-blue that formed as it cooled told the story of a love triangle that defies the boundaries of normality. A deathly howl echoes into the night, a young girl is visited in her dreams by the wolf's immortal spirit. He teaches her of his kind, the Uadeans. As she grows up, the wolf becomes more handsome to her own maturing sentiments, and she falls in love. Yet this love was not meant for the wolf, but for his mate. Now, years after, Jenova stands at the edge of life and death. Having earned her right to stand with the others of the pack, the woman prepares herself for the Heartsblood Rite. She must challenge one of these lycanthropic beings to ritual combat. The prize is the Heart of an Uadean and all the power that comes with it. Jenova faces her opponent in the ritual circle, the lust of the crowd overwhelming her human senses. She has not intention of killing tonight. The heart offered as the prize is that of the she-wolf Jenova had been chosen to love... And to bear the children she cannot.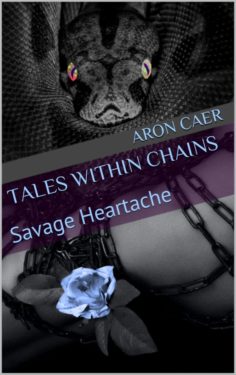 Tales within Chains
September 23, 2020
Word Count:
106000
Summary: Baker. Wizard. God of Space and Time. Cupcake enthusiast. How long will it take to fan the flames and enrage this gentle phoenix? Start counting. What\'s a wounded and lonely little cinnamon roll to do? Stripped of his psychic powers, Calico Winghorse flees to 19th century earth via his inter-dimensional portal. As a mixed-blood phoenix trapped in human form, he opens a bakery in the San Francisco Bay Area and quietly nurses his wounds. But the unique method of his arrival has drawn the unwanted attention of Infinity Corporation. Representing this angelic-run company is Agustin Chavez de la Cruz, the Demon Lord of California. Even though Agustin is IC\'s heir, he finds himself demoted from his duties to concentrate on his new assignment: take absolute control of the portal. But Calico refuses to sell for any price. Before Agustin can formulate a more gracious avenue of acquiring Calico\'s gateway, the demanding head of IC interferes, further complicating matters. So as negotiations stumble along, Calico and Agustin realize they both wish to establish more than a mere business arrangement. In the mean time, Calico ensures that the good people of the city are getting their fill of baked goods. However, due to Calico's injuries, the portal remains vulnerable to the darker forces that want it at any cost. Agustin will have to push both his angelic heritage, as well as his own psychic power to the very limits to mend someone who not only bears celestial blood, but who is also the God of Space and Time. The Demon Lord of California book 1 is a queer slooow burn meet-cute. A queer / mm paranormal fantasy series with romantic elements. Featuring phoenix shifters, hidden world, first love, found family, hurt/comfort, and a sugar daddy grasping at his second chance.
The Demon Lord of California
January 30, 2023
Word Count: Information not available
Summary: The Hunt is On! When strength becomes weakness… And hope becomes doubt… As the past collides with the future…hard… Can Suzanne—Wild Hunt biker chick and one-time member of the fae High Court—stand strong as her world falls apart? She survived an assault by redcaps, an all-out battle with the High King's armies, and her first encounter with roller derby… but how will she fare against her inner demons? Caught in the midst of a transformation she scarcely realizes and does not understand, her hard-won convictions are tested as never before. Suzanne is left with only one question—what if they're wrong? The truth could mean the difference between saving her sanity and losing her soul…
The Redcaps' Queen
March 1, 2019
Word Count:
119000
Summary: Enter the world of Mulgara, where conquerors and ghouls and sordid necromancers await. "In The Scrolls of Sin, David Rose paints a fully realized fantasy realm with ingenious plotting, complex characterization, and cleverly lush language. It's also viscerally involving. The collection is so steeped in the sin of the title that it plunges the reader into a sordid otherworld of corruption, treachery, violence, torture, lust, murder, and dark magic — though not without fleeting moments that grope toward something like tenderness and redemption." --- Matt Cardin, author of To Rouse Leviathan
The Scrolls of Sin
August 24, 2021
Word Count:
108100
Summary: Starting on his reluctant odyssey with a small party of friends, the storyteller Jafar al-Sharif must cope with treacherous nomads, a desert djinn, a king of an underground realm and an army of animated corpses as he attempts to save the life of his beloved daughter. This is Book 2 of the Parsina Saga, a journey through a world of djinni, flying carpets and high adventure in exotic realms -- with the fate of the world at stake.
The Storyteller and the Jann
Word Count:
110000
Summary: Vikings war with the last Saxon Kingdom, blood feuds stalk the family, the werebear takes revenge and our forerunner hero must face trolls, a kelp man and his nuggles, and a dark elf… The epic adventures of the Agneson Clan continue! The year is 878… Danish forces assemble for war on Wessex and the loyal Agneson Clan heeds the call to join the Great Viking Horde, but while honorable men gather in the midlands, a blood feud draws mercenaries to their undefended homestead for murderous revenge. Sailing his Viking crew to fulfill their oath, Karl harbors suspicions over strange occurrences that bedevil his nephew Thorfinn, while far to the north their sworn enemy the werebear and his dark elf master strike back… And the young forerunner Thorfinn learns the Nine Realms are full of surprising hidden folk, but to earn his place aboard the Viking's ship he must accept a mast troll's quest…. Will the family escape the despicable vendetta? Can Thorfinn face the evils prowling the bottom of the Humber Estuary? Does Cub battle to victory against King Alfred's men? How can Karl and his Vikings find and defeat a mysterious lair of were-beasts? The epic saga of Thorfinn the forerunner and his clan in Danelaw England continues….
The Vardoger Boy
August 14, 2020
Word Count:
115,756
Summary: In a post-apocalyptic world where tyranny and medieval torture reign supreme and witch burnings are an everyday occurrence, a top Witchfinder must confront the very Church he serves when he learns of its dark past and twisted plans for the future. The Church of the Deiparous rules with an iron fist and its rising star, Witchfinder Imperator Malachi Thorne, is committed to leading its cause. Thorne is a man on the fast track to greater things so when a convicted traitor and heretic escapes his grip, he won't tolerate it marring his perfect record. As he pursues his quarry, he must confront demons, sorcery, and a cult of witches out for his blood. But when Thorne comes face to face with the Church's dark past and its twisted present, his faith is tested to its limits. Now Thorne must decide who and what he believes in—and what he will do about it.
The Witchfinder
September 23, 2021
Word Count: Information not available
Summary: Too much family drama at home. That's what Morgan Patterson was thinking when she left the States to finish her final year of college studying abroad in Northern Ireland. She quickly finds herself immersed in a hidden world of magic and danger with the man of her dreams at the center of it. Only he's not a man. Tiernan Doherty is an honest-to-goodness faerie lord with family drama of his own. There's a blood feud to be settled, not to mention a messy chain of duty that binds him to the queen of the dark fae, a woman he truly despises. None of that matters to Morgan, though. She realizes Tiernan's not just the man of her dreams, he's the man she's meant to protect. But what she does to protect him surprises everyone, threatening the longstanding peace between humans and faeries, and causing more than enough tears for them all. "These Are for Tears," is the third book in the Will-o'-the-Wisp Stories, a serialized, epic urban fantasy that proves nothing is what it seems, promises are meant to be kept and words are binding things.
These Are for Tears
October 29, 2020
Word Count:
110000
Summary: WINNER of the 2020 Wishing Shelf Book and Readers' Favorites 2021 Awards! Viking legends, unforgettable characters and authentic history combine in an exciting series starter! Vikings and Saxons, ghostly curses, witches and soothsayers, dangerous were-creatures and a young boy who must find his courage… Danelaw life is good! Practicing martial skills, grumbling over chores, listening to scary stories and shadowing his brothers everywhere, Finn is a normal boy of ten in the Viking Kingdoms of ninth century England. A bit timid, his father plots his apprenticeship while the family prepares a grand wedding. Off to the North, his uncle sails home after years of exile. And unbeknownst to all, the ghost of an ancient mage sits sentinel over his clan freehold. But when a witch's curse comes alive, a mishap turns young Finn into a vardoger, haunted by his own forerunner ghost. Suddenly thrust into a new realm beyond Midgard, Finn struggles to be a boy by day and a ghost at night. His own clan fears him, he overhears murder plots, he learns the truth of giants and the hidden folk, and the witch still hunts revenge… Will Finn find the courage to defeat his enemies, save his uncle, and accept his new ghostly existence? Like history and legends? Enjoy the gritty realism of TV's Vikings or the multi-character fantasy of The Song of Ice and Fire? Want Viking Age drama and adventures like The Last Kingdom, then this is a series you'll love!
Thorfinn and the Witch's Curse
September 10, 2019
Word Count: Information not available
Summary: In Book 2 of The Fairville Woods series - the sequel to "From The Ashes" - the ghost of a little girl begins to haunt Lundy, in a stark reminder that Karel's curse has not been completely broken. Harlan is now a happy fixture in her life, unbeknownst to her parents, but the school year begins and she finds herself dealing with mean girls, popular guys, and troubled friends, as well as her developing physical relationship with Harlan. But even with Karel's coven gone, all is not right in Fairville - children are missing from the elementary school, and Harlan and Dr. Weinhelm sense an alarming presence in the town. Lundy begins to have dreams about a mad woman who has lost her children, while the little girl ghost leaves her clues she doesn't understand. The vampires from the Smoky Mountains reluctantly arrive to help defeat a creature from ancient, frightening legends - one whose existence yields an unlikely clue to the new nature of Lundy's curse.
Through The Eyes
February 25, 2013
Word Count: Information not available
Summary: Strange circumstances brought Morgan Patterson from the sandy beaches of the US East Coast to rocky Northern Ireland. Some called those circumstances destiny. Morgan called it something else. For her, it was just a college senior year abroad. Until, that is, her studies were interrupted when she met the man of her dreams. A man who took her by the hand, leading her into a world where promises were binding things, where nothing was as it seemed, and where wishing for something could get you more than you bargained for -- including killed. But it was also a world of enduring love, hidden treasures, and the chance to right the wrongs of long ago. What Morgan called it was her kingdom. A kingdom she was willing to die to protect.
What You Wished For
December 20, 2018
Word Count:
95000
Summary: The God of Time wants to destroy Eternity. A mysterious immortal seeks vengeance. And a reclusive deity does what no god should ever do: she answers a prayer. As punishment, she is stripped of her powers and trapped in a mortal's body. Now a Wyrd – a fated god – she is haunted by the memories and thoughts of her host and must hide her true identity in order to survive in Niflheim, the rival Norse Underworld. There she discovers the afterlife is not quite what it used to be. Niflheim's new ruler threatens the precarious balance of a world overrun with outcast deities and mortals alike. To save her own sanity and find her way back to the stars, she must help the other Wyrd overcome their grievances to defeat this enemy, but those who would be her allies appear to have motives as hidden as her fragmented consciousness. And yet it seems the greatest threat to her freedom comes from within, and the prize it seeks is her immortal soul...
Wyrd Gods
August 22, 2019