Word Count: Information not available
Summary: In Book 2 of The Fairville Woods series - the sequel to "From The Ashes" - the ghost of a little girl begins to haunt Lundy, in a stark reminder that Karel's curse has not been completely broken. Harlan is now a happy fixture in her life, unbeknownst to her parents, but the school year begins and she finds herself dealing with mean girls, popular guys, and troubled friends, as well as her developing physical relationship with Harlan. But even with Karel's coven gone, all is not right in Fairville - children are missing from the elementary school, and Harlan and Dr. Weinhelm sense an alarming presence in the town. Lundy begins to have dreams about a mad woman who has lost her children, while the little girl ghost leaves her clues she doesn't understand. The vampires from the Smoky Mountains reluctantly arrive to help defeat a creature from ancient, frightening legends - one whose existence yields an unlikely clue to the new nature of Lundy's curse.
Through The Eyes
February 25, 2013
Word Count:
20000
Summary: FAMILY DRAMA… FORBIDDEN LOVE… A SECRET WORLD… When children start to go missing in a fishing town, Ada Hughes fears for her two little brothers' safety. Tide Springs was never really safe for them but she has a plan to escape their toxic family environment. While battling her own loneliness and ignoring her forbidden love, Ada is faced with one more unexpected twist. Mythological beings and an ancient demon-hunting order will change her life forever. She is suddenly afflicted with questions… Is this a new reality or just a hallucination? Will she be able to face this new world while being confronted with the secrets of her hometown?
Tides
June 7, 2021
Word Count:
84000
Summary: Someone's hunting the Ungovernable. And they're not going to stop until every one of the crew is dead. When an enemy from ex-smuggler pilot Jez's past reappears, determined to extract revenge, the crew of the Ungovernable have two options: fight, or run. But when a hyperjump gone wrong leaves the Ungovernable crippled, her weapons down and her cloaking disabled, their options become scarce indeed. As they scramble to repair the ship with rapidly-dwindling supplies and even more rapidly-dwindling oxygen, their pursuers are inexorably closing in. And if they're going to survive, each of the crew will have to confront dangerous secrets from their past, before those secrets come back to destroy them. Time Bomb is the third book in R.M. Olson's science fiction space opera series The Ungovernable. With a crazy, close-knit crew, plenty of humour, and loads of action, Firefly meets Ocean's Eleven in this fast-paced, kick-ass, wickedly fun series.
Time Bomb
July 15, 2020
Word Count:
99,000
Summary: Oil reserves depleted. Society collapsed. A few places cling to modern technology. For everywhere else, there are the Tinkers. In southern Ontario, Novo Gaia uses sustainable energy to support its citizens in comfort. From there, Novo Gaia sends Doctors of Applied General Technology, tinkers, into the Dark Lands to install everything from solar stills to televisions—and make a profit. Brad Cooper is a tinker on his route in Guelph when he finds himself at the epicentre of a plague outbreak. Stranded without support in a tenuously-held quarantine zone, he must use his limited medical training in a desperate search for a treatment against an insidious relic from an age of excess. Meanwhile, fuelled by panic, other townspeople caught within the quarantine zone conspire to sabotage relief efforts. Distrusted by the people he's trying to help, hampered by political rivals, under-supplied, over-worked, and with his own risk of infection increasing, Brad seems to be fighting a losing battle as the casualties mount...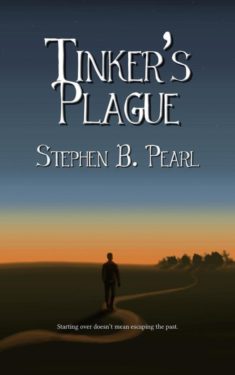 Tinker's Plague
April 29, 2016
Word Count:
115,674
Summary: Oil reserves depleted. Society collapsed. A few places cling to modern technology. For everywhere else, there are the Tinkers. In southern Ontario, Novo Gaia uses sustainable energy to support its citizens in comfort. From there, Novo Gaia sends Doctors of Applied General Technology, tinkers, into the Dark Lands to install everything from solar stills to televisions—and make a profit. After twenty years as an E.R. nurse, Tabitha "Tabby" Drivensky's failing marriage sent her into the tinker program and the open waters of the Great Lakes. While fulfilling her Coast Guard service obligation, she rescues a boy named Andy Camble from a sinking ship. Andy turns out to have vital information on Packer, a pirate captain who has been plaguing the Great Lakes for generations in an ancient, nuclear-powered submarine. Using Andy's intelligence, Tabby sets out ostensibly to scout out a new aquatic tinker route along Lake Huron but secretly assigned by Novo Gaia to find and put an end to Packer once and for all.
Tinker's Sea
July 30, 2016
Word Count:
81000
Summary: A hijacked spaceship... kidnapped colonists... their destiny changed forever Award-winning first book of the Titan trilogy follows a family whose torn loyalties threaten doom on a strange world that real-life science has only begun to explore. What if you awoke on a shadowy moon where water freezes as hard as granite and lakes fill with liquid methane? On Titan, a bizarre cult seeks utopia, but what will be different on this distant world? Real readers say: Dynamic story - Engaging characters - Feel like you were there - Devoured this book Discover a riveting mix of science and society on Saturn's deadly frozen moon. If you love gripping science fiction with twists and turns, you won't want to put it down.kk
Titan
December 13, 2018
Word Count: Information not available
Summary: Final Fantasy meets Star Trek with a YA Twist. The kingdom of Abennelp has enjoyed an age of peace. Tiva Boon, a loyal and ambitious Royal Guardian is determined to carry on tradition and become an elite protector to the throne. It is all she has ever wanted. Possessing abilities and strength beyond her age, Tiva dedicates her youth and risks her life in the service of her king to prove she is worthy. With her goal achieved and her destiny in motion, a mysterious off-world threat emerges and shatters everything Tiva holds dear. Exiled from her home and running for her life, Tiva seeks asylum with the Union, a universal security force, and attempts to put the past behind her. Finding herself alone among various space-faring races, Tiva integrates herself into the strange society using her skills as a protector and befriends several aliens she meets along the way, ones who will change her life forever. When a message from those loyal to her king reaches her months after she feels safe in her new life, Tiva's destiny and the fate of her people collide.
Tiva Boon: Royal Guardian
July 8, 2014
Word Count:
93765
Summary: Home, a place where we belong and are safe and loved. Home, the house in which we grew up, a neighborhood, a culture, even a country. Home is a state of mind, it is a place of the heart, and in the heart. Finding home, coming home, and bringing home the one we love is a journey, a journey that can be a dangerous adventure. For the lovers in these stories, adventures can include quests and fighting dragons and demons, past and present, physical as well as mental and emotional. Rocket launchers need to be dodged, the Wild Hunt needs to be outrun. For some of the lovers here, home has been lost, or they have been forced to leave, as is too common for LGBT+ youth. In this collection queer positive speculative fiction stories, explore the idea of what and where home is in the lives of these lovers. Will they survive their quests, defeat their monsters? Will they find a place to call home?  
To Bring Him Home and Other Tales
September 11, 2021
Word Count:
44000
Summary: A book written hundreds of years ago holds the key to the future of the last survivors of the human race. Growing up in a massive underground cave network, Jessiah has never known any other world. When he discovers the existence of a time portal he enlists the help of his friends to expose the truth about the greedy scientists who control it. Garrett has no head for science and struggles to earn the respect of both his peers and his father.  With a taste for parties and whores, Garrett is the chosen target for Jessiah and his friends to use to gain access to the laboratory containing the time portal. Impatient and impulsive, Jessiah decides to move things along at a faster pace by playing the role of a prostitute to get close to Garrett.  He is prepared to sacrifice his virginity for their cause, but he doesn't plan on falling for Garrett in the process. With the future of the human race in the balance the stakes for humanity are high. With his heart on the line, the risk Jessiah takes might be even higher. Only together can Jessiah and Garrett change the stars of everyone in the caverns.
To Change the Stars
April 30, 2019
Word Count: Information not available
Summary:
Withrow Surrett, the most sarcastic vampire for a country mile, makes an annual Appalachian pilgrimage to keep tabs on nocturnal colleagues and his last living friend from mortal days. What should be a quiet week among familiar faces quickly fills with undead rednecks, folk magic, murder, a rookie detective and Withrow's own psychotic cousin who insists on trying to help. Because even vampires have cousins, and Southern ones especially so.
As Withrow chases the phantoms of conspiracy and paranoia across moonlit forests, abandoned factories, shadowy back roads and seedy bars - all the quiet little places humans fear to tread - Withrow also struggles with who he wants to be. Can a monster find a place among family and friends?
Fans of The Black Knight Chronicles, The Tome of Bill, and Fred, the Vampire Accountant will love this series!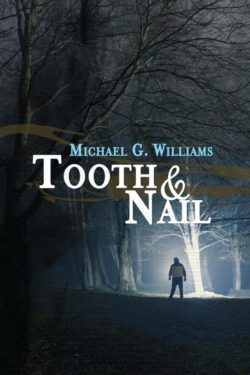 Tooth & Nail
August 21, 2017
Word Count: Information not available
Summary: Bioinformatics whiz Victor Eastmore at long last gains control over his frightening mirror resonance syndrome, but he still believes his grandfather was murdered. Victor's best hope for finding justice lies in New Venice, a tourist town in the Louisiana Territories where his family's company is exploring new treatment options for so-called "Broken Mirrors" and the stim addicts who experience similar symptoms–blank outs, synesthesia, and euphoria. Only by confronting Samuel Miller, the MRS "patient zero" who was responsible for the Carmichael Massacre, can Victor learn the truth. To do that, Samuel must first be weaned off Personil, the drug that keeps his mirror resonance syndrome in check. Can Victor learn the data egg's darkest secrets without unleashing a violent madman? Meanwhile, a cult dedicated to the sanctity and purity of human life disrupts New Venice with protests and vandalism. When they take an interest in stopping BioScan from medicating MRS patients, including Samuel Miller, Victor finds himself with unlikely allies and divided loyalties. As pressure builds for the nations of the American Union to pass new legislation to control Broken Mirrors, Victor must become an effective advocate for people with MRS or risk being institutionalized along with them. A fast-paced sequel to Broken Mirror, Tortured Echoes continues the sci-fi detective saga of Resonant Earth. In this installment, fans of Broken Mirror will finally get answers to their questions: Why was Jefferson Eastmore killed? How did it happen? Who was responsible? Revisit the world of self-driving cars, stunsticks, brainhackers, and herbalism with Victor, Elena, Ozie, Tosh, and Karine, and several new figures that might help Victor chart a new course for his future, or condemn him to madness.
Tortured Echoes
March 25, 2017
Word Count:
37000
Summary: "Poetry in prose... I love a story that is huge, but also incredibly intimate, and this novella managed to encompass both of these things." —Miltos Yerolemou (Syrio Forel in Game of Thrones) Minister Shea Ashcroft took pity on innocents. The result was violence and exile. Out on the border, all he's in charge of now is construction of the queen's massive defensive tower, using technology brought by refugees from another world. But one of them warns him that the plan to use her people's devices may draw attention none of them can afford. If Shea backtracks, his future will be destroyed. If he doesn't, they all may be.
Tower of Mud and Straw
February 21, 2021
Word Count: Information not available
Summary:
Punching sorcerers, slinging spells, and trying not to get blown up. All in a day's work for the Office of Preternatural Affairs
Dashiel Rourke was never supposed to join the Office of Preternatural Affairs. He was nothing but a low-rung counterterrorism agent. A cog in the greater FBI machine. But when the poison gas attacks plaguing New York City turn out to be a little more magical than anyone expected...well, desperate times. And once he gets a lungful of that poison, it becomes personal. Now he's suited up with a magical sidearm, a seven-foot troll for a partner, and a whole lot of questions with not that many answers to go around. One thing he does know? Whoever or whatever is behind this mess, he's not going to stop until he can take them down. Even if that means hanging out with elves and hags for a little while. But Dash and the rest of the OPA don't know just how deep this goes...or how deadly the endgame is. If you like high-stakes FBI drama and higher stakes magic, check out 
Toxic Influence
 today.
Toxic Influence
June 6, 2019
Word Count: Information not available
Summary: What would you trade to save a life? Tray Matthews has his hands full dealing with the refugee passengers on his stranded spaceship, and being separated from his son. But then his brother Danny contracts a mysterious and deadly illness. Tray has never felt more helpless. He can't get his ship off the ground without Danny. There's no time for caution. With his brother's life on the line, Tray needs medicine, and he will trade anything. Almost anything. Things go from bad to worse when Tray's new trading partners realize one of his passengers is a bandit they've been hunting for decades. He needs the medicine… … but they'll take her life. Can he keep his passenger safe and close the deal before his brother dies? You will love this sci-fi adventure, because every life is worth saving. Pick up this page-turner today!
Trade Circle
January 12, 2018
Word Count:
71300
Summary: Space pirates harass interstellar shipping. On the frozen world of Gulag--where, for centuries, the Empire's worst traitors have been exiled--dangerous plots are hatching. Time is running out for agents of the Imperial Special Investigation Service to save the Empire from the most serious revolt in its centuries-long history.
Traitors' World
Word Count:
8000
Summary: **Also Available in "Guardians of a Giant's Treasure" anthology** Tucker has spent his entire life as an interstellar trash man. But ever since his mother died, he's been alone, and certainly lonely. So when he discovers the derelict ship he scooped up has an occupant—a beautiful young man named Ronan—Tucker is thrilled. Ronan is royalty and running from his tyrannical mother, determined to keep a powerful object out of her hands. But when he strikes a deal with the adorable Tucker, he wonders if it's time to stop running.
Trash and Treasures
November 9, 2021
Word Count:
41000
Summary: NO ONE FIGHTS DIRTIER THAN AN ARCHAEOLOGIST ​Foul-mouthed Dr. Nel Bently has every archaeologist's dream: a pristine site, new crew, and a private patron to fund her passion for dirt. With her trowel barely into the dry earth of Chile's coast, however, Nel learns their work is being sabotaged. The local activists Los Pobladores take issue with anyone brave or stubborn enough to set boots on their land. Nel refuses to give up the site that will make her career to vandals and looters, but she must protect both her friends and her life's work. With a benefactor playing chess with their lives, radiocarbon dates that are downright supernatural, and angry militants who may actually have a point, Nel is ready to fight dirty.
Travelers
February 27, 2015
Word Count:
53400
Summary: Hundreds of thousands of people have visited the pleasure moon Vesa and simply vanished without a trace. Is this part of some vast galactic conspiracy? To find out, the Imperial Special Investigation Service dispatches its two best agents to look into the matter--and the shocking truth they reveal leads to a chain of discoveries that eventually threatens the stability of humanity's entire interstellar Empire.
Treacherous Moon
Word Count:
86000
Summary: One merman. Two lives. A love so powerful it tore apart a city and broke the heart of a god. Caspian, the Atlantean God of Justice, has devoted his eternal life to protecting the merfolk. He has no time for romance, not even when the merman he now watches over is his former lover reincarnated. Phoebus, a merman living in the sunken city of Atlantis before the Atlanteans were banished, never intended to fall for Caspian, the most promiscuous of all the gods. Yet, when Caspian offers him immortality, Phoebus doesn't know if he can pay the price, even if refusing means breaking the heart of a god. Back in the present, Marin remembers the love he once had for Caspian, but he's not the same merman now. Caspian might have loved him as Phoebus, but he knows the god cannot give him what he needs. Marin doesn't want Caspian's protection. He wants revenge, and he is prepared to make the ultimate sacrifice to get it, even if it means breaking Caspian's heart a second time
Treacherous Seas
June 11, 2019
Word Count:
96200
Summary: As the empire of evil sweeps across the land, the fate of Parsina rests on Jafar al-Sharif, the storyteller impersonating a wizard, and the exiled Prince Ahmad from the holy city of Ravan. But peril continues to dog their footsteps on the way to Mount Denavan and the final piece of the Crystal of Oromasd. They must confront the dangers of a mysterious island, the City of Faces, and the dragon demon who guards the fourth piece of the crystal. And even these threats pale before the betrayal by a trusted member of their company -- while within the heart of the dark enemy, Aeshma, king of the daevas, plots treachery against his own master to unleash an unimaginable tide of evil to engulf the world and destroy mankind. TREACHERY OF THE DEMON KING is the long-awaited conclusion to Stephen Goldin's Parsina Saga, a sweeping epic across an Arabian Nights world of imagination and wonder.
Treachery of the Demon King