Word Count:

24000
Summary: A HISTORY OF TROUBLE A Beacon Hill Sorcerer Collection A collection of brand-new short stories, featuring characters from The Beacon Hill Sorcerer Series by bestselling author SJ Himes. Red Wine and Blood The Blood Wars raged for centuries across Boston. Witness a brief glimpse into the brutal history of the Wars with Ignacio Salvatore and the vampire he loves, Ashwin Metcalfe, in 1897. A History of Trouble Angel was joking when he asked O'Malley if someone resurrected a mammoth. Little did he know that was exactly what someone did. Experience the untold story of what happened that unfortunate night at the Boston Public Museum. A Dragon in the City What happens when Eroch goes adventuring in Beacon Hill without Angel? Chaos, pure chaos. Fae's Gold Daniel is helping the newly-resurrected fae Ruairi Brennan become accustomed to modern-day living. A boring trip to the bank quickly escalates, and Daniel calls Angel for help. The day goes downhill from there but ends in a comfy meal in a pub for an ancient fae warrior and a necromancer's apprentice. This is an collection, featuring vignettes and short stories from the universe of The Beacon Hill Sorcerer series. For full enjoyment, the Beacon Hill Sorcerer Series Books 1 through 3 should be read before reading this collection.
A History of Trouble
Word Count:

4500
Summary: In love, time is relative, until they run out… Regulations limit time digger Ish and time cop Kabal, born years and worlds apart, to two dates a year, making every date precious. But when Kabal announces his retirement at their tenth anniversary, what should have been a happy occasion might be their last night together. Previously appeared in Storm Moon Press' Sweethearts & Seduction anthology
A Time Traveler's Valentine
Word Count:

11500
Summary: A dark fairy tale in a modern Welsh setting. The lives of a diver and a reclusive mermaid collide. Will one be the death of the other? When Erin comes to the aid of a sea creature caught in fishing nets, she's shocked to discover she's rescued an injured mermaid. Though it quickly disappears, Erin is determined to find the creature again. A twist of circumstance finds her trapped in the mermaid's lair, wrestling with her own conscience and the instinct to survive... This is a standalone novelette of about 11,500 words, and is the third installment in the Dark Folklore series.
Across Screaming Seas
Word Count:

67000
Summary: Androids & Aliens is Scott's third short story collection - eight sci fi and sci-fantasy shorts that run the gamut from cyborgs to (comedic) alien invasions: Rise: The rise in sea levels caused by climate change swallowed Venice beneath the lagoon half a century ago. But what if we could bring it back? Ping: I was a real estate agent by day, and a museum curator in the evening at a sci-fi museum. What I saw one night changed everything. What the Rain Brings: Miriam struggles to make a living in post-climate-change Vancouver. But her friend Catalina has it even worse in the Arizona desert. So Miri hatches a plan. High Seven: Zan dreams of making full reals - immersive live virtual reality skins - but his low score may doom him to a life of cheap coding. Full Real: Dek's given up his life of spying for the city. But one more case awaits him. Will he regret it more if he takes it, or turns it down? Shit City: The Bay Area is being walloped by a hurricane, and seventeen-year-old Jason Vasquez has been relocated to a refugee city in the Nevada Desert. Will it be temporary shelter, or change his life? Firedrake: Kerry has always wondered about his deadly powers. But a mysterious bunch of violet roses starts him on the path to discovery - even if he's not sure he's going to like what he finds. The Last Human Heart: I'm one of the Remainers, the few cyborg humans still living on this busted planet. But if my still-human heart finally gives out, I may not live to find out the truth about who I am. This is the first time all of these stories have all been collected in one place, and the first publication of the Pacific Climate Tryptich - What the Rain Brings, High Seven, and Full Real - in any form.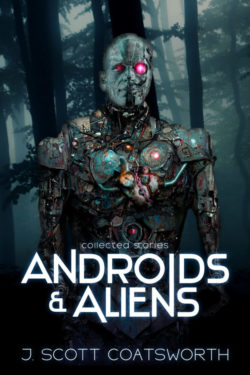 Androids & Aliens
Word Count:

20000
Summary: A story born in the hollers of Eastern Kentucky. Elizabeth Robinson. An Elizabeth Robinson has lived in the hills of Eastern Kentucky as long as people have built permanent settlements in the lush, green forests. While the mountains recover from the War of Northern Aggression, the simple folk seek the healings of the Robinson women. Three generations, working the ways from the old country, live in isolation. The youngest Elizabeth Robinson, a healer by happenstance, despises her role in the family. She longs for freedom, the wilderness of her youth, an escape from a dark secret. Alone in the forest, she stumbles upon the ghost of a Yankee soldier, Samuel Henry. Determined to help Samuel pass beyond the veil, Elizabeth brings him back to her mountain home. Turning of the wheel of fortune, prosperity changes to misfortune for the Robinsons, and a menacing figure lingers like a thick fog. Generations, built on lies, force Elizabeth to face a bleak reality and make the ultimate sacrifice.
Apparitions of Elizabeth Robinson
Word Count: Information not available
Summary: Maze running executioners, menopausal super heroes, psychic scientists, precog nuns, sentient crows . . . These are just a sampling of the diverse ladies that will enthrall, excite, and entertain you in this anthology of science fiction and fantasy stories written by women. With an introduction by Erin Gray.
Athena's Daughters Vol 2
Word Count: Information not available
Summary: Twenty four short stories, written by E.D.E. Bell between 2014 and 2020. Primarily a fantasy collection – sprinkled with humor, romance, and hope. Stories of wizards, Beatles, and a great many frustrated women.
Awkward Tomatoes
Word Count:

21,400
Summary: When do dreams become reality? Orin sells dandelion latex at a no-name market, barely scraping by. Mette is a princess. Maybe. What Orin does know is that for thirty seconds every night, Mette visits Orin in xir dreams. Orin has long since written the fancy ghost woman off as a recurring nightmare, but when Mette insists upon meeting in real life, Orin's inner world turns out to be more substantive than imaginary. Along with best friend Blathnaid, Orin embarks on a journey to discover the truth behind xir otherworldly connection--determined to free xir mind and finally get a good night's sleep. But it's an ancient, planetary magic that binds Orin to Mette, and Orin's dandelions may be their only chance to survive the separation. If you want a fun, queer romp through a sci-fi planet with magic and dragons (of a sort), download Awry with Dandelions today! Note: this book uses xie/xir pronouns for Orin. Genres: Space Opera / Science Fiction / Romance / LGBT Lesbian Non Binary Market: Adult and New Adult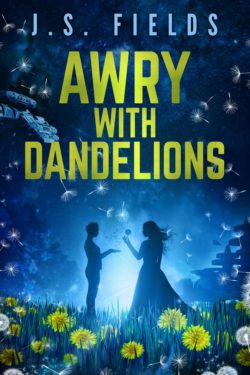 Awry With Dandelions
Word Count:

8700
Summary: A dark fairy tale in a modern Norwegian setting. Ida, a young girl grieving the loss of her mother, is wandering in the snowy wilderness when she meets the mysterious Maja - a huldra from myth and legend. Taking comfort in Maja's kind arms, Ida makes a desperate wish for her family to be whole again... and gets far more than she bargained for. With her own home turned against her, Ida must race across the wild valley to save her Pappa and confront the huldra before time runs out.
Beyond Thundering Waters
Word Count:

18000
Summary: ★A novella-length collection of female-centered MF, MMF and MFM★ Detailed SF erotica with wisps of romance and hints of humour. Female p.o.v. Women with sass and men who know how to be deeply intimate. With her and each other. Alien Tryst Planetary Surveyor Icara believes she is alone on the frozen planet, until she stumbles into Alien Hybrid Benj'in and his bonded mate, veteran Cyborg Jake. Survival in the cold soon gives way to the heat of passion, and the intimate promise of being fully filled. But Icara's debt to her employers threatens to tear the new lovers apart. Hot Pursuit Starship Captain Lanie Talbot prides herself on being responsible, until forbidden passions rise between her, Lt. Commander Nico Demelov, and his genetically modified partner Az. As the three pursue dangerous hijackers, Lanie craves submission to Az's primal nature, but she's already violated one rule by taking her First Officer Nico to her bed... Dirty Diplomacy Captain Siva is stranded in deep space with two demanding, lustful aliens. The demonic-looking alien ambassador wants an apology for the delay, while his well-built warrior husband is brazenly trying to seduce the Captain... and succeeding. If Siva can swallow her pride and say sorry, interplanetary relations will take a very passionate turn.
Bisexual Alien Collection: Three Hot and Steamy Sci-Fi Menage Shorts
Word Count:

7700
Summary: A lion sleeps in the hearts of brave men. When Prince Theodorin refuses to wed the general's youngest son because he loves another, he is trapped on a cursed island. He spends his days trying to escape, his nights listening to his lover's soothing voice echoing through the forest. His attempts to escape only lead back to where he started… until an encounter with a lion reveals a crack in the illusion. Theo has to believe, or he may never find his way home. Previously appeared in Wilde City Press' Bedtime Stories anthology
Click Your Heels
Word Count: Information not available
Summary: Eclectic, imaginative, and unexpected, Community of Magic Pens features forty genre-spanning flash and short stories--including fantasy, humor, science fiction, romance, historical fiction, satire, and mystery--bringing together a rich group of diverse voices from a wide range of backgrounds and intersections. Fountain pens, markers and ink, charcoals, spy pens, a braille writer, a printing press, virtual reality, and a supernatural pizza: whether revealing unspoken truths, fighting injustice, or finding friendship and love, our pens have power. Join us as a recent graduate of superhero school struggles to understand her gift, a disabled android interviews for a job, a queen's conscripted artist must pull reality from illustrations on parchment, and a grandmother's secret room is…better kept a secret. Tales of struggle and triumph, compassion and hope: Community of Magic Pens is a celebration of our shared story.
Community of Magic Pens
Word Count:

80000
Summary: The pandemic came and the world changed. Lives have changed; work has changed. The boundaries between reality and fantasy have become as blurred as those between life and work. Corporate Catharsis: The Work From Home Edition explores the impact of the COVID pandemic on everyone's personal and professional lives through speculative fiction. Featuring stories by Alicia Adams, Antaeus, Pauline Barmby, Steven D. Brewer, Dominick Cancilla, Adrienne Canino, Graham J. Darling, Derek Des Anges, Manny Frishberg, Alex Grehy, Jon Hansen, Alexa Kellow, Jack Nash, Helen Obermeier, Frank Sawielijew, William Shaw, Steve Soult, N.L. Sweeney, Kimberley Wall, and Richard Zaric.
Corporate Catharsis
Word Count:

12500
Summary: SEALS Winged Insertion Command (SWIC) has based Tiger Bailey's operational SWIC-3 out of Howland Island near the Equator in the central Pacific, just a few kilometers away from Baker Island, location for the socket where Amelia Earhart Skytower terminates. Tiger Bailey's squad is tasked to drop from Low Earth Orbit (LEO) to Mayotte Island, northwest of Madagascar in the Indian Ocean, to rescue a U.S. Senator and his family who were taken hostage by pirates.
DAEDALUS COMBAT—Combat drop from Low Earth Orbit
Word Count:

15600
Summary: Following his successful base jump from Fred Noonan Skyport, Tiger Bailey undertakes the next step in the development process of the Gryphon hardshell wingsuit, a drop from Low Earth Orbit. Using the Gryphon-10 with enhanced navigation and computer control, and with a greater wingspan, he uses the Slingshot Space Launch Loop to gain Low Earth Orbit (LEO), but experiences equipment problems that nearly destroy him and doom the project. Ultimately, Tiger perseveres and drops into the Earth's atmosphere. He skips out in in several times before eventually making a harrowing but safe landing.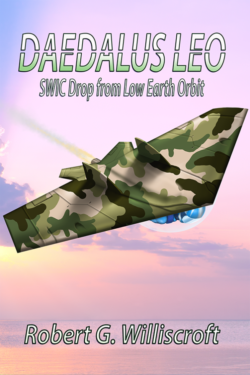 DAEDALUS LEO—SWIC drop from Low Earth Orbit
Word Count:

12300
Summary: After his successful proof-of-concept drop from Low Earth Orbit (LEO), Tiger Bailey's squad undertakes the next step in the development process of the Gryphon hardshell wingsuit, a coordinated drop from LEO by six team members. They tried to plan for every conceivable contingency, however, Mother Nature intervened with disastrous results.
DAEDALUS SQUAD—SWIC Squad drop from Low Earth Orbit
Word Count:

13500
Summary: Using a new Gryphon-7 hard-shell wingsuit, Tiger Baily, irreverent member of the Navy SEALS Winged Insertion Command, makes a harrowing first experimental base jump from the edge of Space, the Fred Noonan Skyport 80,000 meters above Jarvis Island in the Equatorial Pacific. Tiger's target, which he must reach to survive, is Kiritimati Island, a tiny isolated atoll 379 km northeast of Jarvis over ever-threatening and oh-so-deep ocean waters.
DAEDALUS: SWIC Basejump from Fred Noonan Skyport
Word Count:

51,180
Summary: Elvis impersonators, art-fueled lust, forbidden longings, hot women, unexpected love, rekindled flames, magic, all these and more populate the pages of DESIRE. Meet thieves and goddesses, activists and actors, ex-spies and tourists in this spicy collection of 11 tales of sensual lesbian erotica by author Emily L. Byrne. Table of Contents: Viva Las Vegas The Further Adventures of Miss Scarlet Summer Stock Spoonbridge and Cherry An Evening in Estelí A Room with a View Treehugger Diplomacy The Old Spies Club Heart's Thief The Goddess Within
Desire
Word Count:

132,000
Summary: Rules were made to be broken. From terraformed outposts to magical realms, journey to worlds where deadly plants, rampant biodiversity, or failed colonies have created irresistible opportunities for those brave enough to seize them. New worlds, found family, mystical secrets, and deadly science weave together in this lesbian-centric anthology focusing on a very different kind of first time—a first encounter with a world, or being, entirely unlike our own. If you like diverse stories with lesbian heroines practicing science, magic, and seduction, buy Distant Gardens today!
Distant Gardens
N.L. Bates , Sara Codair , Robin C.M. Duncan , J.S...
Word Count:

7300
Summary: Two brothers find misery in California's Gold Rush until a Chinese doctor promises them riches. They should have asked, at what price? Set in the Trinity Mountains, this is the first book - a single story - in a series of short reads in science fiction and fantasy.
Dragon Bones - A Fantastic Tale