Word Count:

84000
Summary: Edmund is heir to the throne of Thalassa and a wielder of Water magic. Devoted to his kingdom and his duty to it, Edmund can do nothing but acquiesce to an arranged marriage with the queen of a neighboring kingdom. The marriage and the child it is required to produce will seal an alliance between Thalassa and Aither that is vital to Thalassa's safety, and far more important than Edmund's personal misgivings. Arden is the younger brother of Aither's queen and a wielder of Air magic. Raised in the politics of the court to support his sister's rule, he understands the alliance is important to Aither, even as he worries about his sister marrying someone she's never met. When Edmund arrives in Aither to prepare for the wedding, Arden is tasked with helping him settle in at court. As they spend more time together, Edmund and Arden develop a close friendship, then stronger feelings, but with Edmund's wedding approaching, they must hide their feelings, even from themselves. When someone tries to assassinate the queen, Edmund is blamed, and Arden rescues him before he can be executed for a crime he didn't commit. To prevent a war between their kingdoms and protect them from a dangerous enemy, Edmund and Arden will have to discover who wants to pit Aither and Thalassa against each other and mend relations between the two kingdoms as they evade those searching for them—all while finding a way to be together.
A Dance of Water and Air
Word Count:

86611
Summary: Prince Edmund of Thalassa and Prince Arden of Aither are eagerly anticipating their upcoming wedding, but the danger to their kingdom hasn't lessened. They have a plan, but they won't be able to carry it out alone: they need a strong wielder of each Element, whom they can trust implicitly, to carry out the magic. Rhys is a commoner and wielder of Earth magic. He and his sister have made a living from the use of their magic for years and have become highly respected in scholarly circles, though he prefers a more simple life with his plants. When a message from Prince Arden reaches them asking for their help, they don't hesitate. They stop only to request that Gaz, a strong Fire wielder and the man Rhys has long been enamored of, accompany them on the journey to Thalassa's royal palace. What no one knows is that Gaz was once known as Prince Gareth of Thalassa and is Edmund's younger brother, long believed dead. He fled his home after his Fire Affinity made itself known and put him in danger, and he had no intention of ever going back. But he can't keep himself from going to his brother's aid, despite the risk of discovery and of the weight of his secrets potentially crushing his fledgling relationship with Rhys. Working against time, they must find a way to come together in a magical working the likes of which none of them has ever imagined, or their homelands will surely burn.
A Harmony of Fire and Earth
Word Count:

53,000
Summary: "Orcs are the answer but what is the question?" Elias is a priest at the Temple of the Divine Sibyl. When he becomes lost in the woods after his brother's hunting party abandons him, it's just his luck that he'd stumble upon an angry orc caught in a trap. Unable to stomach the suffering of others, Elias throws self-preservation to the wind and frees the orc. Then Gurrkk—that's a name?—ends up leading him to safety. Gurrkk finds himself rather smitten by the sweet, awkward human. He's always been fascinated with his people's sworn enemy, and now he has a life debt to fulfill to maintain his honor. Hiding an orc among the temple's crypts wouldn't have been Elias's first choice but Gurrkk is stubborn about leaving. As they learn each other's languages and spend more time together, Elias realizes they've become friends… and maybe more. And when the dying sibyl gives her last prophecy, Elias knows it wasn't chance that brought them together, it was the gods. But why? This is a sweet, ace romance, so no sexy times, but plenty of snuggles and cuddles!
A Priest, a Plague, and a Prophecy
Word Count:

87000
Summary: In a world where everyone has a soulmate, uniquely powerful mage Royiora and reluctant assassin Kalo collide in the worst of ways. Royiora Daralkaen, the only mage alive able to use all five kinds of magic, has a near idyllic childhood in the country of Porescalia - before war breaks out with their antagonistic neighbors, Kloria. Kalo Porla, a naturally magic-proof individual known as a Null, is trained to be as an assassin by the authoritarian empire known as the Domain. When Kalo and his partner assassin are sent to kill a mage and his apprentice, it starts a journey neither man was prepared to begin. Content warnings: harm to children, physical and psychological abuse, implied (off-page) rape, violence, mature language, minors in implied sexual situations (teenaged romance), implied sexual situations, bigotry towards fictional races, and suggestive language.
All or None
Word Count:

70000
Summary: As far as rock star Gareth Kendrick, the last true bard in Faerie, is concerned, the only good Unseelie is . . . well . . . there's no such thing. Two centuries ago, an Unseelie lord abducted Gareth's human lover, Niall, and Gareth has neither forgotten nor forgiven. Niall O'Tierney, half-human son of the Unseelie King, had never lost a wager until the day he swore to rid the Seelie court of its bard. That bet cost him everything: his freedom, his family—and his heart. When he's suddenly face-to-face with Gareth at the ceremony to join the Seelie and Unseelie realms, Niall does the only thing inhumanly possible: he fakes amnesia. Not his finest hour, perhaps, but he never revealed his Unseelie heritage, and to tell the truth now would be to risk Gareth's revulsion—far harder to bear than two hundred years of imprisonment. Then a new threat to Gareth's life arises, and he and Niall stage a mad escape into the Outer World, only to discover the fate of all fae resting on their shoulders. But before they can save the realm, they have to tackle something really tough: mending their own broken relationship.
Bad Boy's Bard
Word Count:

197000
Summary: Saving a life can change the course of history. Destin is torn away from his chicks and his bonded when the Terrens invade Aries 7. Experimented on in Terren labs, and made to work their mines, the GyrFalconi struggle to survive. Destin becomes their caretaker, endeavoring to save as many as possible, despite the emotional toll. Amidst the battle for survival, the universe shines on him and he bonds with not one but four people who give him a reason to keep fighting. When Valespia sends its Legions to the GyrFalconi's aid, Destin and his bonded are eventually freed, only to face new cruelties from their own people. Freedom comes with its own trials, though, as a divide forms in GyrFalconi society between the winged and the wingless. Destin and his bonded are given a chance at true happiness and they keep what they claim, no matter what. Tags: The Twenty-Year War where Terrens really mucked things up, so many hatchlings, Love not Lust (yes, using caps there seemed necessary), survivors, bisexual characters, all the cute hatchlings, talking to spirits, low heat, protective chantelle, evil empress, courageous stags, polyamorous, Destin keeps collecting bonded, avian species screech... a lot, non-human ace spectrum characters, found family, underestimated batore, so many stags, Mar'Sani mentor, did I mention the cutest chicks ever? CHERISH is the fourth book in the award-winning Valespian Pact series. Trigger warnings can be found in the Author's Note. Please download a sample of this book or use the Look Inside feature. 196,000 words.
Cherish
Word Count:

33000
Summary: Clarity (noun) Four definitions to inspire writers around the world and an unlimited number of possible stories to tell: 1) Coherent and intelligible 2) Transparent or pure 3) Attaining certainty about something 4) Easy to see or hear Clarity features 300-word speculative flash fiction stories from across the rainbow spectrum, from the minds of the writers of Queer Sci Fi.
Clarity
Word Count: Information not available
Summary: Eclectic, imaginative, and unexpected, Community of Magic Pens features forty genre-spanning flash and short stories--including fantasy, humor, science fiction, romance, historical fiction, satire, and mystery--bringing together a rich group of diverse voices from a wide range of backgrounds and intersections. Fountain pens, markers and ink, charcoals, spy pens, a braille writer, a printing press, virtual reality, and a supernatural pizza: whether revealing unspoken truths, fighting injustice, or finding friendship and love, our pens have power. Join us as a recent graduate of superhero school struggles to understand her gift, a disabled android interviews for a job, a queen's conscripted artist must pull reality from illustrations on parchment, and a grandmother's secret room is…better kept a secret. Tales of struggle and triumph, compassion and hope: Community of Magic Pens is a celebration of our shared story.
Community of Magic Pens
Word Count: Information not available
Summary: Diamondsong is a unique high fantasy saga told in ten parts. For lifetimes, the Ja-lal have prevented contact with the dangerous fairies of the forest. As tensions grow, those barriers are beginning to crumble. Blending rich worldbuilding with progressive themes, Diamondsong is a tale of power, identity, relationships—and magic. Part 01: Escape Dime has just left her career as a Ja-lal Intelligence agent, ready to roll her own dice. When, instead, she's accosted by winged invaders, some truths quickly fade—while others solidify. Begin Dime's journey with this unexpected tale of pursuit and discovery.
Diamondsong: Escape
Word Count:

132,000
Summary: Rules were made to be broken. From terraformed outposts to magical realms, journey to worlds where deadly plants, rampant biodiversity, or failed colonies have created irresistible opportunities for those brave enough to seize them. New worlds, found family, mystical secrets, and deadly science weave together in this lesbian-centric anthology focusing on a very different kind of first time—a first encounter with a world, or being, entirely unlike our own. If you like diverse stories with lesbian heroines practicing science, magic, and seduction, buy Distant Gardens today!
Distant Gardens
N.L. Bates , Sara Codair , Robin C.M. Duncan , J.S...
Word Count:

71840
Summary: Is it better to risk it all… or never know what could have been? After surviving an abusive childhood, Vulcan remade himself upon arriving in Los Angeles, California. He became a blacksmith for the paranormal community and strives to earn the respect of the vampire covens and werewolf packs that call LA home. He also prevents the pain of loss by keeping everyone at arm's length. But he never planned on meeting a former Roman soldier by the name of Marcus Cassius Vespillo. Something sparks between them and turns into a friendship he never considered possible. He can't deny his intense attraction to the intelligent, courteous, ancient vampire. And it scares him. Though Vulcan is wary of seeking more with Cassius, an attack leaves him at death's door and forces him to reexamine his priorities. But Cassius has his own secret, one that promises tragedy and loss. And if that wasn't enough, a slayer arrives in the States, one with a bloody connection to Cassius... and Vulcan himself. Note to Readers: Second edition with revised and updated text.
Eye of the Beholder
Word Count:

97000
Summary: The seas spell freedom. Pirates and kraken, boats and submarines, deadly sirens, mermaids, and the women who face them all. These are our heroes. High seas adventure, fantasy, and magic weave together in this sapphic anthology focusing on the joy of the unbounded oceans. If you like diverse stories with lesbian and sapphic heroines exploring oceans, battling sea monsters, and seducing pirates, buy Farther Reefs today! With stories by: Sarah Day and Tim Pratt, Kim Pritekel, Kyoko M. Sara Codair, William C. Tracy, N.L. Bates, Robin C.M. Duncan, Vanessa Ricci-Thode, Margaret Adelle, and J.S. Fields Genres: Science Fiction / Fantasy / Adventure / Lesbian / LGBT and Non Binary Market: Adult
Farther Reefs
Word Count:

36000
Summary: INK (NOUN) Five definitions to inspire writers around the world and an unlimited number of possible stories to tell: 1) A colored fluid used for writing 2) The action of signing a deal 3) A black liquid ejected by squid 4) Publicity in the written media 5) A slang word for tattoos Ink features 300-word speculative flash fiction stories from across the rainbow spectrum, from the minds of the writers of Queer Sci Fi.
Ink
Word Count:

67000
Summary: Morgorth and Aishe must contend with a deadly threat that could spell disaster for their world. Payshthas were the first of the Mother's intelligent children. It is rare for true friendship to form between them and another species—which makes Morgorth's bond with Enfernlo unique. And it is due to their friendship that Morgorth doesn't hesitate to answer Enfernlo's plea for help. A thief has stolen something vital from Enfernlo's colony—a stone of power. Their hunt for the stone leads them to a war torn kingdom, and Aishe can hardly stomach what he sees. The devastation urges him to assist however he can, no matter the risk. Meanwhile, Morgorth is faced with reminders of the monster he used to be, and contemplates how far he's come, and yet how far he still has to go. And when his estranged mentor joins them on their search, Morgorth is forced to confront his resentment and sense of betrayal, and use Master Ulezander as a tool to save the payshthas. Forced into a deadly quest where trust is in short supply, and faced with challengers for the stone, Morgorth must put his faith in those he loves and in himself... and become a champion not just of the Mother but for Karishian itself.
Jade: First and Last
Word Count:

165000
Summary: British superheroes, melodramatic Mages, snarky secret agents, one hell of a found family, and a whole load of weird people. Also, there's a duck. This is the painfully bizarre origin story of Rexley Nova. When Rex was four years old, he became one of the world's first superhumans. When Rex turns twenty, he feels the drive to use his scientifically given abilities to protect the world. He leaves home to become a member of the Secret Superhero Security team, alongside three of his friends and Danger City's own superhero, Polaris. Rex fights murderous Mages, evil organisations, criminal mafias, his agency appointed psychiatrist, his own anxious brain, and the most frightening of all, his attraction to a certain blue-eyed superhero.
Novas Got Nerve
Word Count:

100,000
Summary: Lida was their last chance for an uncolonized planet. But a world-spanning fungus had colonized it first. Agetha and her husband have spent their whole lives in the fleet's zero-G. Now all is turmoil as the fleet lands, discovering they are surrounded by a single fungal biomass spanning the entire planet. To build a new home, the fleet must confront a dangerous organism, and Agetha must decide if she can raise a family in this inhospitable landscape. Jane Brighton holds tenuous command over the colony and its administrators. She and the other gene-modded leaders emerged from their four-hundred-year suspended animation to find a crew much different from the one that departed Old Earth. Jane must direct the colony's fragile growth and defend it against being overrun by the fast-growing biomass. But there is something none of the colonists know. The massive organism that spans the planet is not simply a fungal mass, nor even a chimerical combination of species that once roamed the planet. The biomass has desires and goals, and one is to know these strange beings carving out a home in its midst. Download today to read of the colony's fate in Of Mycelium and Men! Genres: Space Opera / Science Fiction / Colonization / Alien Contact / LGBT / Non Binary / Trans Market: Adult
Of Mycelium and Men
Word Count:

150000
Summary: Can a retired assassin be the savior his people need? How does a former assassin save his fellow humans from extinction? By allying them with mrrogs of course! But that's easier said than done as humans are understandably distrustful and suspicious of sescurei, the official species of the InterGalactic community. Leopold must convince them that Mastrodai's offer of alliance isn't a trick, which means diplomacy, patience, and tenacity. Times like this make him grateful that he has two strong mates to lean on. And when it comes to understanding his own people, he'd be wise to follow Alex's lead. Alex has been too long away from her family and is thrilled to see them again. But with reunions come old pressures, old doubts, and old wounds. She must negotiate who she was with who she is, while helping her mates and her colony come together with the shared goal of freedom. Mastrodai, meanwhile, finds himself in the minority for the first time in his life, and the constant hostility has him doubting the wisdom of their choices. But he's devoted to his human mates and determined to see things through no matter the discomfort… or danger. Not everyone wants what Leopold and his mates have to give, and he needs to break through the resistance humans have built up after generations of degradation, humiliation, and fear. He must win his people's trust, solve the riddle of his parents' rings, and navigate the new complexities of his love life. Being an assassin was so much easier. Reader Discretion advised: PTSD, abusive family, a cult, MMF romance, dystopian.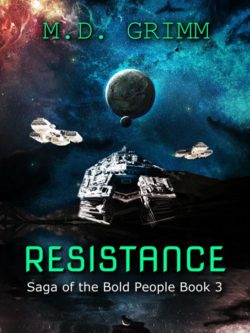 Resistance
Word Count: Information not available
Summary: Rhonda Wray: Raptor Wrangler is about a teenage girl who was innocently trying to listen to some live music … her favorite boy band happened to be playing a festival on a dinosaur planet … when bad things suddenly happened. Now she and her trusty robot are all alone in the wilderness, picking up survival skills and looking for her favorite singer, Sebastian Rose, just in case he needs to be rescued. There's hard science, explosions, plenty of dinosaurs (with feathers), diversity, no sex (although there are a few references to it), less violence than many dinosaur stories, cliffhangers galore, and a little bogus science just to honor the fine tradition of speculative fiction (what if raptors had syrinxes and could sing like birds?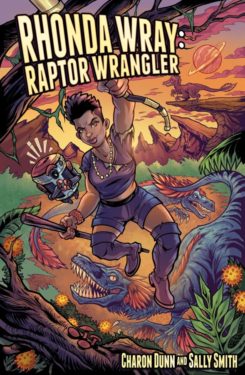 Rhonda Wray: Raptor Wrangler
Word Count:

92000
Summary: WELCOME TO THE ROOTS OF LOVE! Thirteen authors, fourteen stories, and lots of HEA/HFN - what more could you ask for? We went out and found the best romantic origin stories on the market today and collected them in one volume. Whether you want fantasy, urban, paranormal, contemporary, classical, or sci-fi, it's here. Straight, sapphic, gay, polyamory, we have the flavors to satisfy. Want to know more? A sci-fi short from noted sapphic author Lila Gwynn that begins at the end of the world C.R. Clark brings you a curse that might turn into a blessing AC Adams tells the tale of a djinn who is looking for the wish that will free her from bondage Award-winning author David Green takes you on a quest for love and revenge Can romance bloom in spin class? Nat Paga's going to show you how Gods and goddesses and humans, oh my! Courtesy of Lou Grimes It might be the future, but Adam Gaffen's characters still grapple with the forbidden attraction between a student and their professor A workplace romance heats up when the boss gets involved in Madilynn Dale's contribution There's love to be found in Dani Hermit & Curtis Star's Omegaverse, if you know where to look AC is back with a story in her award-winning Kalili's Temptation universe A modern retelling on the Romeo and Juliet origin story gets the full, lyrical Rose Sinclair treatment Jump into the hopepunk future of O.E. Tearmann and see what true friends do for each other Valkyries and shifters are mortal enemies, but do they have to be? Find out in Poppy Minnix's tale What could possibly happen when a fae starts reading tea leaves for humans? Sienna Swift has your answer So sit back, relax, and enjoy this journey into all the ways love can begin in the most unlikely circumstances!
Roots of Love
Word Count:

70,000
Summary: Do you know what your problem is? Sulphur knows hers. This 13th-century woman has trained as a fighter all her life in hopes of joining the army. Then, within days, both of her older sisters announce plans and suddenly Sulphur is expected to find a man to marry instead. Is it her good fortune her homeland is gripped by fear of a pending invasion and the army now goes door to door encouraging recruits? Sulphur thinks it is. But once she's forced to kill in a small skirmish, she's ready to rethink her career decision. Too bad it's too late. The invasion is coming, and Ilari needs every good soldier it has. Once Sulphur learns Ilari's army has made the strategic decision to not defend certain parts of the realm, including the one where her family lives, she has to re-evaluate her loyalty. Is it with the military she's always admired? Or is it with her sisters, who are hatching a plan to defend their homeland with magic? The problem with being a woman who fights for what's right is that now, she has to figure out what is.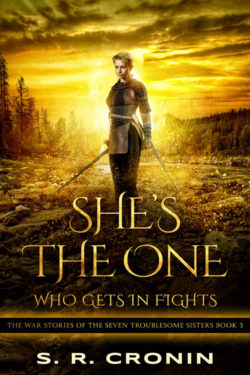 She's the One Who Gets in Fights