Word Count:
73027
Summary: If blood really is thicker than water, are the ties that bind a found family stronger than the ties of blood? After a decade of homelessness and living off his own wits, Tris has lost all faith in the kindness of strangers. And after years of letting his friends down time after time, Ozzy knows he's the last person anyone should count on. When Tris's search for his lost younger brother lands him in a small town at an overly-friendly Bed and Breakfast, everyone, including the B and B herself, seem to be pushing Tris and Ozzy together. Tris learned a long time ago, under the fists of his manipulative step-father, that family can't be trusted, and love means nothing. Torn between the desire to see Tris thrive in his new home, and the need to protect the very younger brother Tris came looking for, Ozzy has some hard choices ahead. Welcome back to Griffon's Elbow and The Oaks B&B, aka Mildred. She's not the only sentient house in town.
Brother's Keeper
May 31, 2021
Word Count: Information not available
Summary: Eclectic, imaginative, and unexpected, Community of Magic Pens features forty genre-spanning flash and short stories--including fantasy, humor, science fiction, romance, historical fiction, satire, and mystery--bringing together a rich group of diverse voices from a wide range of backgrounds and intersections. Fountain pens, markers and ink, charcoals, spy pens, a braille writer, a printing press, virtual reality, and a supernatural pizza: whether revealing unspoken truths, fighting injustice, or finding friendship and love, our pens have power. Join us as a recent graduate of superhero school struggles to understand her gift, a disabled android interviews for a job, a queen's conscripted artist must pull reality from illustrations on parchment, and a grandmother's secret room is…better kept a secret. Tales of struggle and triumph, compassion and hope: Community of Magic Pens is a celebration of our shared story.
Community of Magic Pens
Word Count: Information not available
Summary: The world of Avern has moved on. It has been almost a thousand years since the day the entire pantheon disappeared. Since the Abandonment, the mortals have learned to live without gods and goddesses. The world became mundane with little magic, and even less hope. Tyrants have risen, and those able to wield what is left of magic are powerful. Forces surge in the darkness that threaten to topple the already fragile world. The plight of the world of Avern is not unknown, however, and those that watch from a distance have decided to intervene. The mortals are sleeping, however, unknowing that two great powers will soon by vying for control.Then something happens that changes things. A young princess makes a bid for power by murdering her father. She then attempts to murder her sister, the crown princess of Lineria, Keiara. Despite a true strike, aided by dark powers, Keiara doesn't die. Instead, the strike pierces the barrier between her human soul and the soul sleeping within her, the soul of the Dark Phoenix. More than a goddess, the Dark Phoenix is the legendary mother of the gods. She is a part of the Eternal Phoenix that brought life to their world eons ago, one of the primal forces of the cosmos.
Dark and the Sword
Word Count: Information not available
Summary: Diamondsong is a unique high fantasy saga told in ten parts. For lifetimes, the Ja-lal have prevented contact with the dangerous fairies of the forest. As tensions grow, those barriers are beginning to crumble. Blending rich worldbuilding with progressive themes, Diamondsong is a tale of power, identity, relationships—and magic. Part 01: Escape Dime has just left her career as a Ja-lal Intelligence agent, ready to roll her own dice. When, instead, she's accosted by winged invaders, some truths quickly fade—while others solidify. Begin Dime's journey with this unexpected tale of pursuit and discovery.
Diamondsong: Escape
June 19, 2017
Word Count:
5008
Summary: Kolya Agapov is handsome, wealthy, intelligent ... and desperately wants to be someone else. Trapped between his family's ties to the Russian Mob and his father's impossible expectations, he can't find a way out until he visits the opera and meets a beautiful performer named Alyona. Notoriously uninterested in anyone trying to take her on a date, Alyona nevertheless sees something in Kolya Something that might just lead to something deeper, and more dangerous. Alyona might be able to offer him a new life, but will Kolya be willing to pay the price?
Drown The Man
October 27, 2021
Word Count:
222000
Summary: Two people find themselves in a quandary: Aderri, a powerful dragon shifter with some light defensive magic, and Ellys, a half-elven swordswoman for hire, one of the best across the six nations. When Aderri gets news that she must come home for the naming ceremony of a new hatchling, she's forced to hire Ellys and her telepathic steed, Roccotári, to see her safely there. Of course, things are never as simple as they seem. Not only do they have to traverse the land between two kingdoms on the brink of war, but Aderri's Clan expects her to return with a romantic interest. So, for the added promise of triple Ellys's normal fee, the half-elf agrees to pretend to be Aderri's suitor. Ellys and Aderri have to convince a Clan full of magical mixed-shifters for a week that creatures of differing elements can burn with the flames of love, without actually lying. A situation made even more difficult by a matchmaking mare, steamy baths, and an innkeeper with mischief on the mind. Caught between the weight of the past and expectations of the future, they must find their true destiny within the heat of fire.
Elemental Attraction
September 1, 2021
Word Count: Information not available
Summary: The Dissolution approaches, and all will change. "Science fantasy with fantastic queer rep" -J.S. Fields, Author of the Ardulum Series The Dissolution approaches. Sam has saved the Assembly of Species, but at a terrible cost. Locked in his apartment, his memories gone and his best friend abducted, he is once again crippled with anxiety. Meanwhile, Enos struggles to free her brother from imprisonment, alone for the first time in her life. Her true species has been revealed, and there are hints the deadliest of her kind survived an ancient war. But the Nether contains more secrets. A musical chime disrupts daily life, signaling changes to its very fabric. To solve this mystery, Sam must face his anxiety and confront truths about his memories and unique abilities. Only then can he save his friends from the machinations of the Life Coalition, by understanding the reality behind the Facets of the Nether. If you like epic fantasy, space opera and music-based magic, you'll love William C. Tracy's Dissolution Cycle. Download Facets of the Nether today and discover the diverse cultures, genders, and alien species of an epic science fantasy space opera! The Dissolution Cycle (Epic Space Opera, LGBT): Book 1: The Seeds of Dissolution Book 2: Facets of the Nether Book 3: Fall of the Imperium Book 4: Tales of the Dissolutionverse (Novella collection)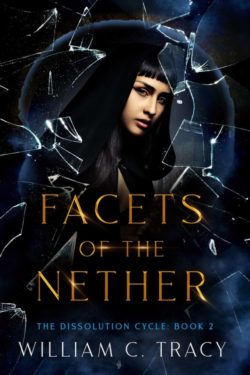 Facets of the Nether
June 22, 2020
Word Count: Information not available
Summary: The Dissolution is here. It is both an end, and a beginning. "Science fantasy with fantastic queer rep" -J.S. Fields, Author of the Ardulum Series The Dissolution has begun. Sam is finally reunited with Enos and Inas, only to see his new home under siege by beings that dissolve reality at a single touch. Even as they battle their personal demons, the three apprentices must also fight to save their home. Enos lashes out at those she loves, plagued by voices she's consumed, and Inas must risk his sanity to access ancient memories of the Nether. Sam must learn how he uniquely affects the Symphony, but there is little time to master what usually takes a lifetime. The Nether is leaderless and the Assembly is in chaos. The three apprentices must counter an invasion by aliens who rip the Symphony, and the very universe, apart. Ancient antagonists will resurface, a battle must be fought, and the secrets of the Nether and the universe will be laid bare in this final book of the Dissolution Cycle. If you like epic fantasy, space opera and music-based magic, you'll love William C. Tracy's Dissolution Cycle. Download Fall of the Imperium today and discover the diverse cultures, genders, and alien species of an epic science fantasy space opera! The Dissolution Cycle (Epic Space Opera, LGBT): Book 1: The Seeds of Dissolution Book 2: Facets of the Nether Book 3: Fall of the Imperium Book 4: Tales of the Dissolutionverse (Novella collection)
Fall of the Imperium
August 24, 2020
Word Count:
85000
Summary: ALSO AVAILABLE FROM INGRAM FOR BOOKSTORES We're a world beset by crises. Climate change, income inequality, racism, pandemics, an almost unmanageable tangle of issues. Sometimes it's hard to look ahead and see a hopeful future. We asked sci-fi writers to send us stories about ways to fix what's wrong with the world. From the sixty-five stories we received, we chose twelve most amazing (and hopefully prescient) tales. Dive in and find out how we might mitigate climate change, make war obsolete, switch to alternative forms of energy, and restructure the very foundations of our society, The future's not going to fix itself.
Fix the World Anthology
April 10, 2021
Word Count:
36000
Summary: INK (NOUN) Five definitions to inspire writers around the world and an unlimited number of possible stories to tell: 1) A colored fluid used for writing 2) The action of signing a deal 3) A black liquid ejected by squid 4) Publicity in the written media 5) A slang word for tattoos Ink features 300-word speculative flash fiction stories from across the rainbow spectrum, from the minds of the writers of Queer Sci Fi.
Ink
August 10, 2021
Word Count:
284
Summary: Third-gender operative Dalí Tamareia thought their life as an ambassador ended when they joined a galactic intelligence agency. When they're yanked out of the field and tapped to negotiate the surrender of deadly bio-engineered warriors who crashed into hostile territory, Dalí is thrust headfirst back into the tumultuous world of galactic diplomacy. Dalí has faced Shontavians before, but not like these. The stranded mercenaries are highly intelligent and have an agenda of their own. Dalí can't afford to be distracted from the negotiations by their own demons or the presence of a charming diplomat with a mysterious past. As a brewing civil war threatens to derail the entire mission, Dali must use all their skills to bring this dangerous situation to a peaceful end—but the Shontavians may not be the biggest monsters at the table. Someone is determined to see Dalí and their team dead before they discover the brutal truth hidden in the wreckage.
Peacemaker
March 2, 2020
Word Count:
100000
Summary: Dragons don't care what gender you are. A small town may be a refuge, or a trap. Some younger brothers really do save the planet. Three people can be the strongest shape. There's nothing quite like a gorgeous girl on a shape-shifting motorcycle. This second Kira Harp collection brings together LGBTQ teens in 21 stories of adventure, discovery, and romance, in fantasy, paranormal, contemporary, and SciFi settings. Ranging from a few short pages to 12,000 words, each story was inspired by a prompt picture from the YA LGBTQ Books Group on Goodreads. (Content warnings for abduction, bullying, self harm, substance abuse, suicidal ideation.) **This book is free in ebook everywhere except Amazon
Rainbow Briefs volume 2
August 31, 2018
Word Count:
70000
Summary: When you have chaos magic, the only thing you can do is expect the unexpected. Zombies. Shoestorms. Illicit unicorn rides. A talking red panda. Before today Max never believed in magic, despite bad luck so terrible he used to jokingly call it a curse. Now he's a reluctant believer. His first day as a mage he draws the attention of the magic police, not to mention the mysterious hooded figures chasing him all over downtown Portland trying to kill him with magic. With the help of his new speed-demon red panda familiar, his fortune-telling neighbor, a gadget-obsessed witch, a grumpy vampire, and his maybe-brother, Max needs to learn to use his chaos magic, and quickly, or his 'curse' is going to be the end of him and the people he loves.
Red Pandamonium
June 13, 2022
Word Count:
35000
Summary: THE TIME TO STAND UP FOR YOURSELF IS NOW – AND ALWAYS! Past and present shatter like glass as Iria and Madge, lovers and witches in modern-day San Francisco, send their friend and ally Emperor Norton back in time to snatch a key to the city's soul from one of its most turbulent events: the Compton's Cafeteria riots! As the abused and exploited LGBTQIA+ people of the Tenderloin neighborhood rise up against their violent oppressors, our heroes find their plans foiled by Mammon, their demonic foe, when he sends his lieutenant Etta Place to ambush them in the present while he attacks them in the past. As Norton and Place dance a deadly duel in the shadow of one of the city's greatest monuments, Iria and Madge must use their most powerful arts and quickest wits to wage a battle of wills and weapons across multiple moments in time. Betrayals abound and secrets are revealed as everyone involved—good and evil, wicked and wise—joins the battle for their own soul, the soul of the city, and their place in its future! Servant/Sovereign is the time-bending urban fantasy series from award-winning author Michael G. Williams, set in the Shadow Council World of Quincy Harker.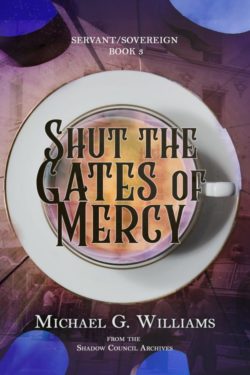 Shut the Gates of Mercy
February 10, 2022
Word Count: Information not available
Summary: Discover ten planets, joined through music-based magic and an immense sentient crystal. This anthology contains nine stories from the popular Dissolutionverse universe! Join Origon as he investigates the Pixie homeworld and tries to avert a war! Learn how to change the Symphony with Rilan, as she searches for Origon's lost brother. Travel with merchants in an old war train with some suspicious cargo. Fly with the first majus in space! Discover the food and culture of the ten species. Learn what lurks in the basement of the House of Potential. Music, magic, and murder is afoot with Mandamon, as someone plots to bring down the secret Society of Two Houses! An ancient being confronts other-dimensional entities. And a climbing crew searches for the top of a miles-high wall, riding a giant steampunk beetle! If you like space opera, fast-paced adventure, music-based magic, and complex, diverse characters, then you'll love this collection of stories from William C. Tracy's Dissolutionverse. Pick up Tales of the Dissolutionverse to discover the music today! There's more adventure in The Dissolution Cycle (Epic Space Opera, LGBT): Book 1: The Seeds of Dissolution Book 2: Facets of the Nether Book 3: Fall of the Imperium Book 4: Tales of the Dissolutionverse
Tales of the Dissolutionverse
May 20, 2019
Word Count: Information not available
Summary: One underworld entanglement. One haunted music venue. One chance to make it out alive. When Barry Matthews left his band to become the booker for Melbourne's hottest music venue, he never expected to find a link to the past buried deep within the rubble from the renovations. And now the new spate of threatening phone calls are becoming as troubling as the disappearing visitors and the malevolent activity in the basement. Trapped within the hotel with the alluring Simon, or Felicia, depending on his choice of outfit, they must join together to survive the threats from outside, as well as the dangers growing within the walls of the hotel. But the longer the renovations go on, the stronger the dark forces become. Barry and Simon must uncover the secrets behind the hotel's sinister history before it's too late, or risk becoming the hotel's latest victims.
The Booker
April 30, 2020
Word Count:
7150
Summary: In a four-gendered world where correct gender identity is law, Venk struggles with his inability to choose one sexual orientation over another. His body has matured, but he still shows the multi-colored crest of a juvenile, someone who has not yet presented proper orientation. With his family losing patience and others beginning to whisper, Venk must find a way to change his crest or be labeled an aberration. But the only choice he sees is a dishonest one.
The Color of His Crest
June 6, 2015
Word Count:
13000
Summary: Poems written by Cyborgs in the future, melding sci-fi and poetry, human and machine. The Cyborg Anthology takes place in a future where there was a thriving world of Robots and Cyborgs living peacefully beside Humans, but a disaster destroyed all Robot and most Cyborg life. The book is organized like a typical anthology of literature, split into sections that include a biography of each poet and a sample of their poetry. It covers early Cyborg poetry, political, celebrity, and pop culture poets, and ends with the next generation of Cyborg poets. The narrative takes place in the time after a cataclysmic event, and the collection wrestles with this loss. Through the lives of the poets, the book chronicles the history of personhood for technological beings, their struggle for liberation, and demonstrates different ways a person can be Cyborg. The poems and biographies together tell the story of a complex and enthralling world-to-come, exploring topics that are important in the future, and also urgent right now. "With mordant wit and a playful satiric touch, these Cyborg poems showcase a dazzling range of poetic forms and ideas: imaginative and charmingly subversive. Move over Norton Anthology of Poetry, there's a new force in town, and they are a delight." —Renée Sarojini Saklikar, author of Listening to the Bees and Children of Air India "The premise of this collection alone is fabulous. The poems are potent and powerful. With echoes of Le Guin, Brunner and Monáe, Lindsay B-e's debut is layered and smart, provocative, and deeply satisfying. I was moved and fascinated. Speculative poetry at its best." —Hiromi Goto, author of Chorus of Mushrooms and Darkest Light
The Cyborg Anthology
October 1, 2020
Word Count:
92459
Summary: Ben and Alysia, sole mates, cursed to be separated by age and social norms until they live a life and raise a child together in love, struggle to defeat the curse. Meanwhile, the originator of the curse, Dorry, hounds them from life to life in a selfish and self- destructive vendetta. Follow these souls through Albert, Bernidine and Darius, nobles in fifteen hundreds France when the curse begins. To Abigail and Bernia Sapphic lovers in the year 1774 who are hounded by Donald, a false pretender to Abigail's Estates. Later still in the Colorado Territories of the American west shortly after the civil war Ada and Bailey, a young emancipated slave and a radical Doctor from the North, struggle to love against the bias of their time and the plots of Deigo. Then in our current times, the lovers strive to break the curse and let love triumph. But is love enough when the world is against you?
The Hollow Curse
May 28, 2009
Word Count:
40,400
Summary: Sequel to Lost in Time and Shadows on the Border Inadvertently tumbling through the border after Fenn and then thrown into the middle of the internecine political disputes of their people, Sergeant Will Grant of the Metropolitan Police has spent three months in prison in the Underhalls of the Frem. When Fenn comes to free him and return him home through the border, he has very little time to work out what's going on before the sudden appearance of Fenn's missing younger sibling, Keren, throws Fenn for a loop. Instead of returning them to London as planned, the trio step through the border to the Egyptian desert. Once they work out where they are, it's a two week trip back to England with the possibility of pursuit both onboard ship and when they reach home. Will the journey give Fenn and Will time to resolve the feelings they have been dancing around since the day they met? How will they keep Keren from recapture by the faction who tried to persuade Fenn they were dead? And has Will's friend Alec forgiven Fenn for lying about their motives when they first traveled to London four months ago? The Hunted and the Hind is the third and final book in the 1920s 'Lost in Time' trilogy. The books need to be read in order.
The Hunted and the Hind
December 30, 2020