Word Count:

21,400
Summary: When do dreams become reality? Orin sells dandelion latex at a no-name market, barely scraping by. Mette is a princess. Maybe. What Orin does know is that for thirty seconds every night, Mette visits Orin in xir dreams. Orin has long since written the fancy ghost woman off as a recurring nightmare, but when Mette insists upon meeting in real life, Orin's inner world turns out to be more substantive than imaginary. Along with best friend Blathnaid, Orin embarks on a journey to discover the truth behind xir otherworldly connection--determined to free xir mind and finally get a good night's sleep. But it's an ancient, planetary magic that binds Orin to Mette, and Orin's dandelions may be their only chance to survive the separation. If you want a fun, queer romp through a sci-fi planet with magic and dragons (of a sort), download Awry with Dandelions today! Note: this book uses xie/xir pronouns for Orin. Genres: Space Opera / Science Fiction / Romance / LGBT Lesbian Non Binary Market: Adult and New Adult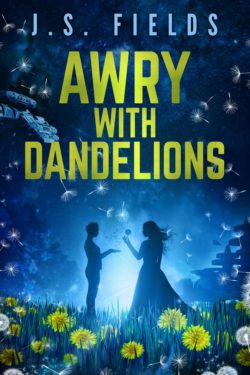 Awry With Dandelions
Word Count:

33000
Summary: Clarity (noun) Four definitions to inspire writers around the world and an unlimited number of possible stories to tell: 1) Coherent and intelligible 2) Transparent or pure 3) Attaining certainty about something 4) Easy to see or hear Clarity features 300-word speculative flash fiction stories from across the rainbow spectrum, from the minds of the writers of Queer Sci Fi.
Clarity
Word Count:

132,000
Summary: Rules were made to be broken. From terraformed outposts to magical realms, journey to worlds where deadly plants, rampant biodiversity, or failed colonies have created irresistible opportunities for those brave enough to seize them. New worlds, found family, mystical secrets, and deadly science weave together in this lesbian-centric anthology focusing on a very different kind of first time—a first encounter with a world, or being, entirely unlike our own. If you like diverse stories with lesbian heroines practicing science, magic, and seduction, buy Distant Gardens today!
Distant Gardens
N.L. Bates , Sara Codair , Robin C.M. Duncan , Wil...
Word Count:

97000
Summary: The seas spell freedom. Pirates and kraken, boats and submarines, deadly sirens, mermaids, and the women who face them all. These are our heroes. High seas adventure, fantasy, and magic weave together in this sapphic anthology focusing on the joy of the unbounded oceans. If you like diverse stories with lesbian and sapphic heroines exploring oceans, battling sea monsters, and seducing pirates, buy Farther Reefs today! With stories by: Sarah Day and Tim Pratt, Kim Pritekel, Kyoko M. Sara Codair, William C. Tracy, N.L. Bates, Robin C.M. Duncan, Vanessa Ricci-Thode, Margaret Adelle, and J.S. Fields Genres: Science Fiction / Fantasy / Adventure / Lesbian / LGBT and Non Binary Market: Adult
Farther Reefs
Word Count:

36000
Summary: INK (NOUN) Five definitions to inspire writers around the world and an unlimited number of possible stories to tell: 1) A colored fluid used for writing 2) The action of signing a deal 3) A black liquid ejected by squid 4) Publicity in the written media 5) A slang word for tattoos Ink features 300-word speculative flash fiction stories from across the rainbow spectrum, from the minds of the writers of Queer Sci Fi.
Ink
Word Count:

40000
Summary: We interrupt our regularly scheduled program to take a side trip down two branching paths. First, we'll follow Matt and Xander as they take a surprise honeymoon to Hawaii in The Honeymooners. It's not all private beaches and swimming with the fish, though. Truths from Xander's past are revealed that give Matt new insight into his mate. Just as they get comfortable, the unforeseen appearance of a new enemy cuts their trip short. Next, we slide over to find out what some mischievous foxes have been doing behind the scenes since they arrived in France. Akira and Koji set their sights on a pair of twin hunky dragons in 2+2=Love. ​​​​​​​ It's not easy being twin dragons when your other half has been in your head since conception. It's certainly not easy finding love, but Halvar and Herleif have hope when a pair of foxes cyberstalk their way into their lives. Intermission contains two short stories that occur during the events at the end of First Strike and through Dragon's Hoard. While these stories do not fit into the overall story arc, some bits and pieces may find importance later on down the road. So take a break from the action and breathe in some light-hearted fun and romance. Dragon War Chronicles is a continuous series. It must be read in order.
Intermission
Word Count:

114000
Summary: A Slow Burn Meet Cute! Baker. Wizard. God of Space and Time. Cupcake enthusiast. How long will it take to fan the flames and enrage this gentle phoenix? Start counting. What's a wounded and lonely little cinnamon roll to do? Stripped of his psychic powers, Calico Winghorse flees his homeworld and travels to 19th century Earth via his inter-dimensional portal. As a mixed-blood phoenix trapped in human form, he opens a bakery in the San Francisco Bay Area and quietly nurses his wounds. But the unique method of his arrival draws the unwanted attention of Infinity Corporation. Representing this angelic-run company is Agustin Chavez de la Cruz, the Demon Lord of California. Even though Agustin is IC's heir, he finds himself demoted from his duties to concentrate on his new assignment: take absolute control of Calico's portal. But Calico refuses to sell at any price. He is also very busy ensuring that the good people of the city are getting their fill of baked goods. Before Agustin can formulate a more gracious avenue of acquiring the gateway, the demanding head of IC interferes, further complicating matters. So as negotiations stumble along, Calico and Agustin come to realize they both want more than a stuffy business arrangement. However, due to Calico's injuries, the portal remains vulnerable to the darker forces that want it at any cost. Agustin will have to push both his angelic heritage, as well as his own psychic powers to the very limits to heal this sweet baker, who is also the portal world's God of Space and Time. The Demon Lord of California is the first book of an LGBTQ+ paranormal-fantasy series. You won't want to miss a first love found, hidden worlds, and a recovering workaholic grasping at his second chance. All centered around the control of an otherworldly portal. So curl up with your favorite beverage, and hang out with Cal and Gus for a while. You'll be happy you did!
The Demon Lord of California
Word Count:

103,300
Summary: Legends tell of large cats defending the principality of Tournai, but such creatures are only myth. Or are they? Prince Philip inherited the throne of Tournai at a young age, and since then, his life has centered around ruling his country and resisting those pressuring him to do as they want both in matters of governance and those more personal. He's become isolated and lonely. Amory is the second son of a wealthy merchant who has never approved of anything about him or had any use for him. Until now. When kind-hearted Amory is offered to the prince in exchange for more time for Amory's merchant father to complete a commission, both Philip and Amory are horrified. But Philip agrees to keep Amory at the palace, where they gradually become friends, then lovers. For the first time in his life, Philip is free to share not only his heart, but the magical shape-shifting ability that runs in the royal bloodline—something the royal family has kept secret from all but those closest to them for generations. Neither Amory nor Philip imagined falling in love, and they certainly don't expect what those who oppose their relationship will do to keep them apart—maybe even resorting to murder.
The Prince's Consort
Word Count:

130,000
Summary: Under the dirty streets of Ismae's greatest port city, an old nightmare waits for Sylandair and Aliara, one that is stealing Dockhaven's children, one only they can end. When the pair escaped their owner and abuser years ago, they left him behind in a ball of blue flame, but as more children disappear near the city's desalinization plant, their suspicions turn to the predator they believed dead. Accompanied by their less-than-reliable puka scout Schmalch, they delve into the forgotten depths of the patchwork city. Their search will lead to a twisting world of corruption and experimentation, uncover horrors greater than any they imagined, and summon memories they never wanted to exhume. A dark science fantasy action-adventure horror, Things They Buried is the first full-length novel of Ismae, a world where science sometimes appears as magic and history as myth, where monsters make themselves and heroes are wholly unintentional. This novel contains adult themes and violence.
Named to Kirkus Reviews' Best Books of 2019
Imadjinn Awards Best Fantasy Novel, Imaginarium Con 2020
Independent Book Publishers Awards (IPPY) Gold Medalist (Fantasy)
Things They Buried