Word Count:

84000
Summary: Edmund is heir to the throne of Thalassa and a wielder of Water magic. Devoted to his kingdom and his duty to it, Edmund can do nothing but acquiesce to an arranged marriage with the queen of a neighboring kingdom. The marriage and the child it is required to produce will seal an alliance between Thalassa and Aither that is vital to Thalassa's safety, and far more important than Edmund's personal misgivings. Arden is the younger brother of Aither's queen and a wielder of Air magic. Raised in the politics of the court to support his sister's rule, he understands the alliance is important to Aither, even as he worries about his sister marrying someone she's never met. When Edmund arrives in Aither to prepare for the wedding, Arden is tasked with helping him settle in at court. As they spend more time together, Edmund and Arden develop a close friendship, then stronger feelings, but with Edmund's wedding approaching, they must hide their feelings, even from themselves. When someone tries to assassinate the queen, Edmund is blamed, and Arden rescues him before he can be executed for a crime he didn't commit. To prevent a war between their kingdoms and protect them from a dangerous enemy, Edmund and Arden will have to discover who wants to pit Aither and Thalassa against each other and mend relations between the two kingdoms as they evade those searching for them—all while finding a way to be together.
A Dance of Water and Air
SALE
Word Count:

80000
Summary: Beware the demon prince who's sick and tired of running. Federico Duomo is dead, to begin with. But this is only the first bit of Shax's problems resolved. Powerful crime lords and an obscenely wealthy oligarch are still determined to destroy him and his crew, and Fluffy's original owner may be coming after the Brimstone now, too. It would be splendid to be able to take on one thing at a time. Adding to the external conflicts, life on board the Brimstone has only grown increasingly stranger. Shax has no idea what to do with the seven partly human children that Heckle rescued from slavers. Heckle himself has grown short-tempered, even with Mac. Someone from Julian's past catches up to them on Barbary. It's enough to put a demon off his cinnamon buns. Shax isn't panicking, though. In fact he's had it up to his handsome royal nose with the people he loves having to live in constant fear. The fox has turned at bay and the Brimstone's enemies are in for a shock. The demon prince of thieves is coming for them.
A Fine Mess: Brimstone 7
Word Count:

86611
Summary: Prince Edmund of Thalassa and Prince Arden of Aither are eagerly anticipating their upcoming wedding, but the danger to their kingdom hasn't lessened. They have a plan, but they won't be able to carry it out alone: they need a strong wielder of each Element, whom they can trust implicitly, to carry out the magic. Rhys is a commoner and wielder of Earth magic. He and his sister have made a living from the use of their magic for years and have become highly respected in scholarly circles, though he prefers a more simple life with his plants. When a message from Prince Arden reaches them asking for their help, they don't hesitate. They stop only to request that Gaz, a strong Fire wielder and the man Rhys has long been enamored of, accompany them on the journey to Thalassa's royal palace. What no one knows is that Gaz was once known as Prince Gareth of Thalassa and is Edmund's younger brother, long believed dead. He fled his home after his Fire Affinity made itself known and put him in danger, and he had no intention of ever going back. But he can't keep himself from going to his brother's aid, despite the risk of discovery and of the weight of his secrets potentially crushing his fledgling relationship with Rhys. Working against time, they must find a way to come together in a magical working the likes of which none of them has ever imagined, or their homelands will surely burn.
A Harmony of Fire and Earth
SALE
Word Count: Information not available
Summary: The year: 2157 The mission: change everything The Unit: Democratic State Force Base 1407 Call handle: The Wildcards Seven Corporations control what was the United States of America. The food supply and its production is controlled by American AgCo. All agricultural seeds in the United States have been genetically designed to fail outside Corporate control. At least, that's what the Corporations say. There's a rumor that a seed bank has survived the destabilization that brought down old America, and the seventy-five years of Corporate ownership that followed. If it still exists, it would provide free, accessible food for the Democratic State Force and everyone in their care. It's a risky hunt for a treasure that may or may not exist. Something to put the most resourceful team in the Force to work on. The Wildcards just got the call. A hunt for hidden treasure. Free food. What could go wrong? Never ask that question. Life's a bitch. She'll answer.
Aces and Eights
Word Count:

95000
Summary: Feared by her own kind. Hunted by extraterrestrial forces. Can one super soldier find her place among the stars? Lieutenant Tabitha Chiu is plagued by doubt and conflict. Still heartbroken over the loss of her AI companion and marooned on a faraway moon, the space marine and her ragtag team of super-powered civilians stand as the last line of defense against alien hunters. But when her powers pick up whispered threats of approaching invaders, she's horrified to discover her own people have betrayed her squad. Barely escaping assassination, Tabitha and her fellow psionics flee the hateful moon to the sanctuary of a single surviving combat ship where she hopes to reunite with her AI friend. But when her newly resurrected acquaintance hijacks the craft, the nonbinary fighter is torn between protecting those she loves best and saving humanity from annihilation. Can this conflicted officer and her misfit allies defeat a formidable enemy intent on driving them to extinction? Amp Squad is the electrifying second book in the Ship Whisperer military science fiction series. If you like strong LGBTQ+ characters, unusual weaponry, and fearsome space battles, then you'll love this pulse-pounding story. Buy Amp Squad to launch into a gut-wrenching thrill ride today!
Amp Squad
Word Count:

35656
Summary: When Shax stumbles across rumors of an experimental house that responds to the occupant's brain functions, creating scenarios to please and delight, naturally he wants to steal it. While stealing an entire house sounds impossible, the demon prince has a cunning plan. But a night at the ballet heralds the return of a troubled and hunted Julian Parallax. He brings ominous news to whisper in Shax's ear and forces Ness to battle a new emotion – raging jealousy. With nefarious plots in the background and an overabundance of Poe references, even Shax's scheming may not be enough to get the Brimstone crew out alive this time.
Beside A Black Tarn: Brimstone 5
Word Count:

75000
Summary: Sleepwalking may be the death of me… again. I thought things would get better now that I no longer had assassins after my head. Although it's fun eating people who misgender me, I'm just so thirsty all the time. And until I improve, I'm barred from seeing Jack, my were-jackal boyfriend. My babysitter, I mean 'vampire mentor,' isn't much help either. As if things weren't bad enough, the amulet that started this mess is whispering to me. Calling me somewhere. I think it might be my mysterious maker. Judging by the trail of bodies they're leaving across the globe, I don't want to know what will happen if I can't keep resisting.
Bloodline of the Ancients
Word Count:

60,000
Summary: Queer Handmaid's Tale meets hyper-capitalist dystopia. Nonbinary, queer main character BREEDER is set in a distant but bleakly familiar future, where each person exists to repay Units to the violent Corporation. But girls and women can only be Breeders in this world, and can only repay the Corporation through reproduction. Is the price of survival worth the cost of submission? Will Meadows is a seemingly average fifteen-year-old Westie, who lives and works in Zone F, the run-down outermost ring of the Corporation. In the future state of the Corp, a person's value comes down to productivity: the right actions win units, the wrong ones lose them. If Will is unlucky and goes into unit debt, there's only one place to go: the Rator. But for Zone F Breeders, things are much worse—they're born into debt and can only accrue units through reproduction. Every day in Zone F is a struggle, especially for Will who is fighting against time for access to an illegal medical drug, Crystal 8. Under the cover of night, Will travels to the Gray Zone, where life is less regulated and drugs—and people—are exchanged for gold. There, Will meets Rob, a corrupt member of the Corporation running a Breeder smuggling operation. Will also meets Alex, another teen whom he quickly recognizes as a Breeder in disguise. Suddenly, Will has an illicit job and money, access to Crystal, and a real friend. As the pair grows closer, Alex shares her secret: she is part of the Response, an uprising to overthrow the Corporation. Caught up in the new friendship, Will and Alex become careless as the two covertly travel into Zone B for a day of adventure. Nothing goes as planned and Will's greatest fear is realized. Will his true identity be revealed?
BREEDER
Word Count:

38000
Summary: An Imperial prince can only hide for so long—but his solution of a hastily invented engagement could backfire spectacularly. Marsh Kensinger's work as the utility mechanic for Bremen Station keeps his life interesting - but never quite as interesting as finding a pilot still hidden inside a hibernation drawer in what should have been a salvage craft. He knows he shouldn't get involved, but the Altairian Imperial crest on the private craft and the semi-conscious pilot's odd questions pique his always-whirling curiosity. Still unattached at a concerning age for an imperial son, Prince Shiro Shinohara hadn't been running from the endless, mind-numbing rounds of omiai his mother, the Empress, had mandated. Not exactly. He'd just wanted a break from persistent suitors at the family retreat on Ceti Tau. The short respite becomes a panicked flight for his life when one of the suitors stalking him attacks the family compound. Worried for the soldiers he was forced to leave behind, afraid there's a conspiracy to kidnap him, Shiro confides in the handsome mechanic who found him and in a moment of panic, concocts the fiction of a serious relationship with Marsh. It's only until Shiro's people can reach him and he can press charges back home. Marsh is willing to play along and Shiro's just going to have to keep himself together and not, under any circumstances, fall for the wonderful, generous man who refuses to stop helping him.
By Imperial Decree
Word Count:

117,600
Summary: The Action Packed Conclusion to the Peridot Shift Trilogy Peridot is on the edge of annihilation. Once life-giving, the world's Trade Winds are transforming people into soulless monsters. The surviving Alchemist gods neglect their followers or take advantage of them. Even worse, a delicate peace has been wasted, and everything and everyone is at stake, especially Meran, the mistreated embodiment of the planet. Captain Talis and the crew of Fortune's Storm must try to do some good with what's left of Peridot in the hope that, together, they'll reclaim the hidden pieces of Meran's soul before the chaos seals her disastrous fate.
Cast Off
Word Count:

33000
Summary: Clarity (noun) Four definitions to inspire writers around the world and an unlimited number of possible stories to tell: 1) Coherent and intelligible 2) Transparent or pure 3) Attaining certainty about something 4) Easy to see or hear Clarity features 300-word speculative flash fiction stories from across the rainbow spectrum, from the minds of the writers of Queer Sci Fi.
Clarity
Word Count: Information not available
Summary: Eclectic, imaginative, and unexpected, Community of Magic Pens features forty genre-spanning flash and short stories--including fantasy, humor, science fiction, romance, historical fiction, satire, and mystery--bringing together a rich group of diverse voices from a wide range of backgrounds and intersections. Fountain pens, markers and ink, charcoals, spy pens, a braille writer, a printing press, virtual reality, and a supernatural pizza: whether revealing unspoken truths, fighting injustice, or finding friendship and love, our pens have power. Join us as a recent graduate of superhero school struggles to understand her gift, a disabled android interviews for a job, a queen's conscripted artist must pull reality from illustrations on parchment, and a grandmother's secret room is…better kept a secret. Tales of struggle and triumph, compassion and hope: Community of Magic Pens is a celebration of our shared story.
Community of Magic Pens
Word Count:

52,000
Summary: A secret unicorn, a desperate family, and a cop dead set on hunting them down. Lem and the rag-tag gang of galactic adventurers on the starship Teapot are set to become roadies for the galaxy's hottest band – but an urgent call from Bexley's family means the rock stars will have to wait. Bexley's soon-to-be-born sibling has a big secret: wings. On planet Hwin, skeledivergence is outlawed, so the Teapot crew swoop in to help the family escape. But their planet won't let them go that easily. Hunted across the galaxy by a fanatical and eerily familiar cop, the Teapotters must find a way to outwit their pursuer and secure a future for skeledivergent people everywhere. Dive into the next adventure in this satirical space opera series. Artfully intertwining deep themes with tongue-in-cheek humour and intergalactic ridiculousness, Consider Pegasus is a must-read for fans of Ryka Aoki's Light from Uncommon Stars or TJ Berry's Space Unicorn Blues.  Scroll up and grab your copy now!
Consider Pegasus
Word Count:

89000
Summary: THE POWER TO DESTROY A KINGDOM. THE POWER TO HEAL A HEART. Ari's new powers have awakened, threatening to tear apart a kingdom already on the edge. Sent back to Valon to face her father's—and the people's—judgement, Ari must decide how far she'll go to reclaim her former life, if that's even possible anymore. In the heart of the turmoil, Iata, the reigning ruler, is losing control of his increasingly unstable magics. As his secrets threaten to spill out, his brother's wife, Haneri, draws ever closer—and he's not sure he wants her to stop. At the border to Kidaa Space, Rhys grapples with the ominous and impossible patterns in the Kidaa attacks, and comes face to face with the Kidaa themselves in a harrowing meeting that could change the future of the kingdom. And Dressa, who secretly married an enemy prince, must now face the consequences of that marriage. Because Lesander was activated by her family. And Lesander has a choice: obey her family, or betray her wife. With enemies without and enemies within, can the Truthspoken save their kingdom, or is this kingdom doomed to fall? Court of Magickers collects episodes 94-150 of The Stars and Green Magics, previously published in serial form. Note: This book has main characters who use gender-neutral pronouns (they/them/their, fae/faer/faerself).
Court of Magickers
Word Count:

64000
Summary: When ghosts cry out, Dan and Chad heed their call. Daniel and Chad are on the road to Hawk Lake, Maine, to investigate rumors of a haunting. With his new role in Daniel's life, Chad feels like he has something to prove. He is determined to make the Hawk Lake haunting videos the best Hauntastic Haunts has ever aired. Daniel gets sidetracked when he realizes that he might have gotten in over his head with his long distance apprenticeship to a genuine medium. Old insecurities rear their heads and threaten the budding relationship between Dan and Chad. Neither member of the Hauntastic Haunts crew is ready for what they uncover when they discover the truth behind the ghost ship haunting Hawk Lake. Secrets and lies that threaten to tear apart a community that is still healing from their grief might be better left buried. Daniel and Chad have to decide which is more important, telling the stories of the living or preserving the memories of a handful of ghosts. Get ready for another hauntastic adventure with this paranormal trans M/M romance.
Dan's Hauntastic Haunts Investigates: Hawk Lake
Word Count:

74000
Summary: When a curse comes calling, Dan and Chad confront their greatest challenge yet. Hauntastic Haunts is investigating the historic Ivarsson School. With Halloween right around the corner, the vlog is in peak season. Dan and Chad are eager to explore the decades-long string of strange deaths among the school's young scholars. While they delve into the mystery, both men must come to grips with Chad's newfound talents as a medium. Dan and Chad's efforts to uncover the haunting's truth meet with mixed messages from both the living and the dead. They're left wondering if this month's site is full of tricks, or if there's a treat awaiting discovery. The locals blame a curse for all the misfortune at the one-room schoolhouse, and if the pattern holds, the guys are at risk of becoming the latest victims. Join ghost hunters Dan and Chad on their third hauntastic adventure in this trans M/M paranormal romance.
Dan's Hauntastic Haunts Investigates: Ivarsson School
Word Count:

80000
Summary: Other stories will take you to Mars. This one will take you inside the boardroom, the pub, and the bedroom with the people planning the mission. Gurdeep is an engineer and a soldier. Georgie's a food scientist. One is pragmatic with a tough outer shell; the other's an optimist, a person of ideas and compassion. In the span of a single afternoon, the couple find themselves in charge of planning a self-sustaining colony on Mars. Together, they're humanity's last hope for survival. They have 160 slots to fill with experts from all over the world as they set about designing an all-new society with its own government, economy, and culture – and that's just the tip of the iceberg. Among those chosen for the mission is Devon, an autistic scientist with a unique skill set who finds life on Earth strange and alienating. Maybe a whole new planet is exactly what's needed. With 1,114 days until the launch, excitement and tensions run high. Earth's second chance hangs in the balance. Between strict genetic requirements and the dangers of the dystopian almost-present, will everyone make it to the final countdown? This is a work of neurodiverse, culturally diverse, gender-bendy, socio-politico-economic, drunken-arguments-in-the-pub science fiction – not bang-bang-pew-pew science fiction.
Devon's Island
Word Count: Information not available
Summary: Diamondsong is a unique high fantasy saga told in ten parts. For lifetimes, the Ja-lal have prevented contact with the dangerous fairies of the forest. As tensions grow, those barriers are beginning to crumble. Blending rich worldbuilding with progressive themes, Diamondsong is a tale of power, identity, relationships—and magic. Part 01: Escape Dime has just left her career as a Ja-lal Intelligence agent, ready to roll her own dice. When, instead, she's accosted by winged invaders, some truths quickly fade—while others solidify. Begin Dime's journey with this unexpected tale of pursuit and discovery.
Diamondsong: Escape
Word Count:

132,000
Summary: Rules were made to be broken. From terraformed outposts to magical realms, journey to worlds where deadly plants, rampant biodiversity, or failed colonies have created irresistible opportunities for those brave enough to seize them. New worlds, found family, mystical secrets, and deadly science weave together in this lesbian-centric anthology focusing on a very different kind of first time—a first encounter with a world, or being, entirely unlike our own. If you like diverse stories with lesbian heroines practicing science, magic, and seduction, buy Distant Gardens today!
Distant Gardens
N.L. Bates , Sara Codair , Robin C.M. Duncan , J.S...
Word Count:

130000
Summary: Life after the Crash. Over a century after the end of the Earth, life goes on in Redemption, the sole remaining Lunar colony, and possibly the last outpost of humankind in the Solar System. But with an existential threat burrowing its way into the Moon's core, humanity must recolonize the homeworld. Twenty brave dropnauts set off on a mission to explore the empty planet. Four of them—Rai, Hera, Ghost and Tien—have trained for two-and-a-half years for the Return. They're bound for Martinez Base, just outside the Old Earth city of San Francisco. But what awaits them there will turn their assumptions upside down—and in the process, either save or destroy what's left of humanity.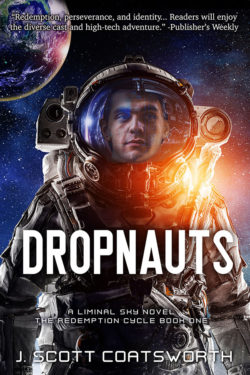 Dropnauts