Word Count:
50000
Summary: The first in a series. A story about an engineer who gets accidentally transported to a medieval type world where magic is real. But all is not as it seems!
December 6, 2021
Word Count: Information not available
Summary: In one night, change comes with the strike of a match as Leo Riley loses everything. Giacomo Bianco's hitmen burned his home to the ground with his family inside. Leo will pay any price for his revenge. He will need power. Oguina, the mythical woman turned monster, can give it to him. But at what cost? Bianco gazes into an abyss that stares back. His fall to madness is a one-way trip Leo aims to stop at all costs before Bianco kills again. In his quest for vengeance, Leo teeters over that same cliff. Monster and Mafioso fight for dominance over Fall River's streets. Bianco's got more up his sleeve than anyone suspects, including the means to make his power absolute. Even new powers and strange allies might not be enough to ensure Leo's victory. Who is the real monster? Bianco, Oguina, or Leo himself?
A Change In Crime
Word Count:
85788
Summary: Kris Starr used to be famous. Rock and roll. Sold-out shows. Literal magic. Empathic talents and screaming fans. But he has a problem or two. He's having a hard time writing new music. It's Midwinter, which means he's surrounded by depressing holiday cheer. And he's in love with Justin, his manager, who has a talent for rescuing almost- or once-famous bands ... and who's hiding secrets of his own. Justin Moore, on the other hand, is very good at keeping those secrets -- he's had to be for years. One secret involves a demonic inheritance that would make him a target of suspicion. Another involves his past. And the third involves Justin's feelings for Kris Starr, rock and roll icon and now his client ... and a powerful empath.
A Demon for Midwinter
March 10, 2018
Word Count: Information not available
Summary: Welcome to the last of the great flying Cities! It's 9172, YE (Year of the Empire), and the future has forgotten its past. Soaring miles over the Earth, Autumn, the sole surviving flying city, is filled to the brim with the manifold forms of humankind: from Human Plus "floor models" to the oppressed and disfranchised underclasses doing their dirty work and every imaginable variation between. Valerius Bakhoum is a washed-up private eye and street hustler scraping by in Autumn. Late on his rent, fetishized and reviled for his imperfect genetics, stuck in the quicksand of his own heritage, Valerius is trying desperately to wrap up his too-short life when a mythical relic of humanity's fog-shrouded past walks in and hires him to do one last job. What starts out as Valerius just taking a stranger's money quickly turns into the biggest and most dangerous mystery he's ever tried to crack – and Valerius is running out of time to solve it. Now Autumn's abandoned history – and the monsters and heroes that adorn it – are emerging from the shadows to threaten the few remaining things Valerius holds dear. Can the burned-out detective navigate the labyrinth of lies and maze of blind faith around him to save the City of Autumn from its greatest myth and deadliest threat as he navigates his feelings for his newest client, the handsome golem Alejandro?
A Fall in Autumn
January 1, 2019
Word Count:
86611
Summary: Prince Edmund of Thalassa and Prince Arden of Aither are eagerly anticipating their upcoming wedding, but the danger to their kingdom hasn't lessened. They have a plan, but they won't be able to carry it out alone: they need a strong wielder of each Element, whom they can trust implicitly, to carry out the magic. Rhys is a commoner and wielder of Earth magic. He and his sister have made a living from the use of their magic for years and have become highly respected in scholarly circles, though he prefers a more simple life with his plants. When a message from Prince Arden reaches them asking for their help, they don't hesitate. They stop only to request that Gaz, a strong Fire wielder and the man Rhys has long been enamored of, accompany them on the journey to Thalassa's royal palace. What no one knows is that Gaz was once known as Prince Gareth of Thalassa and is Edmund's younger brother, long believed dead. He fled his home after his Fire Affinity made itself known and put him in danger, and he had no intention of ever going back. But he can't keep himself from going to his brother's aid, despite the risk of discovery and of the weight of his secrets potentially crushing his fledgling relationship with Rhys. Working against time, they must find a way to come together in a magical working the likes of which none of them has ever imagined, or their homelands will surely burn.
A Harmony of Fire and Earth
March 11, 2019
Word Count:
93700
Summary:
Keola is a mermaid – and bound for marriage to a foreign human prince. Unable to face a life cut off from the ocean with a man she despises, she chooses freedom at a terrible cost. Posing as a human wavesinger to remain hidden from her pursuers, she finds work on the ship of the dashing captain Anaar Kahlani. Anaar is searching for a mythical treasure and believes that Keola is the key to finding it. Amidst the hunt for fame and fortune, Anaar begins to fall for the mysterious wavesinger. Confronted with a secret and a dangerous revelation, she must decide what price she is willing to pay for untold riches – and for love. When Keola's past catches up with her, can they survive the oncoming storm together, or will the trials ahead demand more of them than they are willing to sacrifice?
A Melody in the Deep
July 20, 2021
Word Count:
66000
Summary: Sarah Wright woke up a few times after parties in strange places―but the morgue's a first. At eighteen, she's eager for a taste of independence, moving out of state to attend college. A change of scenery is extra-needed due to a bad breakup with her boyfriend, Scott. However, soon after escaping the body cooler, she makes two startling realizations: vampires are real, and she is one. There's nothing quite like an untimely death to ruin plans. California's sunny beaches aren't the best place for vampires to chill, and worse, not only does she wind up stuck in Seattle, she's still living (figuratively) with her parents. They take the news surprisingly well―after all, it's better than burying her―even helping move her bedroom to the basement. A disinterested sire, distraught friends, nosy Men in Black, and awestruck younger siblings complicate her adjustment to the new normal of being an immortal still subject to her parents' rules. Undeath has its perks, but it also brings enemies. Without a copy of 'Fangs for Dummies,' Sarah's left scrambling for answers when one such new enemy attacks her siblings and friends. If she can't figure out how to vampire, her attempt to spare her family the grief of losing her may wind up killing them.
A Nighttime of Forever
February 20, 2018
Word Count:
60,000
Summary: What happens when you die, but the universe isn't done with you? You might end up as the pet of a giant worm-a-pede alien and…if you survive your evolved descendants and rogue aliens of 1 million A.D…discover you have more in common with intelligent worms than you ever thought possible. Yes, all this might happen if you are Albert Rudyard Goldstein—the discoverer of the Biomic Network Algorithm—who thought his time had come. He had done his part to make the world a better place. Now he deserved—even looked forward to—a peaceful and mercifully succinct death. But the universe had other plans...
A Once-Dead Genius in the Kennel of Master Morticue Ambergrand
May 31, 2018
Word Count: Information not available
Summary: When Selena Dillon is caught in an assassination attempt on her planet's ruler, she finds herself sentenced to twenty-five years servitude in the most feared military force, the Penal Regiments. Much to her surprise she enjoys the harsh military life and is quickly selected for officer training. But something's wrong, worlds are falling silent. There's no cry for help and no warning, just a sudden eerie silence. When a flotilla of ships is despatched to investigate they exit hyperspace to find themselves facing a massive alien armada. Outnumbered and outgunned the flotilla fight a rear-guard action, allowing one of their number to slip away and warn mankind. As worlds fall in battle, and mankind's fleets are decimated, Selena is selected to lead a team of the Penal Regiment's most battle-hardened veterans, in a last ditch attempt to destroy the aliens' home world. If she fails mankind is doomed. Little does Selena know that one of her crew is a psychopathic killer and another is the husband of his victim. Can she hold her team together, get them to their target and succeed in the attack? Selena knows that if she fails then there will be nothing at all left to go home to.
A Pride of Lions
December 3, 2013
Word Count: Information not available
Summary:
In every legend of Fairyland, the fairies have their own reasons for crossing the border…
Oliver has spent his life as the crown prince, preparing to rule but in no hurry about it, enjoying life and taverns with Tirian, his fairy-companion and best friend. But when the traditional Vision Quest calls— and a dragon appears—Oliver finds himself facing difficult questions about heroism, sacrifice… and the emotions he's discovering about Tir. But Tirian has secrets of his own, about his purpose, his magic, his feelings for Oliver, and a prophecy that will change the fates of two kingdoms forever.
A Prophecy for Two
August 21, 2018
Word Count:
108000
Summary: Now what? As Kendra recovers from her wounds, Artemis is planning their next strike. But so are others. Artemis has been too corrupt for too long; their own people are ready to take control. It's just going to take a little encouragement...
A Quiet Revolution
April 16, 2021
Word Count:
115000
Summary: Aaron Okonkwo, a Nigerian scientist, travels with a crew in the 24th century to evaluate Viridis, which proves to be a beautiful and fabulous world. There, Aaron discovers a strange, alien species and amazing machines and technology left in a vast underground complex by a mysterious race called the Creators. Aaron soon falls under the irresistible, seductive spell of Nightsong, a green alien female with ominous and bewitching powers. However, an even greater danger rises. He will be forced to fight for the planet's survival against a ruthless invasion of many ships to conquer and enslave the planet – just as Africa itself was once enslaved. Aaron knows it's A Senseless Act of Beauty to try to reclaim his ancient warrior heritage and fight back against such overwhelming odds, but he knows he must try.
A Senseless Act of Beauty - John B. Rosenman
April 13, 2018
Word Count: Information not available
Summary: When young paleontologist, Ryan Thompson, finds a new species of mosasaur in Cretaceous seaway sediments, he is thrilled. The discovery should jumpstart his career. Joy quickly turns to fear when he touches an artifact buried among the sea reptile's ribs. Suddenly, he must fight a mental takeover by an alien intelligence committed to transforming the Earth into a refuge for her own race. As Ryan and his girlfriend, Skeets, attempt to thwart alien plans to colonize Earth begun in the deep past, even this crisis becomes trivial. The uneasy symbiosis of Ryan and the alien, Siu, generates a new entity with the power to transform the entire universe.
A Singular Prophecy
October 30, 2011
Word Count:
87700
Summary: A lost science fiction classic! Birk Aaland is a political outcast from Earth's tyranny, and has been living for years on a planet inhabited solely by robots, ever since his ship crashed here.Now another ship has crashed, and there is again a single survivor -- a woman who's desperate to warn Earth of an alien invasion.But Birk is perfectly happy with his current exile -- until a twist of fate intervenes, causing each of them to re-evaluate their lives and their total existence.
A World Called Solitude
Word Count:
56000
Summary: New Hopeland was built to be the centre of the technological age, but like everywhere else, it has its dark side. Assassins, drug dealers and crooked businessmen form a vital part of the city's make-up, and sometimes, the police are in too deep themselves to be effective. But hey, there are always other options … For P.I. Cassie Tam, business has been slow. So, when she's hired to investigate the death of a local VR addict named Eddie Redwood, she thinks it'll be easy money. All she has to do is prove to the deceased's sister Lori that the local P.D. were right to call it an accidental overdose. The more she digs though, the more things don't seem to sit right, and soon, Cassie finds herself knee deep in a murder investigation. But that's just the start of her problems. When the case forces Cassie to make contact with her drug dealing ex-girlfriend, Charlie Goldman, she's left with a whole lot of long buried personal issues to deal with. Then there's her client. Lori Redwood is a Tech Shifter, someone who uses a metal exoskeleton to roleplay as an animal. Cassie isn't one to judge, but the Tech Shifting community has always left her a bit nervous. That wouldn't be a problem if Lori wasn't fast becoming the first person that she's been genuinely attracted to since splitting with Charlie. Oh, and then there's the small matter of the police wanting her to back off the case. Easy money, huh? Yeah, right.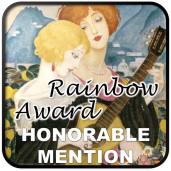 Honorable Mention: Rainbow Awards 2017 - Lesbian Sci-Fi Category
Addict
May 8, 2017
Word Count:
73,151
Summary: Time travel. For mages, it violates their number one rule: what the Mother has written, let no one unwrite. The Mother writes the destinies of the creatures on the world of Karishian. If her writings were undone, it is feared that Creation itself could be undone. The dark mage Morgorth takes this rule to heart, but there are others who do not. Morgorth is about to claim a stone of power when it is stolen from him by a female mage he hasn't seen in decades. As they struggle for the stone, she activates it, and Morgorth is unwillingly plunged into another time and another place. It isn't long before he realizes what time he's found himself in and there are a few familiar faces. Most notable is a much younger version of Aishe. His mate. Living with a tribe who will be massacred, caring for a young lad who will become his mate, and fighting a battle against a mage who can travel from past to future at a whim—Morgorth's life has never been easy but now he must contend with the will of the Mother. Unable to change the future and the tragedies of Aishe's life, he must decide what his role in his mate's past will be, and ask himself one vital question: how does one defeat time?
Agate: Then and Now
May 2, 2017
Word Count:
128,000
Summary: Alien Bonds is about two people, a human woman and a Wakanrean man, who meet on his world, Wakanreo, and instantly mate from a  biological reaction that occurs only in Wakanreans. But even though Dina goes home with Kuaron that night, she does not love him. You cannot love someone you don't know.  Over the next several months her feelings for him change, as do his for her. On one level, this is simply a love story. But the story also explores the culture and history of Wakanreo. It shows what a world would be like if looks didn't matter—if people had no choice in who they paired off with. and thus sex had nothing to do with morality.  How would this uncontrollable mating affect the societies that formed on this unique world? In human history, much of the stratification of society was achieved by people only marrying within their own social order. What if it wasn't possible to enforce that kind of discrimination?
Alien Bonds
January 23, 2018
Word Count:
29600
Summary: Deborah Raboinowitz is a literary broker. She travels to alien worlds via virtual reality and sells the publishing rights to Earth books on other planets. But when an alien is murdered right before her eyes, there's no way she can keep from being involved and solving the murder herself. Then, when an old friend is accused of a murder on a different world, Deborah has to become a lawyer and defend her friend before a kangaroo court by solving that murder, too.
Alien Murders
Word Count:
73900
Summary: "It's not all about serving coffee and typing reports." Working for a secret organisation specialising in alien cover-ups, Connor Smith is no stranger to the abnormal or dangerous. His love life on the other hand… not so exciting. Until he reluctantly agrees to a blind date and meets the perfect bloke, Jason. Things are finally falling into place for Connor, so of course that's when he attracts an alien stalker. Noah Jones, ex-alien, has been stranded on Earth and forced to live as a human since 1648. Alone and detached from the world around him, Noah has spent centuries observing and recording humankind. In all that time, he's only experienced a connection with a human once… until he finds Connor. Even knowing Connor is in a relationship, Noah can't ignore their potential bond, or stay away. While dealing with missing alien artefacts, a dangerous and shadowy group of collectors, and the ever-present Noah, Connor finds his orderly life crumbling around him. At least he still has the perfect boyfriend… When Noah goes missing, Connor is forced to face the feelings growing between them and the mounting evidence that Jason isn't who he says he is…
Aliens, Smith and Jones
October 1, 2018
Word Count:
87000
Summary: In a world where everyone has a soulmate, uniquely powerful mage Royiora and reluctant assassin Kalo collide in the worst of ways. Royiora Daralkaen, the only mage alive able to use all five kinds of magic, has a near idyllic childhood in the country of Porescalia - before war breaks out with their antagonistic neighbors, Kloria. Kalo Porla, a naturally magic-proof individual known as a Null, is trained to be as an assassin by the authoritarian empire known as the Domain. When Kalo and his partner assassin are sent to kill a mage and his apprentice, it starts a journey neither man was prepared to begin. Content warnings: harm to children, physical and psychological abuse, implied (off-page) rape, violence, mature language, minors in implied sexual situations (teenaged romance), implied sexual situations, bigotry towards fictional races, and suggestive language.
All or None
August 15, 2020